My best friend's birthday is only a few days away. So, I wanted to buy her a memorable gift to highlight our 10 years of friendship.
I finally decided on this crafty, yet elegant picture frame. But first, I needed to confirm a few details before my purchase. 
Luckily, the online store's live chat rep was available and ready to assist me. And in less than three minutes, I had all the information I needed to buy the birthday gift and surprise my BFF.
Your small business's goal is to delight visitors with outstanding customer service. We've searched high and low for the best customer service add-ons. Try one (or all) of these strategies to impress your customers.
1.  Automate simple questions for faster service
Today's customers are always in a rush to do something. Whether that's picking up the kids from soccer practice or attending back-to-back Zoom calls, your consumers don't have a lot of time to spare. As a result, they demand faster service throughout the purchasing process. 
To compete with the big brands, your small business must find a solution to meet your customers' needs. One convenient option is to add live chat automation to your website. 8 in 10 customers prefer live chat because their questions are answered instantly.
24 Hour Tees, an online custom apparel shop, uses live chat automation as a support channel to provide quicker service to their customers. The brand automates answers to simple questions to speed up the shopping experience. So, customers don't have to waste time making a phone call or sending an email.
Live chat also frees up your customer support team from answering repetitive questions from multiple customers. Now, your team can focus on more pressing matters and let automation handle the rest.
2. Serve customers using multiple channels
No one customer is alike. With a wide variety of backgrounds, your customers come to your brand with their specific desires and challenges. So, it makes sense to tailor a shopping experience that matches their needs. 
Start by adding multiple support channels to serve your customers.  Can Ozdoruk, vice president of marketing at Netomi, explains: 
"Customers want choice for the channels on which they receive support. They also want a choice about when they are able to get problems resolved…Providing quick, convenient support experiences on the channels your customers prefer is key to great support."
Not every customer will have the time to pick the phone to talk to a support rep. So, what other options can you offer? Your brand can provide live chat support for visitors who need answers to product questions. Or you can set up an email address dedicated to answering support inquiries within 48 hours. You can also use social media as a customer support channel.
Let's take a look at outdoor gear retailer REI. On their website, the brand provides three different customer support options.

REI customers can talk to a rep via phone or live chat Monday-Sunday. But if customers need immediate help, they can find answers in their Help Center, a knowledge base with topics ranging from shipping to returns.
3. Get involved in social causes
Business is more than just selling products and services to your customers. Your loyal following is also interested in how you give back to the community. They want your brand to stay active in social causes.
Research uncovers that 86% of consumers want companies to take a stand on social issues. Also, a majority (64%) of those customers say they are 'very likely' to purchase a product based on the company's commitment to social issues. Wow, you can make more money by doing good!
Ben & Jerry's leads the way when advocating for social change. The brand believes its business has a responsibility and a unique opportunity to be a powerful lever of change in the world. Right now, the ice cream maker's current focus is criminal justice reform, which is boldly mentioned in the tweet below.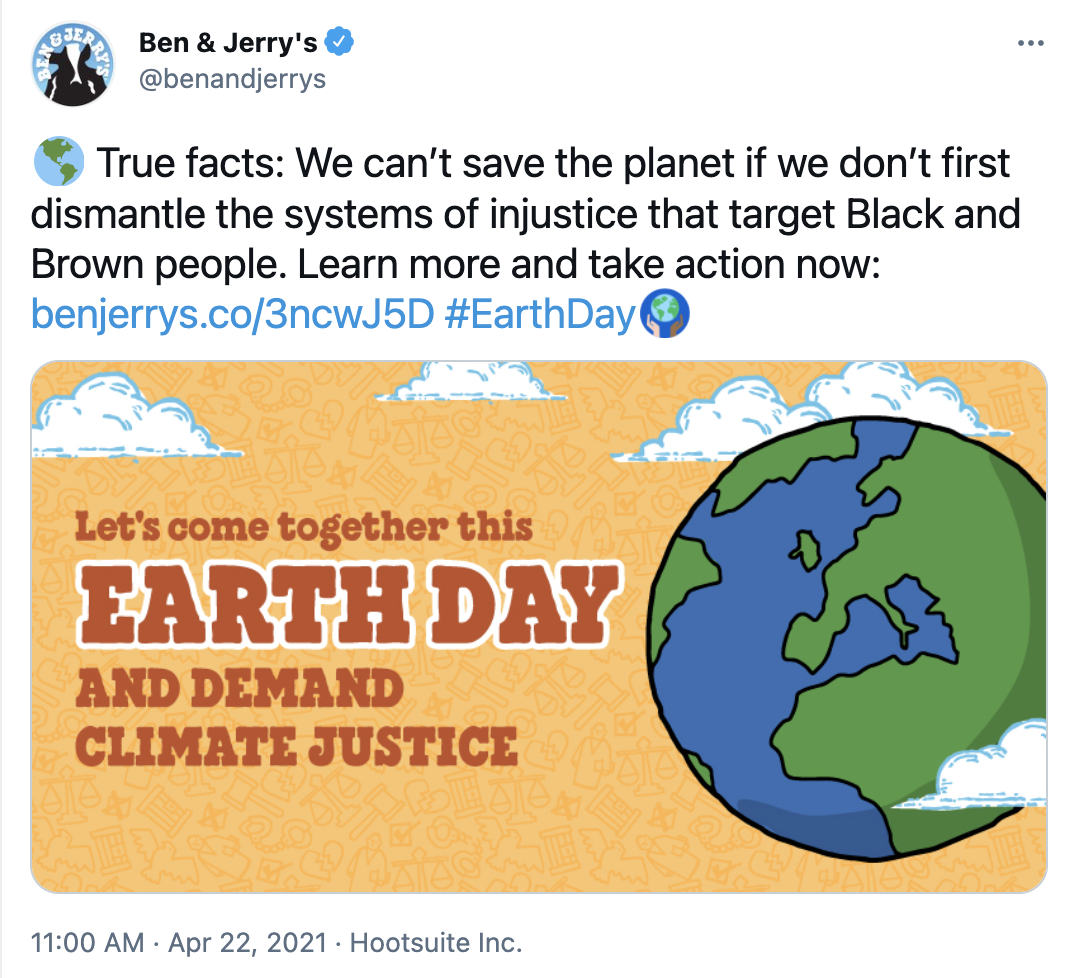 Your small business can take similar steps to advance change in your community. It doesn't have to be a grand gesture. Think about immediate actions you can do today.
4. Send your customers free swag
Did someone say free? Yes, it's the keyword that stops your customers in their tracks. Combined with the word swag, you'll turn heads and get shoppers' attention. Free swag is one of the tried-and-true ways to show customers you care. 
Whether it's stickers or reusable water bottles, giving away free branded gear can put a smile on a customer's face. Plus, it's a strategic marketing move to increase brand awareness. 
"Delighting users can be a growth marketing strategy. If you don't have the resources to send tons of swag, things like personalized videos, handwritten notes, or even a kind email can go a long way," writes Grace Windheim & Meg Enthoven, former marketing interns at Kapwing.
The team at Buffer is no stranger to sending their loyal fans free swag. Lucky customers receive a branded box jam-packed with cool swag, including socks, stickers, and a mug. Their customers often express gratitude on social media with pictures of the swag.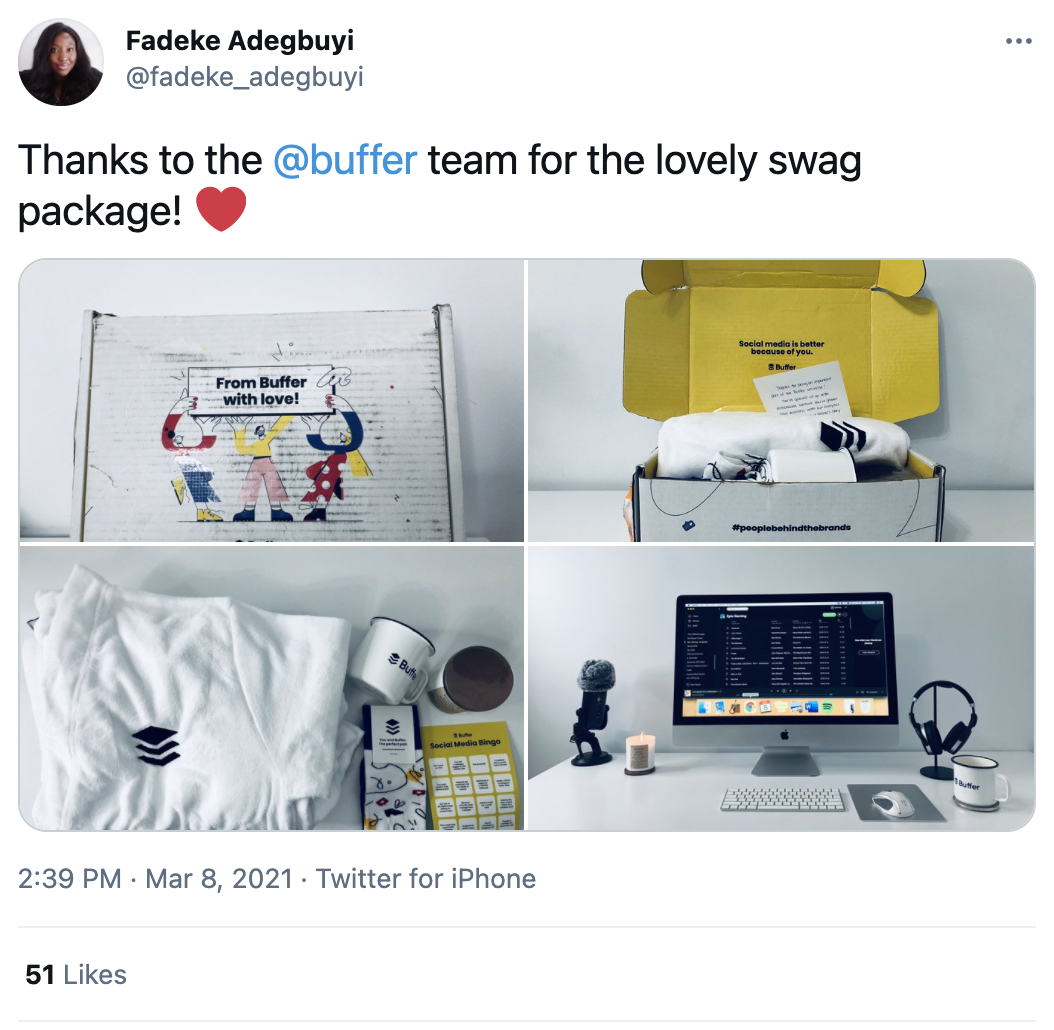 You can surprise your customers, too. Pick a product that works well for your niche and budget. Then, spread the delight by sending the free swag to your customers.
5. Offer a sincere apology for your mistakes
Oops! Our favorite brands aren't perfect, so customer service issues happen. And in recent times, we've witnessed businesses fumble TV commercials, botch social media messages, and completely miss the mark on new product launches. 
More often than not, consumers aren't bothered by a brand's mistakes. They are more irritated when a business fails to apologize. The 2021 Business of Cancel Culture Study backs up this statement: "88% of Americans are more willing to forgive a company for making a mistake if it genuinely tries to change and 73% say they are less likely to cancel a company if it is purpose-driven."
Check out global fashion brand Rebecca Minkoff. During the holiday season of 2017, they failed to keep up with the high volume of orders, leading to a poor shopping experience for many of their customers. To reconcile the problem, the company's founder wrote an Instagram post acknowledging the mistake and apologizing.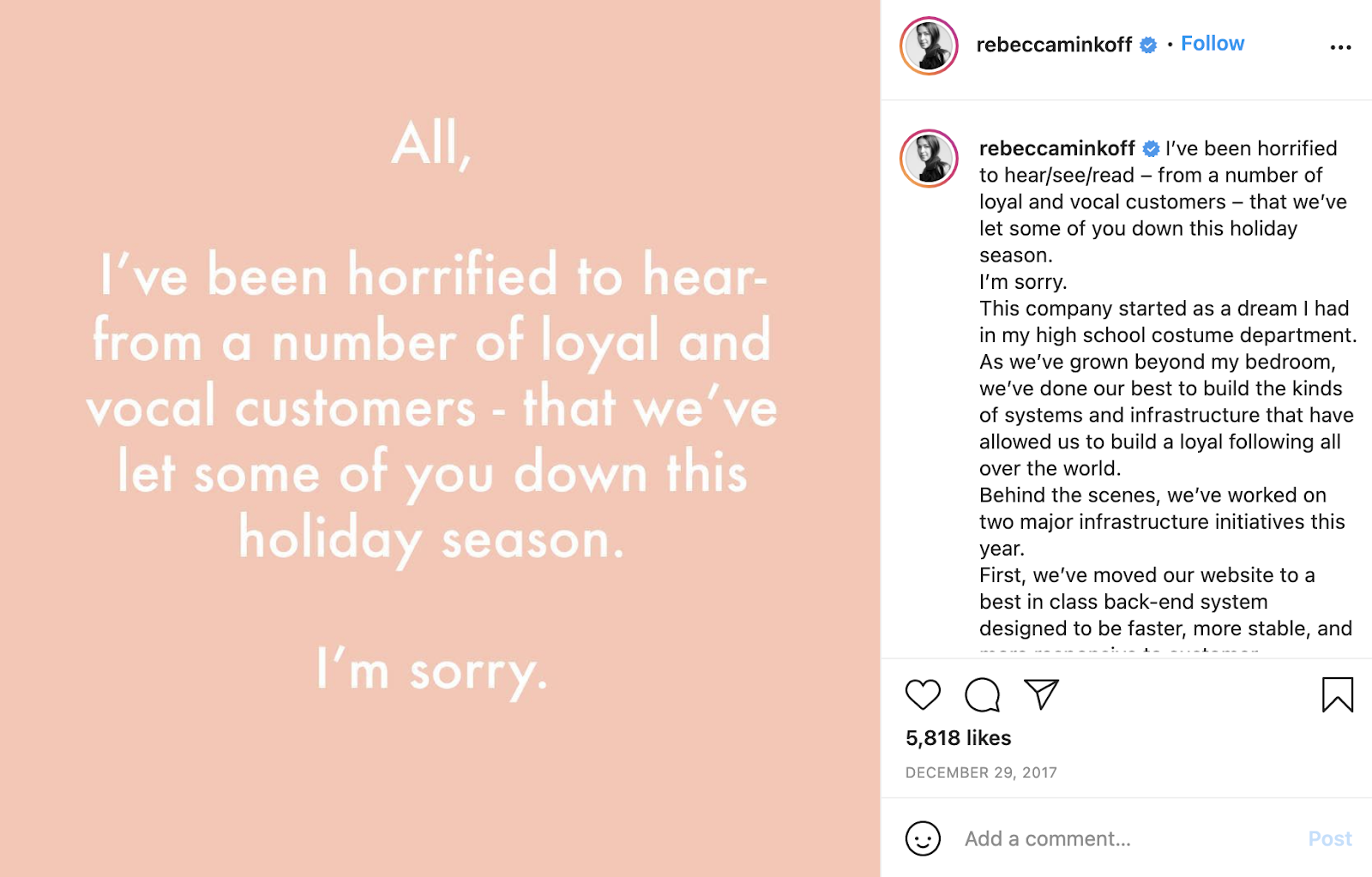 Serve Up Delight to Satisfy Customers
Customers are the greatest asset to your small business. Whether they're buying a gift for their BFF or just casually browsing, make it your priority to create a positive customer experience.