We're getting closer and closer to the holiday sales season! If you're a new store owner who's been getting ready with us, you've got your shipping supplies, seasonal deals and holiday promotions ready to go. 
What else does it take to rock your store's first holiday season? Customer service, and lots of it.
Holiday shoppers are busy, want quick answers and tend to flee if a store doesn't have the information they need to make a decision fast. Here are the ways you can bring your customer service A game this winter, even if you're a customer service team of one.
Customer service chat tools
Customer service chat used to be clunky and not super helpful, but it's getting so much better. If you can't devote your entire life to answering customer queries (and you can't – you have a store to run), a chat tool should be the first customer service tool you add to your site. 
Why? People want answers right away, and chat makes that easy. It's also a convenient way to educate customers and build a relationship with them. When they know you have good information, they're more likely to shop with you again. For example, Small Pet Select's bot helps customers find the right hay for their fluffy friends.
You can install a chatbot for your store, like WP-Chatbot, to answer their questions and then follow up with personalized marketing. If your store has a Facebook page you can also use Facebook Messenger on your site to deliver real-time or automated responses. 
When you set up your chatbot, be sure to include holiday information about hours, shipping deadlines, gift wrap and your holiday promos. 
Customer support by phone
The idea of answering the phone and having an impromptu conversation with a stranger (even if they are a customer) intimidates a lot of us, especially those of us who grew up after messaging took over the world. But sometimes the shortest distance between a customer's question and a sale in your store is a short chat on the phone.
If you don't have a dedicated phone number for customer service calls, it's a good idea to add one before the holidays. That gives you time to update your contact information in your store and in all your other marketing channels. It'll also free up your regular business line for in-house business and dodging spam callers. 
You can set up an inexpensive business line or customer service number fast with Google Voice, and then follow their instructions to set up an auto attendant to robo-answer your calls, transfer them to you if they have a question (which also helps screen out spammers), or encourage them to leave a voicemail if it's after hours. 
Still nervous about talking to customers on the phone? The Balance has a short and sweet guide to phone etiquette for businesses. 
Text messaging for customer support
What about SMS customer service? Yep, you can offer that, too. If you're using Google Voice for your customer service line, you can also get and send text messages. You can manage them from your Voice dashboard if you don't want to spend even more time staring at your phone's small screen. 
Add a customer service SMS number to your site and other marketing channels and you can avoid spending too much time talking while still answering customers' questions fast. 
Social media customer support
You can do customer service via social media easily—as long as you monitor your mentions. For every channel you're on, set up keyword monitoring using a tool like Hootsuite, HubSpot or Tweet Deck to make sure that you get notices when your store is mentioned. That way you don't leave your customers' questions unanswered while they're doing their holiday shopping. 
You might want to do as Hootsuite does and create a separate customer support handle. That keeps queries and complaints from getting lost among the shoutouts, promos and shares on your store's page. And a customer support profile is also a good place to show people other ways they can get answers to their questions. Hootsuite does that by including their Help URL in its Helpers profile.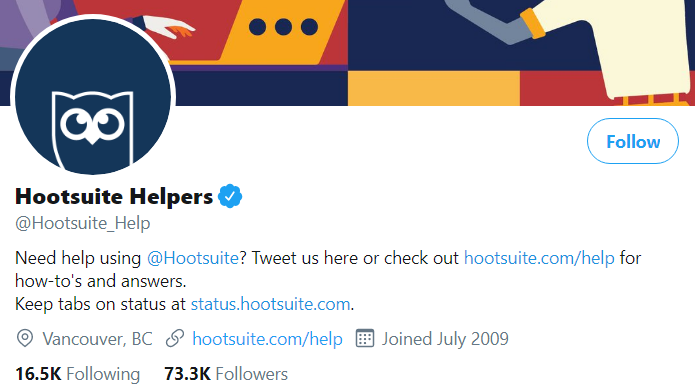 You'll still need to handle your main channels for support questions, but if you include your customer service handle in your main profile, you can encourage some of them to connect with you there. 
Email customer service
Email is a great channel for customer service questions that don't need an immediate answer. Trouble is, during the holidays when people are shopping on a deadline, most customers want an immediate answer. 
If you're not monitoring your customer service email account around the clock, it's a good idea to set up an autoresponder to go out to everyone who emails your customer service department. 
The autoresponder email should thank them for contacting you, let them know you've received their question and that you'll answer it as soon as possible. (It's a good idea to give customers an idea of when they can expect a response, like "by the end of the day" or "within 24 hours.") 
Setting up an autoresponder email is easy. It's basically the same process as setting up an email drip campaign, but in this case, you're setting up one email instead of a series. Of course, once you see how easy it is to set up drip campaigns, you might decide to build a series, including a follow-up survey to see how satisfied your customers were with the answers to their questions. 
In all your customer service replies, you might want to include a link to your FAQ page. Speaking of which…
FAQs for customer service
If your business is very new, you may not have questions that customers frequently ask yet. But you should still throw your basic information about shipping, returns and delivery times into a basic FAQ page, in case customers missed that information elsewhere on the site. 
Then, as customer inquiries come in, you can add the ones that are most common to your FAQ page. 
During the holiday season, you can also top your FAQ page with a "special holiday FAQ section" so busy customers can find out fast what your order deadline is for Christmas delivery or if your online store will wrap holiday gifts. For example, you could adapt what Levi's has done here and have a Holiday FAQ sidebar where they have Popular Questions.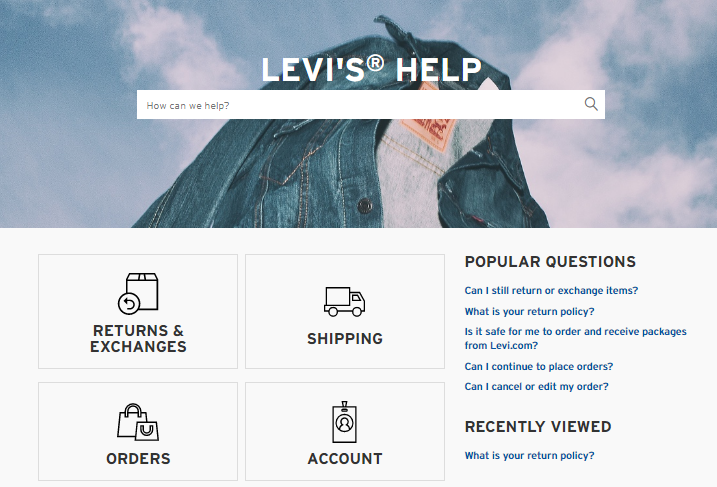 If you have time before the holiday rush hits, check out this post on what an effective FAQ page needs. It'll show you how to boost your FAQ page SEO with a little keyword research, among other good things. 
Just a few more posts to go and your store will be ready for its first holiday season. Next up, we'll show you how to protect your store's holiday revenue from professional eCommerce fraudsters. Watch for it!