Product pages serve as the central asset to showcase the items in your online store. They play a pivotal role in not only informing shoppers about your products but also persuading consumers to purchase. 
When crafting your product pages, you'll want to think beyond just adding a basic image with a generic product description. New online store owners need to invest in high-quality photos along with social proof. 
So, what should you include on your product pages? Check out these seven essential elements. 
1. Feature Image 
For online shoppers, images are one of the key reasons for determining whether to purchase a product or not. Consumers rely heavily on brands to offer up-close pictures of their products. 
"Image and video galleries are a crucial part of the value proposition. When shopping online, customers can't try clothes on or hold a product in their hands, so they rely on the visual information on the site," says Kevin Indig, vice president of SEO and content at G2.
Online shoe and clothing retailer Zappos offers its shoppers multiple feature images of each item. In the picture below, consumers can see the boots from multiple angles and in different colors. 
Feature images are your main selling point. If possible, hire a professional product photographer to take high-quality images for your online store. 
2. Product Description
eMarketer reports that 82% of US smartphone users found product descriptions and specs to be "very" and "extremely" influential. Product descriptions provide detailed information on items in your online store. They normally state just the facts, like product size, weight, and color. 
But it's also a good idea to give shoppers the benefits of using each specific product. Answer these questions: How will this product help the shopper? How will the consumer feel after using this product? What problem will this product solve? For instance, the product description for a pair of boots tells consumers they will enjoy the comfort.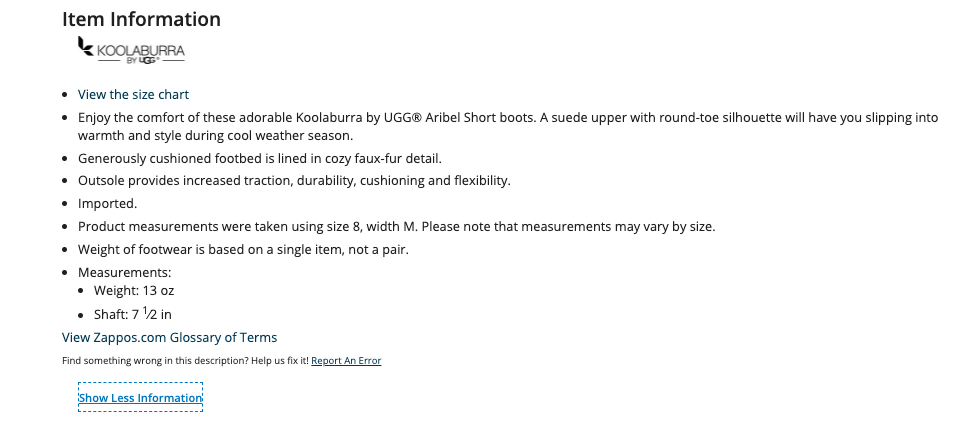 If you want to take your product descriptions to another level, you may want to add some humor to them, too. Add funny phrases or jokes to take the monotony out of boring text. 
3. Call-to-Action Button
Product pages offer your shoppers a great deal of pertinent information. Besides informing consumers about items, it's critical to persuade shoppers to take the next step in the checkout process. 
That's why you need a call-to-action button. It should clearly state what the consumer should do to purchase the product. Some eCommerce brands use the words 'Add to Cart' or 'Buy Now.'
You'll also want to consider the color of your call-to-action button. Growth marketer Alex Birkett explains: 
"Select a color for your CTA button that is bright or stark enough to catch shoppers' eyes. It's best to use a different color for other buttons on the page so that buyers aren't misled to those buttons."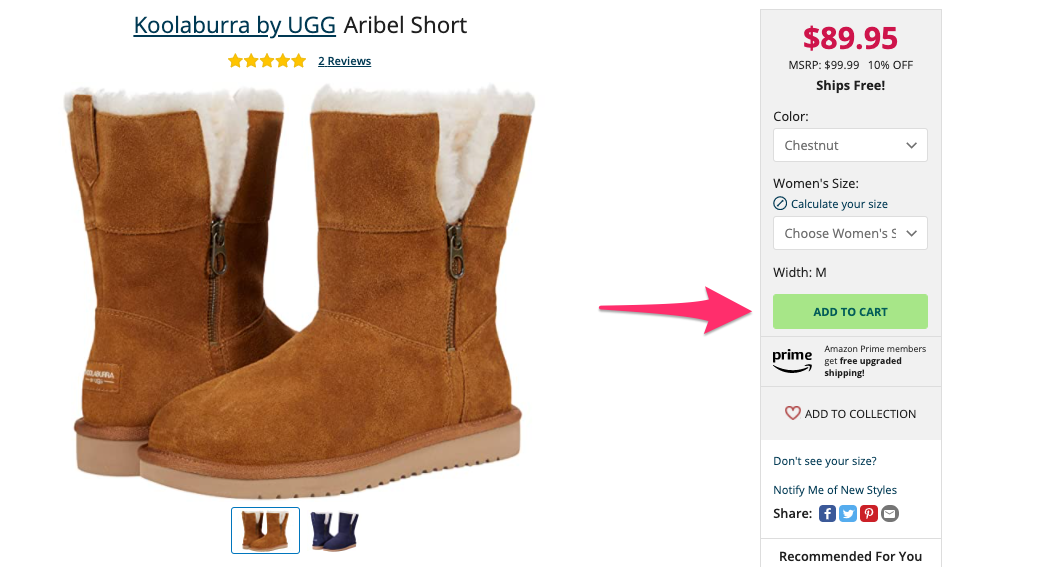 In the image above, Zappos uses a bright green call-to-action button to grab their shoppers' attention. The online brand also capitalizes the words 'ADD TO CART' for emphasis. 
4. Shipping & Return Details
Your products are only one part of the online shopping experience. Consumers also want to know how the product will get shipped to them. 
The cost of shipping is a major part of buyers' concerns. More than 60% of consumers reported that cost was the most important shipping factor when making the decision to buy. High shipping costs usually lead to abandoned carts. 
To curb loss sales due to shipping costs, it's best to state your shipping details upfront on your website. Explain the process and offer a link to your full policy.

You may want to include information about your return process. Every purchase won't satisfy your consumer, so make it easy for them to return items.
5. Similar Product Suggestions
When a consumer lands on a product page for the first time, they won't fall in love with the product and click purchase right away. There are several reasons for non-immediate purchases: the product isn't exactly what they want, the item doesn't have the color they desire, or their size is out of stock. 
Your brand should use these reasons to market similar products to your shoppers. It's an opportunity to direct consumers to other available items in your online store without them leaving your site. 
"By providing related products and giving the visitor the option of comparing product features/benefits, you can often maintain the attention of a prospect who may otherwise have gone elsewhere. This is an area where savvy eCommerce teams can also leverage historical data to provide personalized recommendations," states Jon MacDonald, founder and president of The Good.
Here's an example of how to display product suggestions on your website: 

6. FAQs
Customer Thermometer reports that "50% of customers think it's important to solve product or service issues themselves." The purpose of FAQs on product pages is to provide a valuable resource for shoppers to get their questions answered quickly.
FAQs also minimize the need for your customer support agents to respond to the same questions; therefore, they can focus on helping shoppers with more individualized needs.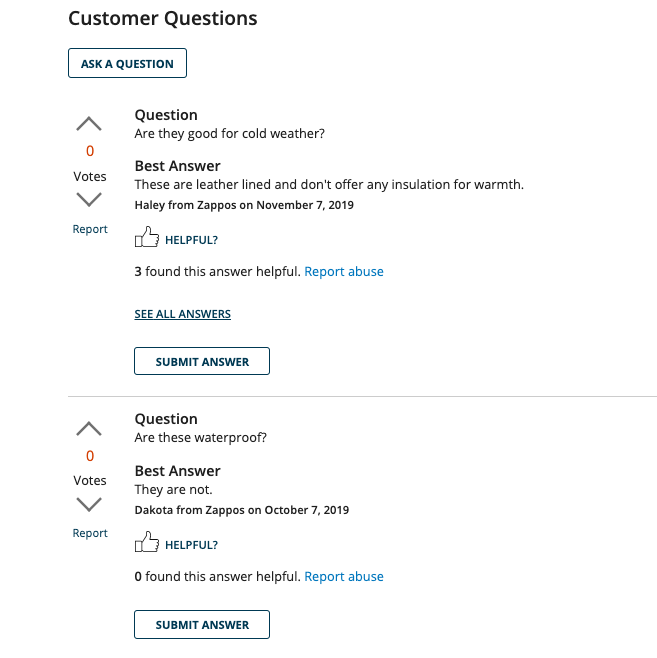 You may consider giving past customers the option to answer questions, too. Crowdsourcing responses builds trust in the purchasing process. In the image also, there is an option for shoppers to rate the helpfulness of an answer. Likewise, they can report inappropriate questions to your team. 
7.  Social Proof
While shoppers get product details from your brand, many of their purchasing decisions come from the opinions of their family, friends, and social network. Shoppers trust other consumers who've used your product. 
You can harness these first-hand experiences to help you drive more revenue. By adding social proof to your product pages, you can influence shoppers without them leaving your site. 
Social proof can include star ratings, reviews, or user-generated content. Check out the example below. 

Francesca Nicasio, a retail expert and content strategist at Vend, offers some additional advice: 
"How reviews are displayed on your site will depend on its layout and your eCommerce solution, so take the time to go through your platform's features or plugins and figure out which review system works best for you."
Read our ultimate guide to building an eCommerce store.
Optimize Your Product Page for More Sales With These Essential Elements
The product page serves as a roadmap for helping your business earn more sales. You can optimize each page with creative product descriptions, a visible call-to-action button, and compelling reviews. 
Now that you know what to include on your eCommerce product page, how do you lay it out? Virtue Media UX expert Brian Glover shares his top 6 best practices for designing product pages. Read it here.