Google "how to make money blogging," and you'll find that many articles feature the same advice. 
Start writing about your passions, create quality content to attract an audience, and eventually monetize that audience with affiliate marketing and ads. 
However, if you want to treat your blog like a business, you need to plan your monetization strategy from day one. 
It has to be the goal, not the afterthought. 
In this blog post, I'm going to cover some different ways to think about blog monetization so that you can plan better and make money faster. 
Let's get started.
How Much Can You Make from a Blog?
Before we get to the blog monetization strategies, let's briefly address the elephant in the room. Yes, the question on everyone's minds — how much money can you make from a blog?
Well, the answer isn't straightforward. It depends on many factors such as your:
Niche
Audience demographics
Monetization methods
Traffic
Whether you're blogging full-time or as a side hustle
However, the bottom line is that some bloggers make $0 while some earn 7-figures from their blogs.
And quite frankly, the end of the spectrum you fall on is mainly dependent on your hustle, strategies, and mindset.
Take my blog, for example. 
I started my blog in 2019 as a side hustle while working full time as an Affiliate Manager for a large tech company in Austin. 
I took what I learned in the startup world and decided I was going to scale my blog like a startup company. 
I didn't have much traffic at first, but I offered consulting services out of the gate to make some initial seed money that I used to outsource my processes and save me time. 
I crafted a top notch SEO and link building strategy, hustled, and ended up writing 80 articles and 82 guest posts in my blog's first year. 
And as you can see in my blog income reports and in my feature on Forbes, I now make over $80k per month from my blog:
While I didn't expect to attain this number in such a short period of time, I will give you some ideas on how I did it. 
6 Top Strategies to Monetize Your Blog
Most blog posts are written for the sole purpose of ranking on Google. This isn't such a blog.
This post is different because I'm going to arm you with actionable strategies to help you monetize your blog.
So, let's get to it.
1. To Monetize Your Blog, Treat Your Blog Like a Startup
This is where most bloggers miss it.
They start their blogs as hobbies.
And if there's one thing that's true of a hobby, it's that it rarely generates revenue.
To make money from your blog, you must treat it as a startup.
Yes, you read that. More than being a blogger, you're a startup founder. 
Ditch the outdated advice that tells you to blog about your passions because, frankly speaking, passion doesn't generate revenue.
To monetize your blog, you must start your blog like a business and run it like one.
If you're wondering, here's how you approach blogging from a business standpoint:
Select Your Niche Based on Profit, Not Passion
One of the biggest reasons bloggers fail is not that they aren't passionate enough.
Many bloggers fail to succeed because they use an outdated and massively flawed niche selection system. They use a system whereby you select your niche based on interest, passion, and skill.
To select a profitable niche, you must base your niche selection on market research.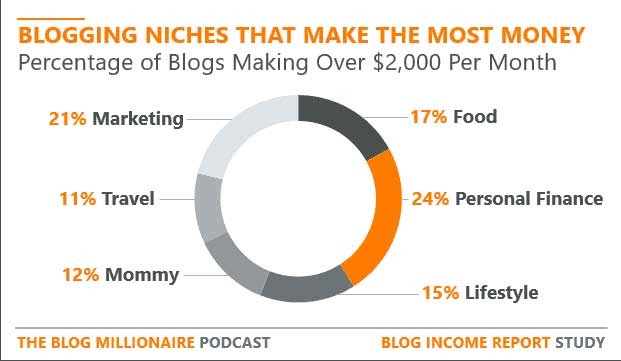 In other words, choose a niche based on:
Audience Revenue Potential
Affiliate Marketing Potential
Professional Leverage
Keyword Research
Of the four factors above, affiliate marketing potential is probably the most important. That's because affiliate marketing is one of the avenues that bring in the most revenue. 
To analyze a niche's affiliate marketing potential, perform keyword research and use the word "best" as a modifier. For example, "best laptops", "best credit cards", "best golf irons." 
"Best" keywords usually have transactional search intent and are used by people looking to make a purchase. If you can find these types of keywords with high search volume and low difficulty scores, that niche will likely be profitable.
A monetizable affiliate blog only really needs two types of blog posts:
"Best" keywords with transactional search intent to make affiliate income.
"How to" posts with informational search intent to showcase you as an expert to your readers.
Leverage Your Personal and Professional Experience
Another business-centric way of starting your blog is by leveraging your professional experience. After all, why waste all those years you slaved away on your 9-5 job?
Put those years to good use by tapping into your professional network and letting them know what you're up to. This will help you build your Domain Authority (DA) faster as guest post outreach is more successful when reaching out to people you're familiar with.
Leveraging your professional experience is also essential when choosing a niche for your blog, as you'll succeed faster in a territory you're familiar with. For example, I spent most of my working life in the SaaS industry and had the opportunity of working with many SaaS products. 
I leverage that experience on my blog by reviewing different SaaS software, platforms, and services. This has helped me monetize my blog faster.
2. Scale Your Processes, Not Your Writing
Common advice tells you, "keep writing quality content and they will come." 
In 2021, this simply isn't true. 
Not only will you burn out from all the writing, but you can't get traffic without building real relationships and getting backlinks from other blogs. 
Instead of scaling your writing, you must focus on scaling your processes. To do this:
Create a Content Strategy
A content strategy is a roadmap of the content you'll create, and when you'll publish it. 
An effective content strategy includes the following:
Keyword research. To create content your target audience will easily find, you must know the keywords they input in their search queries. 
Competitor research. Check out your competitors and see what kind of content and distribution channels work for them. Competitor research will also help you find content gaps in your niche.
Understand search intent. Search intent is the reason a user searches for a particular query. It's a good indicator of your audience's pain points and enables you to focus on keywords that have a monetary value.
A content calendar. Armed with the above intel, create topics around subjects your readers are most passionate about. Also, make sure to schedule the publication date.
Link building. You need to reach out to other sites to do guest blogging and other partnerships to build your site's authority. 
Outsource Your Content Writing and Other Tasks Involved in Growing Your Blog
Another way of scaling your processes is to outsource your content writing. Since you're a business owner, not just a writer, you don't have to do all the writing on your own.
Outsourcing first drafts to a ghostwriter will help you create content faster and free your time up for other vital tasks central to running your business.
Apart from outsourcing my content creation, I also devised some scaling systems with three goals in mind:
Obtaining backlinks to build my blog's Domain Authority (DA).
Accelerating my organic traffic growth.
Monetizing my site within 3-6 months.
To achieve this, I had to hire an assistant to help with the link building and guest posting outreach.
Whether you're holding down a full-time job or blogging full-time, you must delegate some of your tasks to scale your blog efficiently. Start with the tasks you like the least, and as your blogging income increases, outsource more tasks to help you run your business more efficiently.
3. Build Organic Traffic
It goes without saying, but you need traffic to monetize your blog successfully.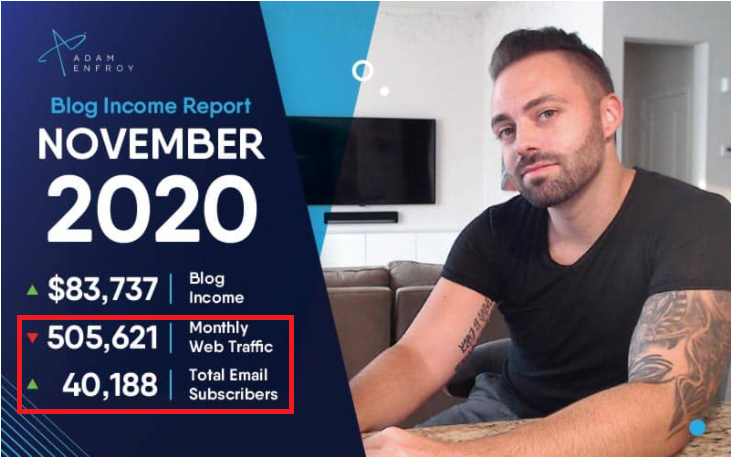 All the best blog monetization strategies won't work if you don't build an audience for your blog. To do that, you should focus on three main areas:
Search Engine Optimization
Search engine optimization (SEO) is the practice of organically increasing both the quantity and quality of traffic to your blog from search engines.  A few ways to boost your SEO include:
Create SEO-optimized content. This is content created around a focus keyword in your niche. It must also provide value if your audience is to engage in it.
Build backlinks. You can do this by guest posting or by running guest posting outreach campaigns. You need to build relationships and provide value to other sites in order to get more links for yourself.
With good SEO, you'll be able to attract visitors who are likely to turn into regular followers of your blog.
Email Marketing
The key to succeeding as a blogger lies in building relationships with your audience. And the best way to do that is through email.
That is why you must start building your email list from the first day you launch your blog. Use an ESP like Growthmatik to automate your email marketing and develop meaningful relationships with your readers. 
Social Media Marketing
Another platform you can leverage to build a following for your blog is social media. With close to 4 billion active users, it certainly makes for a great tool to drive traffic to your blog. It's also a great place to interact with your audience and like-minded bloggers.
Again, it may be best for you to hire a freelance social media manager to help you scale this aspect of your blogging business.
4. Set a Blog Monetization Timeline
Like every business, you must have a plan for how you will run your blog.
An important aspect of your plan is to create a blog monetization plan. This is a schedule of milestones you should strive to reach and the monetization methods you can employ when you get to a certain milestone.
For example, you can't start running ads on a brand new blog as ads require that you have a lot of traffic coming to your blog.  
But what if you want to start monetizing your blog in as little as three months?
Well, it's definitely possible. I know because I did just that with my blog.
Here's an example of the blog monetization timeline I used:
1-90 days. High-end consulting (0-1,000 monthly site visitors)
90-180 days. Affiliate marketing (1,000-2,500 monthly site visitors)
180-365 days. Your first online course (5,000+ monthly site visitors)
365 days and beyond. Course memberships (10,000+ monthly site visitors)
Particularly if you leverage your professional experience, it's easy to start offering high-end consulting right from the first day. The good thing is that you don't necessarily have to be an expert to be a consultant. You just have to know more than the average person.
Setting a timeline is important as it will give you something to work towards. It will help you treat your blog with the gravity it deserves.
5. Design an Effective Blog Sales Funnel
To start monetizing your blog immediately, you must design an effective sales funnel. Your sales funnel will comprise five main stages designed to drive prospects toward purchasing your high-end consultation offer.
Stage 2: They opt-in for your email list in exchange for your "freebie" offer.
Stage 3: Optional: Add a lower-priced offer around $50-200 to build trust.
Stage 4: Send an automated welcome email series that tells a story and takes them down a path to set a meeting with you.
Stage 5: Your ideal client sets a meeting with you and pays for your high-end consulting offer.
While it may seem counterintuitive, start with your high-end offer as it will help you make more money with a small amount of traffic. And as you scale up traffic, you can then introduce other offers like affiliate products, sponsored posts, and digital downloads. 
Once you have those locked down, you can use an online course tool to sell high-end premium courses to your audience.
This brings us to the next strategy for monetizing your blog — choosing your monetization methods.
6. Choose Your Blog Monetization Method(s) Carefully
Now that you've set up a solid foundation for success, you can now choose your blog monetization methods. Notice I used the plural as you must use as many monetization methods as you can manage.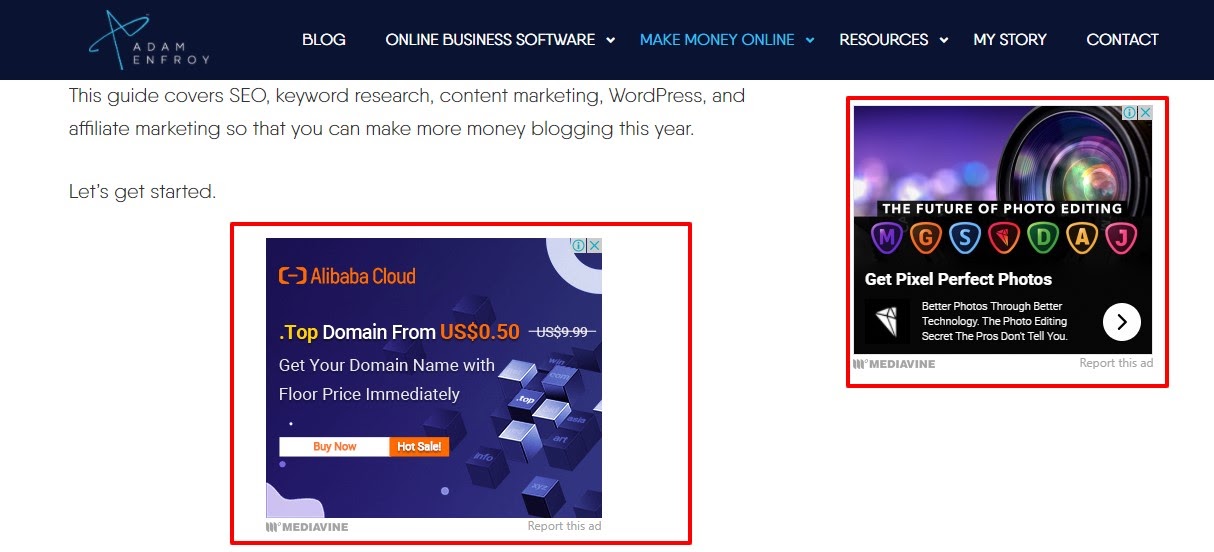 Let's look at some methods you can use to monetize your blog, apart from consulting, as we've already dealt with it.
Affiliate marketing. You can use your blog to sell digital and physical products, online courses, and other products made by others. The merchant then pays you a commission.
Create and sell your own digital products. With the advancements in technology, creating a digital product has become easy. All you need is an idea and the right software to create it.
Displaying ads. If you have a lot of traffic coming to your blog, ads are an excellent way of monetizing your blog. The only drawback is that revenue is traffic dependent.
Sponsored posts. A sponsored post is a blog post a company pays you to publish on your blog. Usually, there will be a mention of said company in the blog post.
Sell your services. Use your blog to sell services such as design, writing, photography, virtual assistance, and many more.
Offer paid membership. You can gate some of your best content and offer access to it at a monthly fee.  
Depending on the structure of your blog and revenue goals, you can leverage any one or a combination of the above methods to monetize your blog. 
Your Blog Monetization FAQs Answered
There you have it — six actionable strategies to monetize your blog in 2021. But before we wrap things up, let's quickly answer some of the most common blog monetization FAQs.
How Much Does It Cost to Start a Blog?
One thing that makes blogging an attractive business is that you can start with virtually no capital. All you need is good web hosting (from as little as $2.75/month) and a free CMS like WordPress to get started. 
Can I Turn Blogging into a Career?
If you're willing to put in the work, you can definitely turn blogging into a career. You can certainly make enough money to support yourself. However, that being said, most bloggers don't make enough money to quit their day jobs. But I believe it comes down to the monetization strategies they use.
Will I Be Required to Pay Taxes as a Blogger?
Yes, as a blogger, you're required to file for taxes according to your income level and the type of entity you filed your blog as (LLC, S Corp, or sole proprietorship). 
Use These Best Strategies to Monetize Your Blog in 2021
Armed with the above blog monetization strategies, you can turn your blog into a revenue generation machine. 
These strategies will help you:
Monetize your blog from day one
Scale your processes
Increase traffic to your blog
Build a community around your blog
Remember, to make money blogging, you need to treat it like a real business. To do this, you need to increase your Domain Authority and build organic traffic. You need to write monetizable "best" list posts that make money in tandem with informational "how-to" posts to build an audience.
And you don't need to do it alone. You can outsource components like writing and link building to make more progress in less time.