There's nothing better than user feedback to improve your business and website. Often, when you're building your website you're just making guesses about what your visitors want to see.
If you have a deep understanding of your market and customers, then you might be correct. But, being able to back up your opinions with data can go a long way towards building a better website, and growing your business.
Sending out a survey via email doesn't always work the best. But, what if you could integrate a survey into your existing website?
Good news: with a WordPress survey plugin, you can.
Below you'll learn what a WordPress survey plugin is, how it can benefit your website, and what you need to look for in a survey plugin. Finally, we'll break down some of the best WordPress survey plugins you can find today.
What is a WordPress Survey Plugin?
A WordPress survey plugin is a plugin that lets you run surveys for your website visitors. These plugins let you gather feedback on your products, services, and even your website as a whole.
The overall feature set you'll get access to will depend upon the plugin you're using, but they'll generally have features similar to that below:
An easy survey and poll creation tool you can access from your dashboard
Multiple options to display the survey form on your site
Data reporting and graphical display features
Access to survey and poll data for exporting and analysis
As you'll soon learn, a lot of WordPress survey plugins integrate with popular form plugins, while others will stand on their own as survey and polling tools. 
What Features Should I Look for in a WordPress Survey Plugin?
There are a ton of different WordPress survey plugins out there on the market. This is both good and bad.
Good, because this means you'll be able to find the perfect plugin to fit your needs. Bad, because you'll have to sort through a ton of different plugins that might not work for you.
Regardless of the plugin you decide to use here are some features that you'll want to consider:
1. Survey Form Design
You must take stock of your survey needs before you begin your plugin search. Some users will want nothing more than a simple pop-up form, while other website owners will prefer multi-page forms that allow you to save your answers throughout.
There are all kinds of different survey design plugins out there. Some are simple, while others have advanced features like conditional logic for a personalized survey experience, built-in calculations, and more.
2. Built-in Survey Reporting
Survey reporting is how your survey results will display. Having to read through hundreds of survey responses on your own won't be very helpful. Instead, look for a survey plugin that'll help you quantify your results and make your results actionable.
Some features to look for include, automated graph creation and percentage breakdowns, bundled embedding to display your results on your website, and more.
A lot of times the data you generate can be transformed into engaging blog posts and other linkable assets.
3. How Easy It Is to Use
There's no point in installing a plugin if you're never going to be able to use it. Make sure you choose a plugin that's intuitive enough to use. The goal is to add useful surveys to your site, not spend all day fiddling with a plugin, trying to get it to work.
However, the ease of use will also be influenced by what you're trying to accomplish with the plugin. The greater the feature set and the more interactive you want to make your surveys, the higher the learning curve will be. 
4. Overall Cost
Finally, you'll need to consider how much a plugin costs. Usually, most plugins (even premium ones) have free versions that contain fewer features overall.
Sometimes all you need are the core features and you can stick with the free version forever. Other plugins only offer premium versions, with a flat rate, yearly, or monthly fee. Finally, we have forever free plugins that are free for the lifetime of using the plugin.
Make sure you choose a plugin that's in alignment with your budget. The beauty of WordPress having such a large plugin library is you can always find a suitable plugin that fits within your budget.
The Best WordPress Survey Plugins
There are all kinds of WordPress survey plugins out there on the market today. Instead of having to sort through every available plugin, we've compiled a list of some of the best below.
You'll find robust form plugins with survey functionality, simple polling plugins, interactive surveys, and more.
1. WPForms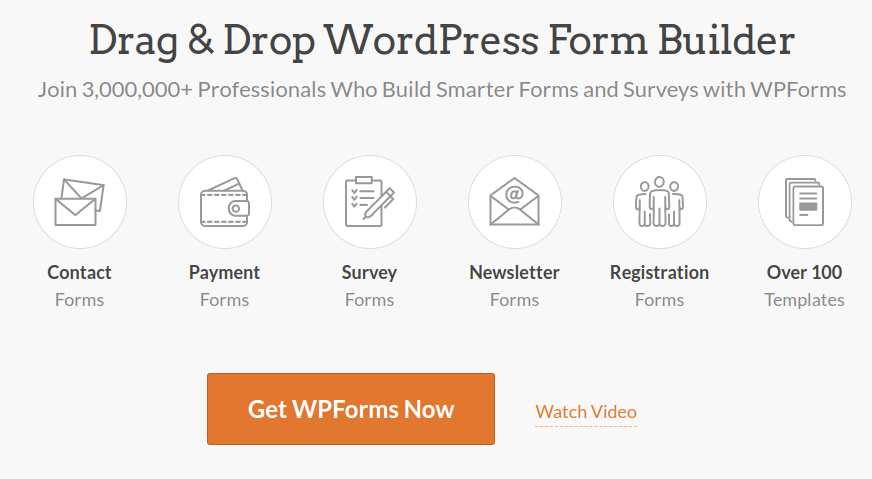 WPForms is one of the most popular WordPress form plugins on the market. Beyond the ability to create online forms you can also create in-depth surveys and pools for your visitors.
To use the survey feature of this plugin you'll need to get the surveys and polls add-on. This add-on will combine the powerful form creation features with some very useful survey features like conditional logic, multiple page forms, email integration, and much more.
When you're creating a form you can easily convert it into a survey by clicking a button.
Finally, you have access to the in-depth reporting features. This WordPress survey plugin will automatically create graphs and other visual reports from the survey responses you receive. You can even export these graphs to create reports or shareable social media graphics.
2. YOP Poll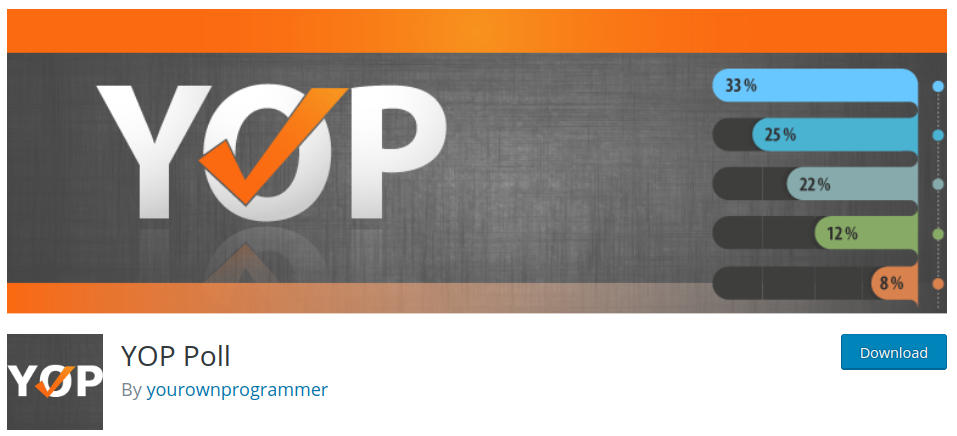 YOP Poll helps you create simple polls and surveys and embed them across your website. The unique polling and data collection features let you run multiple polls at any given time.
You can use either shortcodes or widgets to embed and run multiple polls on your site. There's also a template library, so you can find a theme that matches the design of your site.
If you're running a high volume of polls you can also clone and duplicate polls you've created in the past. This plugin is very easy to use and easily integrates with virtually every theme on the market.
You also have a high level of control in data reporting and you can choose what information to display and which information you want to keep private.
3. Gravity Forms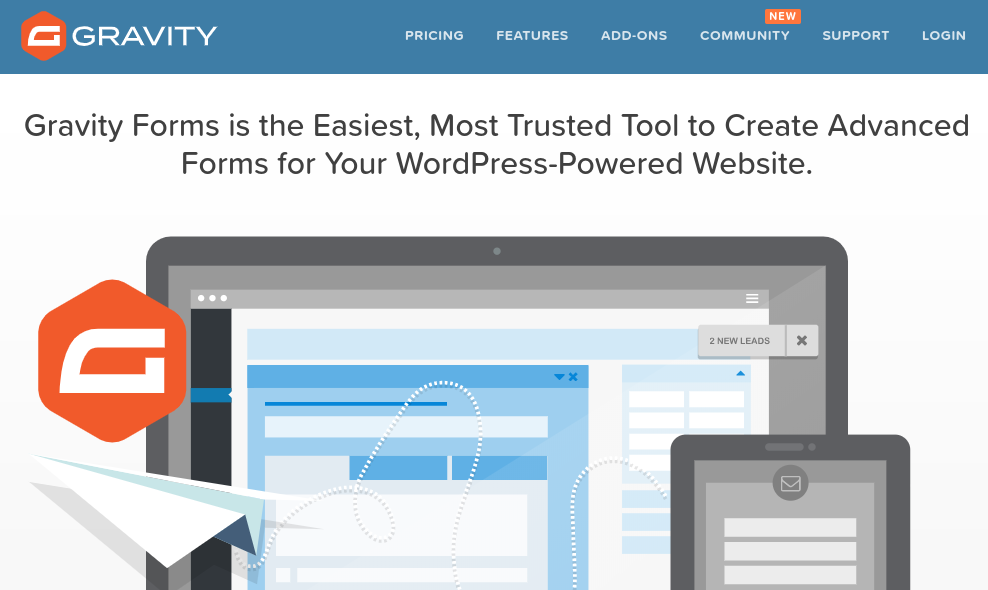 Gravity Forms is one of the longest-running WordPress plugins. Like, WPForms above, you'll need to get the add-on in order to add survey and form functionality to your site.
Once you've activated the add-on you can create robust survey forms with a variety of interactive survey fields.
The results from your surveys and forms can only be viewed from within the admin area. To create forms and graphs with your data you'll need to export the CSV data and use a third-party tool to create visual elements.
4. Quiz and Survey Master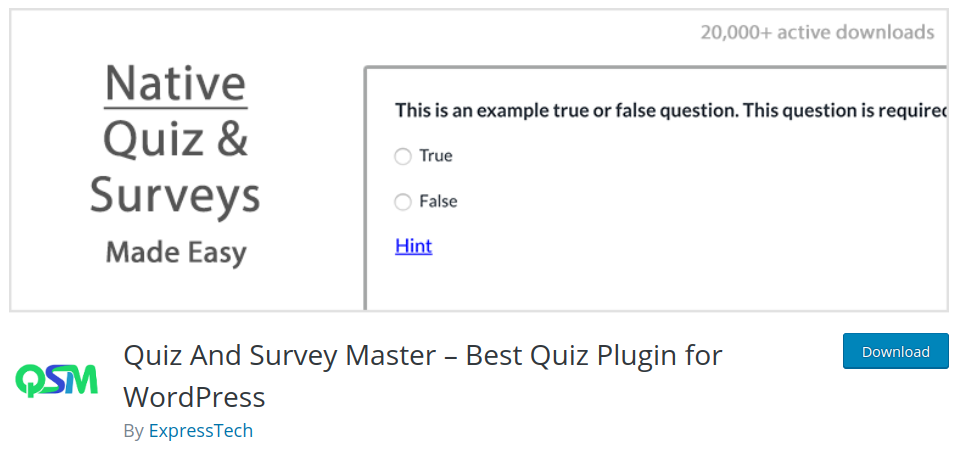 Quiz and Survey Master is a plugin that'll help you add quizzes and surveys to your website. The interface of the plugin is a little bit difficult to use, but you will find extensive documentation to help you create engaging quizzes and surveys.
The free version of this quiz plugin does come equipped with a ton of useful features like interactive answers, answer scoring and even leaderboards.
You can create multi-page forms, as well as quizzes with this WordPress plugin.
However, you won't be able to access in-depth data reporting and analysis unless you purchase the premium version of the plugin.
5. WP-Polls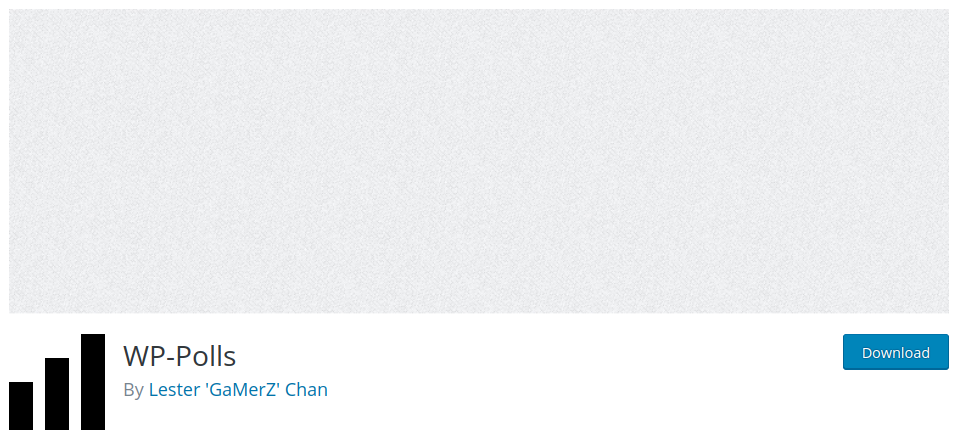 WP-Polls is a very simple polling plugin. Unlike other form-based plugins on this list, this plugin doesn't include a form builder. If you want to customize the appearance of your polls, then you can use the built-in templates or create custom CSS code.
You're only able to collect responses via checkboxes or radio buttons, so the level of depth to your data will be limited. However, this might be all you're looking for.
This form is best for simple voting polls when you're trying to see if users prefer one option over the other. Once a user submits an answer they'll automatically be able to see the current results of the survey.
6. Formidable Forms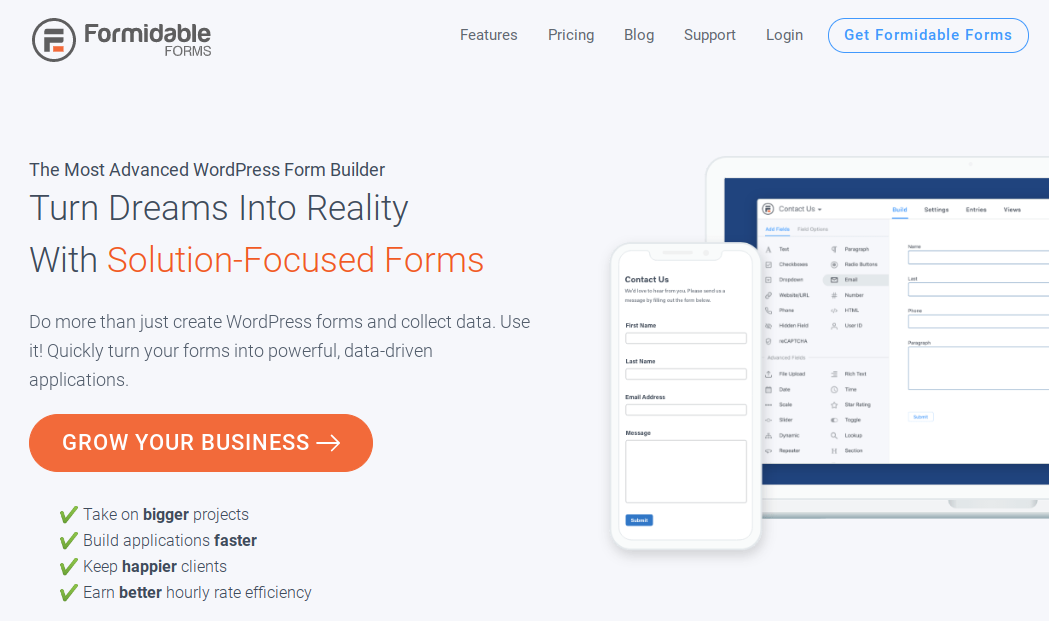 Formidable Forms is another feature-rich form plugin with survey and poll functionality. Even with the number of features this tool provides, it remains very easy to use.
You'll get access to form response fields like checkboxes, radio buttons, dropdowns, and more. The form builder is equipped with a drag and drop interface, so you can quickly build complex forms.
This plugin also has a lot of advanced data reporting features. You can showcase the results of your survey with charts, graphs, tables, pie charts, histograms, and more. This makes it super easy to share the data you've collected with your audience and across social media.
7. Poll, Survey, Form, & Quiz Maker by OpinionStage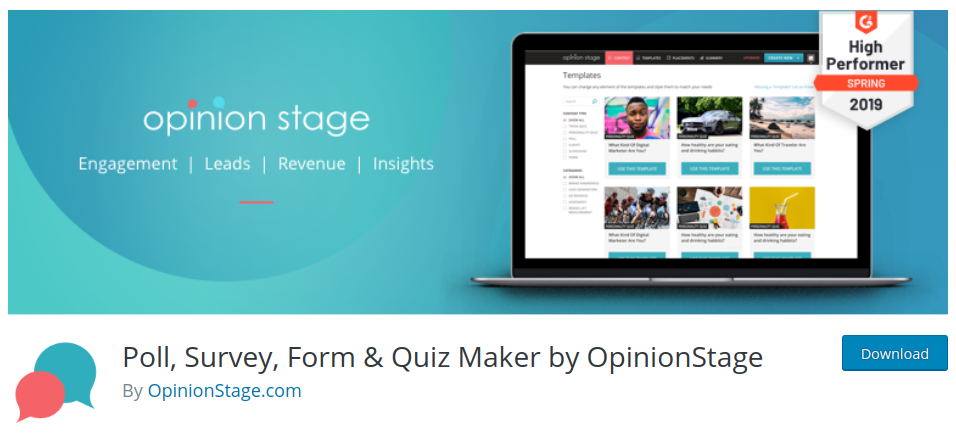 Poll, Survey, Form & Quiz Maker is a great polling plugin that lets you add a variety of different interactive polls and surveys to your website.
The surveys you can create with this WordPress plugin can even include images and videos. This can help to make your surveys much more engaging than what some other plugins can provide.
You can create a variety of question types, like single or multiple answers, along with open-ended questions, and more.
Once you're done creating your surveys, you can embed them across your site in pages, posts, sidebar, and widget areas.
Benefits of Using a WordPress Survey Plugin
Gathering data about your audience can be hard work. You can send out a link to a Google Form in an email blast to your list. Or, encourage your visitors to drop a comment or send you an email.
Using a WordPress survey plugin helps to simplify this process. Not only will the survey forms you create have a better design, but you'll be able to collect more useful data as well.
Here are a few smart reasons to use a WordPress survey plugin:
1. Gain Better Market Understanding
Uncovering more useful information about your market is never a bad thing. You can use this information to improve your website, build a better website, and even uncover new product and content opportunities.
A great survey plugin will also make data collection easy. With appealing forms, your users will actually enjoy filling out your surveys and polls.
2. Improve Your Offerings/Website
Once you've collected all that data, it's time to put it to work. A WordPress survey plugin will help you transform responses into valuable insights.
This can either be used internally, to improve your existing website, products, and services.
Or, it can be transformed into engaging blog posts and social media graphics. Fresh data is always useful online, being able to generate it yourself and put it to work for you can be a valuable asset for your business.
3. 24/7 Data Collection
Survey plugins make data collection easy. For example, you have a form that lives on your website 24/7/365. Plus, by making it easy to access and fun to fill out you're encouraging your users to leave a response.
Think about other forms of data collection, like passing out physical forms, or conducting interviews. All of these are time-intensive and make it very difficult to capture responses at scale. Hosting a survey on your site gives your visitors a chance to answer questions at their leisure. 
Choosing the Best Survey Plugin for Your Website
By now you know how survey plugins can benefit your site and the kinds of benefits you can receive when you start running your own surveys on your site.
The WordPress survey plugins above all have slightly different offerings. Some are robust form plugins with survey functionality, while others are simple polling plugins. The plugin you choose to go with depends upon your needs as a website owner.
Once again, refer to the list above to help determine which plugin is going to be the best fit for you. You can always try out a few plugins to see which fit best with your workflow and site design before you choose a plugin to use over the long-term.