Did you know that nearly two-thirds (64%) of small businesses have a website, and 35% of small businesses think their operation is too small to warrant a site?
If you are starting a new business and fall into the category of people who either haven't considered a website or aren't prioritizing the creation of your website, I'm glad you're reading this article.
The first thing to understand is how big of a role the internet plays in consumerism, local search, and customer engagement. Consider the following:
People love to shop online. The number of online shoppers is expected to be 2.05 billion in 2020. This means over a quarter of the 7.8 billion people in the world are digital buyers.
Consumers look for brick-and-mortar and service-based businesses via Google search. 86% of people search for the location of a business on Google Maps, and 72% of consumers who conduct a local search will visit a store within 5 miles of their current location.
Customers want consistent engagement experience with your brand (this includes your website). 75% of consumers expect a consistent experience wherever they engage (e.g., website, social media, mobile, and in-person).
The short answer is this: Not only is a website a necessary tool to help customers find and engage with you, but it's also an excellent way to boost business revenues.
But, putting up just any website and forgetting about it won't foster much success.
You have to follow some industry best practices to get the most bang for your buck out of your website (for some extremely motivated people, this can mean millions of dollars). Let's delve deeper.
Creating a Website that Makes Money Online or Drives Business to Your Brick-and-Mortar Store
It's not a surprise that 64% of small business owners don't have a website considering the general attitude towards website creation. Many of these business owners think creating a website is too expensive and too complicated.
Here is the deal. You don't have to go out and spend $10K at an advertising firm to build a great website. You don't even have to know how to code or how to design a site.
Seriously. There are several website builders—including Virtue Media's Gator Website Builder—that will help you build an excellent website that checks all the right boxes. All you have to do is pay for hosting (starting at $2.95+ per month), and you can pick a template, customize the template with a drag and drop builder, and you can count on the website to be:
Beautifully designed
Coded properly for maximum online search visibility
Responsive
Optimized for mobile
What's even more impressive is it takes less than a day to get your website up and running.
If fear of prices or a lack of skill is holding you back, it's time to reconsider. It's now possible to get your business website up and running, so you can start engaging with the customers that are interested in what you are offering.
Another common reason business owners don't have a website is because they own a service-based business or a brick-and-mortar store, and don't think a website will do much good.
However, nothing could be further from the truth. Remember how nearly all people search for the location of a business on Google Maps? And, once people find a business, they will more often than not either call or visit the store. If you don't have an online presence, you're missing out on business.
Here is a personal example. A few months ago, I needed the help of a handyman. Being the Millennial that I am, I went to Google for help. However, I couldn't find one independent website for a handyman in my area. As a result, I had to turn to Facebook and word-of-mouth recommendations. It took me three weeks to find a handyman, not a handyman that was good—just any handyman in the area.
I would venture to guess there are several handyman services in the area, but because none of them have a website, they are missing out on business.
How to Monetize a Website
Merely having a website is the first step to driving business revenue. When you have a website, online searchers and local customers will be able to find your information online and purchase your products or services.
However, if you're interested in further monetizing your website, you have additional options. These strategies are often followed by bloggers, people involved in affiliate marketing, and eCommerce professionals.
Here are some ways your business can make extra money from your website:
Advertising. If you do your job right and drive a lot of traffic to your website, you can sell advertising space on your website. I have a friend who started a blog as a creative outlet. People loved it, and businesses began reaching out, asking if they could buy an ad on her blog. She paid off her and her husband's college and law school student debts with the money she made from advertising on a platform that started as a hobby. 
Affiliate marketing. Another way to use your website to drive new business revenue is to sell other people's products on your website. If a sale comes from your affiliate link, then you'll get a commission for this sale. Virtue Media has an affiliate program if you're interested.
eCommerce. You don't have to have a brick-and-mortar store to make money from your business. You can handle all the sales of your products via your website. This can include digital products that people can download after paying a fee, online courses, or physical products that you ship to your customers. Enabling this capability on your website is easy with Virtue Media's eCommerce plan.
There are several other ways to drive revenue to your business by monetizing your websites, but these avenues are an excellent place to start.
The Role of Digital Marketing
If you're serious about using your website to drive more business to your website, then you may have to go above and beyond just relying on organic search to find customers.
Thankfully, with the help of various digital marketing strategies, you can drive your target customers to your website. Here are two of the most popular digital marketing mechanisms to drive traffic to your site.
PPC (pay-per-click) Google advertising
PPC, or paid search, is a type of advertising where you select a keyword(s) in a tool like Google Ads. You can create an advertisement, select a budget, and compete for a space in the paid listings on Google. 
For example, I need a portable phone charger, and I want to buy one online. If I type in the most relevant keyword, "portable phone battery," then Google will return a list of paid ads and organic search results. Paid ads come before the organic search listings, and the highest bidder's ad will appear first.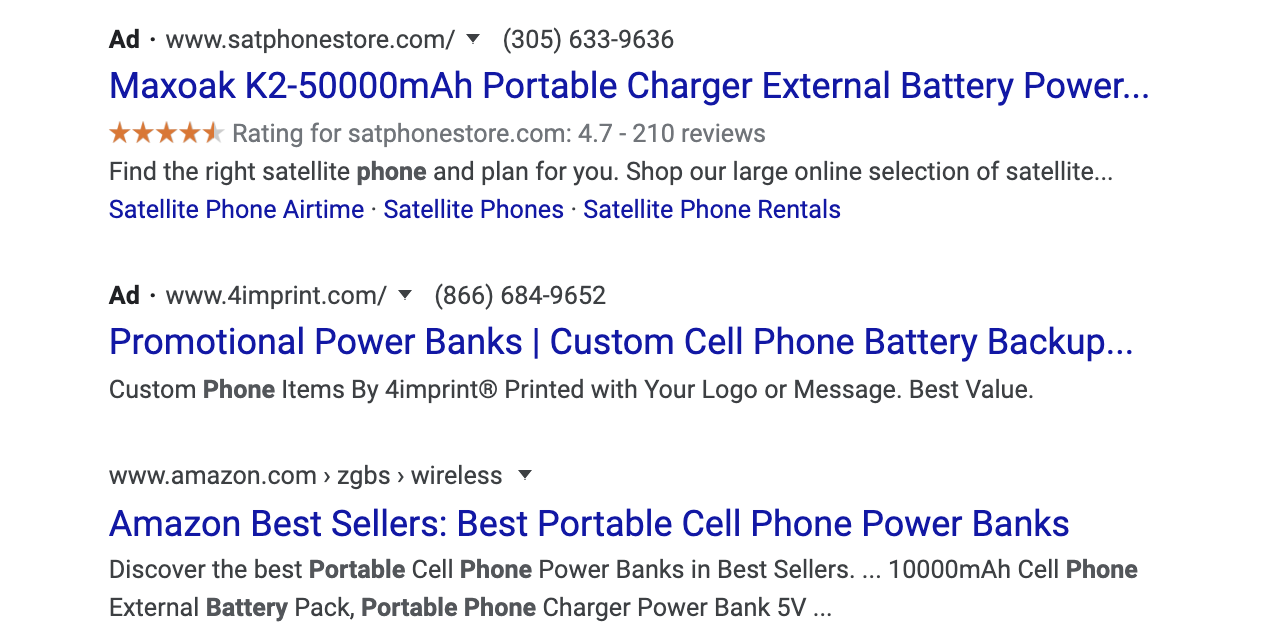 As you can see, the first two are ads, and the Amazon listing is an organic search result).
Buying a paid ad is an excellent strategy, considering how difficult it is for a small business to compete with an industry powerhouse like Amazon.
This is especially true considering clicks on paid search listings with a high commercial intent have nearly the double click-through rate of organic search results. This means that most people click on Google Ads when they are looking to buy an item online!
Email marketing
Email marketing is the digital marketing method with the highest ROI. In fact, 30% of global marketers cite email marketing as having the highest ROI. And, some studies show that email marketing has an ROI of over 100%.
Email marketing involves including an email subscriber box on your website (which is something you can do when building a Virtue Media website). When people come to your website, they can opt-in to your email list.
Then, you can use an email service provider like Constant Contact to send personalized, automated offers, and messages to your audience.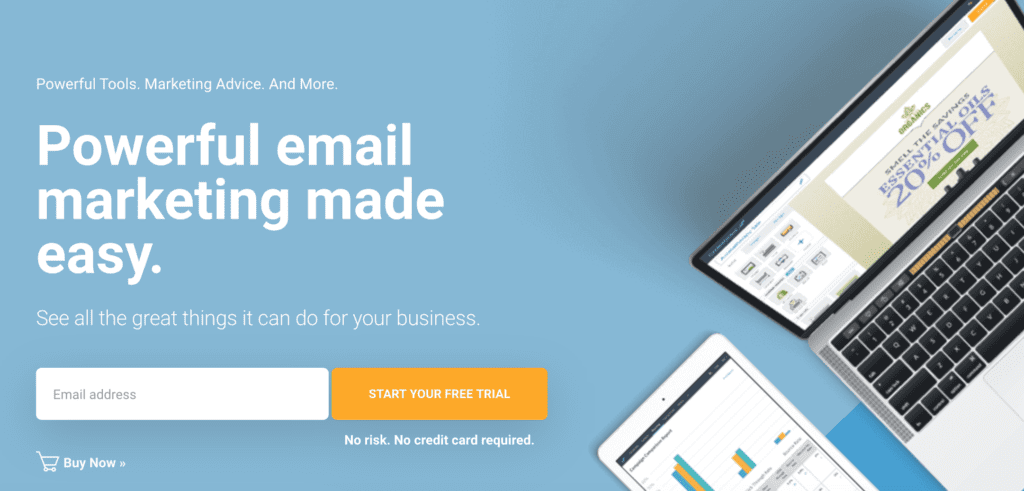 One of the reasons email marketing has such a high ROI is because people have opted into your list, indicating that they are already interested in your brand. Plus, stats show 59% of some survey respondents say marketing emails influence their purchase decisions. 
Why Not You?
If you're worried about starting your online business, take some time to read some overnight website success stories to motivate you.
My favorite is Warby Parker. The short story is 4 Wharton MBA school buddies got excited about the idea of selling eyeglasses online. So, they created a website, solidified their business, and went live on February 15, 2010, with WarbyParker.com.
GQ ended up calling the company "the Netflix of eyewear," and 48 hours after this remark, the site became so flooded with orders for $95 glasses that Blumenthal temporarily suspended the home try-on program. 
The rest is history.
If you've been toying around with the idea of starting a website, don't delay any longer–especially if you already run a small business. It's not difficult, it's inexpensive, and it will make a massive difference in your business revenue. To get started, visit Virtue Media today.