If you have a specialized skill, then offering consulting services is an excellent way to make big bucks. 
Companies—especially startups—often hire talented individuals on a contract basis to help inform on the most effective business processes, how to use specific software programs, and the best strategies to quickly scale a business.
Consulting is a stellar way to make a living, but the first step in getting your new consulting service up and running is to build a website.
This article will cover everything you need to know to build a WordPress website for your consulting business.
Why do consultants need a website?
Before diving too deep into the details of WordPress, it's important to cover why consultants need a website in the first place.
While many consultants receive business via word-of-mouth and referrals, a website helps you:
Establish credibility. A website acts as a reference point for prospective clients. Clients can click through to your website to read about you, check your references, learn about past results, and more.
Attract new clients. In the event a client doesn't have a referral for a consultant in your industry, the first place they start their research is on Google (or Bing! If they're old-school). If you don't have a website presence, you miss out on valuable customer acquisition opportunities.
Gather Google reviews. Did you know that over 90% of people read reviews before making buying decisions? Happy clients can leave you a positive review when your website exists on Google, urging other similar clients to hire you for your consulting services.
These are some of the reasons a website should be on the top of your "to-do" list when starting your new business.
Now let's talk about what WordPress is and why it's a great fit for websites for consultants.
What is WordPress (and why should consultants build on WordPress)?
Several website builders and content management systems are available to you, but not all of them have the same functionality and appeal to newbies.
WordPress is the king of content management systems (CMS), and it's the most popular CMS globally.
As of now, there are more than 64 million WordPress websites, and it's with good reason. WordPress is a live and open-source platform that is evolving for the better all of the time.
In other words, the original source code is open to everyone, so anyone with coding skills can modify the code to create stellar themes and plugins.
Since WordPress is open-source and extremely popular, there are several tools non-designers can use to build a beautiful website with a few clicks of a button.
Let's take a closer look at some more of the reasons WordPress is the best choice for people looking to set up a gorgeous website quickly.
1. WordPress is easy to use
As mentioned earlier, there are over 64 million WordPress websites. There are so many WordPress websites because the platform works well, and it's highly intuitive.
Even if you've never created a website before, you'll be able to create an excellent site with WordPress. The dashboard is easy to navigate, you can install a theme, and it's easy to activate plugins to help your site function how you want it to function.
To get started with WordPress, all you need to do is purchase a hosting plan from Virtue Media. Then, click the one-click button to install WordPress.
As soon as you've installed WordPress, you have two options for building your site. 
You can follow the step-by-step WordPress Site Builder directions to get started. The WordPress Site Builder will walk you through setting up your home page, adding a contact page, building an about page, including content, customizing the site to look pretty, and launching your site.
If you want more flexibility with WordPress and have slightly more experience, you can opt out of using the WordPress Site Builder, pick a theme, create new pages, add your menus, and create the site of your dreams.
2. You don't need any design skills to use WordPress
Since you're a consultant and not a designer, the first concern when building your website might be that you don't want it to look like an amateur made it.
It's a legitimate concern, but I have good news for you.
WordPress comes with tons of free themes for consulting websites that you can install and customize. All you have to do is scroll through the list of themes, find one you like, activate it, and add your own content.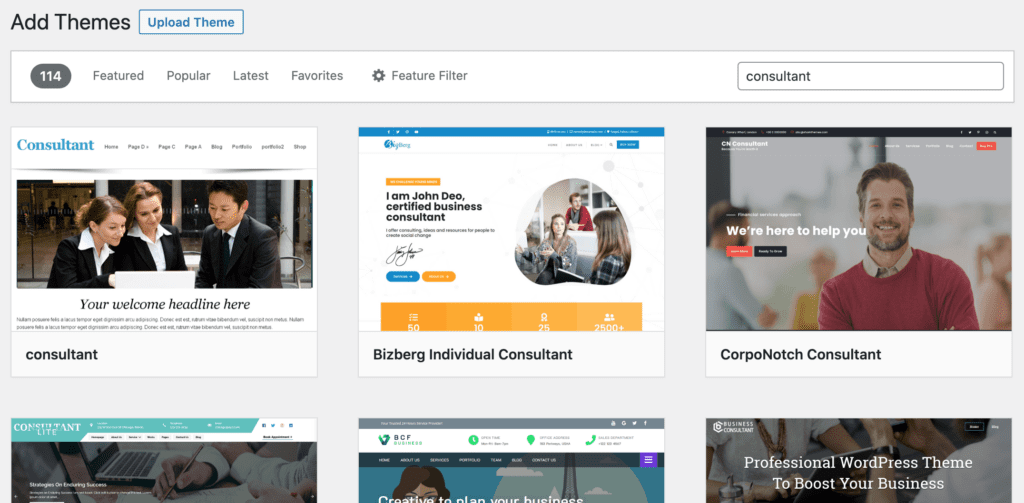 No coding is required.
Here are some quick instructions on how to pick a free theme on WordPress.
How to activate a WordPress theme for your consulting website
1. Log in to your WordPress dashboard.
2. Find "Appearance" on the left-hand menu. 
3. Place your cursor over "Appearance." You'll see a drop-down list with options. Click on "Themes."
3. WordPress will send you to the "Themes" page. You'll see a few themes pre-installed. If you like one of these themes, great! Activate it and get started. If not, you can search for another theme by pressing "Add New Theme."
4. Once you've settled on a theme, hover your cursor over the respective theme box until you see the word "Activate."
5. Press "Activate."
Now your new theme is activated, and you can start customizing it. Check out these WordPress theme options if you need help finding an excellent design for your consulting website.
3. WordPress functions with the help of pre-coded plugins
Remember how WordPress is an open-source platform? This means other people can create tools for WordPress, called plugins, that add WordPress functionality.
So, instead of writing code to get your website to do something, you can search for a plugin and add that pre-coded plugin to your website.
For example, let's say you plan to blog a lot on your website and want to make it possible for other people to share your articles across the internet.
You don't have to dig into the code of your website and add directions for social sharing. All you have to do is find a social sharing plugin, install it, activate it, and input your social handles.
The plugin has the code to do the rest.
Once you've activated your plugin and filled out the social media information, you'll see social sharing buttons on your blogging page.
It feels like magic.
Here's how to add a WordPress plugin to your consulting website.
How to add a plugin to WordPress
1. Log in to your WordPress account.
2. Turn your attention to the menu on the left-hand side of the dashboard.
3. Find "Plugins."
4. Hover your cursor over "Plugins." Finally, click on "Add New."
5. Use the menu to browse through popular plugins or enter a keyword in the search bar to search for a relevant plugin.
6. Once you've found the plugin you want to use, click on "Install Plugin."
7. Activate the plugin by pressing "Activate."
8. Follow the instructions to customize your plugin.
There are bunches of different kinds of plugins. It's smart to consider what you want your website to do, and then conduct a search to see what kind of plugins are available.
Before you install a plugin, make sure it has many positive reviews and that it gets updated often.
If you need a place to start, check out the best plugins for freelancers.
Build your consulting website with Virtue Media today!
The key to a successful consulting business is making sure the clients that need you can find you. How do you do this? That's right! You build a gorgeous WordPress website with the help of excellent hosting from Virtue Media.
Check out the web hosting plans from Virtue Media today. If you need help selecting a plan that works for you, contact us today.