One of the first and most important steps to starting a new business is deciding what type of product you'll sell. One lucrative option to consider is creating information products you can use to generate passive income.
If you have a lot of valuable knowledge that you know others can benefit from, this type of business model can mean putting work into a product upfront that you then continue to make money off of for months or years to come. 
Why to Use Ebooks to Generate Passive Income
No matter how much content forms like videos and podcasts start to take off, people still like to read. And for some types of knowledge, a longform piece of written content can be the best way for people to consume and absorb information. 
As a format, ebooks have a lot of versatility. You can include images, such as charts and graphs that help make your case, or photos that illustrate the steps in a written tutorial. You can include links that give readers a way to seek out further information. And your readers can choose to read an ebook on the device of their choice, whether a desktop screen, smartphone, or e-reader. 
Ebooks are a smart choice for your business if:
Your target audience consists of people who prefer learning by reading versus other formats like video or interactive courses.
You have writing skills, or are willing to hire someone to ghostwrite the ebook for you.
You're confident you have enough to say on your topic to fill a book-length text, without padding the information. 
If you can check all those boxes, then including ebooks in your business plan makes sense. 
How Ebooks Can Help You Build a Passive Income Business
There are two ways to use ebooks to build a business:
Provide an ebook as a free product you offer website visitors in order to build your email list and help grow their trust in your brand.
Treat your ebooks as a product in and of themselves that you sell for a profit.
You don't have to choose one or the other—you can create a business plan that includes both. 
Free ebooks on introductory topics can be a content marketing tool to get more people onto your website, and show them your expertise in the subject matter. And when they're ready to go deeper, they can upgrade to the paid books that cover more advanced topics. 
Chris Guillebeau offers a few free ebooks he calls manifestos that help curious people learn more about what his brand stands for.
Many of the people that start with his manifestos then go on to read one (or more) of the books he has for sale that expand on the topics he covers in his free ebooks.
Another option is to use your ebooks to sell other information products. Carol Tice's free ebooks about freelance writing provide valuable information to anyone just starting out. But they also serve to help promote the Freelance Writer's Den she runs, which includes additional educational resources for members.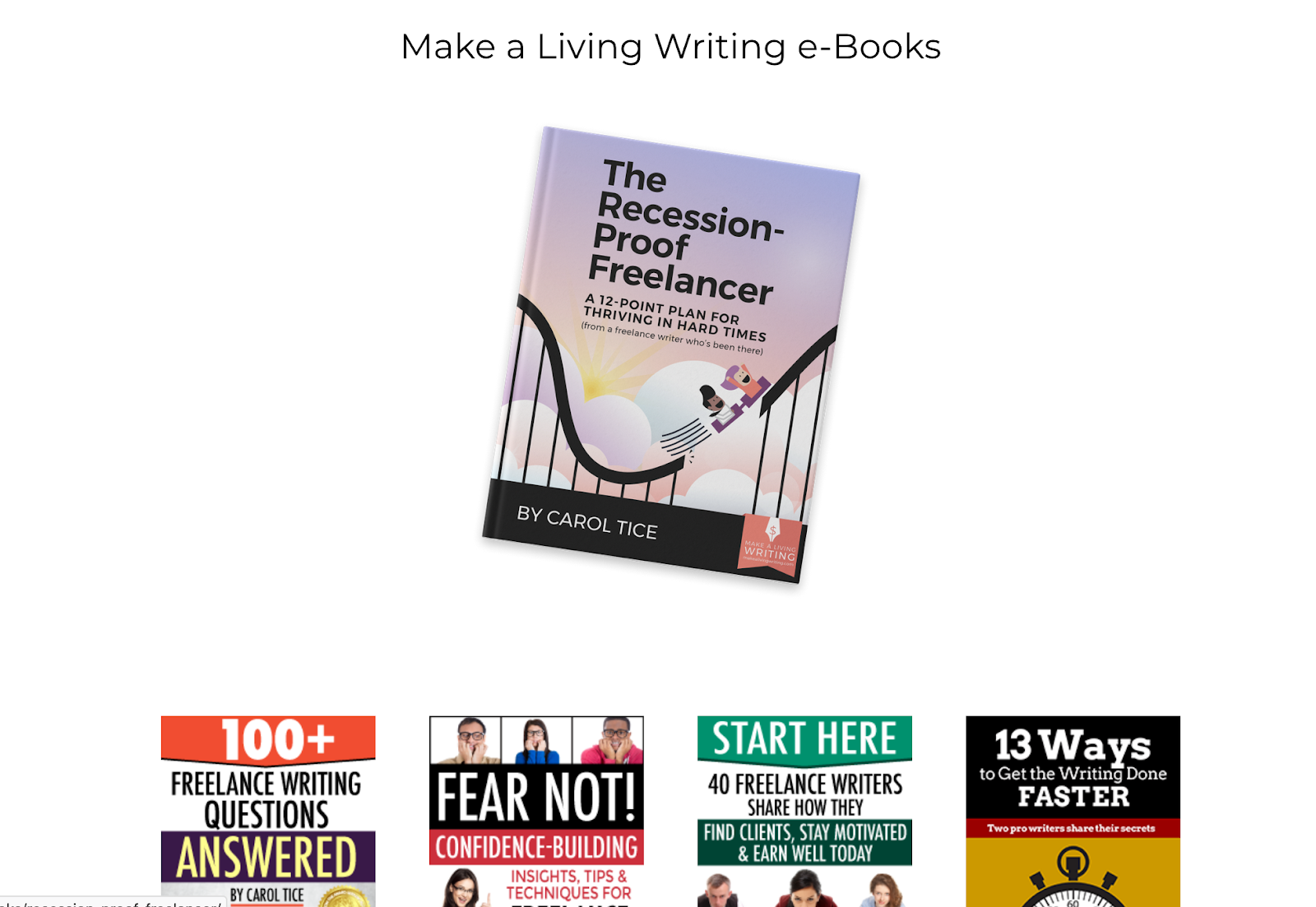 And, of course, you can use other information products to help sell your ebooks. EmptyEasel provides articles and tutorials with information about improving your art skills as a way to help promote their ebooks on learning how to draw and selling art online.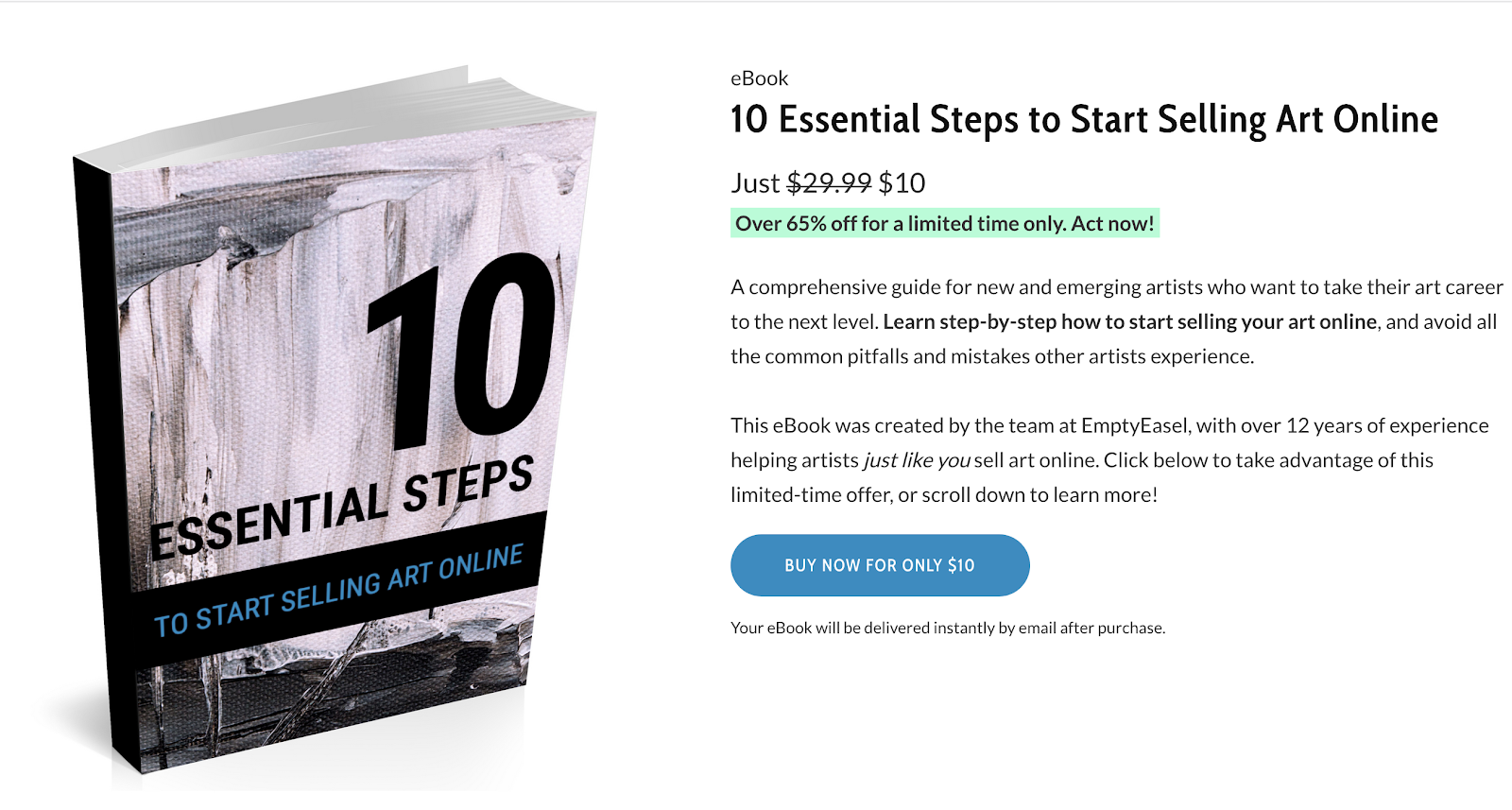 Finding the right mix between the free informational products you use for promotion and the ones you sell to make money is something every infopreneur will have to figure out on their own, but for a good number of businesses based on information products, ebooks will play some role in the process.
How to Create an Ebook for Your Business
For any of these strategies to work, your ebooks have to be high-quality. Here's what you need to know to create an ebook worth promoting and/or selling. 
Step 1: Identify the best topic(s).
Before you sit down to start writing, you have to determine a topic that will be worthy of the time and energy you'll be devoting to it. It has to be something that:
You know a lot about (although you should be prepared to do research to learn more).
Fits with the business brand you're building
Is a topic of interest to your target audience
Isn't a topic area that's already oversaturated online. 
Those last two bullet points will be the hardest. Most new business owners will need to commit time and research to figuring out who their target audience is, and understanding what they care about. Writing an ebook you're interested in may feel like a valuable experience for you. But if you want it to make money, you need to confirm that a larger audience will also find value in the information you provide. 
And complicating this step further, a number of high-profile entrepreneurs have been touting the benefits of passive income for years. The more people that try to enter the space and make money off information products, the harder it is to provide something that's truly unique. Not to mention, your paid products will be competing with all the free information businesses provide as content marketing. 
If you release an ebook that contains information people can easily find for free elsewhere, why would they pay for it? And if your ebook is on the same topic that a number of other entrepreneurs have tackled in their information products, can you add something that makes yours stand out? 
Spend some time looking into the information that's been put out there by other businesses and websites working in a similar information space to the one you're in. You don't want to put in all the work of researching, writing, and publishing an ebook, only to realize that there's another ebook out there on the same subject by a brand with bigger reach than yours. 
Step 2: Do your research.
This is a big step and it could be easy to get stuck in if you're not careful. You may need to do a few different phases of research here. First, deepen the customer research you started in the last step. Spend time talking to people in your target audience and studying up on their behavior and interests. 
You won't know what to write for your audience until you know who your audience is. Create personas to help you picture who you're writing for. Read the ebooks and blogs they like to read, and pay attention to what works about them. Researching the other brands and people in the space will both provide insights into what your audience is interested in and help you identify the gaps in information that you can help fill.
Finally, start doing research into the topic your ebook is on. Whatever knowledge you already have on the subject, it's a good idea to double check and supplement it with additional sources. Browse online, buy books on the subject, or head to the library to expand your knowledge.
Then start organizing all that information into an outline that clarifies the shape your ebook will take.
Step 3: Get started writing (or hire a writer).
Once your outline is complete, it's time to dive in and start writing. If writing isn't really your forte, it's OK to look for a professional ghostwriter during this step. You can provide them with your outline, notes, and knowledge to turn into writing gold.
Whether you write it yourself or not, you'll likely find that it's worth doing additional research as you go. Just don't let the research become an excuse not to get the writing done.
This step will likely take the longest of any of them, but it's the most important part in having an ebook to release for your business.
Step 4: Hire an editor.
It's tempting to skip this step, but don't. When your business is built on information products, every one you produce needs to be top notch. If your writing is sloppy or you let typos through, it makes you look unprofessional and makes the people reading less likely to trust you or return to your business for additional information.
Even if you hired a writer, it's worth also hiring an editor in order to have a second set of professional eyes that know what to look for on those pages before you take the plunge of publishing.
Step 5: Hire a designer to turn it into a proper ebook.
The information in your ebook needs to be high quality and well communicated. But you also want to present it in a way that's easy to read and looks good. Good design makes a big difference in the experience your customers will have when reading your book and you want them to come away from it finding every part of the book impressive.
For that reason, it's worth spending a little more to invest in a good designer who can help you with the formatting, overall design, and images you bring into the book.  An ebook that's intuitively designed and visually appealing will help your readers absorb and retain the information better, and the fact of taking that extra step to make the ebook look good tells them something about your brand and professionalism.
A designer can also do the important job of designing you a great book cover that will generate interest in the ebook. Book covers may not be quite as important for your average ebook as they are for the print books people browse for in bookstores, but they still matter and may help pique the interest of some readers who wouldn't otherwise check the book out.
Step 6: Determine your pricing.
If you'll be using your ebook as a marketing tool for your business, you can skip this step. If you'll be selling it as its own product, then making a decision about what to charge is necessary.
This isn't as much work as writing the ebook, but for some infopreneurs it will feel as hard. Pricing is a subject all entrepreneurs have a hard time with, and if anything, it can be trickier for information products than for goods and services. Information isn't easy to put a price tag on. How do you determine the monetary value of expertise you spent years accumulating?
A good first step here is to look at the costs you put into creating the ebook. How much did you spend on hiring a ghostwriter, editor, and designer? Think about how many ebooks you have to sell to recoup those costs at different price points. 
If your ebook will also serve to help you promote other products or services you sell, it may be OK if the ebook itself doesn't make back the money you spent on it, at least not in the short term. If your ebook increases brand awareness and generates relevant traffic, that may be worth enough to your business for profits from the ebook itself to be a secondary concern. 
Also look at what other businesses are charging for comparable information products. This will give you an idea of what the market will bear. If ebooks on similar topics are going for $10, pricing yours at $50 is likely to be a losing proposition.
If you're confident your ebook offers more value than others in your space (which should be your goal), pricing above the typical rates you see for other ebooks could be justified. But you'll want to keep it within a comparable range. 
Step 7: Create a promotional plan.
At least as importantly, how are you going to let people know your ebook exists and it's worth their time? No matter how good you make it, writing and publishing an ebook will be worth zilch to you if you can't get people to read it.
Before you go a step further, work out a plan to promote your ebook so you can be sure to get the most out of it. A good promotional plan will typically include a mix of tactics. A few good ones to consider are:
Content marketing
Content marketing is creating high-quality content for your audience that will help drive traffic to your website and demonstrate your expertise. Many entrepreneurs that sell information products will find this to be the most logical tactic to use in promoting ebooks. 
Consider starting a blog that covers topics related to the information provided in your ebook. This gives you an opportunity to target relevant keywords that your audience is likely to be searching for. And because your posts will show that you know what you're talking about before a reader is expected to make a monetary investment, the ebook itself will be an easier sell. 
Ebook giveaways
Many people make decisions about what books to buy based on customer reviews. For a brand new ebook, you need to get readers before you can gain any reviews. Giveaways are a good tactic for doing that. Offering a limited number of free copies of the ebook to people in your target audience can help generate interest and earn you the initial word of mouth you need to get more people consider buying. 
Paid advertising
For new brands, getting your first visitors and readers is a big challenge. Investing in paid ads on search engines or social media platforms can get news of your ebook in front of the right people, so they learn who you are and are more likely to check your brand out. 
Affiliate partnerships 
Affiliate marketing involves partnering with other brands in your space offering something similar or complementary to your products as a way to reach their audiences.
Look for bloggers or other influencers that already have a following that's likely to overlap with the audience you want to reach. Then reach out to see if they're willing to feature your ebook in their content in exchange for a percentage of the sales they send your way. 
Email marketing
Some of your visitors will be interested in what you have to say, but may not be ready to buy your ebook the first time they learn about your brand. To keep those relationships alive and increase the likelihood they'll purchase down the line, use email marketing.
Set up a sign-up form on your website, and start sending regular emails to prospects that provide value. A strong email marketing strategy will keep you top of mind, and ensure that when they're ready to make an investment, they think of you first.  
Step 8: Publish.
The hardest parts are now (arguably) past. You just need to get your ebook out into the world where people can see it. You have a few ways you can do this:
Offer it for free on your website.   
If you're using your ebook as a way to build an email list rather than selling it as a product, then this is probably your best bet. If you have a WordPress site, you can load a PDF of your ebook to the Media Library on your website. Then you can make it available directly to visitors by adding a link to the PDF on the relevant page on your website. 
Alternatively, you can use your ebook as a way to collect leads for your business. Create a landing page that makes the case for why your ebook is valuable, and add a form visitors must fill out in order to access the book. Keep the form short—most visitors are more likely to fill out a form with a couple of simple fields, like name and email address, than one with a long list of personal information they have to provide.
This is what we do with our own library of free ebooks on the Virtue Media blog:
Sell it through your website. 
You can also self-publish to your own website if you'll be charging for the ebook. In this case, you'll need to invest in setting up an eCommerce website. Make sure the website builder you use supports eCommerce. And if you're building your website on WordPress, look into themes designed for selling ebooks specifically.  
You'll also need eCommerce software. For WordPress sites, the most popular eCommerce software is WooCommerce. It's free and designed to be easy even for beginners to set up.
Another option worth checking out is Easy Digital Downloads, a WordPress plugin that is specifically designed for selling information products like ebooks.
Making sure your website is equipped for selling won't just help you now with this product, it will ensure you're set up to sell all future products through your website as well. 
Self-publish to distribution platforms.
If you're planning to sell your ebook, you want to get it on as many distribution platforms as possible to help get it in front of potential readers. The biggest player to use is Amazon. Their Kindle Direct Publishing is fast, easy to use, and free. But they're not the only distribution platform worth looking into, take some time to research and decide which of the following might be right for you:
Keep in mind that using these distribution platforms means your readers find you somewhere other than your own website, which is the hub of your information business. 
If you'll be distributing your ebook on a third-party platform (or several), then make sure you include information in the ebook that encourages readers to check out your website and brand.
You don't want them to have one interaction with you and stop. For your business to thrive, you need people to keep coming back once they find you. 
Finally, you have to get out there and do some marketing. Make use of social media to promote the ebook. Read up on SEO (search engine optimization) best practices to make it easier for people to find your website, and keep writing blog posts and other valuable content to help people find and learn about you. Consider if paid advertising on search engines and social media might be worth the cost to expand your reach as well.
For the vast majority of infopreneurs, writing a great ebook won't amount to much unless you put a lot of work into getting it in front of the right people. But if you succeed, a great ebook could be the information product that puts them on the path toward a long relationship with your brand.
Ready to Start Your Ebook Business?
Using ebooks to build a business based on passive income isn't easy. You may be able to continue profiting off the same product for years, but you'll need to put work into marketing and promoting it over time. And if it's on a topic likely to change in the coming years, such as a fast-moving industry like social media, you'll also want to revisit it periodically to keep it up to date.
But by putting the work in upfront to create a highly valuable ebook for your audience, you can continue to make money off the product for months and years to come. And it can help you start to grow your brand, so you already have an audience by the time you create your next information product.