COVID-19 is changing the way local stores do business. Shops that used to sell in-store only need other options for making sales so they can survive while in-person shopping is restricted.
One option that's gaining ground is curbside pickup. Many grocery stores and restaurants have ramped up curbside service in recent weeks, and other retailers are starting to follow their lead.
Even if you live in an area without restrictions on in-store shopping, adding curbside pickup can be a smart move. That's because you, your employees and your customers may not feel safe spending time in stores yet. More than 70% of Americans say they'll wait to see if lifted restrictions cause a resurgence before they resume regular activities like in-store shopping. 
So, how do you set up curbside pickup for your business? There are three steps.
Find the tools you need to take curbside orders securely.
Plan for how customers will place curbside pickup orders.
Plan for how you and your employees will fulfill curbside orders safely.
Let's walk through each step. 
Create "curbside pickup" options in your ordering process
To take curbside orders, you need a way for customers who order online to choose the curbside option. You may also want to give customers the option to phone in their orders.
Here's what you need to know about each process.
Enable curbside pickup in your online store
If you already sell items online for local delivery or shipping, you should be able to adjust your eCommerce platform's shipping settings to add curbside pickup as an option for some or all of your in-stock items. 
(If you don't already have eCommerce on your business website, start with these 12 steps to get your online store up and running quickly, then come back here to set up your curbside tools.)
For example, if you're using WooCommerce: 
Go to the Shipping section under Settings. 
Find your local shipping zone. In the image below, the zone is one ZIP code. You may need to edit your local zone to include your whole city or town so shoppers from across town or the suburbs see the curbside option.
Click the + button under Shipping Methods OR select Edit under Zone Name (in this image, the zone name is Local).
Select Local pickup from the dropdown menu in the pop-up window.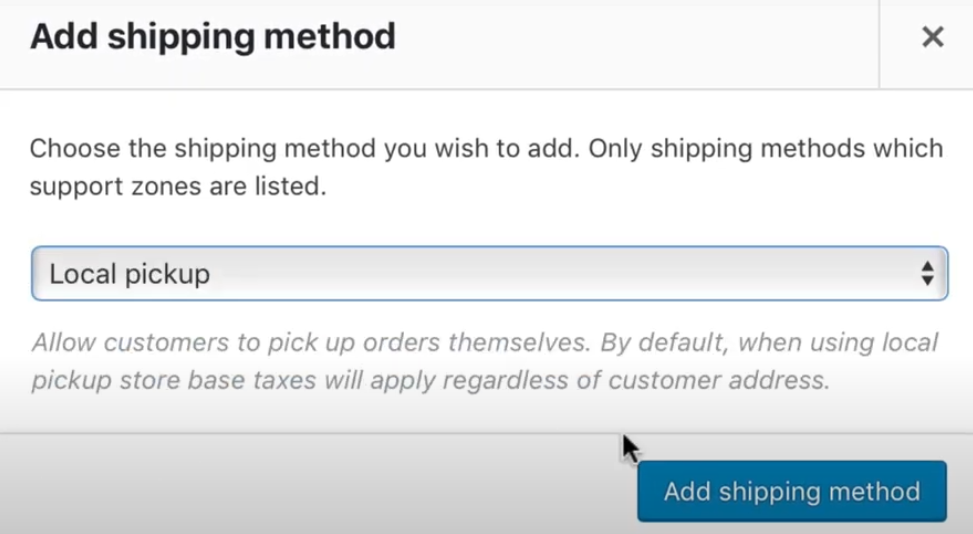 Click Add shipping method.
Click on the new Local pickup link in your shipping zone.
Change the Title to Curbside Pickup, set the tax status for these orders, and add a fee if you're charging one.

Click Save changes.
Review customer checkout to ensure that you see Curbside Pickup in the shipping options.
Other eCommerce platforms have their own tools and extensions to enable curbside pickup, and some may work better than others depending on the size and type of your business.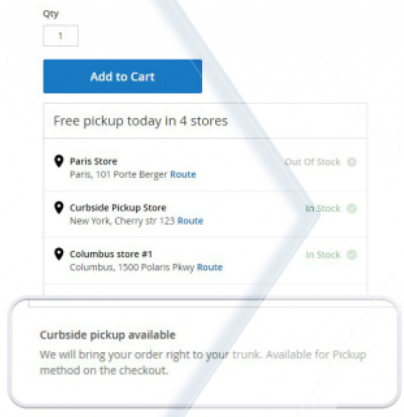 For example, if your local business uses Magento 2 for eCommerce and has more than one physical location, it may be worth investing in an extension like Store Locator, In-Store & Curbside Pickup that lets you specify exactly which products are available for curbside pickup at each of your locations. 
Whatever option you choose, test it before you announce that you're taking orders for curbside pickup.
Should your store take phone orders for curbside pickup?
One thing the pandemic has revealed is how many consumers are still uncomfortable with—or don't have access to—online shopping. If you have a lot of customers who'd rather call than click for curbside pickup, you'll need a plan to set up a phone order program that works smoothly. 
Here are a few things to know about taking orders over the phone.
Phone orders take time. Make sure you have enough employees on hand to answer the phone, fulfill orders and carry packages out to your customers.
Phone orders cost more to process. Payment processors charge more for transactions where the card data is keyed in at the point of sale instead of dipping or tapping the card. For example, Square charges 2.6% + 10 cents per swipe, tap or dip but 3.5% + 15 cents per keyed-in orders. Check with your processor and adjust your pricing and fees if you need to.
Phone orders require some paperwork. You're required to collect basic information like the card number, the name on the card, the expiration date and billing address. For fraud prevention, you should also ask for the 3-digit security code on the back of the card. Visa also recommends that merchants record a phone number, the date and time of the call and some notes about the call, in case the customer questions the charge later. Keep all this information in one place so you can access it quickly later.
Phone order data must be stored securely and only for as long as it's needed. To reduce the risk of a data breach that exposes customer payment data, don't store entire card numbers in your order database, and encrypt other personal information. Limit the number of employees who can access the data and delete it completely after the charge-dispute window has closed.
Phone orders are vulnerable to fraud. These transactions should be screened by your eCommerce or point-of-sale fraud prevention service, if possible, before you fulfill the orders.
Let customers know how to pick up their curbside orders
Think through the most efficient, lowest-contact way you can get orders into customers' vehicles. You may want customers to
Pull up to your drive through window and give their name or order number.
Park in your lot or on the street and reply to your pickup reminder text or email.
Park in your lot and call your pickup number.
Remind customers to stay in their cars and open the trunk remotely, if possible. 
Train your employees to fulfill curbside orders safely
To protect your employees and customers, the people taking orders out to cars should wear face masks and gloves. Remind your team to 
Watch for incoming texts, emails and calls from customers outside.
Verify the customer's name or order number.
Place items in the back of the vehicle.
Stand at least 6 feet away while talking to customers through their open car windows. 
Close trunks and hatchbacks fully so customers don't have to get out and adjust. 
That's it! You've got a process in place for curbside pickup from your store. Want more tips for retailing during a crisis? Check out our Covid-19 tips center.
Related Articles: