Do you know where to go to get some of the best free advice when it comes to starting a freelance business or side hustle?
I'll give you a hint: tweet tweet.
That's right! Twitter.
Twitter is bustling with activity from successful freelancers and side hustlers. All you have to do to get in on the latest trends and recommendations is follow the right accounts and start engaging in conversations.
If you're looking to grow your side hustle, here are the Twitter accounts you must follow.
1.Gary Vaynerchuk (@GaryVee)
There's a reason Gary Vaynerchuk has 2.3 million followers—he's one of the most influential entrepreneurs and has gobs of good advice to share with the masses.
The extra good news is he offers invaluable insight on Twitter daily. Here's what you can expect when you follow @GaryVee:
Links to the latest GaryVee podcast episodes
Updates on recent business trends (think NFTs and crypto)
Tweets and RTs about upcoming business events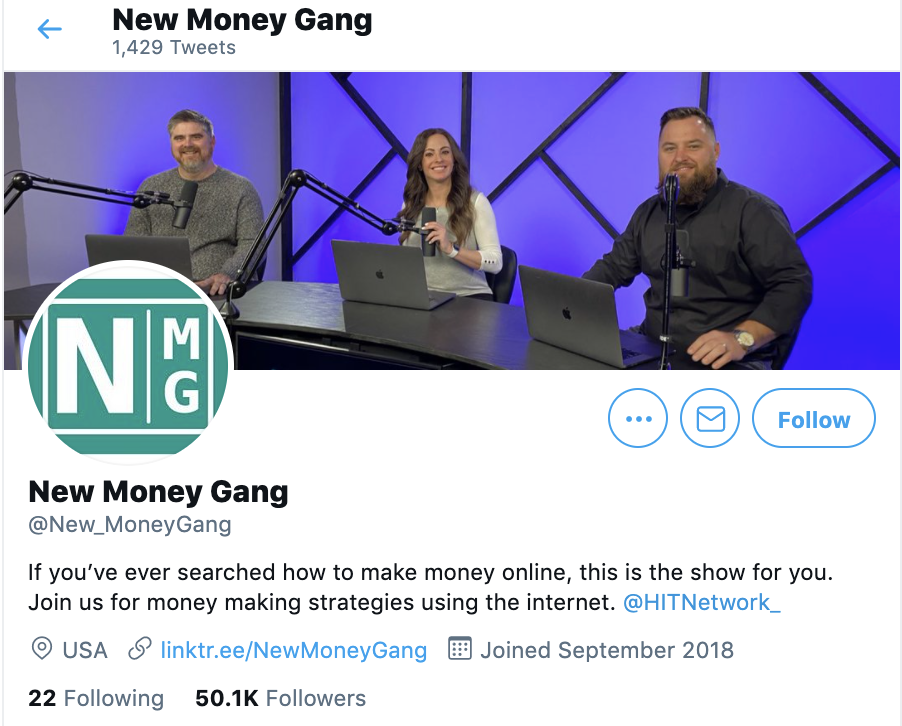 If you're interested in making money online, then follow New Money Gang. This Twitter account is obsessed with all things new money and helping you grow your wealth.
New Money Gang has a website, YouTube account, podcast, Instagram, and Facebook. But, if you're an avid Tweeter, you'll love engaging with this account. 
Here are the kinds of tweets to expect from New Money Gang:
Updates about full-length Side Hustling episodes
Tweets about popular side hustle and crypto trends
Links to recent and relevant articles on how to build a side hustle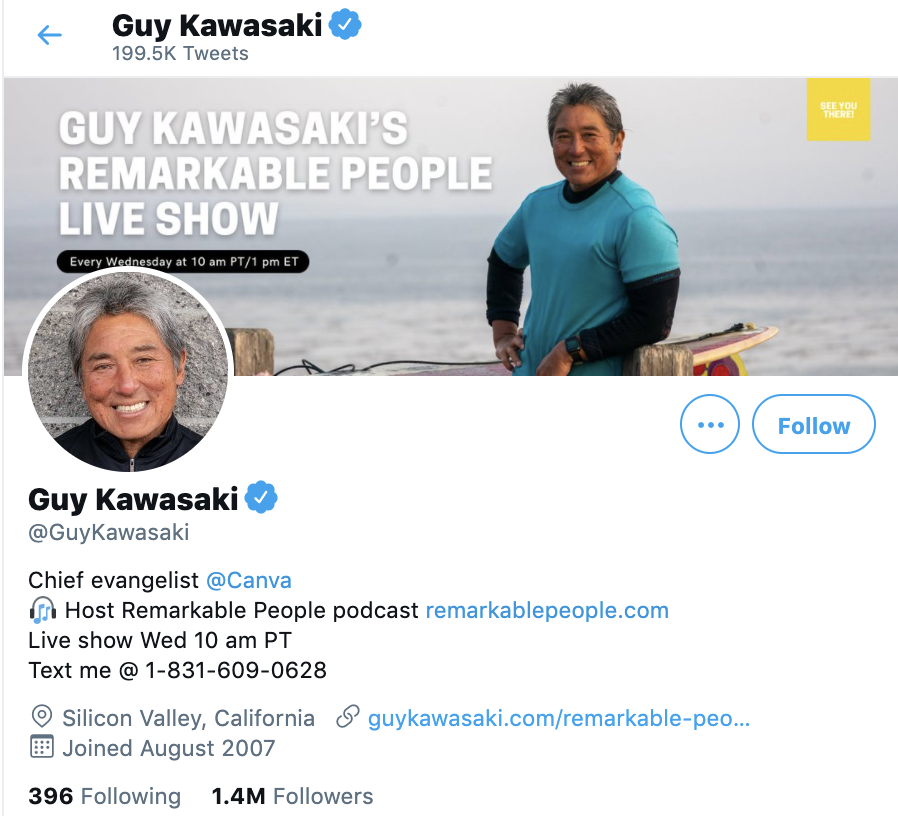 Guy Kawasaki is an evangelist, author, and speaker who constantly shares tips on how to network, influence, and build a successful business.
He is also the host of the Remarkable People podcast, where he interviews interesting people who have…well, remarkable stories.
Here are the kinds of tweets you'll see from Guy Kawasaki:
Links to recent Remarkable People podcasts
Retweets to articles about entrepreneurship
Tips on notable startups, excellent resources, and how to build a strong network
4. Side Hustle Journey (@sidehustlej)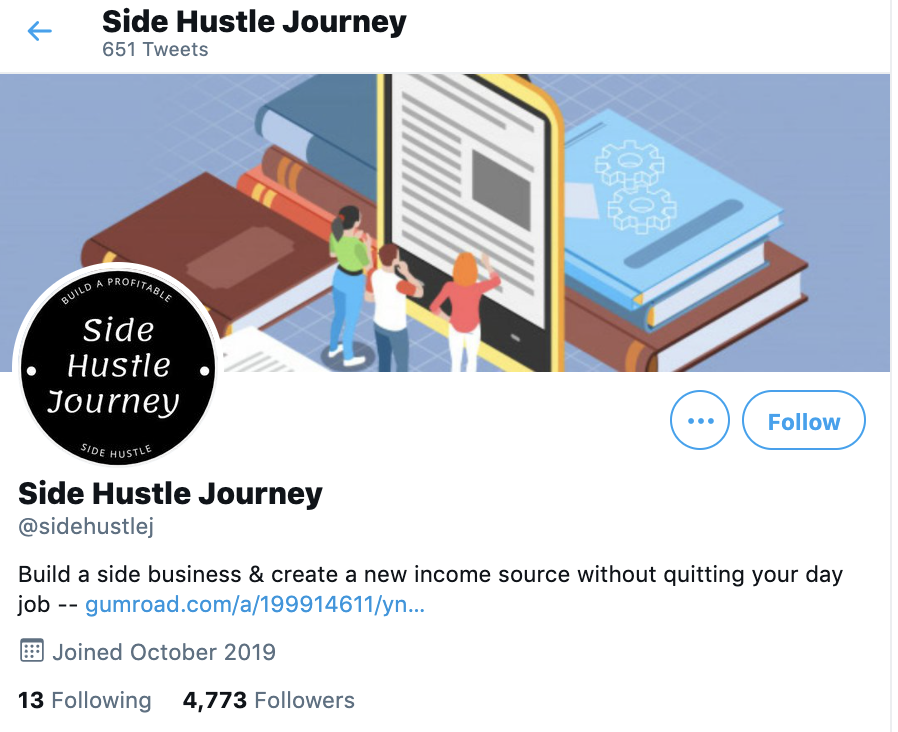 Are you interested in building a side hustle while you still work your day job? If so, then this is the Twitter account for you.
Side Hustle Journey offers tons of information on how you can make money on the side. Some of the top tweets include the following:
Links to resources that help guide you through how to do things like sell ebooks to make extra money
Tips about multiple streams of income
Motivational tweets encouraging you to move forward with your side hustles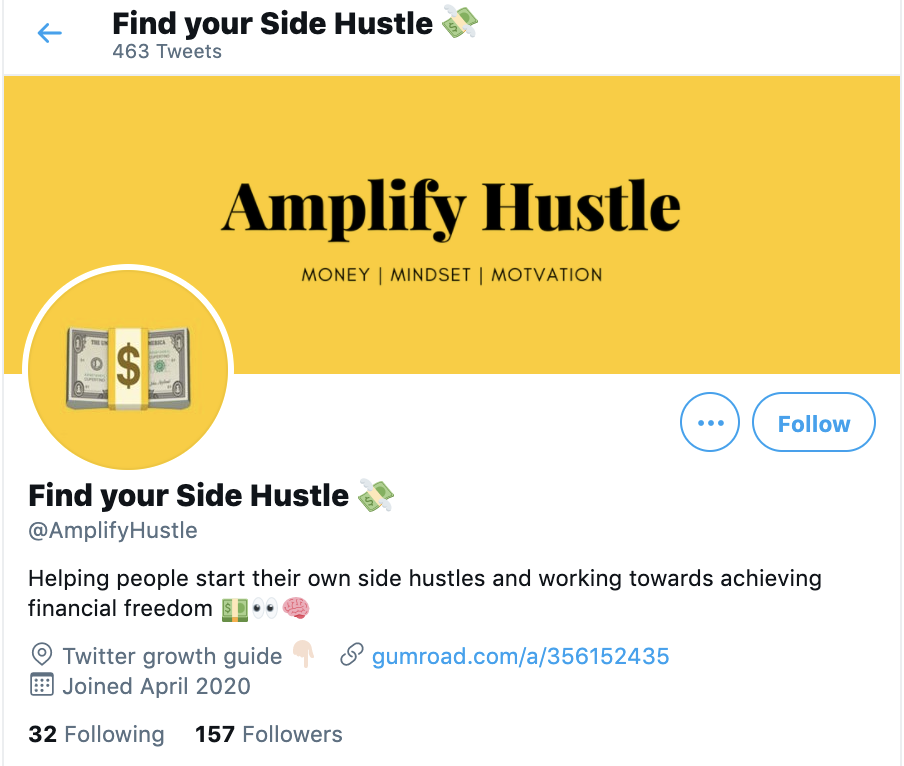 It can be difficult to find financial freedom and Amplify Hustle is all about helping people start their own side hustles to make more money.
Amplify Hustle provides a link in their bio to guides that help you build your business. Once you scroll past the bio, you'll see the following kinds of tweets:
Inspirational quotes to help motivate you to move forward
Retweets from other experts that know the ins and outs of building a side hustle
Threads about how to stand out in the crowded world of content creators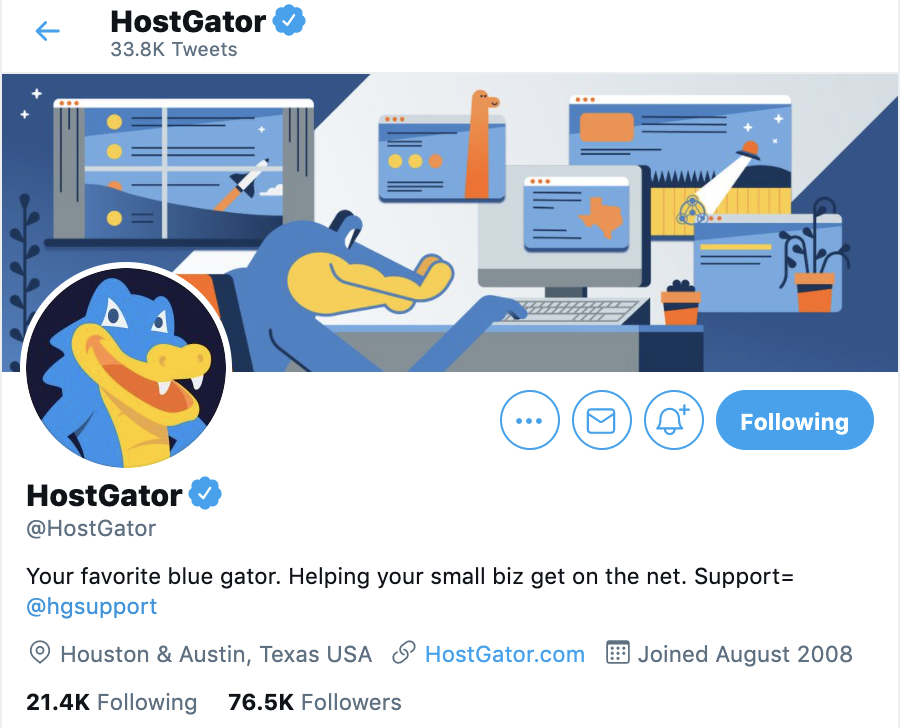 You've heard about the best web hosting provider, right? The one that will help you kick off your side hustle by building a high-quality website? If not—surprise! It's us: Virtue Media.
Besides offering one of the best web hosting services in all of the land, we also provide tips and tricks on building your side hustle. 
Here's what to expect from our Twitter account:
Links to content on how to build your ecommerce website
Tweets about everything you need to know about owning a website
Funny memes (we're cool like that)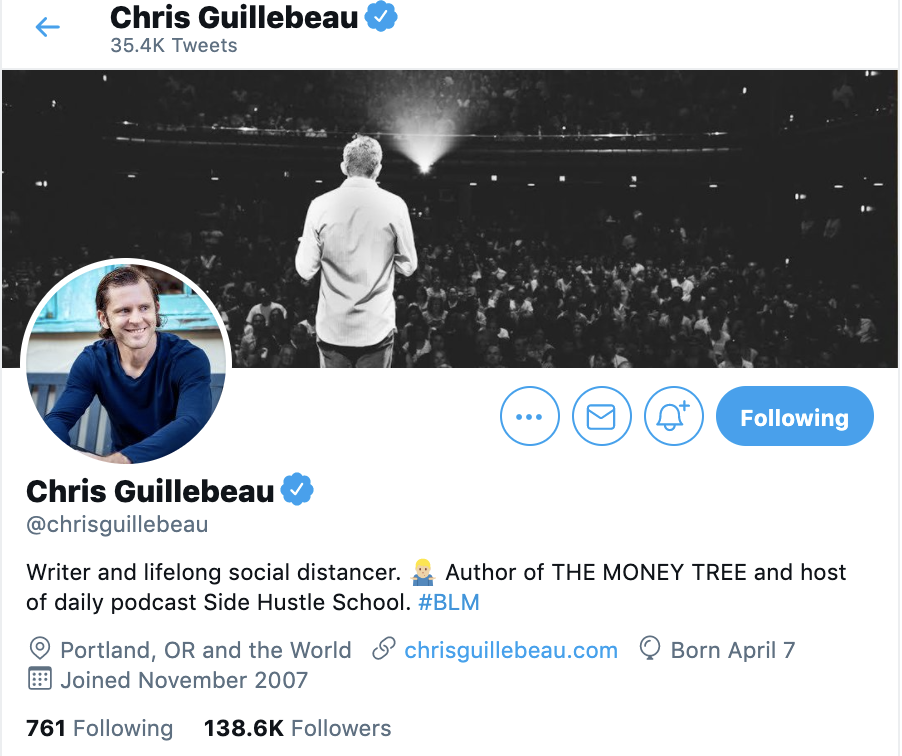 If you've spent any time listening to the daily podcast Side Hustle School or read The Money Tree, you're already familiar with Chris Guillebeau.
Guillebeau is also an excellent resource to look to if you're interested in taking unconventional approaches to make money. His blog and philosophy, The Art of Non-Conformity (AONC), is all about supporting original ideas.
Here's what you get when you follow Guillebeau:
Insight into how to work hard and smart
Questions about projects you're working on to boost thread engagement
Polls about the kind of content you want to see from him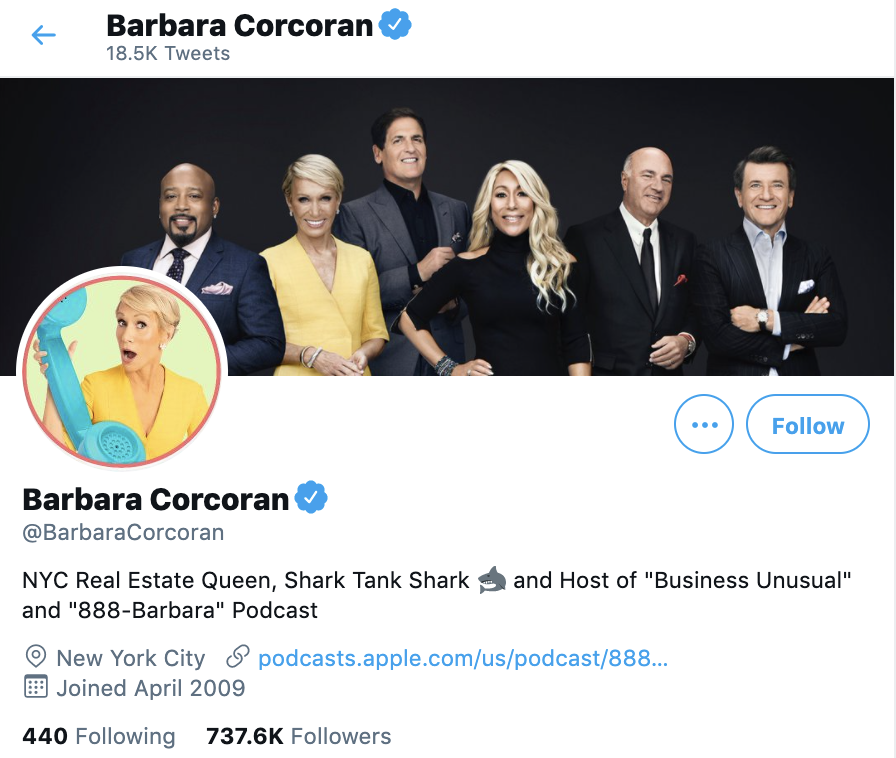 Barbara Corcoran is a successful New York Real Estate mogul and the host of the "Business Unusual" and the "888-Barbara" podcasts.
I saved the best for last: Barbara Corcoran is also one of the famous Shark Tank investors, making her a perfect person for any side hustler to follow.
Barbara Corcoran tweets:
Tips to boost motivation
Links to articles and recent interviews
Details about why she made certain decisions on Shark Tank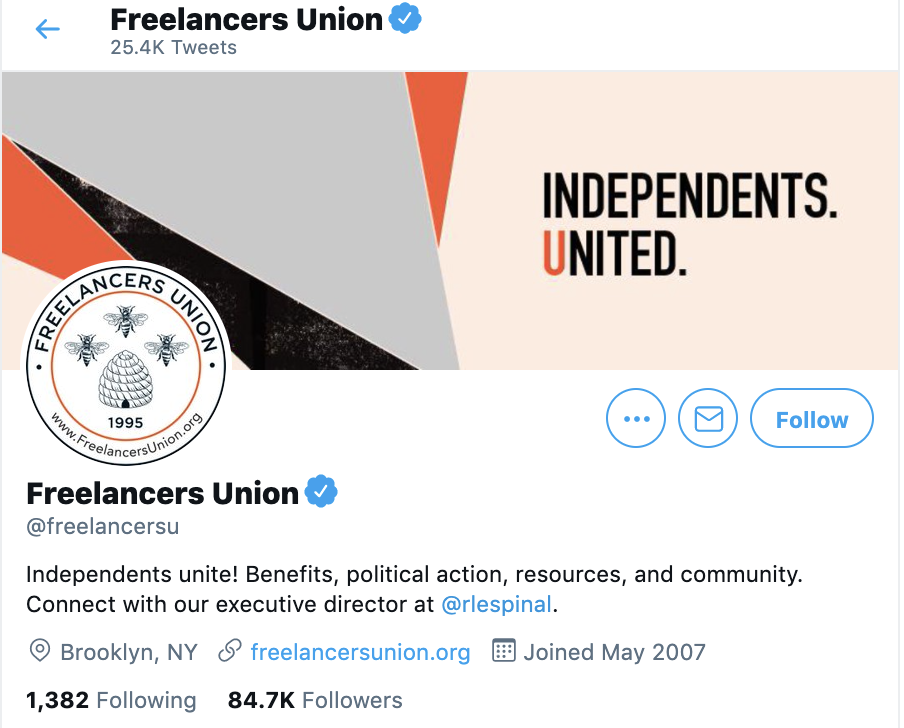 If you're going to transition to a full-time freelance role, then you'll need to learn more about insurance, taxes, and how to connect with other freelancers.
Freelancers Union is an excellent resource to help you make the transition out of full-time work successfully.
Here are some top Tweets from Freelancers Union:
Links to Freelancer Union blog posts that teach about freelancing
Reminders about upcoming tax deadlines
Opportunities to support relevant political initiatives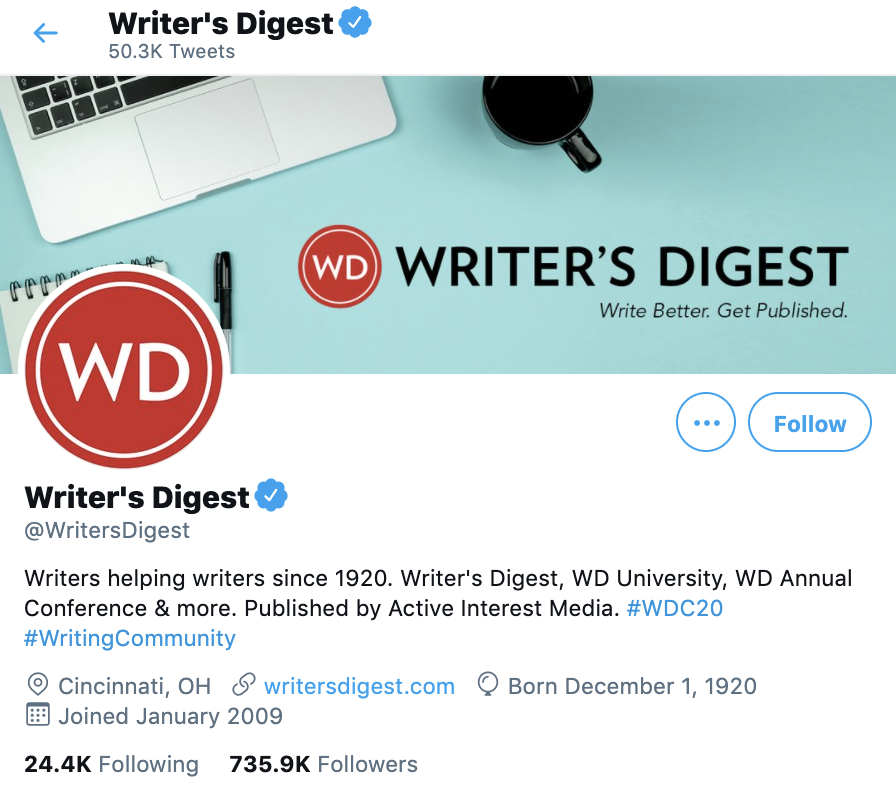 Writer's Digest has been around since 1920, but that doesn't mean this resource isn't hip on social media. 
Writer's Digest is the website and Twitter account to follow if you're part of the freelance writing community.
Here is what you can expect from the Writer's Digest Twitter account:
Updates about upcoming writer's conferences
Links to Writer's Digest blog posts
Grammar reminders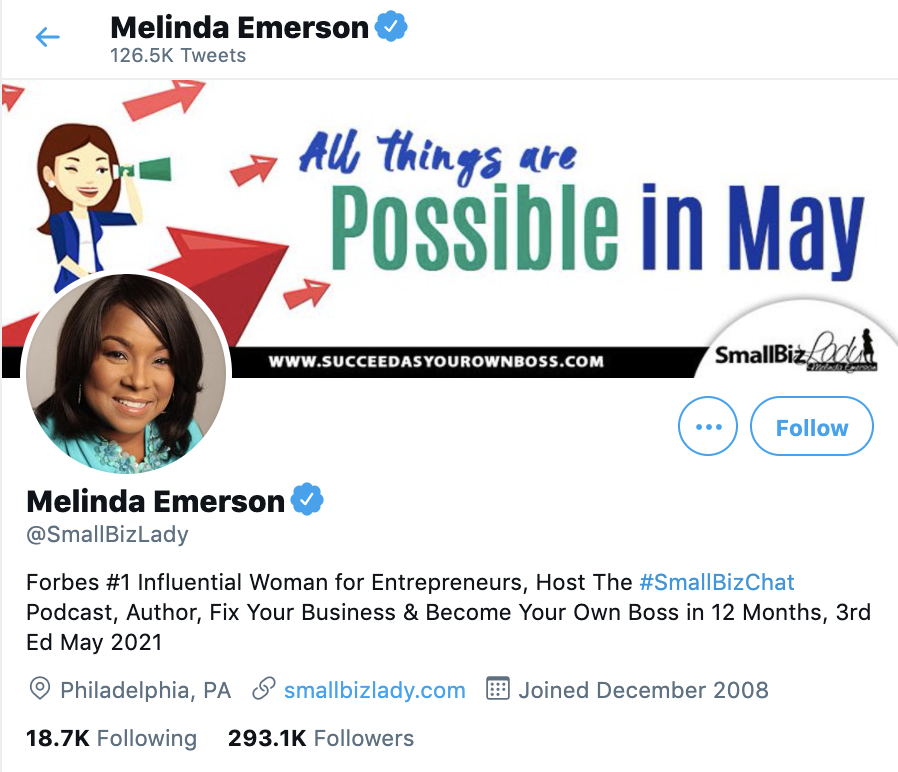 Melinda Emerson is ranked as the Forbes #1 influential woman for entrepreneurs, and it's with good reason. She is the host for the #SmallBizChat podcast and the author of Fix Your Business & Become Your Own Boss in 12 Months.
If you're looking for a mentor to help you grow your small business, Emerson is the woman to follow.
Here's what Emerson tweets about:
Helpful business building tips
#SmallBizChat conversations with other professionals
Links to blogs about how to grow a business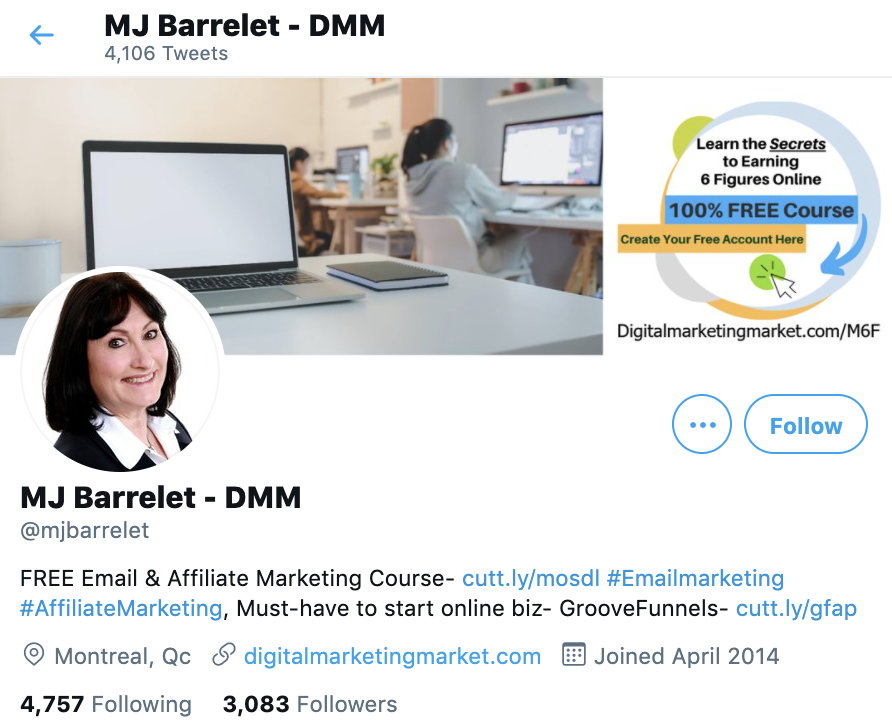 MJ Barrelet is all about helping others learn how to make passive income and build six-figure businesses.
Her website guides you through how to monetize your business and offers digital marketing tips. 
When you follow MJ Barrelet on Twitter, here's what you get:
Access to free resources to help build your business
Affiliate marketing information
Information about exclusive training events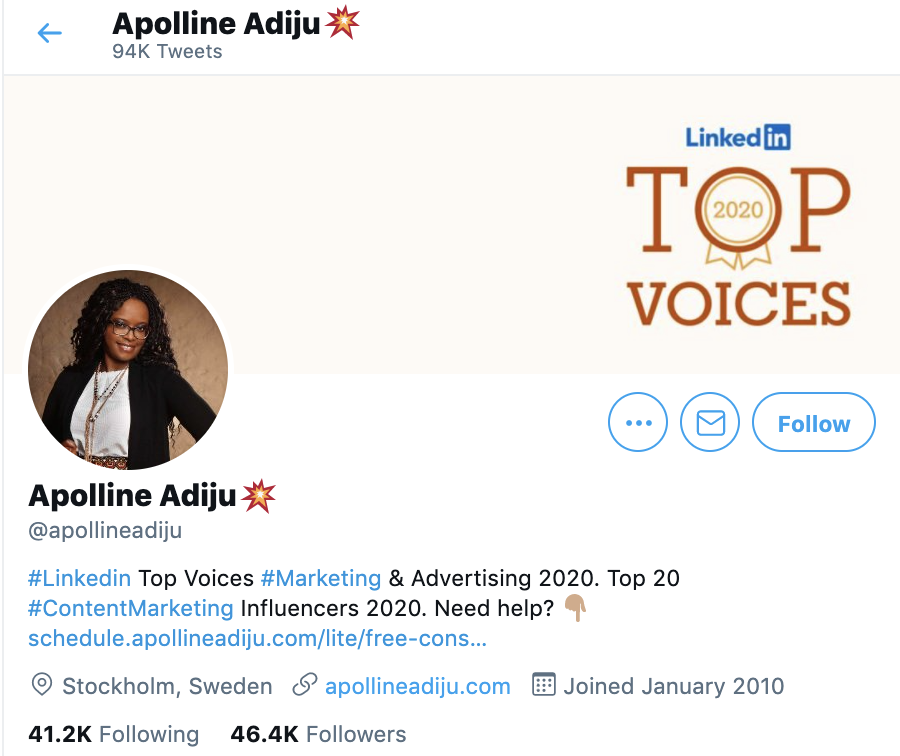 You may recognize Apolline Adiju as one of the Linkedin Top Voices for Marketing & Advertising in 2020. Adiju is one of the best resources out there if you're looking to grow your side hustle via digital marketing.
One beneficial and unique aspect of Adiju's Twitter account is that she includes a link to her Calendar so you can book a time to consult with her.
Here are some other helpful things her Twitter account offers:
Links to blog posts with marketing and advertising tips
Information about Google updates
Tweets promoting other helpful digital marketing tools side hustlers can use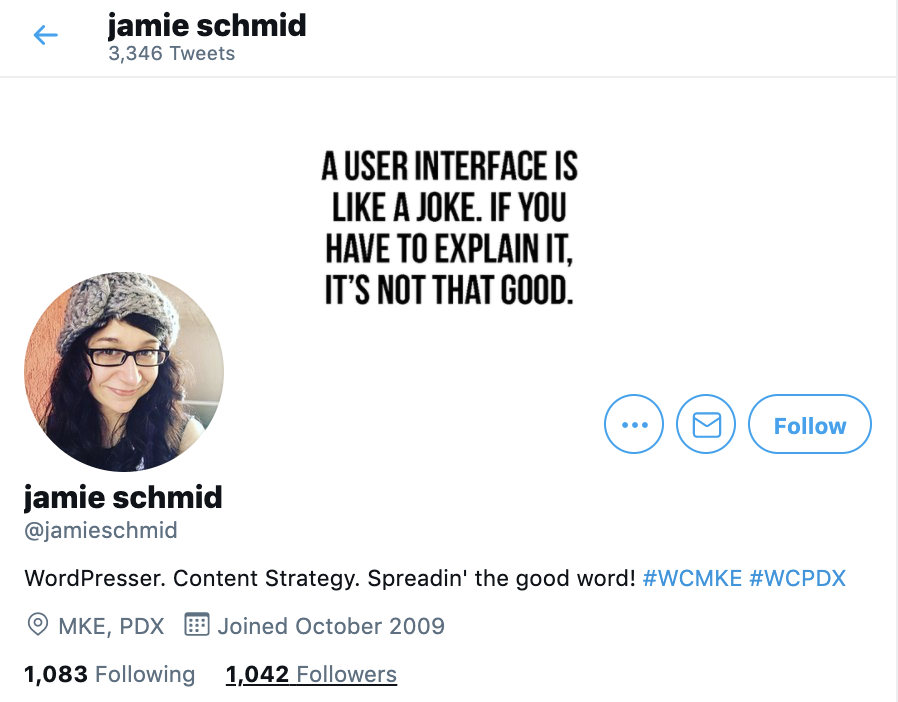 Jamie Schmid is a WordPress and content strategy expert. When you follow her, you'll learn all about how to create an excellent website for your side hustle or freelance gig.
Here's what Jamie Schmid shares on her Twitter account:
Articles about how to improve SEO
Updates about WooCommerce deals
Tweets about DevOps tools
Start your side hustle or freelance business with Virtue Media today!
Twitter is an excellent resource for learning how to promote your side hustle once your business is up and running.
But the first step in building a freelance business or side hustle is building a website. Having a website is critical for the success of your business, especially in this highly digital age.
The good news is it's easy to build a website with Virtue Media. Check out our web hosting packages today!