Does your online store offer coupons? If not, it's time to start. 88% of shoppers used coupons in 2020, so offering them can help you give customers what they expect, match or beat competitors' deals, pull more visitors into your store, and make more sales. 
Here are 10 ideas to inspire your ecommerce coupon program.
1. Percent-off coupons
Percent-off offers are how most stores build their email lists, because most of us are fine with sharing our email address in exchange for 15% or 20% off our first purchase from a new store. But you can also use percent-off coupons to drive holiday sales, get customers to return to abandoned carts and complete their purchases, or come back to your store after a long time away. 
2. Free shipping coupon
If you're not already offering a free shipping option in your store, consider it, because carts are checked out or abandoned based on shipping costs. If you don't, then consider a coupon for free shipping. Even if you do offer a free shipping method, a coupon for faster free shipping (like two-day or overnight) makes a very compelling offer. 
3. Free gift with purchase
Most of us love a positive surprise, like a free item with an order. Beauty retailers know this, which is why most of them include free samples with orders over a certain dollar amount. Sephora has practically built their brand on it, as this Cyber Monday promo for a big ol' bag of samples shows:
So, if you have small, light items or new-product samples that you can include with your orders, design a free-gift-with-purchase coupon and share it with your email list and social followers. 
Everybody loves earning points when they shop, especially when those points give them a choice of discounts. Credit card companies have been doing this for years and ecommerce stores are doing it, too. Here's an example from ThredUp: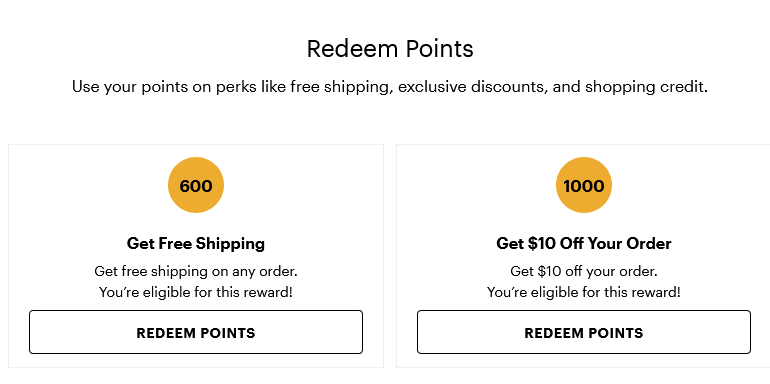 For example, clothing reseller ThredUp lets customers cash in loyalty points for coupon codes to get free shipping, discounts, waived restocking fees and more. Offering customers a choice makes them more likely to use their loyalty points to make more purchases in your store. 
5. BOGO coupons
BOGO (buy one, get one free) coupons are great for certain kinds of products and specific times of year. 
For example, back-to-school is a smart time to offer BOGO coupons on things like school uniform shirts and pants, along with school supplies that most kids need a ton of, like notebooks and markers. Other good BOGO scenarios are any ecommerce holiday. Think Halloween (candy, décor items), Christmas and Hanukkah (gifts, candy and décor), party holidays like 4th of July and Labor Day weekend (snacks, drinks, sunscreen) and Memorial Day weekend (start-of-summer items like swimsuits, water shoes, pool toys and outdoor games).
6. Automatic coupons
Coupon codes are great—until your customer forgets to enter one at checkout. When that happens, your store may end up with a customer service call to get the discount applied after the order has already been approved. Or the customer might just cancel the order and start again—another hassle. 
But with an automatic coupon, your customer knows they're getting the discount without having to remember to copy and paste the code. They just buy what they want, and your checkout app adds the promo code for them. No disappointments, no frustrations, just the deal they wanted and a great experience with your brand. 
7. Gift card with purchase 
Want to drive sales of a new product or service? Kick in a gift card with each order. For example, an online pet supply store that wants customers to subscribe to automatic deliveries might send customers a coupon that will get them a gift card with their first subscription. Not only can this kind of gift-card coupon deal get more people to try your new service or product, but it will also bring them back to the store, because you're giving them a gift card they can only spend with you. 
8. Friends and family discount codes
Most online shoppers love coupon codes and are happy to share them with friends and family. Some retailers make this an official thing by offering "friends and family discounts" that encourage customers to share their code. The store may even give everyone they share it with loyalty points, based on how much they spend using the code. In other words, it's a perfect prompt for getting people to spend money as a team!
Kohl's is famous for doing this. You can see how they design their offer to work in-store with a bar code and online with a code and a PIN. And they make it super easy to share it via social and email.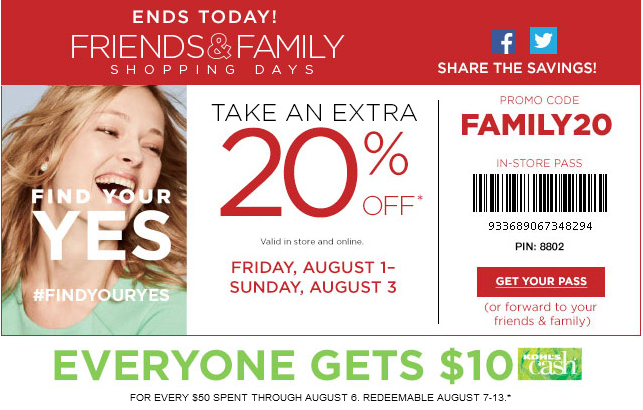 Your eCommerce store can take the same approach, minus the bar code, to reach new customers, build your email list and social following, and drive more sales. 
9. "Mystery" deals 
We're not talking about grab-bag items here. Mystery offers are the virtual equivalent of a scratch-off discount coupon that shows you how much you can save. But these digital mystery offers add a twist that can increase conversions. How? Let's see how gourmet cookie empire Tiff's Treats does it.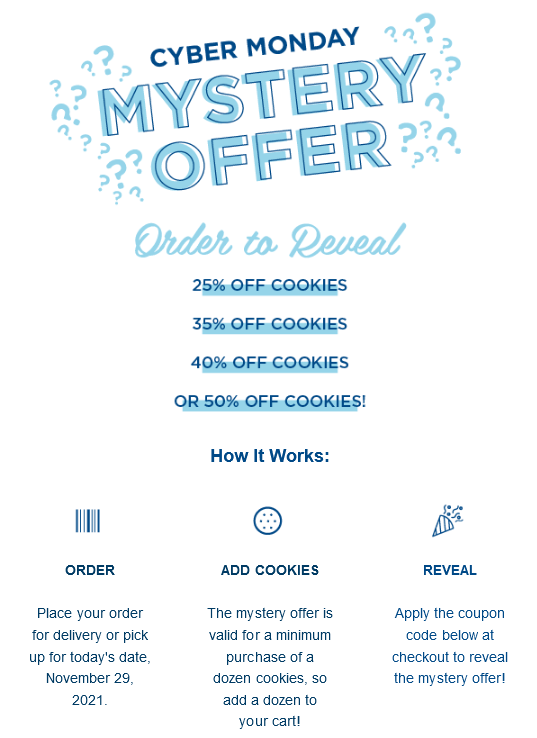 First, the customer has to choose to order cookies the same day they get the mystery-offer email. Once they say yes to that, and go to checkout, then they can add the mystery coupon code to see how much less they'll spend. By that point, though, it may not matter whether the discount is 25% or 50%, because they're already thinking about eating those cookies. Are they going to deny themselves a treat at that point? Doubtful. 
10. Mobile coupons
OK, so "mobile" isn't really the same kind of coupon as a loyalty discount or a free gift coupon. But we're including it, so you don't forget that email isn't the only channel for coupons. 
In fact, you may be leaving a lot of sales on the table if you overlook mobile. Juniper Research has forecast that by 2022, digital coupon redemptions will be worth $91 billion and 80% of those redemptions will be on mobile devices. 
So, if you're not already sharing your store's coupon codes via your ecommerce chatbot, SMS or push notifications, make 2022 the year you start. And use the different types of coupons we've covered here to delight your customers, drive more sales and grow your online business.