Did you know email marketing has the highest ROI of any other digital marketing strategy? Some reports show an email marketing ROI of $42 for every $1 spent—a 4,200% ROI. Not bad.
It makes sense why email marketing garners such stunning results. With email marketing, your audience opts into your list—usually with a double opt-in feature. In other words, your audience is coming to you and giving you permission TWICE to slide into their inboxes whenever you want.
It's a big deal. And shows a lot of trust and support.
As if that weren't enough, paid email subscriptions are also on the rise. Yes, people will pay a small subscription fee in return for the value you offer through your newsletter. It's awesome.
Now let's take a deeper dive into:
Why freelancers need email marketing
How to get started with email marketing
Why do freelancers need email marketing?
While email marketing is backed by lots of flashy stats (e.g., 4,200% ROI listed above), a high ROI isn't even the most pressing reason you should grow an email list.
Here are some other reasons why email marketing is a must in today's online economy.
1. It's harder to get noticed online
Organic reach is a metric that's hard to come by these days, especially if you're adding a link to your content.
Rand Fishkin recently posted about this on his Twitter account and on the SparkToro blog.
The gist of his argument: 
Google is prioritizing paid listings more and more, making it more challenging to rank organically—not impossible, but significantly harder than it used to be.
Social networks bury posts that include links deep in the abyss of its network, and favor posts that keep users on their own platform.
The benefit of growing an email list is you own your audience. 
You don't have to play an ongoing losing game of trying to get your message out on platforms that are making it increasingly more difficult. You're the boss of your audience.
If there is anything we've learned about recent trends in commerce (e.g., social commerce), and the rise of crypto and NFTs, it's this: community is driving engagement and purchases.
Building an email list does more than help you send updates to your clients. An active email list helps you build a community of people who care about what you do.
With email, you can:
Stay in touch with your freelance clients
Encourage clients to stay in touch with each other
Suggest news bites, industry trends, and services that pique their interest and bring people together
Email marketing isn't only about upsells; it's also about community (which leads to upsells).
3. It helps you create personalized experiences
One of the coolest things about email marketing is the ability to offer personalized experiences to different customers through subscriber preferences and segmentation.
Let's talk about subscriber preferences first. Subscriber preferences allow your subscribers to choose what communications they want from you.
Take Morning Brew, for example.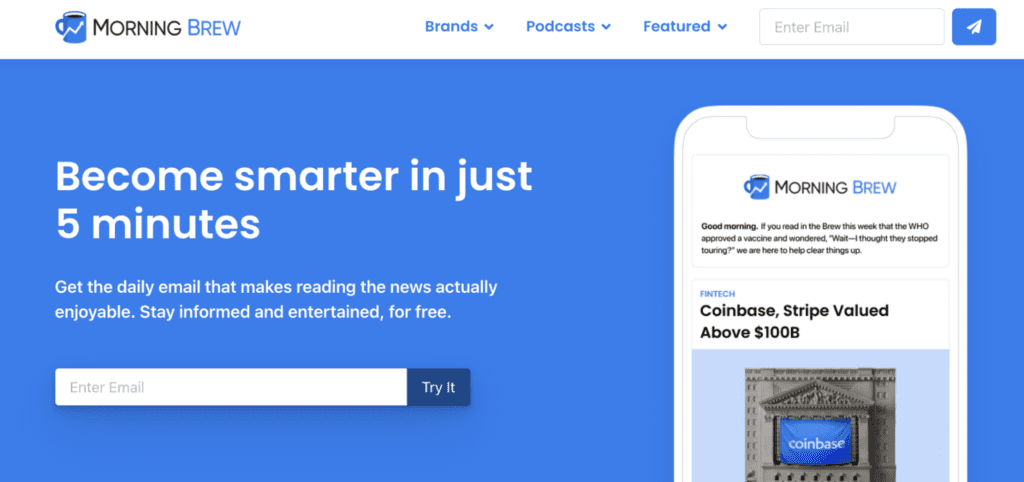 When you sign up for Morning Brew's newsletter, they don't subscribe you to every email list they send out. They give you options for additional content. You can also subscribe to:
Marketing Brew
Retail Brew
Emerging Tech Brew
This is a simple way to hand your subscribers the reins and serve them up personalized experiences.
Another way to create personalized experiences is to set up segments within your individual subscriber lists.
For example, you're a web designer and you may only have one newsletter, but different audiences that want to hear different messages.
Rather than sending everyone all messages, you can set up a subscriber list based on demographics, preferences, or behaviors, and send customized messages to different subscribers.
It may sound difficult, but a reliable email service provider (ESP) like Constant Contact, Campaign Monitor, or Mailchimp make segmenting lists easy for you to reach the right subscribers with the right messages at the right time.
How to get started with email marketing as a freelancer
Now that you know why email marketing is an integral part of growing your freelance business, let's talk about how you actually get started.
Here are some steps to follow to build a strong email marketing game.
1. Pick an ESP
An email service provider (ESP) is a SaaS tool that will help automate and personalize your email marketing efforts.
There are several different ESPs on the market with various features. What you end up picking will largely depend on what your goals are and what features are most important to you.
Here are some helpful features to consider:
Marketing automation functionality
Customizable email templates
Segmentation
Analytics
Reporting
Popups and forms
SMS
And more!
And here are some of the most popular ESPs to help you start your search:
Constant Contact. Constant Contact is a good go-to ESP. The platform is easy to navigate, has all the typical features you'd want to help you with email marketing, and they make selling online and social marketing easy to boot.
MailChimp. If you've been searching for an ESP for a while, you've probably heard of one of the leaders in the industry—MailChimp. MailChimp makes it easy to collect subscribers and integrates easily with web building tools.
Substack. Substack is a newer email marketing tool. It's focused on helping writers capture email subscribers and transfer those people into paid subscribers. It doesn't have all the bells and whistles you may get from one of the older ESPs, but it's innovative in its own right and worth considering.
Omnisend. Omnisend has cool email marketing and SMS features. If you're looking to go above and beyond by reaching customers via email and text, Omnisend is a nice place to start.
Sendlane. If e-commerce plays a role in your freelance business plan, you'll want to scout out Sendlane. Sendlane helps you target online shoppers.
Again, the ESP you choose will depend on your preferences, the features you need, and your goals. The good news is most ESPs have a free trial so you can get your hands wet before you have to pay.
2. Capture email addresses on your website
Once you've decided on the ESP you're going to use, it's time for the fun part. In other words, it's time to start capturing subscribers.
Regardless of what ESP you use, you'll be able to create a sign up form within the ESP. Typically, the ESP will have a tab dedicated to form creation. Here's what the tab looks like in Omnisend, for example.

Once you navigate to the "Forms" section of your ESP, you'll be able to create a custom sign up form for your freelance website by following the prompts in the ESP.
Once you're satisfied with your sign up form, save it, and publish it. Your respective ESP will give you a code that you can integrate into your website.
A quick note: the process for integrating a sign up form on your website will vary slightly depending on the ESP you use, your website builder (e.g., WordPress), and what kind of form you've created (e.g., pop-up, landing page, home page, etc.). 
Have questions on how to integrate a subscription form on your WordPress site? Check out this guide to growing email subscribers. 
3. Set a writing schedule
Once you've integrated your email subscription box into your website, you'll officially start to see people subscribing to your list.
Congratulations! It means your clients want to hear from you. 
Now, it's time to set a writing schedule and deliver newsletter content on a regular basis—whatever that means for you. Freelance web designers might offer UX guidance, while freelance writers might email tips on copyediting and content strategy
Get started with Virtue Media today!
The best way to own your audience is by having your own space on the internet—a website. And you can easily drive traffic to your website and build a community with the help of email marketing.
To get your website and newsletter up and running, start with a web hosting account from Virtue Media.