Remember craft fairs, window shopping and in-store events?
If you're a local retailer or artisan whose income depended on making in-person connections with customers and letting them see your products up close, you may miss the old pre-quarantine days more than most. 
How can you connect with customers during shelter in place orders? Social media.
Before the pandemic, Facebook, YouTube and other platforms were popular. During stay-at-home orders, social media is a lifeline for people stuck at home, missing their friends and worried about their local communities. 
Even if you're an old hand at using social media to promote your boutique, craft business or creative side hustle, there are some specific approaches you may want to adopt or increase while everyone's searching for connection, creativity and items to brighten up the same four walls. 
1. Use your local handmade, arts and crafts hashtags
A lot of people worry that their favorite local businesses are struggling during closures, and they're looking for ways to support their local faves from home. For makers and shop owners that means making the most of hashtags and keywords that show where you are and what you do. 
For example, here are a few Instagram posts by different Austin area artists, all using the tag #atxart: 
Each of these artists is appealing to local buyers. Some offer local delivery. And each of them has a link to their online store in their Instagram bio to drive visitors to their site to keep browsing. 
Not sure which tags to use on your posts? Do a little research. For example, when you search for #atxart on Instagram, your search results will include a list of related and similar hashtags:
You can do the same kind of hashtag search for whatever's relevant to your niche and location, look at the posts using those tags, and build a list of hashtags that local shoppers may follow at home.
2. Team up for a special event or community deal
Another way to raise your profile is to support your fellow local businesses and boutiques.
Here, a local magazine promotes an at-home, citywide picnic with meals available from local eateries. And a local yarn store lets its fans know how to get gift cards that can help other local businesses weather the current shutdown. 
3. Create "making of" videos that show how you work
Another way to connect with customers is to make videos to let them see how you make the things you sell. These don't have to be how-to videos—they can simply tell the story of how your art or crafts happen. 
Here's a great example of a "making of" video from an Austin bead artist that gives viewers an idea of how long it took the artist to create the finished piece.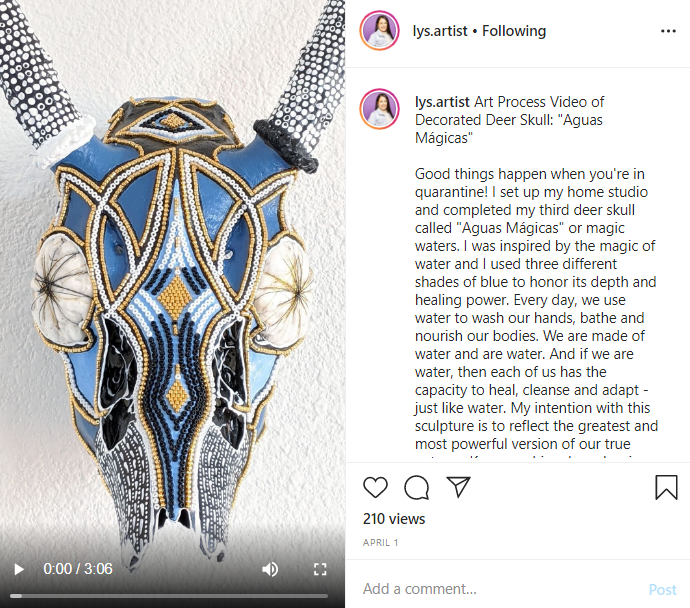 A video like this can drive traffic to your website and online store. Even if the item you feature in your video is expensive, visitors may decide to pick up less pricy items–if you have them for sale. For example, this artist's site includes handmade jewelry at lower price points than the deer skull piece in her video.
4. Auction your work in the comments
It's possible to sell your items first-come, first-serve on social media. But adding an auction can generate more views and interest at a time when we're all seeking distractions and a little novelty. 
For example, this local needlework artisan paired with another creator to make a series of throw pillows. That kind of partnership can generate more traffic on its own by getting your work in front of new people who follow your creative project partner, and vice versa. 
The auction is the icing on the marketing cake, though, because 
There's a time limit, which can get people excited to buy. 
The designs are unique, which appeals to home décor shoppers. 
The auction winners will have a story to tell about the artisans behind their throw pillows. 
Auctions get people excited about competing to win, so they're often eager to keep bidding. 
How well did these auctions do? Winning bids ranged from $160 to $200, and one of the posts got more than 1,100 likes. And the bidders who didn't win can shop the artisan's website for other pillow designs. 
5. Host an event or teach a class on social media live
If you sell creative supplies or can lead a live class, consider video meetups that you host on social media or another platform like Zoom or Google Hangouts.
Live classes and hangouts can break the monotony of staying home, help your students or customers keep up their skills, and generate interest and/or income for your business. 
For example, many dance teachers have moved to live online classes while their studios are shuttered. Other artists, artisans and shop owners are launching online classes and hangouts, too. Some are hosting free online how-to sessions on social media and selling kits of supplies on the websites for delivery so students can craft along in real time at home. 
Social media works best when it brings local shoppers to your online store
Social media channels are great for connecting with local audiences, showing them how you work and generating excitement about your products. 
And while you can auction or sell your products directly from your social media feeds, you'll almost certainly sell more over the long term if you're also driving your social media traffic to your online store. Why?
Your website store offers an easier shopping experience. With a social media feed, customers have to open each post to see information about the item pictured, including whether or not it's for sale, the price, dimensions and how to buy. A good eCommerce platform, on the other hand, shows your customers all of that information at a glance. 
It's easier to update product availability, pricing and shipping information on your eCommerce site than in social media. That means you spend less time on administrative tasks as items sell out or prices change. 
Tagging and describing your products in your store helps with SEO. When people Google "Austin bead artist" or "Portland soap maker," your social media posts won't appear in those results. But if your online store is active and optimized, those customers will find you.
There are other benefits to expanding your eCommerce operations, too. And more ways to use social media to get people to your website. Is it time to set up or step up your online store? Get started with Virtue Media.