Pumpkin spice lattes. Jingle bells. Snowflakes. 
The biggest shopping season is quickly approaching. For your eCommerce store, it's time to plan your holiday marketing campaigns. 
Your goal is to capture the attention of shoppers to become the go-to brand for holiday gift-giving. Maybe you'll start a viral hashtag on Twitter or partner with a special cause to spread the holiday spirit. The choice is yours.
Let's ignite your creative mojo. Explore these five holiday eCommerce marketing campaigns and learn how they impacted customers.
1. Etsy
Skip the fluff and give your customers exactly what they want. Your shoppers are searching for the best products to give to their family, friends, and co-workers. The problem? They have no clue what to buy for each person.
Your brand can save the day with holiday gift guides that offer specific product recommendations. Seray Keskin, a content marketer at Sleeknote, agrees:
"Holiday shopping season is a hectic time for e-commerce marketers…With well-organized holiday gift guides, offered to the right users, at the right time, you can help your visitors find the perfect gift they're looking for, and boost your holiday sales year after year."
Take a few pointers from Etsy. Shoppers can find gifts by recipient, occasion, and price. The brand also categorizes products as bestsellers and top-rated gifts. 
Etsy shoppers get guided to the right product that fits their needs. Consider how your business can do the same.
2. Macy's
For most people, the holidays mean spending time with loved ones and eating as much pie as possible. But not everyone has the luxury to get gifts during the holidays. Your brand can fill this holiday spirit gap by teaming up with a nonprofit to help those in need.
Macy's collaborated with the Make-A-Wish Foundation to donate funds to the organization. Visitors wrote letters to Santa, and for every letter posted, Macy's donated $1 to the charity. Shoppers got to directly engage with the brand and helped a good cause.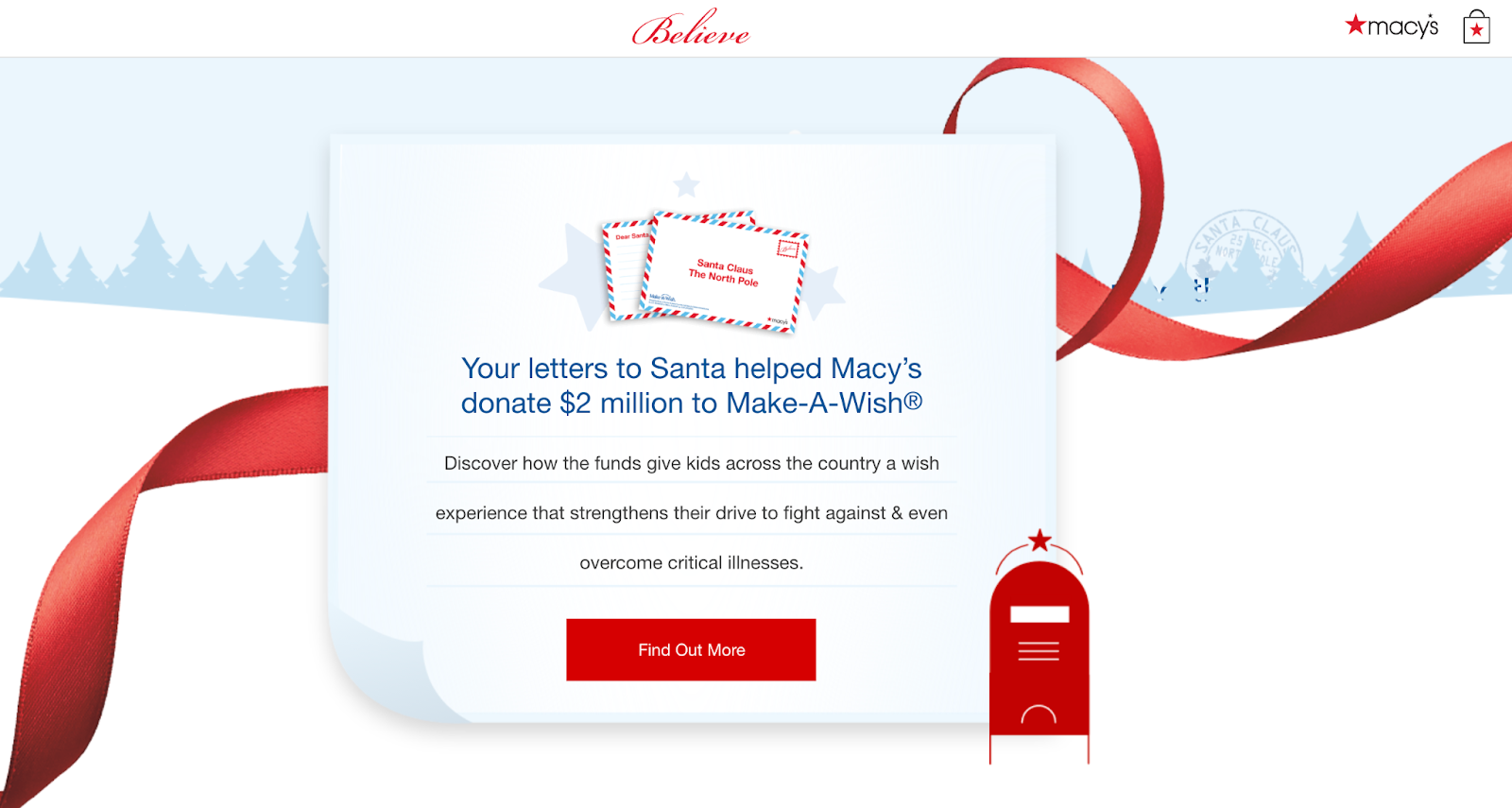 When creating a cause marketing campaign, you want to consider what issues align with your brand. Your business could bring awareness to hunger, global warming, or education. Then, do your research on charities that match your values and possess a sterling reputation. 
3. Target 
Everyone celebrates the holiday differently. Some people may decorate their house with ornaments and lights, while others will stick to religious traditions. As a brand, it's important to celebrate diversity in your marketing campaigns.
Target produced a commercial to showcase different ways their customers may celebrate the holidays. The campaign included unique product offers along with the social media hashtag #MyKindOfHoliday. 
Social media is an effective way to bring an in-store campaign online. Whether you create your own or jump on a holiday trend, hashtags are a smart way to boost your visibility and keep your brand in people's social media feeds.
When creating your social holiday campaign, consider your target audience and who will most likely share your message. Above all, be mindful of the diversity in holiday celebrations.
4. Zazzle 
Holidays are all about spreading joy to everyone around you. What better way to show others you care with a little bit of laughter? Your brand can kick up the customer happiness by adding humor to your marketing campaigns. 
You can even take it step further by selling funny products. Zazzle put a spotlight on its marketplace designers selling hilarious, holiday-themed caps, mugs, and t-shirts. Below is the promotional email encouraging shoppers to buy these custom gifts at 50% off.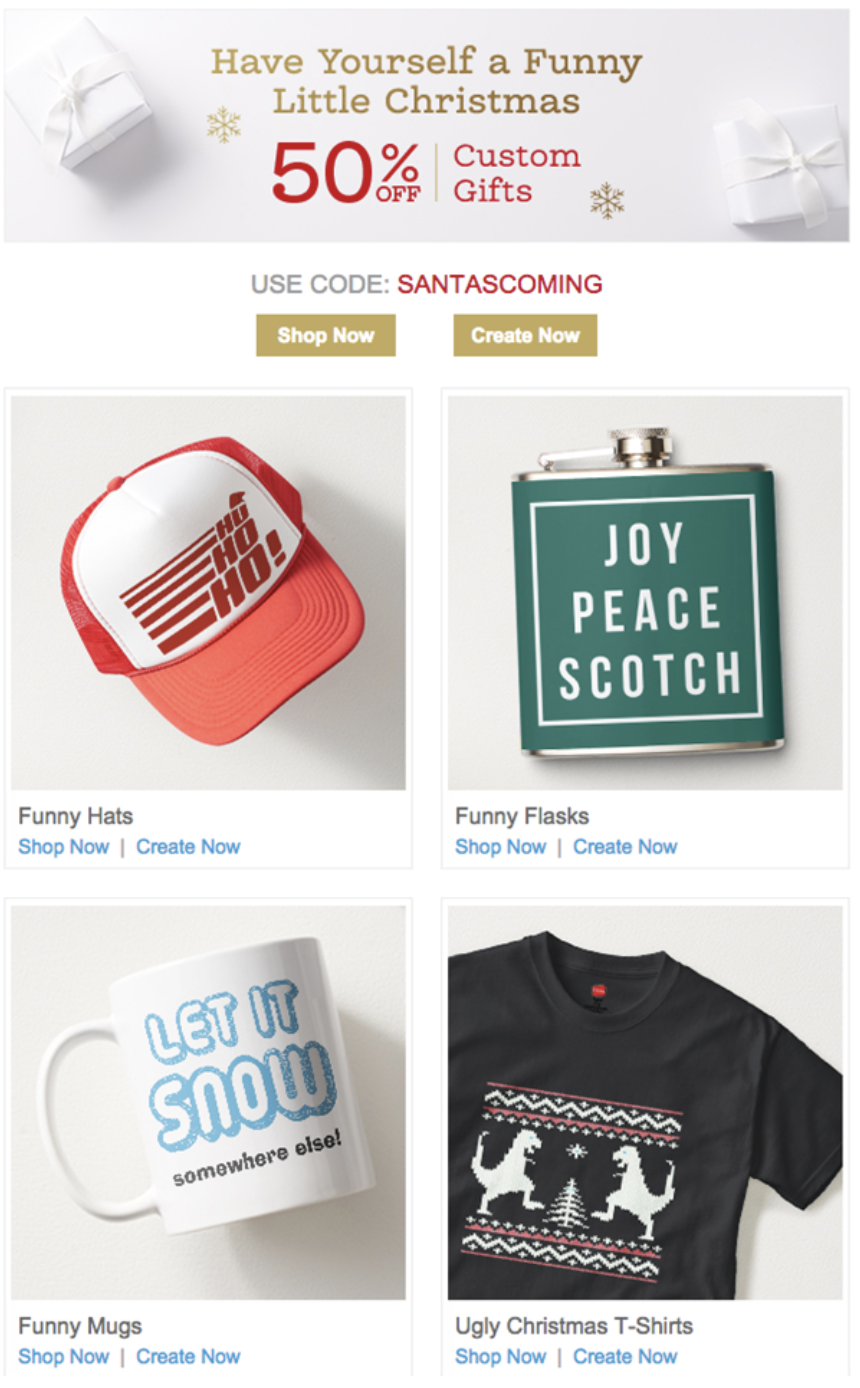 Your team can do something similar. Maybe you'll send emails with amusing subject lines. Or encourage your Twitter followers to submit funny jokes for a holiday contest.
Stay away from jokes that could offend your audience. You don't want to ridicule anyone's beliefs or traditions. The objective is to brighten your customers' lives during this season and bring awareness to your brand. 
5. West Elm
With so many products to choose from, customers are seeking brands that offer personalization in the shopping experience. And during the holidays, it's not enough to send shoppers to the shoes section of your website. 
Instead, your brand should offer shoppers unique recommendations based on their interests and needs. West Elm did just that with their holiday style quiz. Consumers answered a few questions and got a product selection that fit their style.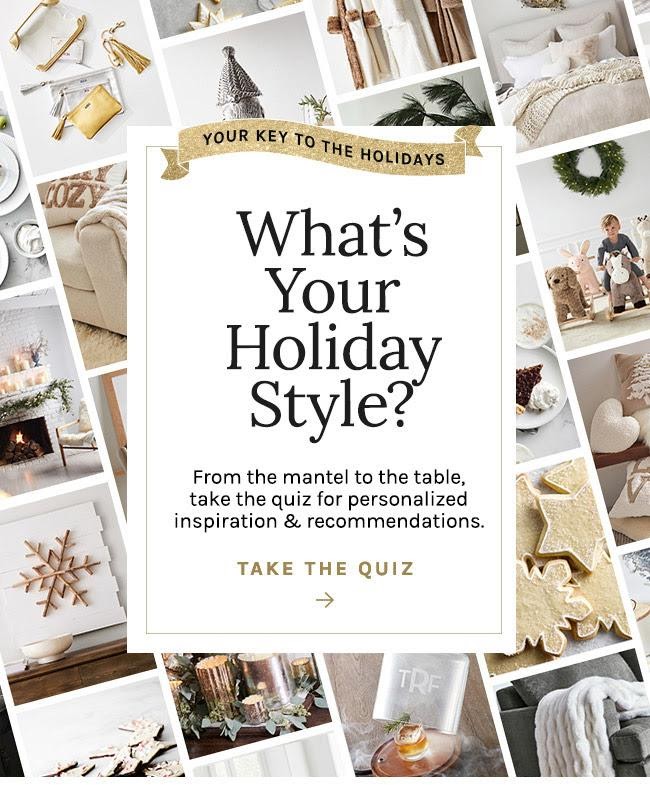 Quizzes also are an effective way to capture your shoppers' email addresses. That way, you can segment your email list and send customized newsletters and promotions. Snigdha Patel, an avid reader and content writer for REVE Chat, writes:
"By segmenting your customers for a truly personalized experience, making your campaigns easily shareable, and delivering the best deals that are consistent across all of your channels, you are positioning yourself for maximum success with the upcoming holiday season."
Spread Holiday Cheer with eCommerce Marketing Campaigns
The holidays are an opportunity to get creative with your eCommerce marketing campaigns. Whether you're creating funny (yet relevant) products or donating money to a specific cause, your brand can get your customers involved in the excitement.
Is this your store's first holiday season? Make it a success with our FREE ebook, The Virtue Media Guide to Rocking Your eCommerce Store's First Holiday Season! Download your copy here.