Social media plays an important role in how small businesses market their products and services online. Beyond superb copywriting, your social media content must include creative graphics.
You only have a few seconds to grab your audience's attention before they scroll to the next post. That's why your graphics should include vibrant colors and that latest designs.
We've compiled a list of six tools to help you create social media graphics. Learn how you can quickly wow your followers with these top social media graphic creation tools. 
1. Canva
Consumers are spending up to 3 hours on social media platforms per day, and even longer looking at their mobile screens. This trend is an opportunity for your small business to get in front of a larger audience. 
The key is to stand out from the crowd with appealing social media graphics. You want followers to instantly relate to your content without any hesitation. 
Canva can help you create visual content to establish your online presence. You get access to a premium library of more than one million stock images, graphics, and illustrations to produce high-quality designs. Keep your Facebook page looking fresh with over 100 popular layouts and 130 unique fonts.
With this graphic design tool, you also can edit and save your social media design as often as necessary. There's even a collaboration feature to invite team members to edit and comment on your current designs. When you're ready to post on social media, just export your design as a JPG or PNG.
2. Piktochart
The best social media graphics will persuade your followers to pay attention to your message. Your images should convey a story, so fans are encouraged to click the link in your post. Amy Copperman, head of editorial content and social media for Adobe Spark, offers her perspective: 
"The fundamental building block of a brand is consistency. It takes five to seven impressions for people to begin to recognize your brand. This means that the repetition of key brand ingredients—logo, colors, and typeface—is essential."
Combine your site branding with graphics using Piktochart. With this tool, you can sift through thousands of royalty-free images and add nifty visual effects. You also can customize ready-made templates with just one click. It's an easy way to try different styles to match your brand's unique personality and style guide.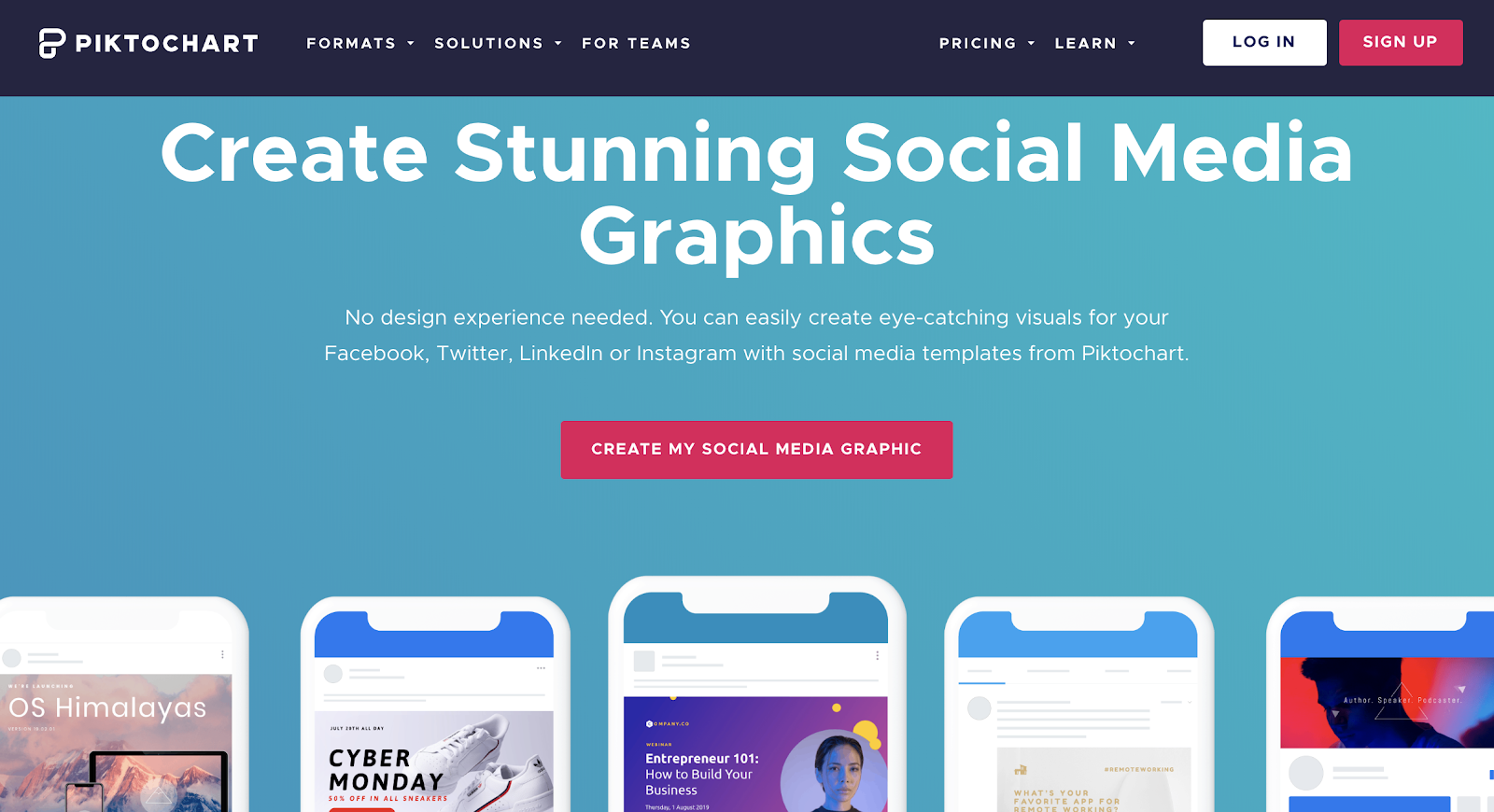 3. Prezi Video
Apart from graphics, video is also essential to your social media content. Bite-sized clips can entertain and inform your audience in a matter of seconds. And that's what your brand needs to outshine your competitors. 
Before you press record, you'll want to think about the type of videos you want to post online. Some brands enjoy making behind-the-scenes footage of their business, while others like producing short, product-related videos.
No matter what video type you choose, Prezi Video is an effective tool for making engaging videos. You have the option of repurposing an existing PowerPoint presentation, choosing from a library of templates, or starting completely from scratch.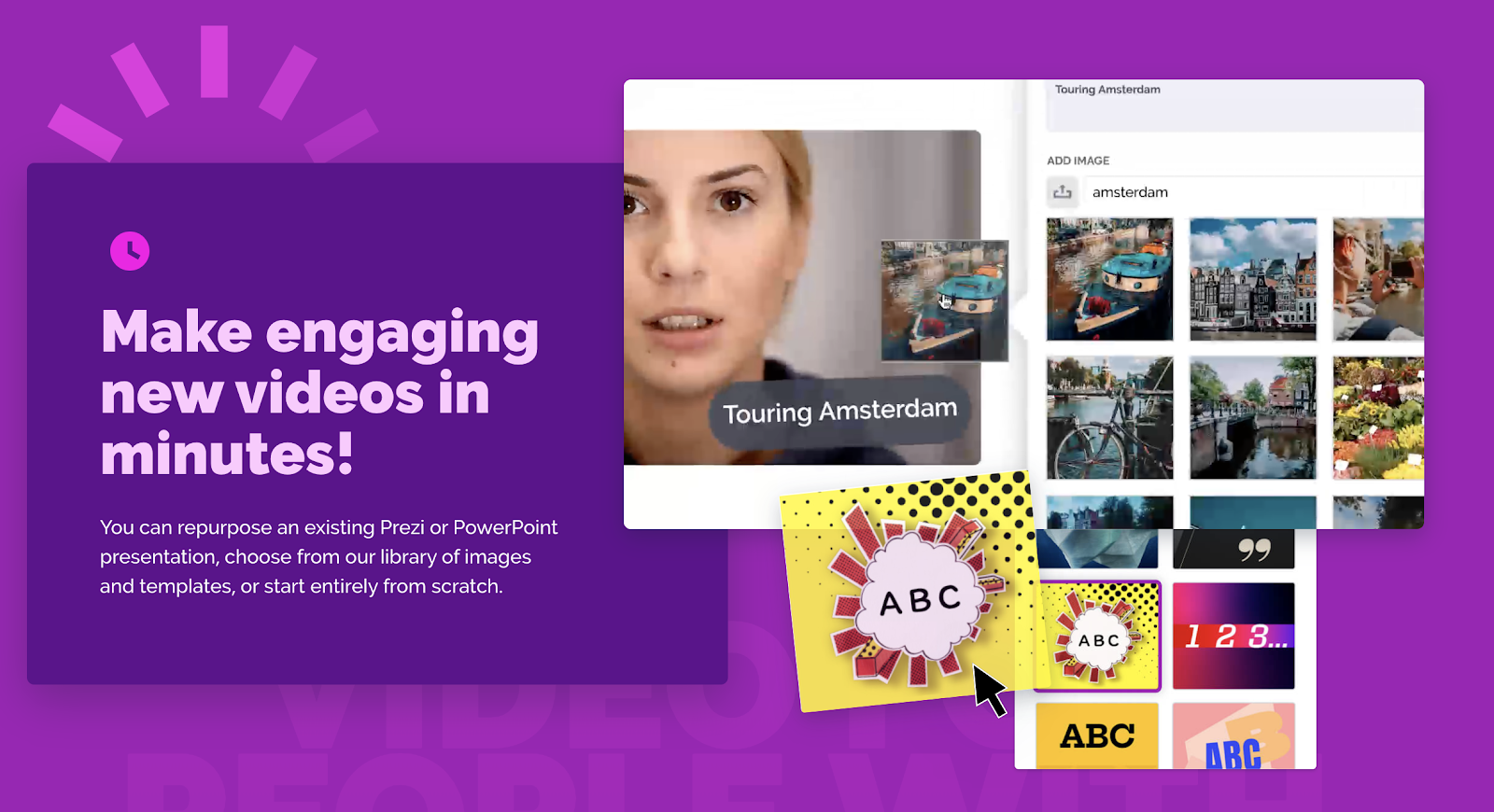 Prezi offers a collection of how-to videos to help with the video-making process. You'll learn how to animate content, convert slides to video, and use advanced features like a pro. If you're too busy, you also can hire a certified Prezi expert.
4. Social Image Resizer Tool
In social media, one size doesn't fit all. Every channel requires specific graphic dimensions. What works on Twitter won't work on Facebook. So, it's recommended not to reuse the same graphic size across all your social accounts. Manvi Agarwal, a marketing and communication strategist at SocialPilot, states the significance of your social media graphics: 
"Be it Facebook profile pictures, LinkedIn banners or any social media image for that matter, images are now undoubtedly the backbone of all social media platforms. Images have hugely garnered the marketing reigns in its control and if your images are compelling, you are sure to win the engagement battle."
Thanks to Social Image Resizer Tool you don't need to remember the image dimensions for every social media channel. Instead, just upload your desired image and select a predefined option, like LinkedIn Profile Photo. Then, the tool will automatically adjust the graphic size for you.

5. Animoto
Research shows that 71% of consumers who have had a positive experience with a brand on social media are likely to recommend the brand to their friends and family. So, your brand must strive to find new and interesting ways to create memorable moments for your fans. 
Professional videos can help you reach this goal. Animoto is another video maker for improving your social media marketing. This drag-and-drop tool makes it easy for novices to develop video content. 
Animoto includes a library of stock photos from Getty Images, a music catalog featuring thousands of licensed tracks, eye-catching animated text effects, and logo watermark branding to promote your small business. Plus, you can join an exclusive Facebook community to get tips, inspiration, and feedback on your videos.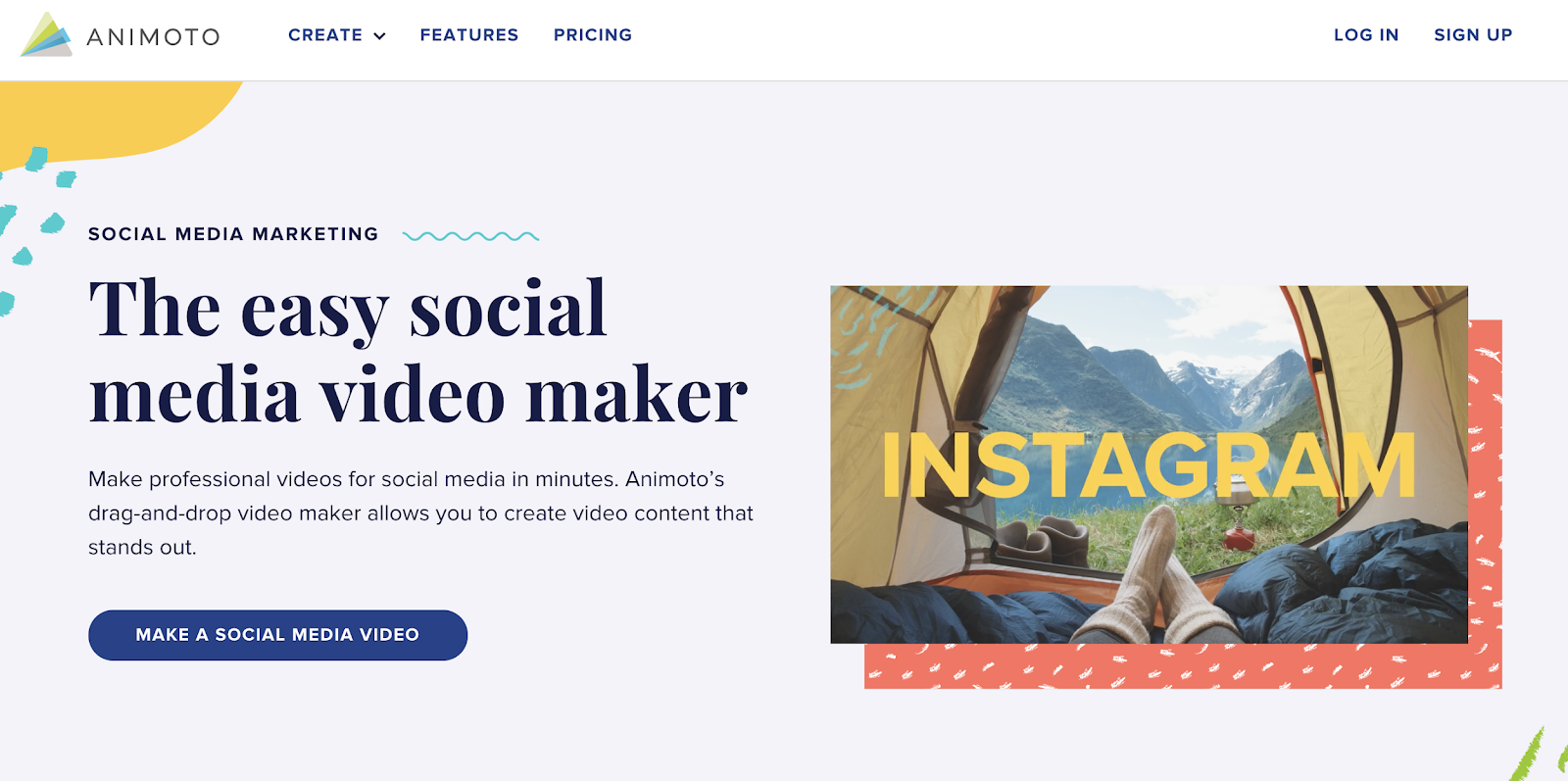 6. GIPHY
Your social media fans want to be engaged as they scroll down your timeline. Sometimes, followers need a good laugh or something to put a smile on their faces. GIFs are one of the best-kept secrets to boost social media engagement. 
Use GIFs as an opportunity to get people excited and to help them remember your brand. Lisa Hassell, director of creative agency Inkygoodness, offers some advice:
"A good GIF can be playful and full of dynamism, or it can be slow and smooth; whatever describes the feeling behind the moving images. The key is to understand what makes an eye-catching GIF and create a language that fits the mood of the message."
With GIPHY, you can create fun GIFs using multiple images or trimming a video. Think outside the box to design GIFs to thank your customers, explain a process, or even tell a short story.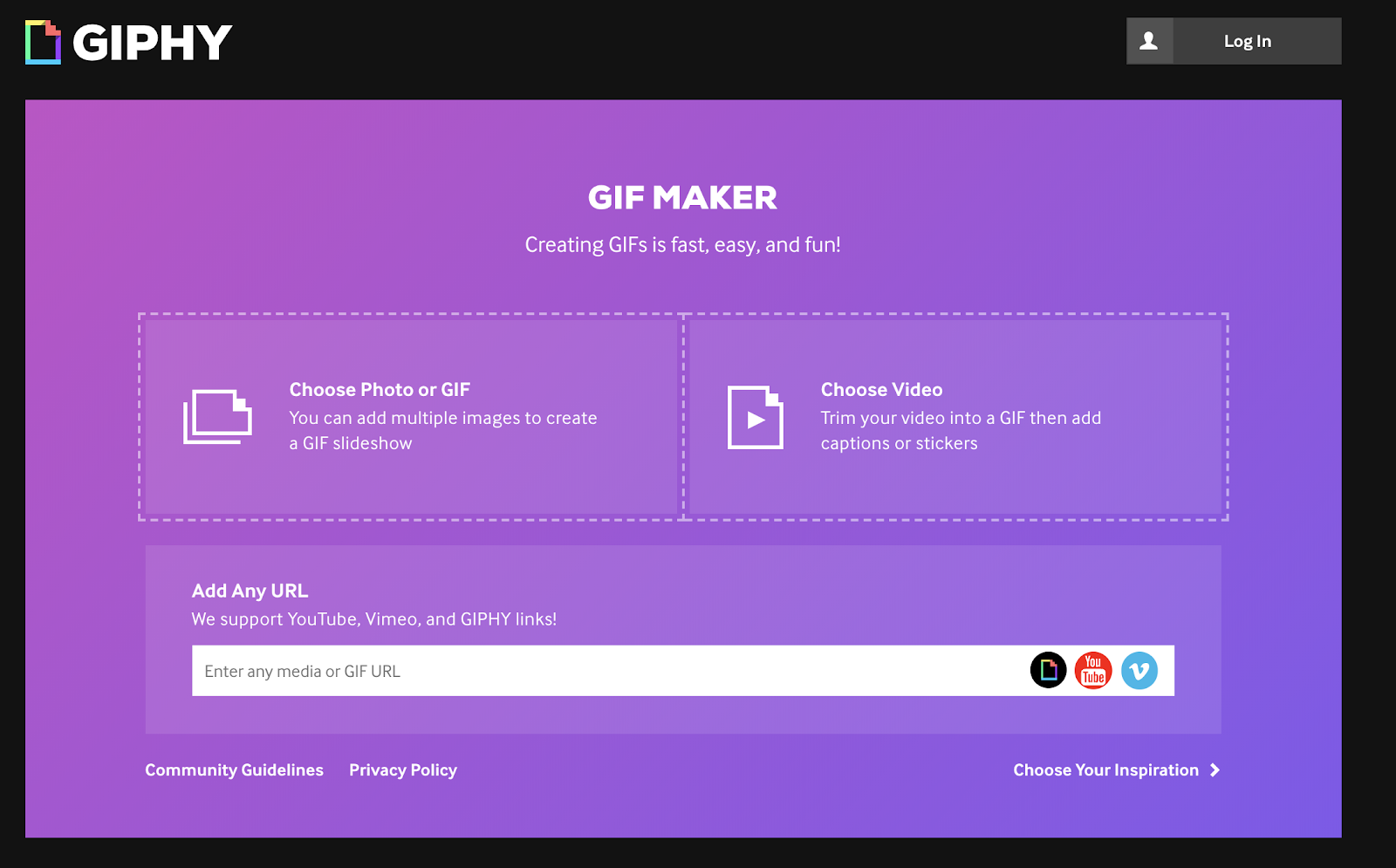 Design Engaging Social Media Graphics with These Tools
Social media is vital for your online marketing efforts. You can spruce up your campaigns by creating engaging social media graphics. Using the above-mentioned tools will make the creative process easier for your small business.