Shoppers love a good deal. With the boom of online coupon sites, your consumers are scouring the Internet to get that extra 10% off on their next purchase.
Your online store can take advantage of these consumer habits by offering coupons directly to your shoppers. Get them to take a specific action, like sign up for your email newsletter, in exchange for a coupon.
With the help of plugins, the backend coupon management won't be a hassle. Check out these seven WooCommerce coupon plugins.
1. Advanced Coupons for WooCommerce Coupons
Promote your products better with Advanced Coupons for WooCommerce Coupons. This free coupon plugin allows you to run Buy One, Get One (BOGO) deals, organize your coupons into categories, and show coupons to consumers via a quick order preview box.
Coupons can help encourage shoppers to your checkout page. Danny Wong, entrepreneur, marketer, and writer, agrees:
"While coupons are a clever tool that store owners and marketers may use to improve critical KPIs, eCommerce managers may also be surprised by the effects a simple coupon can have on shoppers. Even the most modest discounts can convince otherwise prudent buyers to splurge."
This tool also makes it easy to restrict specific consumers from accessing coupons. That way, you have the flexibility to offer the right discount to the right customer. 
2. Smart Coupons for WooCommerce
According to the Coupon Intelligence Report by Valassis, 92% of consumers used coupons in 2019. Upgrade your coupon management with Smart Coupons for WooCommerce. This plugin provides coupon restrictions, auto-apply coupons, and giveaway offers. 
Coupons can help improve your online sales by attracting a new customer base and retaining existing customers. Smart Coupons allows you to issue coupons to certain shoppers. You can limit coupon usage based on products and by quantity or amount purchased. 
Under Account settings, you can easily view your applicable coupons. There's also extensive coupon styling options for expired, used, and active coupons. So, you can quickly keep track of all the coupons you promote.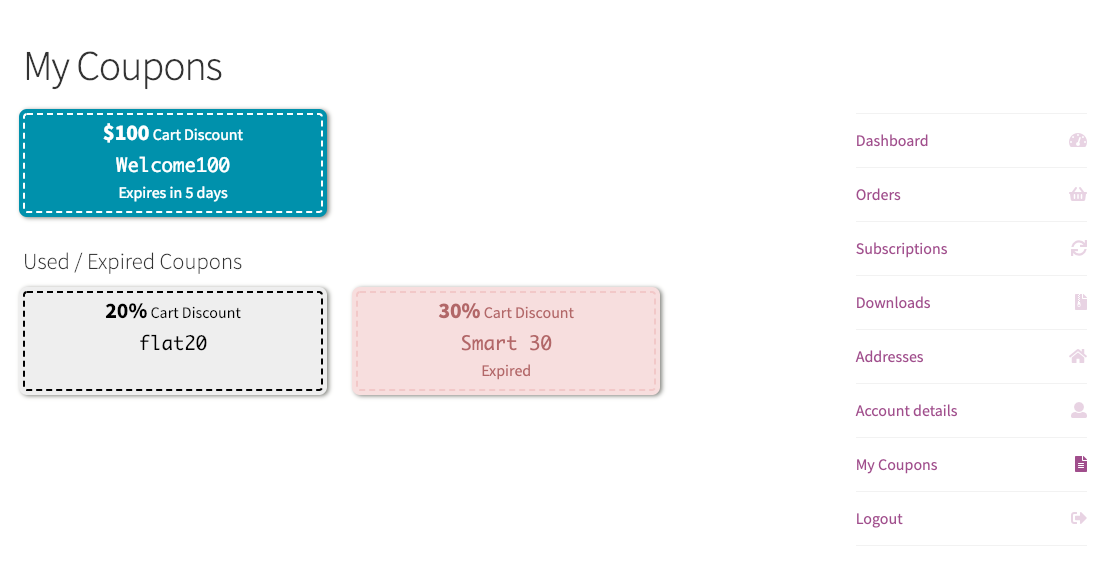 With the premium version of this plugin, you can manage bulk coupons and give away free products with coupons. You even can design gift vouchers of any amount for store credit.
3. WooCommerce Extended Coupon Features
Now, let's check out WooCommerce Extended Coupon Features. This plugin adds more functionality to your existing WooCommerce coupons by allowing automatic discount rules.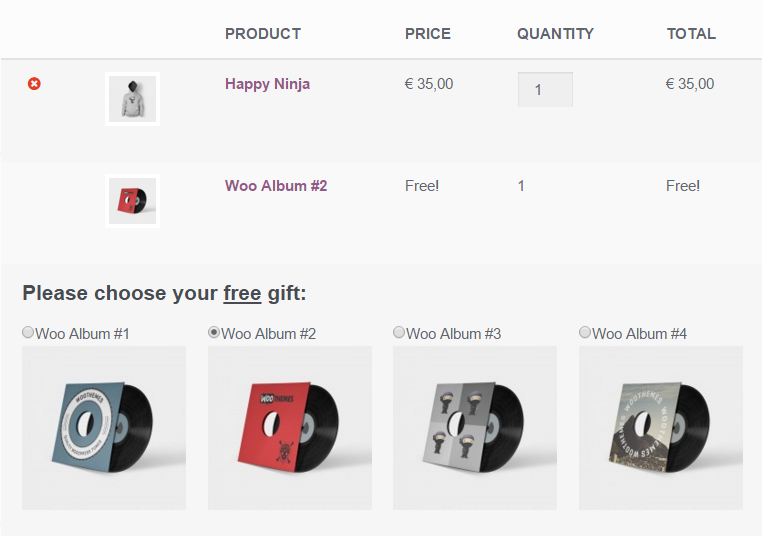 You'll have the option to restrict coupons by shipping method, payment method, product combinations, and even customer roles. For instance, you can create an auto coupon that offers a $5 discount only if the shopper's cart totals to $50.00.
However, avoid using coupons too much. If everything's always on sale, your products can seem less valuable. Use coupons strategically, with discounts planned for customer anniversaries or birthdays, holidays, and special events.
4. Coupon Box for WooCommerce
Blippr reports that online shoppers who use coupon codes spend 24% more than shoppers who don't use them. So, it's important to ensure shoppers are aware of your existing coupons.
Coupon Box for WooCommerce helps you collect the email addresses of your website visitors. Therefore, you'll get an opportunity to send coupons directly to interested buyers. 
With this WooCommerce coupon plugin, you can set up a pop-up window and promise visitors a coupon in exchange for their email. After generating a coupon code, your new subscriber will receive the coupon in their inbox.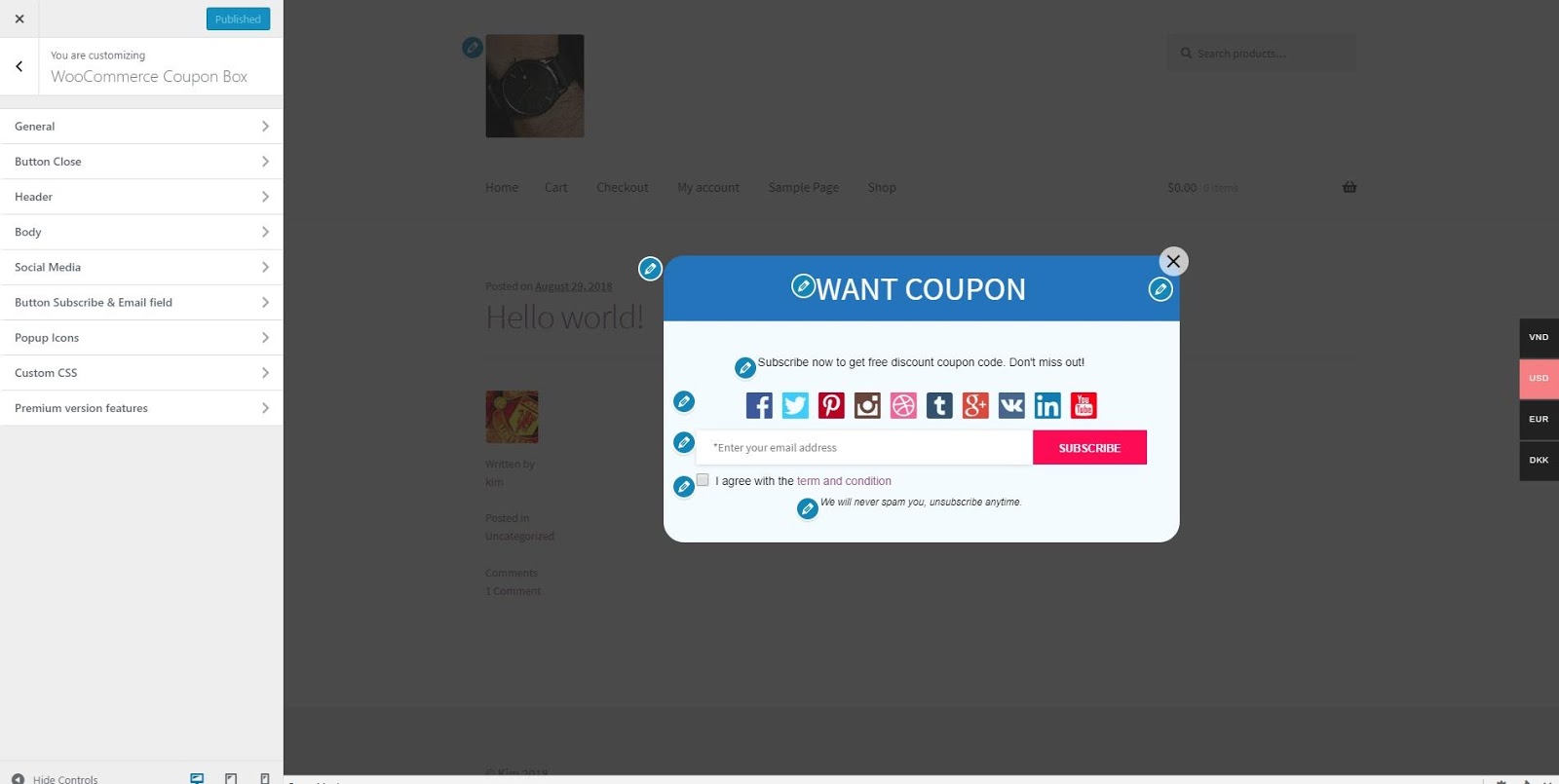 You also can send special gifts to your customers. Reward your target audience with instant coupons for sharing a social media post or for celebrating their birthday. It's another way to transform satisfied customers into brand advocates.
5. Retainful
Retainful makes it possible to increase your online store's sales by automating essential marketing activities. It's your one-stop shop for recovering abandoned carts, setting up a referral program, and creating next order coupons.
"No matter how enticing your promotional offers are, your customers won't be able to engage with them if they don't know they exist. Moreover, your customers won't be likely to engage with your offers if they aren't accessible, either," states Dennis, a content and digital marketing addict at CoreDNA.
This plugin helps you promote coupons within your transactional emails. You can add a coupon box layout that automatically generates in specific order notifications.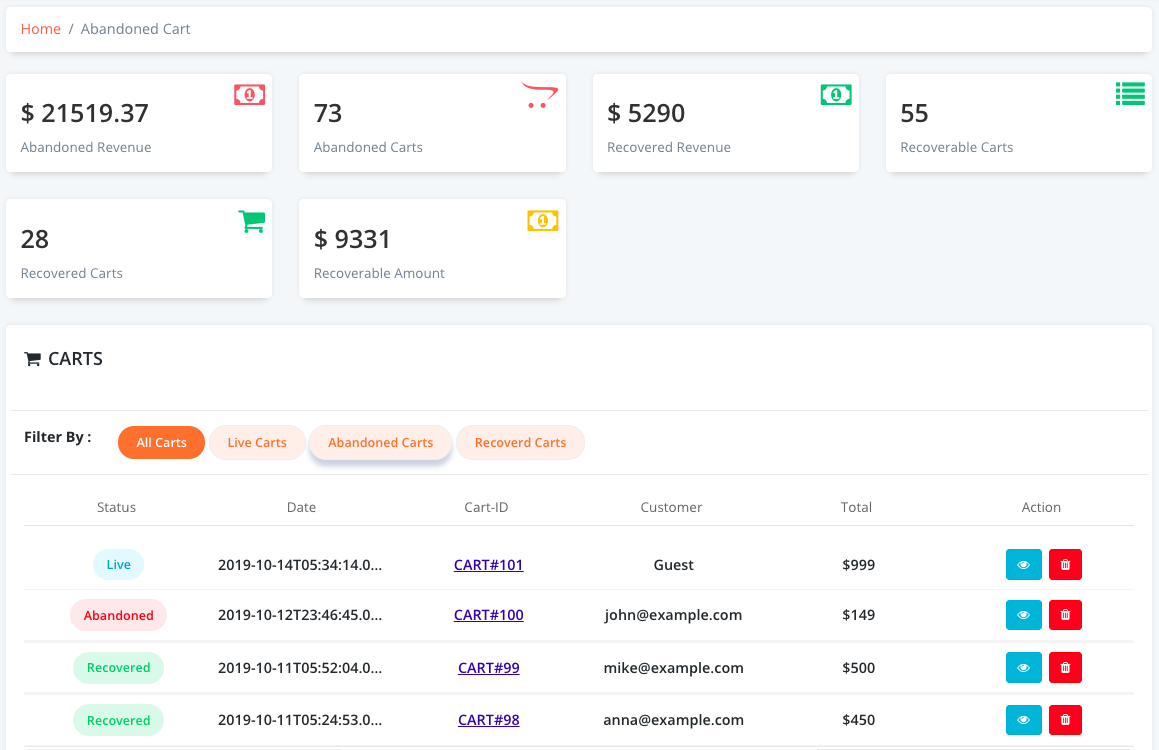 The Retainful dashboard also offers real-time analytics of your conversions. You'll know exactly how much money you made from repeat purchases using Retainful coupons.
6. WooCommerce Coupon Usage
Not only are your shoppers redeeming coupons, but they also are using coupons on their mobile devices. Juniper Research projects that mobile will account for 80% of coupon redemption by 2022. 
Prepare for a seasonal surge of coupon redemption with WooCommerce Coupon Usage. This plugin helps you build a network of marketers to promote your brand's products. It allows affiliates to view their coupon stats via a unique link.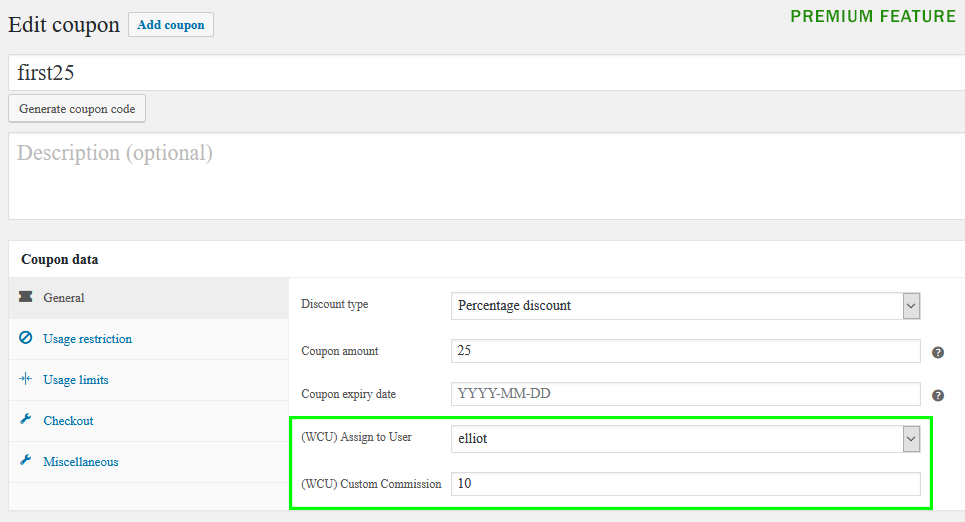 The coupon page displays usage statistics on your website's frontend. So, affiliates can monitor the coupon code, discount type, total order amount, total amount saved, and total referrer commission earned. 
7. Affiliate Coupons
Building partnerships is an effective way to earn more revenue for your online store. You can work with multiple vendors and become an affiliate. Michael Quoc, founder and CEO of Dealspotr, offers his perspective: 
"Understand your marketing strategy and how coupons should fit it, find high-quality partners, and keep a list of best practices handy so you're doing your homework along the way. Used properly, well-crafted partnerships with coupon affiliates can be a windfall for your eCommerce brand."
Affiliate Coupons is an intuitive coupon plugin for promoting your discount codes. You can design a structured list of coupons with your favorite merchants. There's also an option to choose which affiliate coupons to promote to the top of your pages.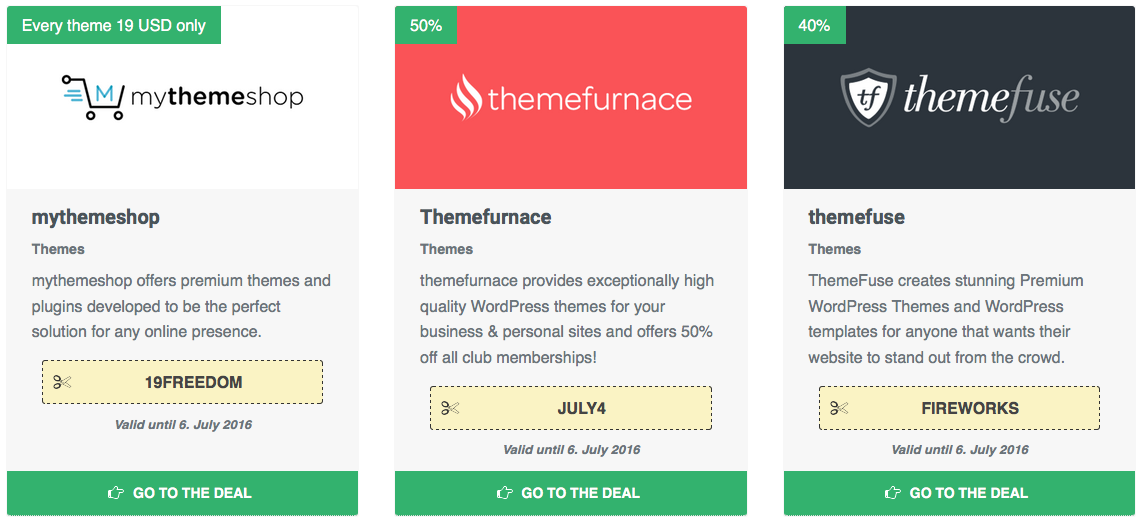 Offer Coupons to Your eCommerce Customers
Coupons are a strategic tool to earn the attention of potential customers. Experiment with different promotional campaigns that fit your brand's revenue model. You can use these top WooCommerce coupon plugins to get started today.