After all that work you put into creating your website, now that it's live you're worried it's not getting enough traction.
The web is full of sites competing for traffic. To get people to visit yours, you need to do online marketing.
One of the first concepts you'll encounter as you get started with online marketing tactics is keyword research. 
What is Keyword Research?
Keyword research is the process of learning which terms people use when searching for topics in your industry. It's a way to understand what your audience is looking for when online, as well as the specific language they use to search for it. 
Performing keyword research will help you learn a few main things:
How popular your keywords are – Keyword research tools provide estimates for the number of searches people perform for keywords, as well as the number of clicks the results get. 
How competitive they are – Equally important is understanding how hard a keyword is to rank for. SEO tools also provide data on how competitive keywords are. For PPC, that includes estimates for how much the keyword costs per click (CPC).
Other, similar keywords people are searching for – Part of keyword research is building out a list of all the relevant keywords you want to target in your campaigns. Keyword research helps you find more terms related to the list you start out with. 
What sort of search engine results show up for that keyword now – Not all search engine results pages (SERP) are created equal. It's important to understand when the results for a page are dominated by ads vs organic results, and when rich results like featured snippets and map clusters show up.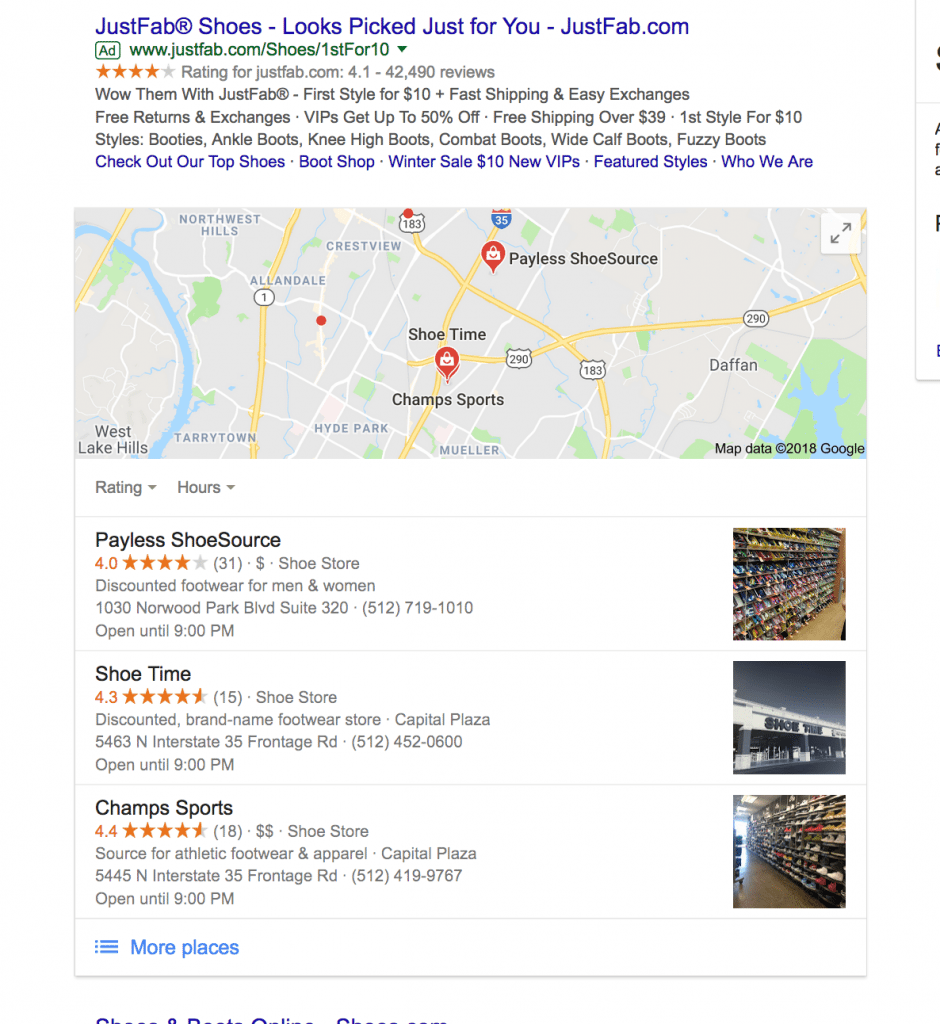 Why Keyword Research is Important
Keyword research is the cornerstone of two of the most important types of online marketing: pay-per-click (PPC) advertising and search engine optimization (SEO). 
In SEO, the goal is to get your website to rank for keywords your audience is actually searching for. Most SEO tasks revolve around using keywords to help Google and the other search engines understand what each page on your website is about, so they know which searches to include your website in the results for.
Similarly, in search PPC marketing, all the campaigns you set up will target specific keywords. How much you pay is based on the popularity of the keywords you target and the quality of the traffic will depend on how relevant the keywords you choose are to your campaign goals. 
In addition to its necessity for both these tactics, keyword research is also a valuable tool for understanding your target audience better. Knowing what they're searching for tells you something about what they care about, what questions they have, and what they're thinking.
That's important information for shaping a successful marketing strategy. You can use it when creating customer personas, planning out topics to cover in your content marketing, and even when figuring out which products to sell.  
Types of Keywords
Keyword research tools provide information about how popular and competitive keywords are, but beyond that information you also want to think about the different types of keywords. Understanding the differences between them and when best to use each type in campaigns is important for marketing success. 
Keyword Relevance Types
There are two categories of types of keywords. The first is related to relevance. It includes:
1. Head terms 
These are the keywords that will look the most valuable to you at first glance, because they have a high popularity and describe what your brand does at a general level. Some examples of head terms are "pizza delivery" (550,000 searches a month), or "accounting software" (60,500 searches a month). For those respective types of businesses, these are obvious keywords to want to rank for.  
Here's an example of head terms related to "floral delivery":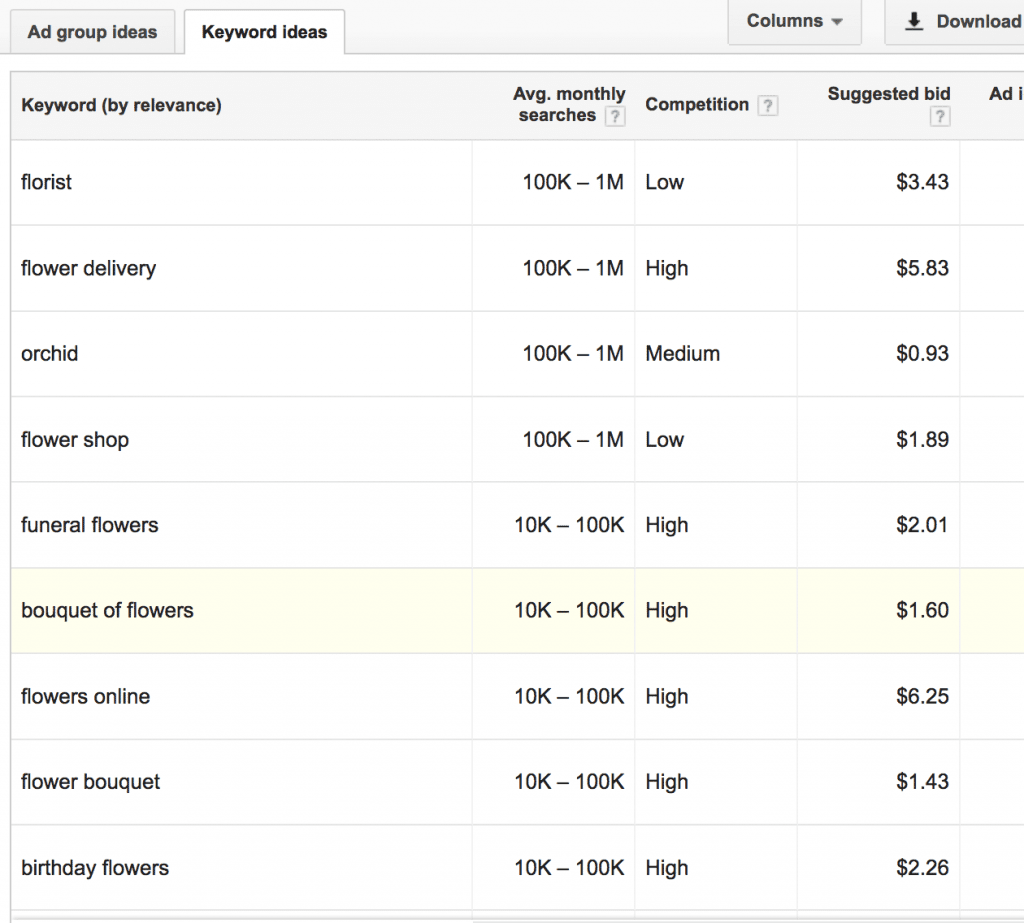 Head terms are often worth including in your strategy, but they're generally so competitive that they will take a long time and a lot of work to rank for, if you ever do. For that reason, they shouldn't be the only keywords you include.
2. Long-tail keywords
Long-tail keywords are more specific and often include several words. For that reason, they're less popular, but also far less competitive. These are easier to rank for and are therefore an important part of an SEO strategy. As you start to gain rankings for long-tail keywords, it helps boost your SEO authority, which will help you gain the head terms as well. 
Long-tail keywords sometimes only get 10 or 20 average monthly searches, or even less. But even so, they can help you gain valuable, relevant traffic as you're working to build your website's authority. Examples of long-tail keywords include "24 hour pizza delivery austin" (30 searches a month) and "best accounting software small business" (76 searches a month).
Here are some more specific long-tail keywords a doorbell company might target:

Keyword Intent Types
The second category of keyword types has to do with intent. This includes:
Informational keywords 
These are keywords people use when searching for the answer to a question. You won't necessarily get visitors to your website that are ready to buy from these, but they're still an important part of an SEO strategy as they give you a way to reach more people in your target audience. 
These keywords are most useful for crafting a content marketing strategy where you focus on helping your audience as a way to build trust in your brand. Visitors who like your content are more likely to remember your brand fondly next time they see you or, even better, sign up for your email list to hear more from you. This includes keywords like "how to make pizza crust" or "small business accounting 101." 
Navigational keywords
These are the keywords people use when they already have a specific destination in mind. You could also think of them as branded keywords. You definitely want to rank for your brand name when people search it, since at that point they're specifically looking for you. Examples of navigational keywords are "pizza hut" or "freshbooks." 
Anyone searching for those terms already knows what website they want to find and have simply decided Google is the easiest way to get there. The good news is that it's usually easy to start ranking for relevant navigational keywords, unless you have a really common brand name. 
You can also use navigational keywords in PPC campaigns to try to capture traffic that would otherwise go to your competitor. For example, if Domino's wanted to try and lure business away from Pizza Hut, they could bid on the keyword "pizza hut" so their website shows up above Pizza Hut's in the search engine results for the term. If you notice competitors bidding on your navigational keywords, it may be worth investing in a PPC campaign targeting your own brand name in order to beat them. 
Transactional keywords
These are the most valuable keywords to target, since they're the terms people use when they already know they want to buy something. This includes terms like "pizza delivery near me." By the time someone is searching that term, it usually means they're already hungry and trying to figure out which option will get a pizza to them soon.    
These are some of the best terms to target in PPC campaigns, since they're more likely to result in sales and provide you an ROI. But they also tend to be the most expensive ones to bid on, since your competitors will recognize them as transactional as well. 
Commercial investigation
This category is related to transactional, but usually just one step removed from when a person is ready to purchase, when they're still trying to decide between a few different options. This comes into play for any type of product that requires advance research. Examples include "pizza place reviews" or "accounting software comparison."
These are valuable keywords because you know the person doing the search is thinking about buying. Often they're hard for brands to rank for in organic search, because they're more likely to go to third-party websites that provide a more neutral view, such as Yelp or industry publications. But they can still be worth targeting in your SEO strategy, and are definitely useful for PPC campaigns.  
Local keywords
For local businesses, SEO and PPC are a whole other game than for businesses with a broader geographic audience. Google recognizes when searchers are most likely to be looking for location-specific results, and the SERP looks entirely different as a result. In particular, Google's map results usually take over the top of the page. Local keywords include terms like "salt lake city accounting firm" or "italian food near me."
The good news for local businesses is that local keywords are less competitive for both SEO and PPC. That means targeting them will save you money on your PPC campaigns, and you can potentially make it to page one with SEO faster. That doesn't mean local keywords are never competitive. A term like "manhattan real estate" may be local, but you can bet a lot of  businesses are vying for it. Even so, for any business that targets local customers, they're definitely important to include in your strategy. 
How to Do Keyword Research
Now you know the basics of what keyword research is. Here's how you actually do it. 
1. Brainstorm a list of terms relevant to your business.
Start by sitting down and writing out a list of all the terms you can think of related to your business, industry, products, and the problems they solve. Think of both the terms you usually use as an industry insider, as well as those you think people less familiar with the business would use.
This is your starter list.
2. Select your keyword research tools.
To figure out the value of the keywords on your list and identify others to consider in your strategy, you need keyword research tools. And you have a lot to choose from. 
Some of the top tools to consider are: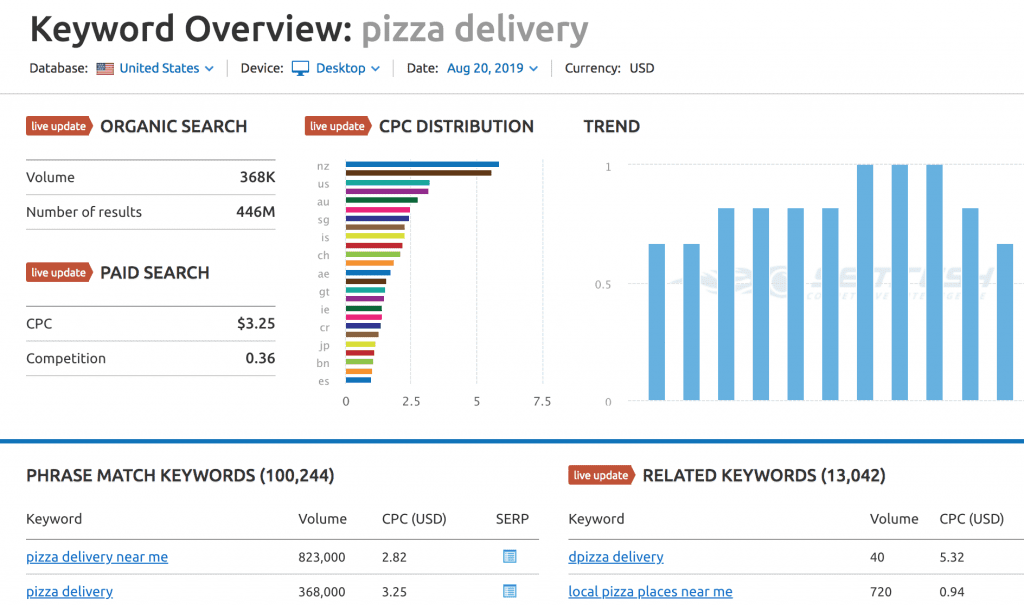 You can get a lot of good information from the free keyword research tools on this list, but for businesses really serious about SEO and PPC, investing in one of the paid products is usually worth it for the additional information you gain and the time you save. 
3. Build out your list with tools and research.
Once you've selected your tools, go back to your keyword list. Plug the terms from your starter list into the keyword research tools to gain data on each of them. You'll find that a lot of the keywords on your initial list aren't necessarily worth keeping, and your tools will provide additional keywords you hadn't thought of to add in their place.
Keep in mind here that keyword research tools don't have our human skill at recognizing relevance, so don't assume every suggestion they deliver is worth adding to your list. Think about if makes sense for your brand and audience. 
In addition to keyword research tools, spend some time at this stage supplementing the data with additional research from three sources:
Google SERPs – Google will deliver more keyword suggestions to you in a few places: the autofill dropdown list that appears when you start typing, the People Also Ask section that shows up for some searches, and the Searches Related To section at the bottom of the page.

In addition, pay attention to what shows up on the SERP in terms of ads and rich features like featured snippets. Some terms that seem valuable for SEO based on search volume could be less so if the SERP is dominated by rich features and ads that push the organic results further down the page.
Competitor websites – Your competitors have already done keyword research, You can benefit from their experience by analyzing the keywords they target on their main pages and in their content.
Customer research – Keyword research tools may provide you some information on what your customers are thinking, but you can learn even more by going straight to the source. Send out customer surveys, and analyze user reviews to see how your audience talks about your products and those sold by your competitors. You'll gain knowledge of the kind of questions they're asking, how they use your products, and the features or benefits they value most—all of which will result in more relevant keyword ideas. 
4. Organize your keywords.
At this stage, you'll have a solid list of keywords along with data on each of them. Now you'll want to work out a system for organizing the information you have so you can use it in building out your marketing strategy. 
You can do this with a simple spreadsheet, or with the help of one of the keyword tools you selected. Categorize your keywords based on factors like popularity, competitiveness, SERP details, topic categories, and intent. When you can sort your keywords based on each of these categories, you'll be better able to analyze which ones to focus on in different campaigns and tactics. 
5. Incorporate keywords into your marketing strategies.
Here's where all your work pays off. 
For SEO, use your keyword research to select a primary keyword for each page of your website. Perform on-site optimization by looking for natural opportunities to add the keyword to all relevant parts of the page, such as the URL, meta tags, headings, and page copy. Be careful not to overdo it here—only use your keyword where it makes sense naturally. 
Once you've done that for all the existing pages on your website, use the keywords left on your list to build out a strategy for creating new pages with quality content optimized for each of them. And get to work on a link-building strategy that targets high-authority websites that publish content related to your keywords. 
For PPC, build out ad campaigns based on your chosen keywords. Prioritize keywords here that have transactional or commercial investigation intent, and carefully consider the value of each keyword as compared to it's estimated CPC. Since you pay for every click with PPC, your ROI is closely tied to the cost of the keywords you choose here. 
6. Analyze your results.
With both PPC and SEO, you'll gain data as you go based on the results you get. Pay attention to the analytics provided by Google Ads, Google Analytics, and any SEO tool you invest in. Pay attention not only to clicks, but also to which of those visitors turn into customers.
You may find that some keywords you thought were valuable don't drive the right traffic, and aren't worth your time and money. And you may be surprised that some long-tail keywords that seemed low priority produce more customers than the head terms you thought were worth more.
Use that data to continually refine your PPC and SEO strategies so you get better results over time.
Keyword Research is Powerful
Keyword research is a powerful tool to understand your customers better and craft online marketing strategies that get results. You can save time and money by identifying the best keywords for your brand early on in your efforts, and building your strategy around what you learn.  
Ready to put together a solid keyword research strategy for your business? Let the SEO experts at Virtue Media help!