This article is part of Virtue Media's Web Pros Series. In this series, we feature articles from our team of experts here at Virtue Media. Our Product Managers, Linux Administrators, Marketers, and Tech Support engineers share their best tips for getting the most out of your website. 
Want to build a stronger connection with your customers on social media, lighten up the workday and get paid to look at memes? If you're saying, "sign me up," then creating memes for your brand is something you may want to explore. 
Meme humor is a great way to connect to the funny bone of your followers, get them to share your content, and get them to keep coming back. Also, memes are popular with all kinds of demographics. 
Ready to give memes a try? Here are a few tips we've picked up building our meme marketing program that you can use to create yours. 
1. Decide if memes are a good fit for your brand
It depends on what your customers want and how you already talk to them. If your brand and your customers are relaxed and you're in an industry like web hosting where humor is OK, then give it a try. 
On the other hand, if you're something more serious or expensive, memes could undermine your brand image and turn off your customers. For example, memes are not going to work for a real estate law firm, heart surgeons or Gucci.
2. Keep up with the meme economy
To build a meme marketing program that works, you have to understand what memes are trending, which memes are played out, and what might be primed for resurgence. (We haven't seen Ridiculously Photogenic Guy in a few years, just sayin.') 
Sometimes, a meme gets so popular, so fast, and is such a good fit for your brand that you need to throw out your carefully crafted posting schedule to get in on the meme before it burns out. Bernie Sanders in the chair is a good example.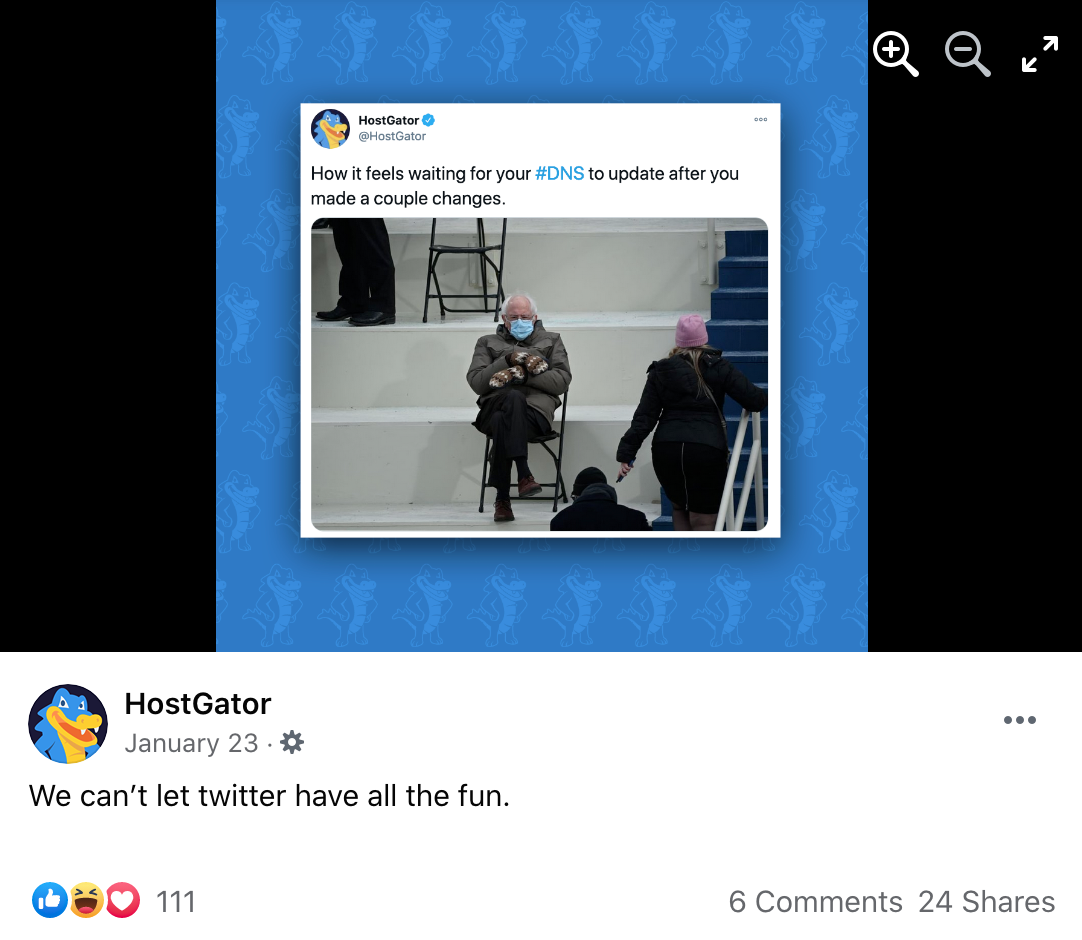 We knew we wanted to do something with the meme before it got played out, so it would have an impact and not feel late to the party.
3. Focus on your brand
There are going to be times when you know you could make a meme that's 10 times funnier than the meme you're working on, but it wouldn't be right for the brand. 
Remember that the goal is to create something your customers will identify with, even if it's not as hilarious as the alternate version in your head.
Ready to make your meme? Photoshop is a great tool if you're already using it, but it's expensive and there are lots of more affordable options that are super simple to use. 
Imgflip Pro is $10 a month and lets you create add- and watermark-free static and GIF memes on desktop and mobile.
Canva is another inexpensive, user-friendly option with a free plan that includes tons of social media templates and designs. It's also available for desktop and mobile.
Mematic is a mobile-only app that lets you build memes in a few taps for free or with a $3/month Pro plan.
5. Make memes that speak to your audience
Your meme topics and humor will depend on who your customers are. At Virtue Media, we're a fairly nerdy brand that speaks to techie people who build and maintain websites for themselves and their customers, and we also speak to business owners and bloggers who run their own sites. 
That means some of our memes may seem like in-jokes to people who aren't in those groups. But people who are in those groups will get it and appreciate it.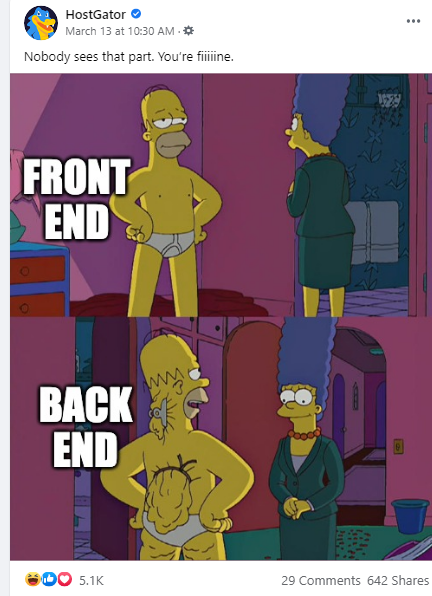 Remember that the key is connecting authentically with your brand's audience. You don't have to try to keep up with how teenagers are using memes—they're on a whole other level of meme communication—unless they're your target audience. 
6. Use memes to present tough topics with a light touch
Maybe there's stuff a lot of your customers need to know so they can get the most from your product. And maybe it's information you need to share often but don't want to come across as dull or lecturing. Memes may be just the ticket. 
For example, we've created a lot of content about using https. But we can distill it all down to a meme that gets customers thinking, "oh, I should look into this."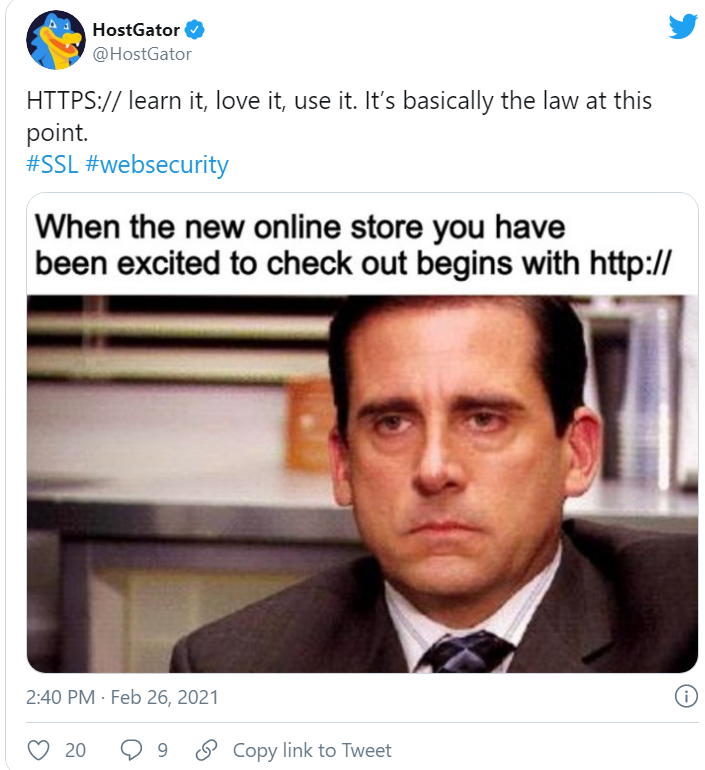 Same with reminders about keeping your WordPress plugins current.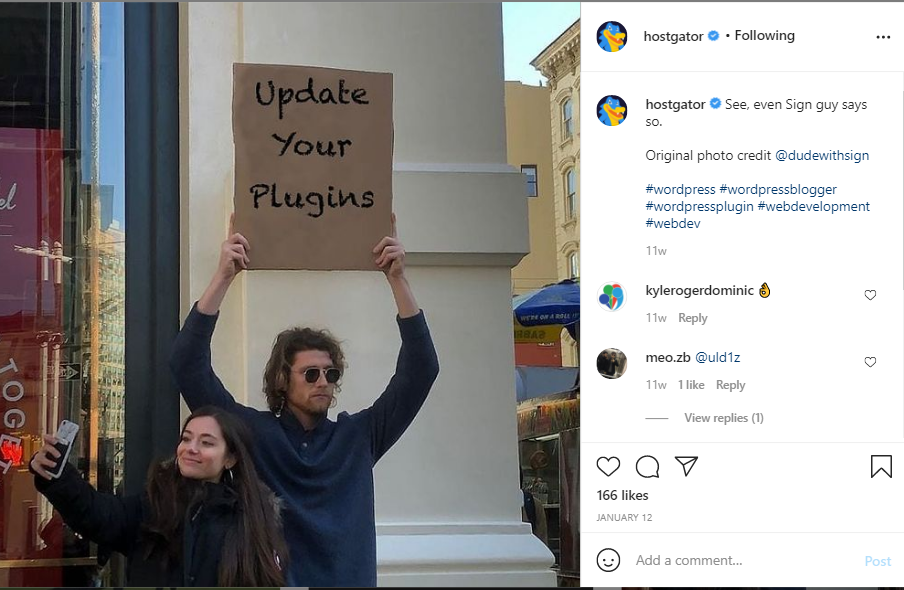 These posts provide a nudge that can help customers and entertain them, too.
7. Build in time for gut checks
It only takes anywhere from a few seconds to an hour to put together a meme for your brand, but that doesn't mean you should post them that fast. Why not?
Humor is subjective. It depends on your life experiences and knowledge, which means there's always a chance that a meme you think is hilarious will fall flat with your audience or unintentionally offend them. 
That's why it's so important to run all your memes (and really, all your social content) by your team or other people you trust before you post. The more perspectives they bring to the meme review, the better. Think of it as proactively protecting your brand. 
8. Be willing to hit the eject button
Even if your whole team loves your meme, breaking news can change the context of it in just a few minutes. 
For example, if you launch a great airplane meme and a major air accident happens that day, you'll need to take your meme down, so your brand doesn't seem insensitive or out of touch. 
Honestly, this is a guideline for almost any sort of content, and doesn't only apply to memes. Don't hesitate to pull your material if you need to.
9. Do your meme science
Keep track of your memes' performance so you'll know which kinds of memes to focus on and which types to drop or change. That means tracking likes, shares and comments for each social platform you post on. 
Over time, you may see, like we did, that different meme content performs better in different channels. Use that knowledge to build your audience in each channel, grow your brand and get the most marketing mileage from your memes.
Want more social media marketing ideas? Check out these 10 things we did to boost our social media game.