Putting up a Frequently Asked Question (FAQ) page on your website may seem just like one more thing to add to the list as you're building or redesigning your website.
While it may seem daunting to add an FAQ page to your website, there are several reasons why an FAQ page can enhance your site and provide a better user experience. 
This post will cover the top reasons why adding an FAQ to your website is beneficial. This article will also offer quick and easy steps for creating a FAQ page, and best practices to follow when building yours.
Top reasons to add an FAQ to your website
Here are two key reasons you need an FAQ on your website.
1. An FAQ page helps with search engine optimization (SEO)
As a quick review, SEO is the practice of optimizing your website so that it ranks higher in the search results. 
In other words, SEO means employing strategies and tactics that help signal to Google what your website is all about. SEO helps Google rank your various website pages high in the organic search results when someone types in a query related to your site.
FAQ pages are beneficial when it comes to search engine rankings. Why?
Because FAQ pages do more than just provide relevant keywords. FAQs naturally answer direct questions users are searching for in Google and make it easy for Google to identify search intent. 
For example, when someone types in "How do I get started on YouTube," Google knows what the searcher wants and which page to return in the search results.
Providing long-tail keywords and search questions in the form of a question is an excellent strategy, especially considering Google is continually steering away from keyword-based queries and focusing on user intent instead.
2. FAQ pages provide preemptive customer service
I don't know about you, but when I have a basic question about a brand, the first thing I do is navigate to their website for an answer. The last thing I want to do is have to pick up a phone and call the company to find out information about products, services, or policies.
An FAQ page is a perfect place to list all the answers and questions you know your customers will be asking. 
Not only does it save you and your customers time and energy, but it also provides excellent customer service.
We live in a fast-paced world, and consumers are particularly demanding. In fact, 51% of customers expect a company to be available 24/7, and 75% of online customers expect help within five minutes.
You may not be able to have a customer service team on call 24/7, especially if you're a small or single-person brand. But, you can have an FAQ page that answers all customer questions preemptively.
How to add an FAQ page to your website
Now that you know why adding an FAQ page to your website is a great idea, let's talk about the two most popular methods: adding a FAQ page directly in WordPress and using a FAQ plugin.
Option 1: How to add an FAQ page in WordPress
If you don't want to install and activate a plugin, you can add an FAQ page directly in WordPress. Here are the steps.
Log in to your WordPress account with your username and password.
Turn your attention to the WordPress dashboard on the left-hand side of the screen, and find "Pages."
Hover your cursor over "Pages" and click "Add New."
Once you click on "Add New," you'll see a new page. From here, you can title your page "FAQ" in the title section.
Use the body of the new page to list your FAQs and answers.
Make sure to wrap your FAQs in an H2 tag (Heading 2) for optimal SEO performance.
Hit "Publish."
Go back to the dashboard and click "Customize" at the top. This will bring you to another dashboard where you can add your new FAQ page to your menu.
Turn your attention to the dashboard on the left and click on "Menu."
Click on "Primary/Main Menu" or the menu where you want to add your FAQ page.
Click on "Add Items."
Find "Pages."
Click on the plus (+) sign next to your new FAQ page.
Once you click on this page, WordPress will automatically add this page to the bottom of your menu list. 
Drag and drop your FAQ page where you want it to appear.
Press "Publish" at the top of the dashboard.
And that's it! When you refresh your website, you will see your beautiful new FAQ page on your menu.
Option 2: How to add an FAQ page using a WordPress plugin
Another option for adding an FAQ page to your website is to use your favorite FAQ WordPress plugin. 
Here are some of my favorite FAQ page WordPress plugins:
The plugin you select will largely depend on your preferences. For this article's purposes, let's review how to add an FAQ page using the Quick & Easy FAQs WordPress plugin.
Login to your WordPress site using your username and password.
Turn your attention to the dashboard on the right, find "Plugins," and select "Add New.
Search for Quick & Easy FAQs within WordPress.
Click "Install Now" and wait for WordPress to install the plugin.
Once WordPress installs the plugin, click "Activate."
Once you activate the plugin, you will see a new dashboard menu item called "FAQ."
Hover over "FAQ" on the dashboard, and click "Add New," and a new page called "Add New FAQ" will open.
Type the question in the title box and the answer in the content box.
Hit publish.
If you want to add more FAQs, repeat the process.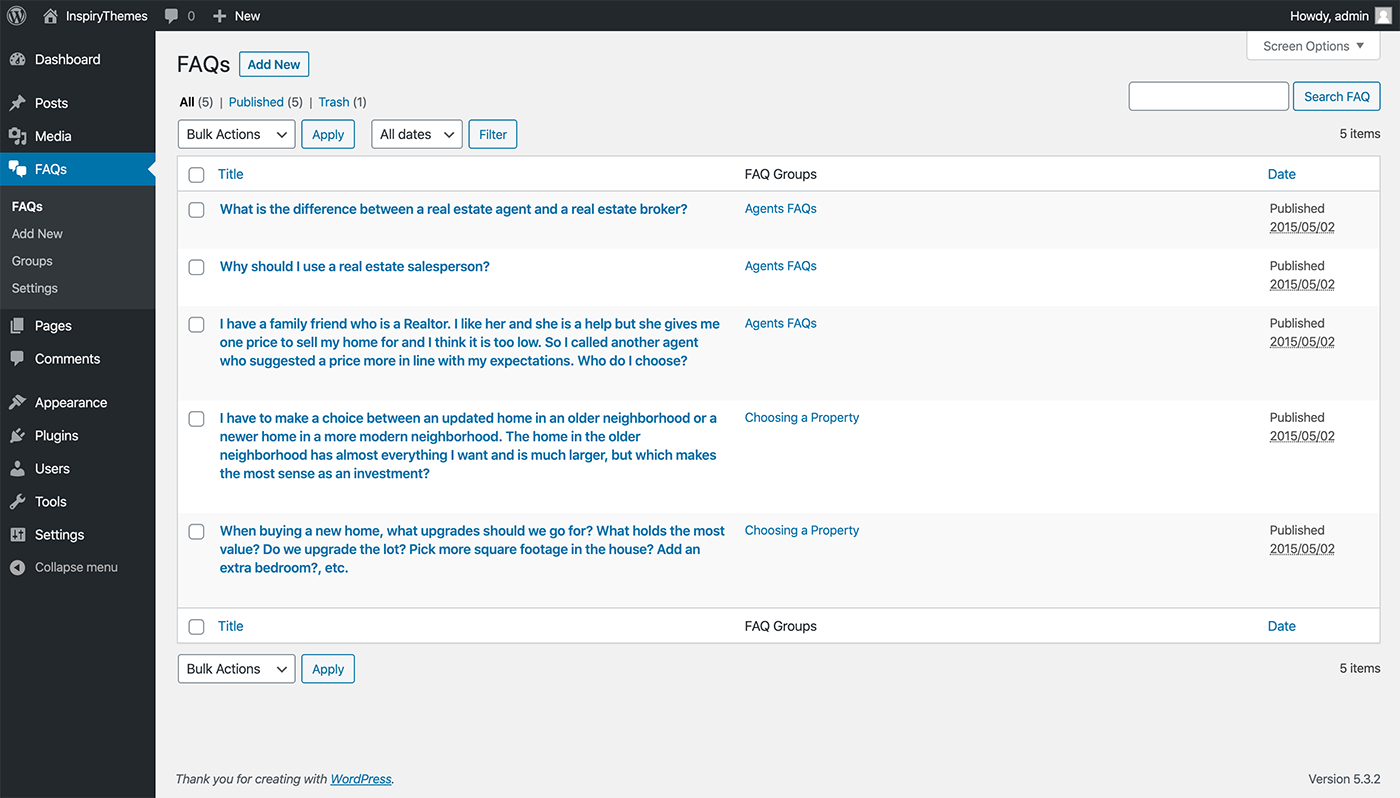 Once you've added your FAQs to your site, you can display them on your website using a shortcode.
6 best practices for creating stellar FAQ questions
While having an FAQ page is a must for most brands, you don't just want to ask questions. Here are some tips for making sure you provide the most valuable resources to your visitors.
1. Conduct research
You may think you know the most relevant questions, but the best way to know for sure is to conduct market research.
Consider conducting a focus group, interviewing a few of your most loyal followers, and asking other employees (if applicable) what questions they get asked the most. 
Once you have data, you can see which questions come up most frequently in your research and add those questions to your website.
Another smart idea is to sift through customer emails and see if there are any recurring questions. 
2. Always use a question and answer format
Your FAQ page should only contain questions and answers. This means you should format your page with a question and then an answer. Here's an example from Virtue Media's FAQ page: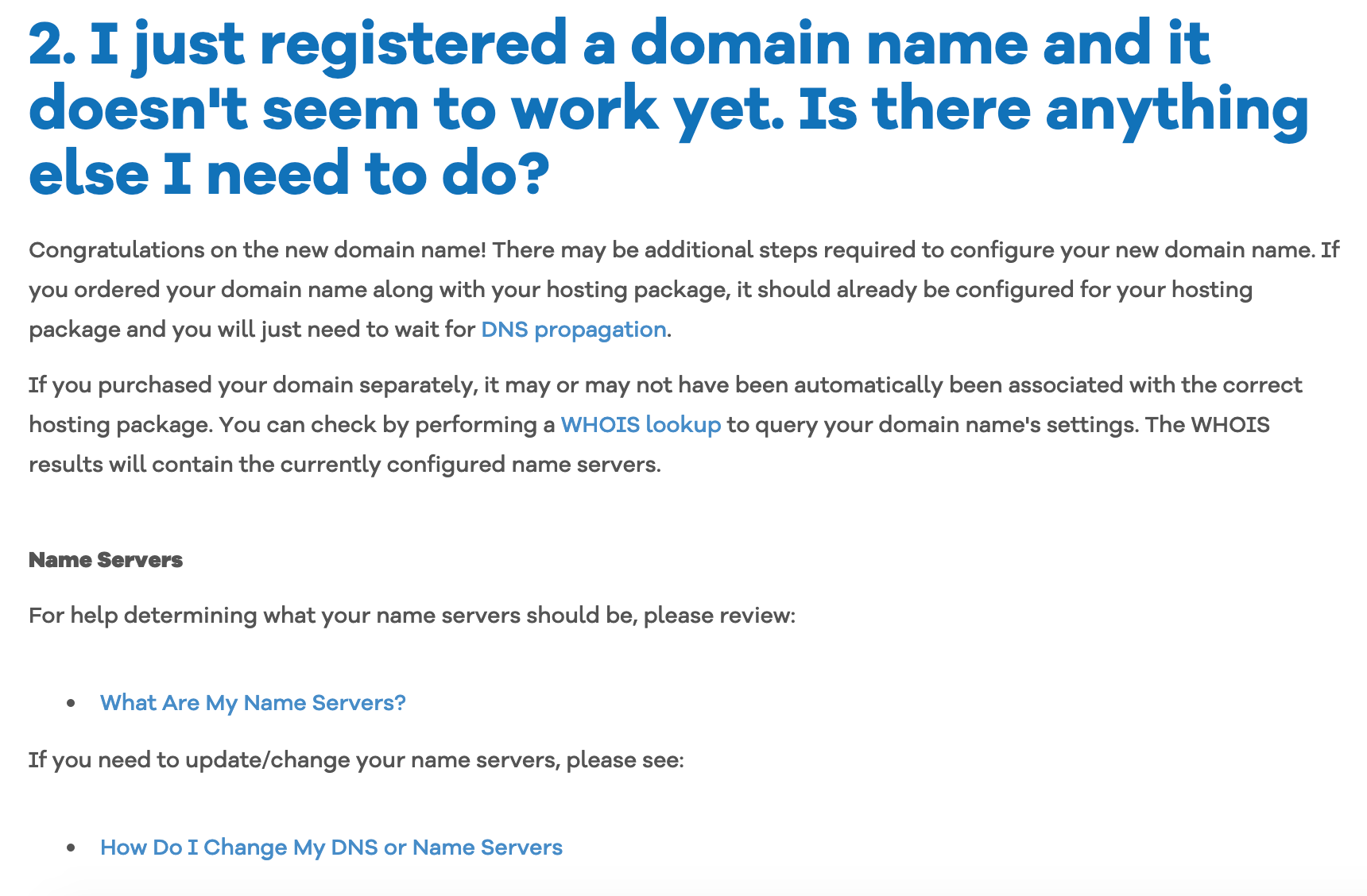 Don't try and sneak in any additional copy, especially any sales or promotional copy. Straying from the traditional format could cause your audience to question your ability to provide a stellar customer experience.
3. Write questions from the point of view of the searcher
When one of your website visitors has a question, they will type something into Google in the first person.
For example, a searcher would type in "How can I add an FAQ page to my website?" instead of "How do you add an FAQ page to your website?"
Writing your questions from the viewpoint of the searcher makes it easier for Google to understand search intent and list your website in the search results.
4. Keep your questions short and to the point
When is the last time you read a riveting FAQ page? Probably never. There is a reason for this. No one is looking for in-depth information. All people want is a quick, concise, and accurate answer to their most basic questions.
Keep in mind that visitors will be skimming your FAQ content. As such, it's always a good idea to start your answer with a "yes" or a "no," and then follow up with more information. Sometimes all readers want is a yes or a no.
5. Consider adding these questions to your FAQ
Every business is different, but there are some common questions that everyone asks. Here are some items you may want to add to your FAQ:
Where do you ship?
Is shipping free?
What are your store policies?
What is your return policy?
What is your exchange policy?
Do you have a sizing chart?
Do you follow sustainable and ethical business practices?
Do you test on animals?
How long will it take to get my order?
What materials do you use to make your products?
6. Don't use any jargon in your FAQs
You may know what an RA number, an IPC, or an SKU number is, but do your customers? Do everything in your power to avoid industry and company jargon in your FAQs. 
If you absolutely must use jargon, write a quick explanation of what the word or phrase means.
Creating Your FAQ Page
Adding an FAQ page to your website is a great way to build trust with your customers, provide an excellent customer experience, and make your site more SEO friendly.
As you are planning your new website or updating your current website, remember Virtue Media supports WordPress. 
For more information on how to get your WordPress website up and running, check out our hosting plans today.