Did you know the eCommerce market is growing by more than 100% a year, and that subscription-based services are increasing at unprecedented rates? Data shows that by 2023 as many as 75% of direct-to-consumer brands will offer subscriptions.
The subscription-based business model is booming right now, and consumers are responding positively, especially amid the COVID-19 crisis. 
Research shows that approximately 20% of consumers purchased subscription services during the pandemic, so they wouldn't risk running out of specific products.
If you are a current store owner that wants to add subscription options for your products, or if you're going to start a subscription business from scratch, now is the perfect time to get started.
This post will cover everything you need to know to create an eCommerce subscription business.
Step 1: Source and package products
You know what you want to sell online, but how do you get started? The first step is finding out where you'll source your products and how you will package them. Let's cover how this works.
Where can you source products?
There are three main ways people source products to sell online, including:
DIY creation
Working with a manufacturer
Dropshipping
DIY product creation
If you are creating your own products, bravo! It takes a lot of talent to make your own products, physical or digital, and bring them to the market. 
While it may be a lot of initial work to get your handmade product off the ground, the benefits are robust. You will have full control over the quality of your products, your startup costs will be low, and you can scale your business at your own pace.
Working with a manufacturer
When you are ready to scale your business, or if you want to hire someone to create your products, you'll need to get in contact with a manufacturer. 
The best way to start is to research manufacturers online and see what options you have. You can also ask a trusted friend in the industry for recommendations.
Once you have narrowed your list down to three or four contenders, start doing your research. Compare how much it will cost to use the different manufacturers, look at their previous work, ask them about successes and failures, and make sure they have legal and ethical business practices.
Drop shipping
If you build an impressive online following, you may not even need to create your own products. You may be able to make money by purchasing relevant products from another vendor and selling them in your online store.
With drop shipping, you make the sale, and the other vendor takes care of inventory, packaging, and fulfillment.
If you grow a successful blog or website and work to increase your traffic, drop shipping is a stellar option.
How do you handle product packaging?
Once you have product creation settled, it's time to determine how you will package your products. 
With the rise of the unboxing experience on social media, it's critical to put thought and attention into your packaging. Here are some things to consider:
Hire a product marketer to give you insights into how to best package your products.
Your product packaging is the equivalent of a customer walking into your store for the first time, so invest in making a good first impression.
Use your product packaging as another branding opportunity by placing your logo and website on the box.
Take necessary precautions to protect your products, including using bubble wrap, looking into dry ice packs, shrink wrapping your products, or anything else that helps you protect your merchandise.
Encourage additional purchases by including a coupon code in the box.
For more information on product packaging, check out this guide. 
Step 2: Build your online store
Now that you have solidified your product sourcing and packaging, you're officially ready to build your online store.
Hopefully, you already have a website. If not, don't worry. With Virtue Media's WordPress hosting, it's easy to get a WordPress website set up and running in less than a day. 
All you have to do is choose a web hosting package, install WordPress, and choose a WordPress theme to customize. For more info, read our step-by-step guide to setting up your WordPress site.
If you already have a WordPress website up and running, it's easy to add an online store. Not to mention, you have several awesome options. Here are some of the best WordPress plugins for building an eCommerce store.
WooCommerce – WooCommerce is an open-source eCommerce platform built specifically for WordPress. With WooCommerce you can set up your online store without having to know one line of code. It also allows you to sell affiliate products, offer digital and physical products, and capture recurring payments with WooCommerce subscriptions.
Subscriptio – Subscriptio is a stellar WooCommerce extension that helps you sell subscriptions on your website. This extension adds the capability to accept recurring payments on WooCommerce sites. If you're looking to sell something like a magazine subscription, online subscription, or a subscription box, checkout Subscriptio.
WebToffee – WebToffee is another great option for adding a subscription payment option to your WooCommerce site. With WebToffee, you can create simple and variable subscriptions, offer a free trial, and provide recurring discounts. WebToffee also supports synchronization. WebToffee is a paid plugin, but the extra functionality may be worth it if you're serious about setting up and scaling your online subscription store.
It's worth it to look into each of these WordPress plugins to determine which one is right for you. They all are easy to use, have multiple features, and will help you set up your online store. What you end up choosing will largely depend on your preferences.
How to install a WordPress plugin
Now that you know about the top WordPress plugins, let's quickly review how to install and activate a plugin in WordPress.
Here are the steps you need to follow:
Login to your WordPress site.
Turn your attention to the navigation bar on the left side of the dashboard screen.
Click on "Plugins."
Click on "Add new."
Search for the name of the plugin in the keyword box.
Press "Install Now."
Click on "Activate," which will send you back to the plugin page.
Find the Shopify plugin and click on "Settings."
From here, Shopify will guide you through the steps of setting up your account.
After installing your favorite respective eCommerce plugin, you can follow the steps and start adding your subscription products to your store. 
Step 3: Set your prices
Before you finalize your store, you'll need to decide on a pricing model. With an eCommerce plugin like WooCommerce, you can price your subscriptions in different ways. Here are some options.
Sell individual products that you deliver regularly
Selling single products as part of a subscription service is a solid way to ensure repeat business and customer happiness.
You are offering an unlimited supply of products your subscribers love, and you can count on repeat revenue every month. Double win.
If you sell a perishable product (e.g., dog food, make-up, toilet paper, cookies, etc.), this model is an excellent choice.
Madison Reed is a great example of a company that uses this model. Madison Reed guides customers through a series of questions and comes up with the perfect hair color product, based on the answers.
Of course, Madison Reed allows the customer to make desired changes, but the questions are a great way to provide guidance and lead customers down the sales funnel.
Once a customer decides on a hair color kit, they can sign up for a subscription, so they never run out of hair color.
What's particularly cool about the Madison Reed subscription model is they allow customers to choose how often the recurring deliveries happen. Since hair grows at different rates, this is an excellent way to keep control in the hands of the consumer and avoid cancellations.
Offer a subscription option
Another option you have for your eCommerce store is to offer one-off products with a subscription option. 
In other words, a customer might come to your website to buy one of your homemade cookies, but why not include a pricing option where they can opt to get cookies from you every week via a subscription.
To incentivize customers to subscribe, you can offer a slight discount for subscribing. At first glance, it may seem that offering a discounted price for something customers intend to buy often would result in lower sales. However, research shows the opposite.
Stats show that subscription businesses increased revenues nearly 5 times faster than S&P 500 company revenues and U.S. retail sales. Additionally, 61% of SMBs report more than half of their revenue comes from repeat business. 
If you're planning on offering one product, take the time to add a subscription option as well. It will pay off in the end.
Sell a subscription box
It seems like there is a subscription box for everything these days. Books. Dog food. Makeup. Even skulls — seriously, check it out: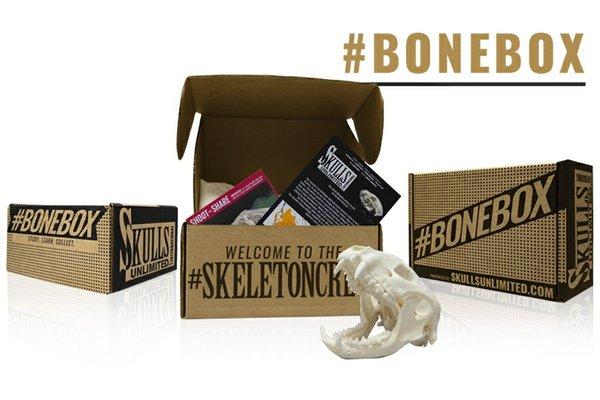 And, it's with good reason. Not only are subscription boxes a surefire way to boost revenues and encourage repeat business, but they are also a killer social proof marketing tool.
I mentioned the "unboxing phenomenon" earlier. As a quick overview, unboxing is when a social influencer gets a subscription box, and opens it in front of all their subscribers. 
As of 2015, 35.3% of consumers had seen an unboxing video. In 2017, this number increased to 36.8%, according to Dotcom Distribution, and there are little signs of this trend slowing down.
Providing awesome products in beautiful packages via a subscription model is a great way to capture sales and increase brand awareness.
Bundle your subscriptions
Let's say you offer multiple individual subscriptions. Another fun pricing model is to offer a discount when someone bundles their subscription. This model encourages more purchases and boosts your sales.
The best example I can think of for subscription bundles is streaming services. For example, you can subscribe individually to Disney+, and Hulu, and ESPN+, or you can pay $12.99 a month for all three of these services in a bundle.
Step 4: Set up shipping
The last step in the process is setting up shipping. If you offer digital products, then all you have to do is provide a download after customers pay. Every eCommerce platform makes the delivery of digital assets easy.
For shipping physical products, you have more factors to consider. You'll need to investigate the following:
Whether or not you want to handle shipping
What shipping carrier works best for you
How much you want to charge for shipping
Whether or not you want your eCommerce platform to handle shipping for you
If you have a small brand, you may be able to handle shipping yourself. But, it's also critical to be wary of this option. If you start to get more sales or become an overnight success, running to the post office with orders will quickly get overwhelming.
It makes sense to look into a shipping service connected to your eCommerce platform (e.g. WooCommerce Shipping). Using an eCommerce service is an easy way to create shipping labels right from the comfort of your own home.
It's Time to Start Your eCommerce Subscription Business
Setting up an eCommerce subscription store is an awesome way to grow your business. The subscription model is exciting, customers love subscriptions, and it helps ensure steady revenue.
With Virtue Media, it's easy to set up a WordPress site, and quickly install an eCommerce subscription plugin. 
To get your store up and running, you don't have to know a single line of code. You can follow the intuitive instructions in WordPress and in your eCommerce plugin and have your website up in no time. Visit the Virtue Media website today to get started.