No website is complete without a logo.
Your logo is the main identifying emblem of your brand. It's the symbol website visitors see first when they search for your company online. Your logo is what reminds people of what your brand represents. 
Here's an example of how powerful a logo can be in terms of brand awareness and recall.
If I mention McDonald's, Nike, or Starbucks, you immediately conjure up an image of a yellow "M", the Nike Swoosh, and a green siren. I don't need to include a picture for your reference. You know what these logos look like.
Similarly, you can recognize these companies just by viewing the logo, and no descriptive words are necessary. For example, if you're visiting Russia, you might not know how to read about a Starbucks on a local map, but you'll immediately know you're near a Starbucks when you spot the familiar green siren.
A logo is a necessary tool to help you solidify your brand and set yourself apart from your competitors. But, how do you go about designing the right logo for your website?
This article will cover everything you need to design the perfect logo for your new website.
How to Brainstorm Your Website Brand Logo
Whether you design your website logo yourself or hire a graphic designer, you'll need to dream up some ideas to act as a polestar. Here are some top tips to help you start off on the right foot.
1. Solidify your brand story
There are a million different directions you could go when it comes to creating a logo. Not every idea will be equally as effective. The best way to ensure you're on the right track is to solidify your brand story before you start designing.
First, consider what your company's mission is by asking yourself the following questions:
What are my goals?
What values do I want to portray?
What do I care about in relation to my brand?
Who is my audience?
What tone do I want to convey?
To answer these questions, make a list of words that describe your brand and how you want others to perceive your brand (e.g. trustworthy, fun, reliable, party town, professional, cheeky, etc.).
Also, make a list of how you want people to feel when they see your logo. Do you want them to feel peaceful, happy, excited, motivated, comforted, passionate, etc?
These lists will help you determine your mission and narrow down your ideas.
2. Brainstorm your logo ideas
Brainstorming comes next. Write down every potential color, symbol, shape, word, and adjective that fits in well with your website's mission statement. 
Try your best to get every idea out on paper, even if it sounds like a bad idea. Writing down everything that comes to mind will help spark more creativity and lead you down paths that will speak to you.
With brainstorming, two heads are better than one, and three are better than two. Ask other members of your company, or trusted loved ones, to help you with the brainstorming process.
Let your ideas simmer for a day or two, come back to the table, and select the idea that resonates best.
3. Create a design board that shows off your main idea
A good way to get started with the logo design process is to make an inspiration board. Create a board that includes images, color palettes, visual metaphors, words, pieces of art, textures, patterns, shapes, and letters that match with the main idea you selected after brainstorming. 
As with brainstorming, there are no bad ideas. If you're feeling it, put it on your design inspiration board.
Use this design board to guide you through the creative process. It will help you settle on the perfect type of website logo, shape, style, color, typography, patterns, and more.
How to Design Your Website Logo: 3 Tools and Resources to Use
Once you have a clear brand story, the main idea, and a design inspiration board, you're ready to start designing your website logo yourself, or to present your ideas to a professional graphic designer.
Here are some top options for designing a website logo.
1. Hire a professional graphic designer
It's true. Hiring a professional graphic designer is among the most expensive options for logo design. To get a good designer, it'll cost you a pretty penny.
However, even if you're on a budget, marketing your brand is not the place where you want to skimp. An unprofessional logo can set you back faster than almost anything else.
Again, your logo is the face of your company, the first interaction customers have with your brand, and one way customers will compare you to your competitors.
Hiring a professional ensures quality. A professional graphic designer will be able to take your ideas and come up with concepts that will blow you out of the water. They will also pay attention to the small details that make a difference in a good logo and a bad logo.
You can find a professional graphic designer by word of mouth, through a freelance content mill (Upwork or Freelancer), or by checking out individual freelancer's websites.
2. Outsource to a graphic design platform
If you don't have the budget to hire a freelance graphic designer, you still have plenty of excellent options. There are many graphic design hubs where you can crowdsource your design project.
99designs
99designs is a cool platform with a robust pool of creative designers. When you sign up with 99designs, you follow a simple process.
First, you pick a package that best describes the services you want. 99designs offers everything from simple logo design to logo design and a full brand identity pack.
Once you've selected your package, 99designs will prompt you to fill out a series of helpful questions. They will ask you to pick a series of logos that you like, provide information on your brand's style, explore colors that best suit your needs, select a design package, and start a contest.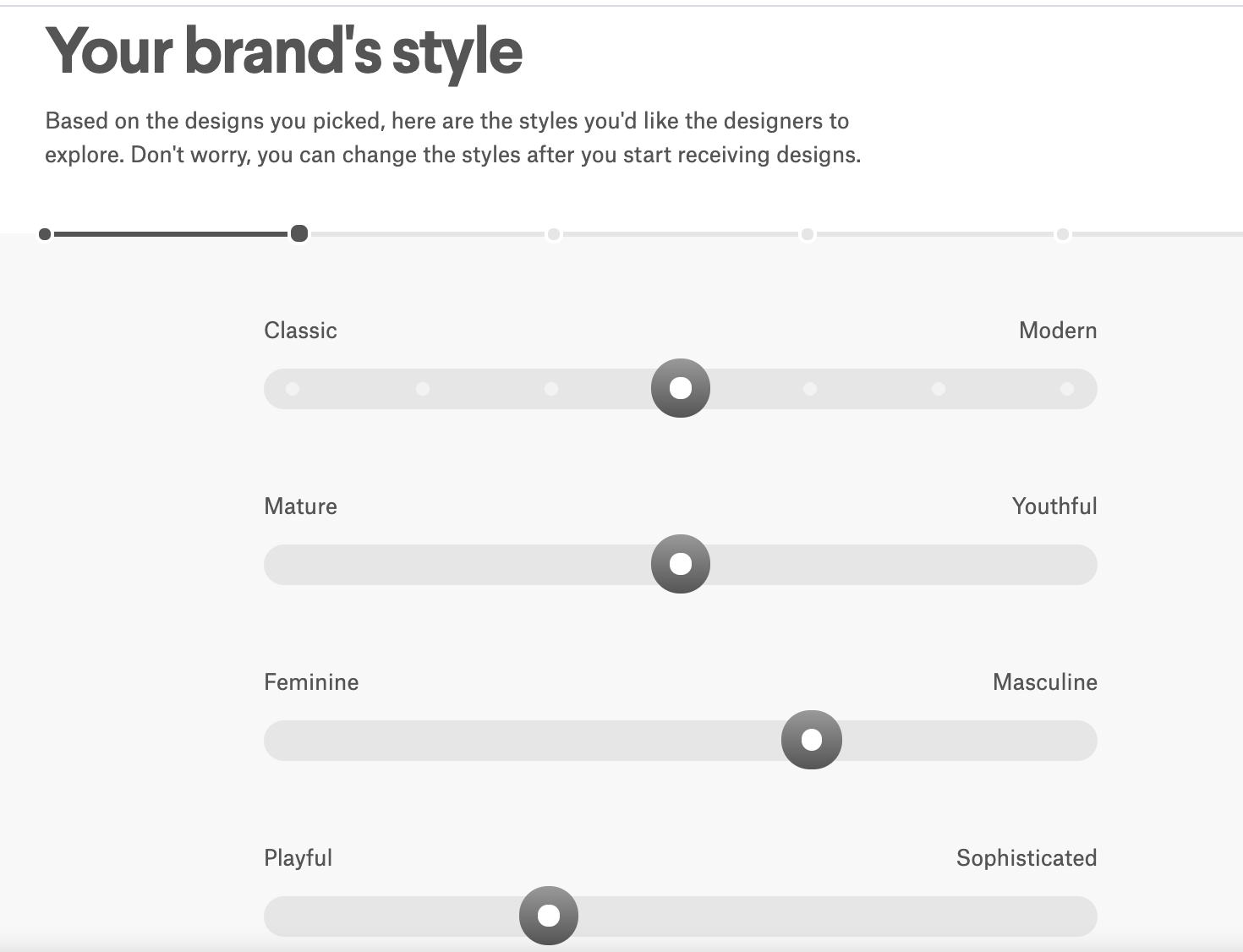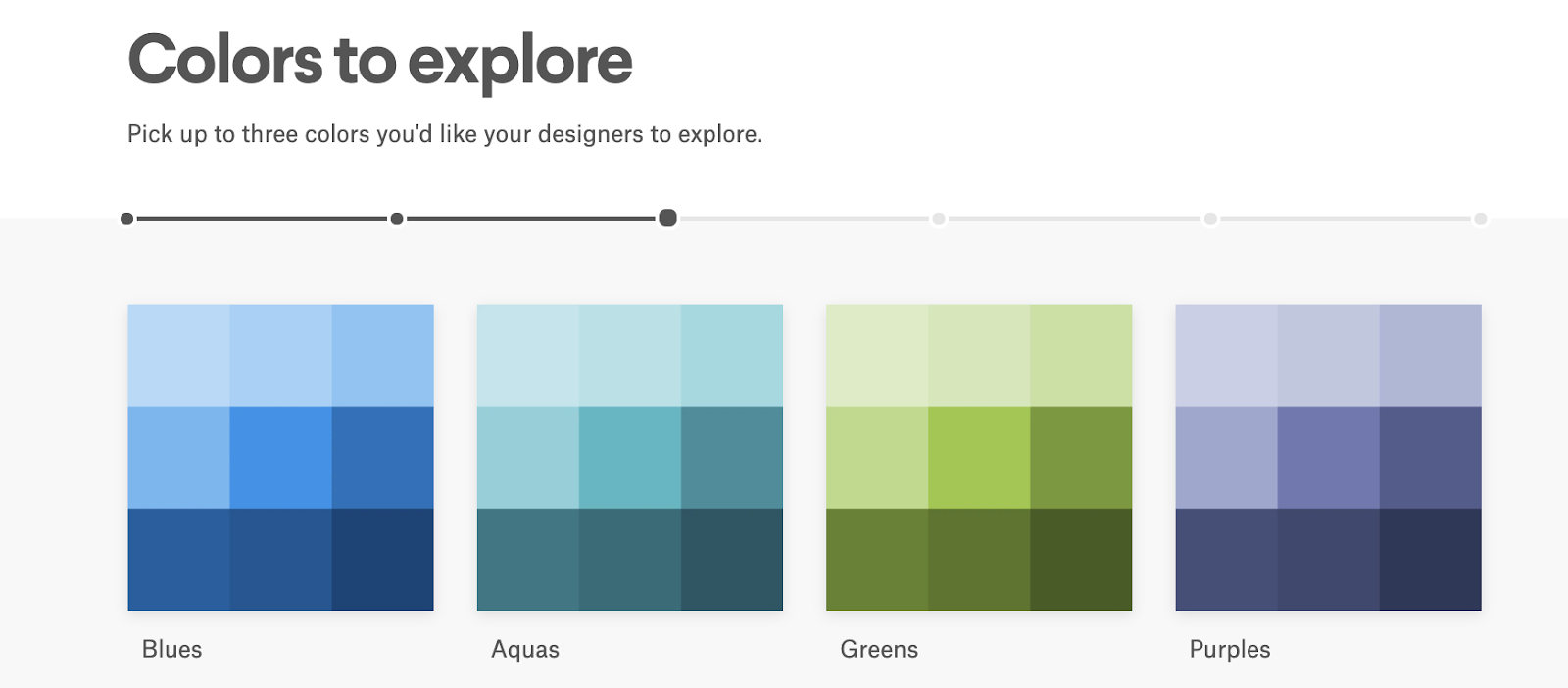 You will also be prompted to fill out a creative brief with the following information:
Email address
Language
What name you want in your logo
The slogan you want in your logo
A description of your organization or product does and its target audience
Your industry
After you've filled out all the necessary information, you can start a contest. When you start a contest, several designers will send multiple ideas for your business logo, and you get to choose your favorite.
If you love your logo, 99designs will charge your credit card for the price of the package you selected. If you don't love any of the designs, no sweat off your back. 99designs provides a 100% money-back guarantee.
Pricing for logo design ranges from $299 to $1299.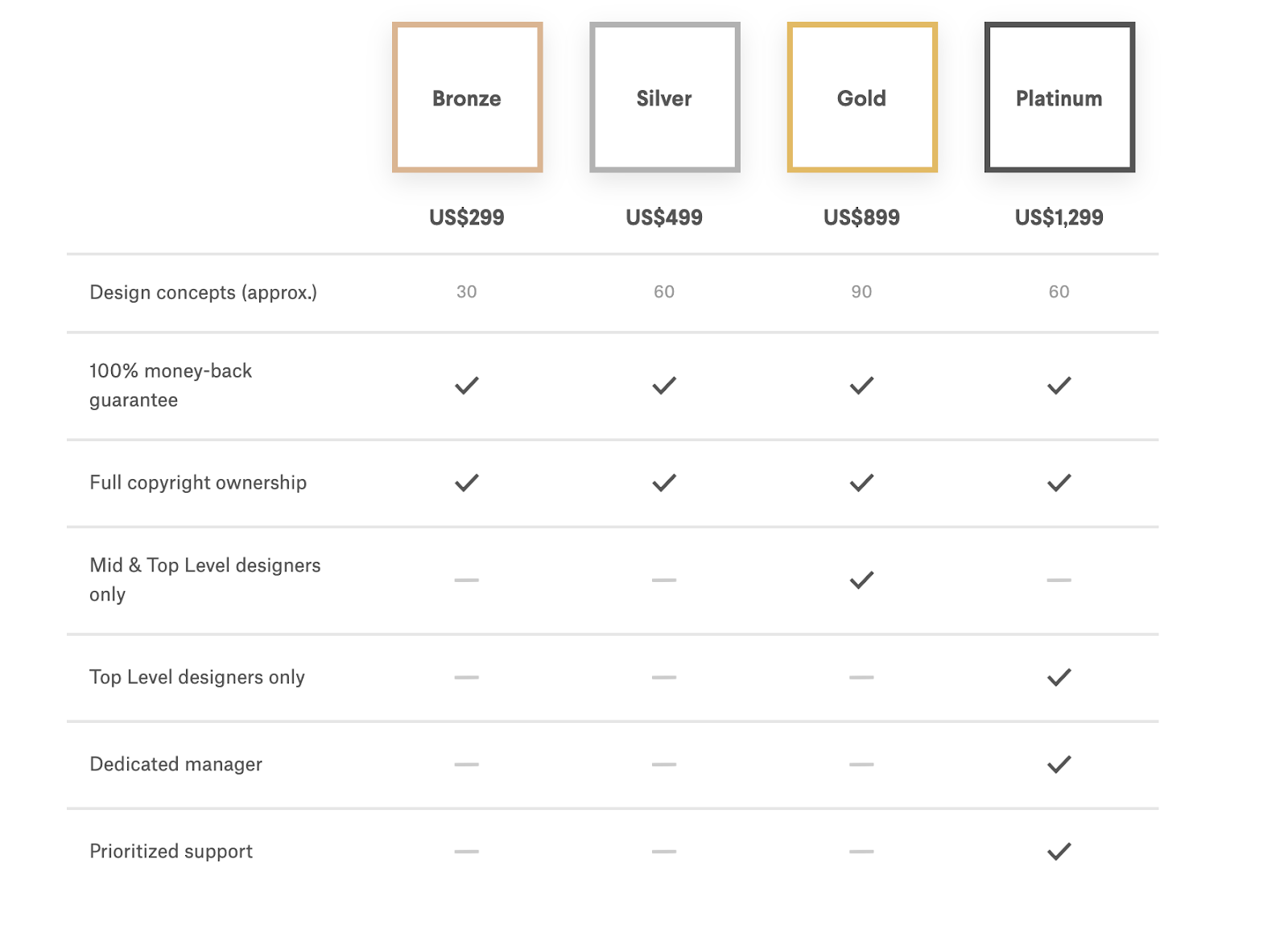 If crowdsourcing isn't your jam, you also have the option of selecting one 99designs professional to work on your project.
While 99designs is one of the most popular crowdsourcing hubs, there are other graphic design resources. You can also check out CrowdSPRING, DesignCrowd, or Logo Arena.
3. Design your logo yourself
If you have design skills, then you might want to opt to design your logo yourself. This will save you money and provide you with complete creative control.
If you already know how to use top logo design tools like Adobe InDesign, great. If not, keep in mind there is a staunch learning curve with Adobe design products, and you may want to seek out a free logo design option.
Arguably the best free graphic design platform on the internet is Canva.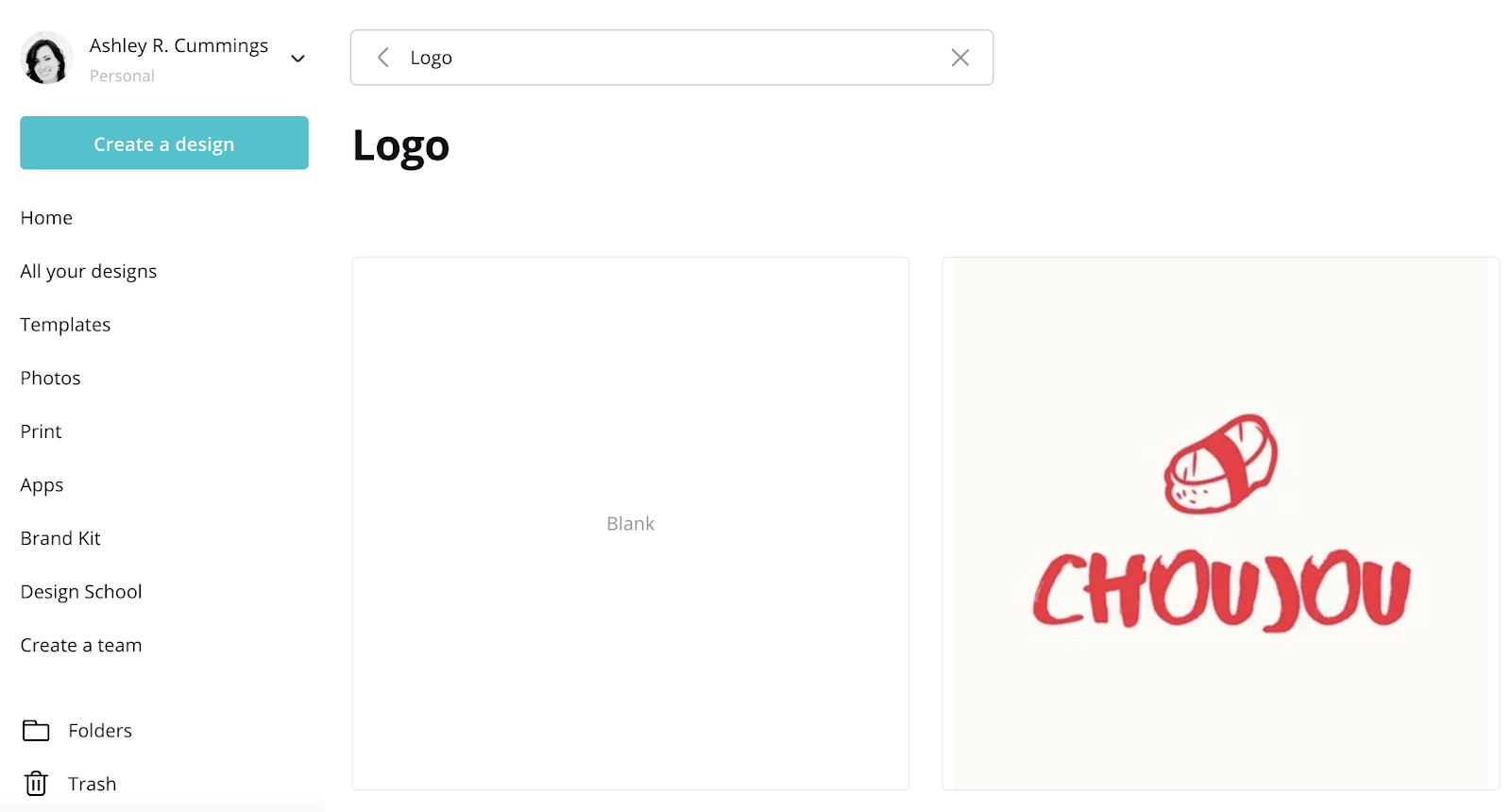 Canva is an online tool that makes it easy to design anything, including logos. The platform is intuitive and provides a user-friendly drag and drop tool along with thousands of customizable templates. In fact, Canva currently has over 400 million designs, and that number is always growing.
Signing up for Canva is free. You can connect with an email address and a password or via your Facebook account. 
Many of the templates are free to use, and you can customize them to your liking. There are also some designs that you can pay for, but the prices are extremely low (usually 0.99 cents for a design, image, or icon).
Not only can you design logos on Canva, but you can also design social media covers, presentations, posters, t-shirts, flyers, infographics—anything really.
You don't even need to know the dimensions. All you have to do is type in the type of design you want (e.g. "Facebook cover") and Canva will flesh out the right dimensions and provide you with a list of customizable templates.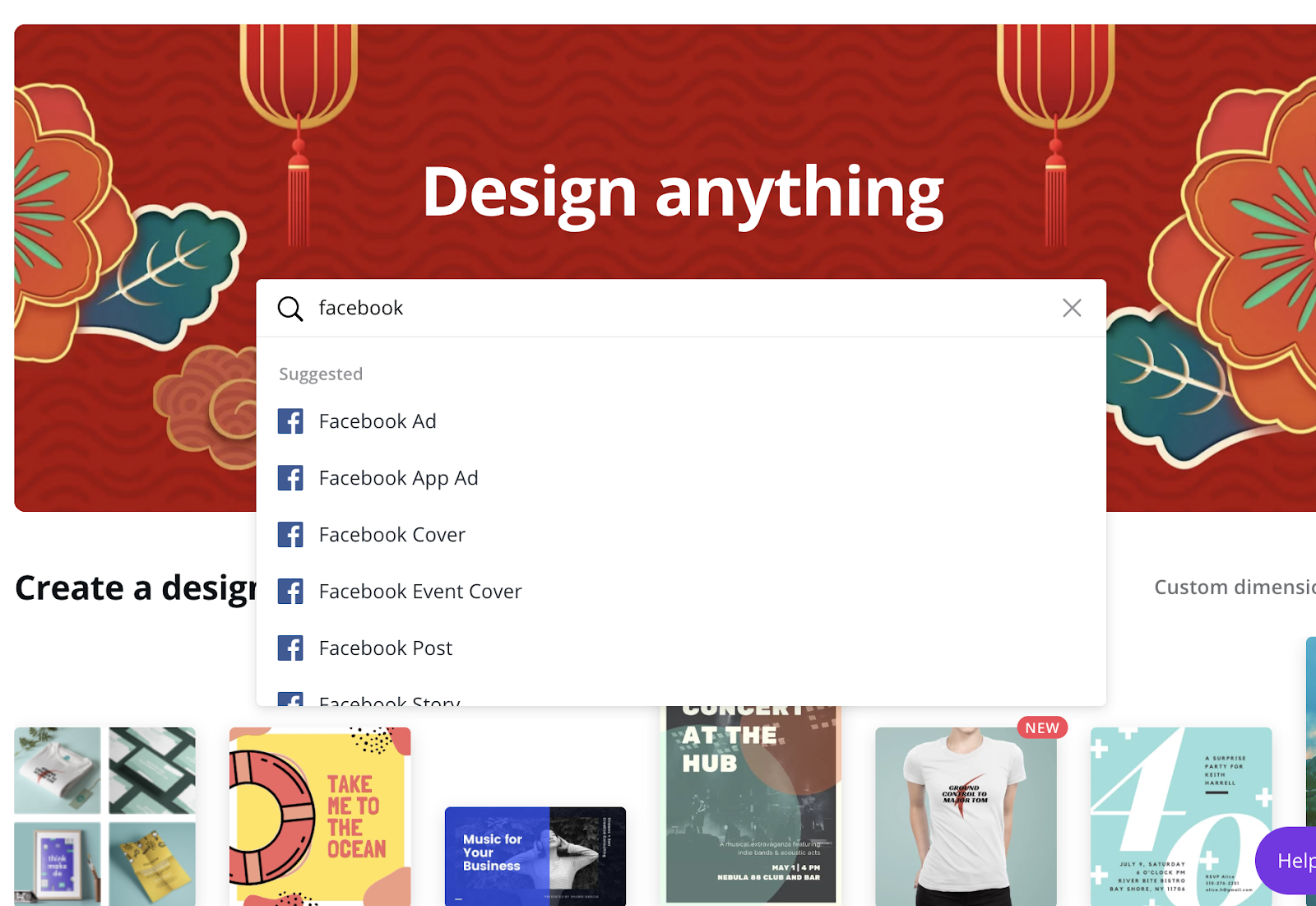 Canva is so easy to use, you likely won't need any additional training like you would with other design programs.
Time to Design Your Website Logo
Designing a solid logo for your website is an absolute must. It will help you build brand awareness and create an unmatched element of professionalism your website deserves.
While your logo design is something to outsource to a professional graphic designer, it's important to remember you can do all your website design yourself with Virtue Media.
With Virtue Media's Website Builder, you can choose from over 200 pre-designed, proven, and customizable templates. You don't have to know how to code. All you have to do to get your website up and running is pick the template that works best, upload your logo, and use the easy drag and drop website builder. 
For more information about how to get your website up and running, visit Virtue Media today.