Every sale an eCommerce brand makes starts with someone making it onto the website. Even if your product's amazing and your website's a perfectly designed selling machine, if people can't find it, you'll never make a sale. 
While traffic is just one factor in the success of an online store, it's one you can't get anywhere without. For an eCommerce business to make any profit, you need to know how to drive traffic to your online store.
10 Strategies to Drive Traffic to an Online Store
While the tactics that work best for driving traffic to a website can vary over time, most of the strategies that work best in 2020 are nothing new. Create a marketing plan that combines most or all of these tactics, and you can count on driving more of the right visitors to your online store.
1. Improve your on-site SEO.
Search engine optimization (SEO) is a complex, long-term process. But it starts with a handful of steps you have total control over on your own site. That includes:
Creating an intuitive site structure that's easy for both humans and Google to understand.
Doing keyword research to understand what terms your audience uses most, then optimizing the on-page copy and metadata for each web page on your site with the most relevant term(s).
Making sure your website loads quickly.
Making your website mobile friendly. 
Including images optimized for search engines.
While on-site SEO isn't typically enough on its own to get you ranking high in Google searches—unless you've chosen noncompetitive keywords to focus on—it's an important prerequisite to getting there. 
2. Create a strategy for building backlinks.
This is the harder part of SEO, but important. Work on a strategy to get other websites to link back to yours.
Part of that will be creating content good enough to inspire other sites to link to it (more on that in our next step). But often it involves outreach campaigns that ask other websites more directly to consider linking to your website.
For eCommerce sites, that may include getting in touch with the editors of relevant blogs in your space to request reviews of your product. To get those reviews, you'll likely need to provide a free product for them to try out.
Another common tactic is to find mentions of your brand or products across the web, then request the sites add a hyperlink to the mention. Or you can pitch guest posts on relevant websites, and find natural opportunities to include a link to your site in the content you submit. 
3. Develop a content strategy.
Content marketing is a cornerstone of any good web traffic strategy, because it gives people many more reasons to visit your website. When you consistently publish useful content that's relevant to your target audience, it improves your SEO authority, gives other websites something to link to, and gives you something to promote on social media and in emails that will encourage your audience to keep coming back. 
Base your eCommerce content strategy on a combo of keyword research and audience research. Both will provide you insights into what your audience is thinking about, looking for, and the kind of language they use when doing so. 
Also pay attention to your most popular products and brainstorm ways to create content based around those items. That could mean creating tutorials on ways to use the products, answers to common questions customers have about them, or content that highlights third-party reviews. Product-focused content gives you more opportunities to optimize for the keywords most likely to lead to purchases.
4. Use PPC ads.
SEO and content marketing are both important strategies for earning organic traffic to your website. You definitely shouldn't skip them, but you should understand that they're slow. For new websites just starting to build up authority, they can feel painfully slow.
To get relevant traffic to your website faster, you can use pay-per-click (PPC) ads. All the main search engines provide platforms for running PPC ads. PPC gives you control over who will see your messaging, where they'll see it, and what format they'll see it in. Because of how much control you have, they can be powerful for driving not only a lot of traffic to your website, but also ensuring it's relevant traffic that's likely to lead to a purchase. 
New to PPC? Read our expert guide to setting up your first Google Ads campaign.
5. List your products on Google Shopping. 
Google produces different types of results based on the kind of search term someone uses. When a searcher looks for a product-based term, they'll often see product listings right there on the search engine results page (SERP).
They'll also see the option to click on the Shopping category at the top of the results, to see a page that's nothing but product listings.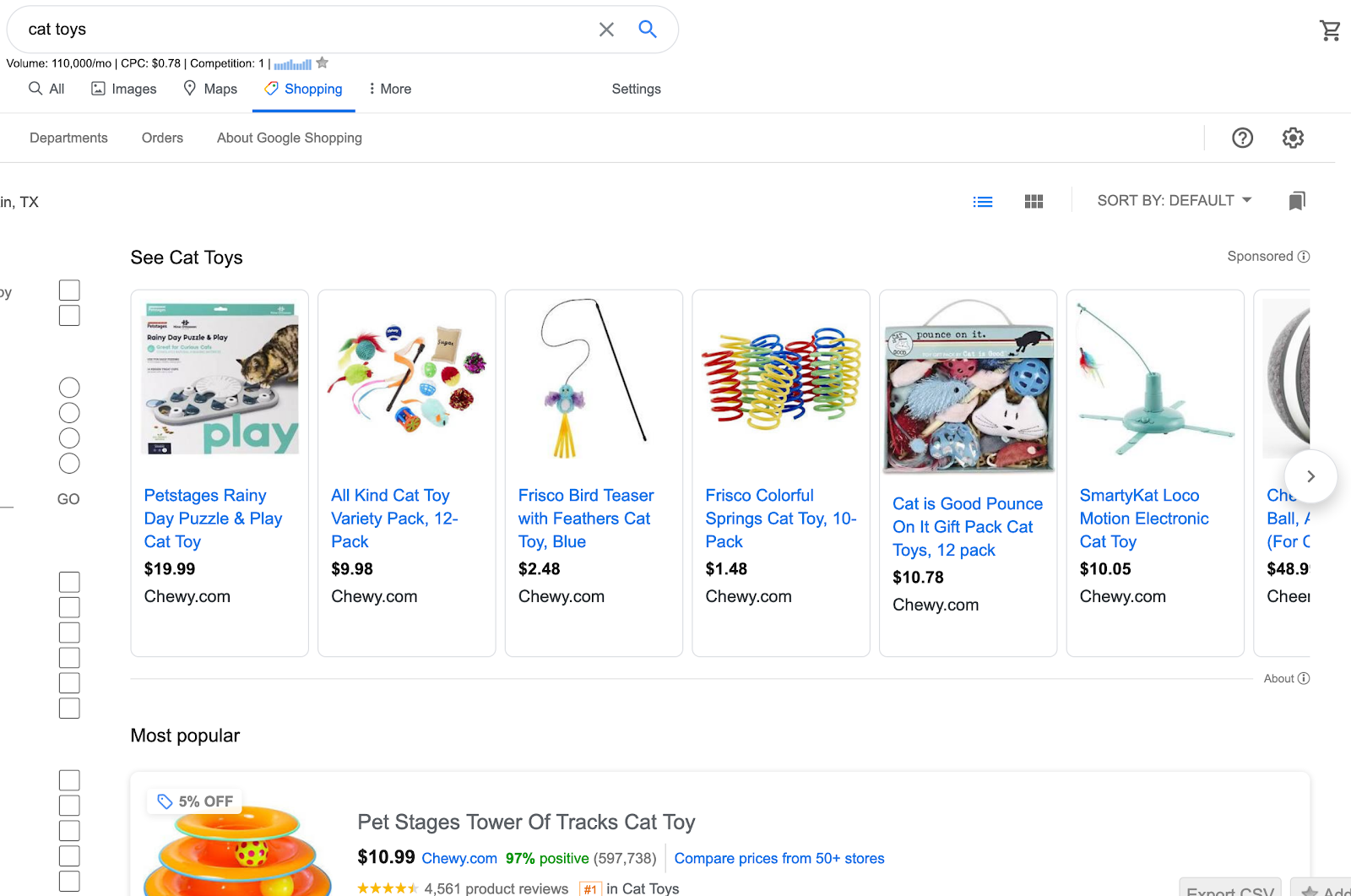 For users that want to cut right to the chase and find a product to buy faster, the items that show up in these spots will take priority. You can make sure your products are listed by setting up a Google Merchant Center account, filling in your product information, and setting up a product feed. 
6. Do social marketing.
Pew Research has found that a clear majority of people in the U.S. use social media platforms, and most of them check their platforms frequently.  For eCommerce brands, that makes social media an important channel to include in your traffic strategy.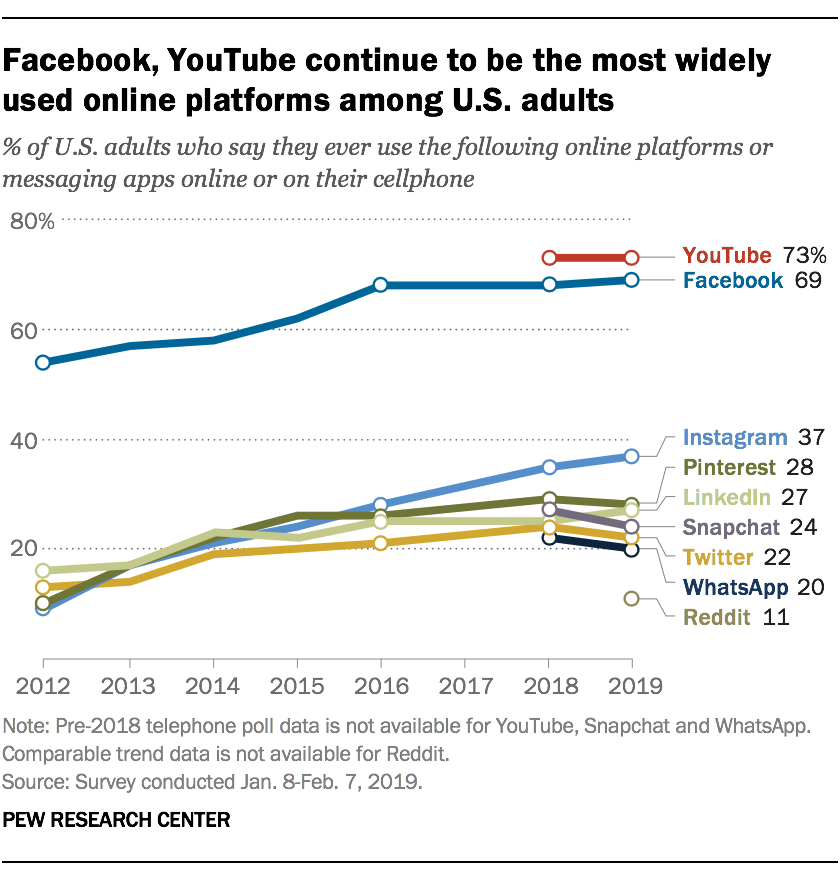 Use social media to share links to your website and drive traffic, but don't just use it for that. Invest in building a community there and engaging with your audience. That will win you a lot more interest on a social platform than merely pushing out links regularly.
Using social media well is difficult, but if you approach it strategically, it can be a powerful way to reach more of your potential customers. 
7. Invest in social advertising.
Social marketing is similar to SEO in being a long game. It's worth the investment, but you can't expect it to start paying off right away. But you can speed up results, reach more people, and grow your follower counts by investing in social advertising. 
Social ads have a wider reach than typical social updates, but also provide targeting options so you're just paying to reach the people relevant to your brand and products. They can both help you drive traffic back to your website right away, and help you grow your social presence and following, which helps with even bigger long-term traffic growth. 
8. Partner with affiliate marketers and online influencers.
One of the best ways to reach a bigger audience faster is to find people that have already built up a large, relevant audience and work with them. Influencer marketing involves finding people in your industry (or related industries) that have a large following on social media or their own websites. You can then partner with them—usually by paying them but sometimes in other ways)—so that they mention your product and drive traffic to your online store. 
Affiliate marketing is similar, but rather than paying an influencer directly to mention your product, you make a deal so that they get a percentage of every sale that comes from their affiliate links, or customer that uses a discount code they provide. That way, you're only paying them for actual sales you make. 
Both of these tactics can potentially lead to a lot of new visitors to your eCommerce website, and new sales of your products.
9. Incentivize customer referrals.
No marketing tactic or advertising platform you try will be as powerful as the recommendation of an enthusiastic customer. When someone loves your products enough to tell friends about them, not only does that drive traffic, but it produces visitors that are already warm leads with a higher likelihood of conversion—the best kind of traffic.
To increase this valuable visitor type, give your happy customers more of a reason to talk up your brand. Customer referral programs provide customers rewards for telling their friends and followers about your brand. They can increase loyalty at the same time that they encourage new visitors and sales. 
10. Invest in email marketing.
Traffic is an important metric to measure your eCommerce website success by, but getting a lot of one-time visitors that never return and don't make a purchase aren't ultimately worth much. You need visitors that like your brand enough to continue to engage with you. That's where email marketing becomes important.
Email marketing provides a means for staying in touch with the website visitors that like your stuff. You can use emails to earn more loyalty for your brand, promote your products, and drive more traffic back to your eCommerce site. 
You have to be careful with email marketing. If you add people to your list that didn't opt in, you'll technically be breaking the law and can end up on spam lists. And if you overdo your email frequency or are too promotional, many subscribers will click that unsubscribe button and never look back. But if used well, email marketing can be a valuable way to build up a loyal audience of leads and customers that become repeat visitors, and think of your brand first when they need something you sell. 
Measure and Improve Traffic to Your eCommerce Site
All of these tactics have the potential to drive more traffic to your site, but none of them will get you all that far on their own. To make your efforts to build eCommerce traffic go further, figure out how to make all your online marketing tactics support each other as part of a larger strategy. Your content can help you grow your email lists, just as your social marketing can promote your content. 
And pay attention as you go to your analytics to learn which tactics and messaging are producing the most traffic, and which are driving traffic that converts the most often. The more data you have over time, the more you'll be able to strengthen your campaigns for better results.