We've all heard about "word of mouth" advertising being far superior to traditional advertising. And studies back it up. 
Think of it like this. We're always asking trusted friends for advice when it comes to buying things, especially if it's something you've never used before or if you're deciding between two similar products. 
So what does this mean for your business? Of course there's traditional word of mouth, but there's also the digital version of word of mouth – customer reviews! 
You can add a reviews widget directly to your site to start obtaining reviews, but keep in mind that reviews on your own site are going to be viewed less favorably than reviews collected by a third party website.  There are a variety of free and paid review plugins available out there. Simply do a search and you'll be able to find one that's right for you.
There are also several sites that will collect reviews for you for free like Trustpilot, Yelp, Google, etc.  There are, of course, paid reviews sites available as well, like SiteJabber, Shopper Approved, etc. Many of the paid sites do offer free versions that you can use, too!
How to ask for customer reviews
Here are my top 3 tips for collecting customer reviews.
1. Ask for reviews
Don't be afraid to solicit reviews, and direct customers to your preferred review site. For example, instead of simply asking customers to do a review, provide a link to your business profile on Google or Yelp, whichever site you have chosen as your preferred review site. 
A simple email to customers in your database will typically result in about a 6-9% return depending on who you're targeting.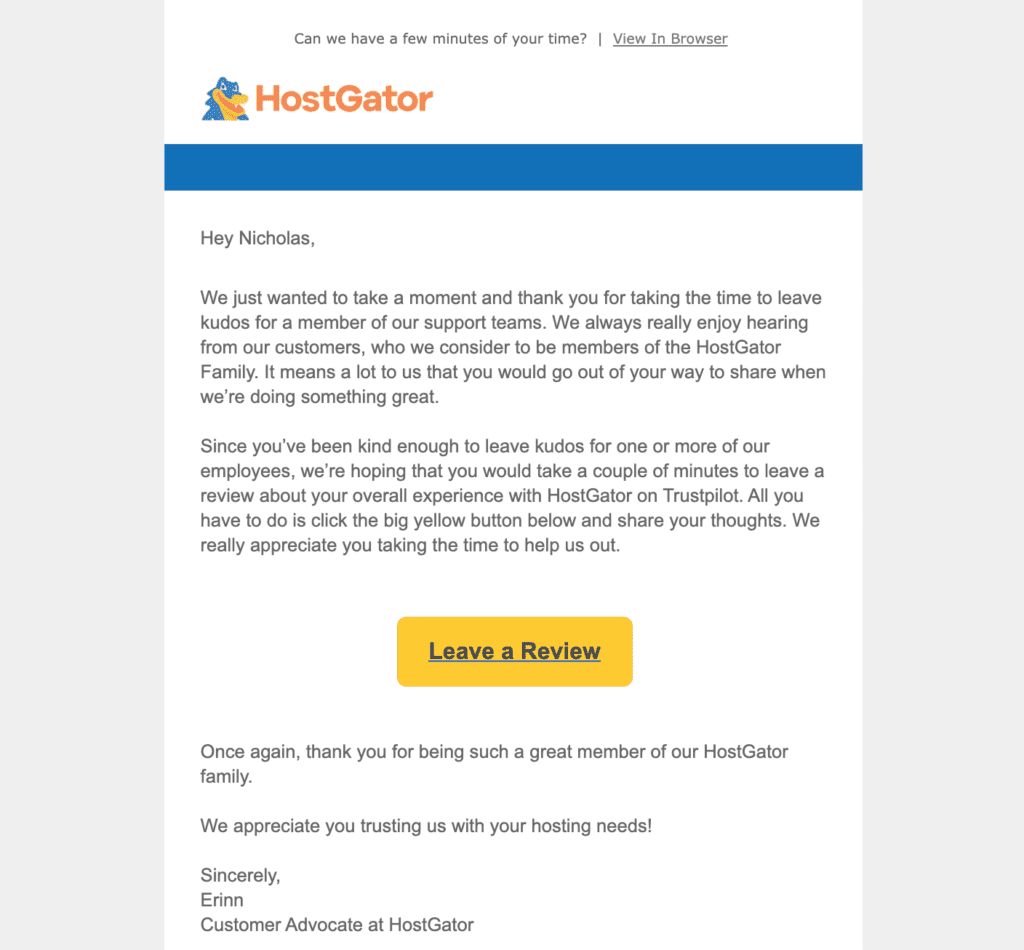 2. Add a review link to your website
You can also simply put a reviews link into the header or footer of your page to guide people to the site of your choice to leave reviews.
3. Implement review schema on your website
If you collect reviews on your own website, have your developers add review schema. This will markup the review data on your website and display it alongside your search result in Google, helping you to stand out with a star rating and review count.
You'll notice that many, if not all, of the third party review sites use this schema markup. On third party sites, once you hit 100 reviews and an average star rating of at least 3.5, within a rolling calendar year, you'll start seeing a star rating in Google, like this:

Google changes their guidelines for reviews from time to time, you'll want to check with Google directly about the most current guidelines for earning a star rating on your ads.
What to do with negative reviews
Keep in mind that you are going to occasionally get negative reviews, but this is actually a good thing. If you have all 5 star reviews, consumers are going to assume that your reviews are fake and not give them any heed and perhaps not even read them at all.  
The best course of action is to read and respond to bad reviews in a professional manner. You might want to set up an email address just for reviews like "[email protected]." This way, you can ask the reviewer for more information and keep all communications in a central location.  
How to Respond to Negative Reviews [Template]
A good response to a bad review would be something like this:
Hello (name),
Oh no! That sounds incredibly frustrating. We truly don't want you to be frustrated so we'd love to speak with you about your concerns. If you could please reach out to us at (email address) and provide your name as it appears on your account, the primary email address on your account and the best phone number to reach you then we'll do our best to make things right.
Your Name
Your Title
Some final words of advice on reviews
Respond to every review, positive or negative. This shows that you're an engaged business owner and truly care about your customers. The review score you're looking for is 4.2-4.8. While scores of 3.9-4.1 aren't a bad thing, they aren't as good as the range we gave you. If you have below a 3.9, then you need to get to work asking your best customers for good reviews to bring your score up. 
We hope that you found this helpful and we wish you well in your quest to obtain reviews about your products or services.