The future of eCommerce is here. Online stores around the world are taking on the challenge to create a first-class experience for their shoppers. 
Because consumers can't physically touch the products, your photos should take center stage in offering a similar or better experience. Your product photos should capture the unique story of each item, using multiple angles and creative props. 
Let's dive into how to take better product photos. Check out these six helpful tips.
1. Capture the product story
Every product has a story. Each product image in your online store should detail how the consumer will experience the item. For instance, if you sell sunglasses, will the shopper wear them on a sandy beach? Or will they put their new shades on during a baseball game? 
Product photos should give consumers a clear view of what they will do with their purchase and how they will feel. And that feeling will depend on the product. Some product images will portray happiness, while others will emote comfort. 
"Don't be afraid to experiment. Be creative. You will make a few mistakes on your way to gaining a deeper understanding of the process," says Jason Lawrence, a computer scientist and entrepreneur.
The possibilities are endless when it comes to telling product stories. Start testing different story ideas with your products to earn more sales.
2. Set up the proper lighting
Product photos are essential to gain the consumers' interest as well as showcase the benefits of your items. More than 80% of online shoppers rely on product photos when deciding on a potential purchase. 
Proper lighting is key when capturing your products. A well-lit product gives the shopper the opportunity to experience every physical detail. No one wants to squint their eyes or resize their browser when online shopping.
Sunlight is a good source of lighting, especially when you want to shoot the product in its natural habitat. On the other hand, artificial light can offer your photos more consistency on a limited budget.
You'll also want to consider the quality and quantity of light. Try moving the light closer or farther from your product to change the intensity. Keep practicing to find the right lighting for your products.
3. Shoot with a tripod 
The novice photography approach is to grab your smartphone and immediately start taking pictures of your products. Instead, you'll want to invest in a tripod to help you. 
A tripod ensures you capture clear and crisp photos every single time. Moreover, you can easily get exhausted from taking product photos if you have hundreds of items in your online store.
"When you press down on the shutter or even lightly tap the capture button on your smartphone's touchscreen, you apply downward/forward pressure to the camera—setting a timer will allow your camera/smartphone to re-stabilize," states Paula Jakubik, a community manager at Pixc. 
Your online store's goal is to get uniform product photos. So, before you start clicking away, take photos of other still objects, like a book or a plant. That way, you'll know where to set up the tripod when it's time to shoot.
4. Use a white background
Your consumers want to get an up-close view of products. Meero reports that 78% of online shoppers want photos to bring products to life. With a white background, you can make the product the focal point without colorful distractions.
White backgrounds offer consistency in your online product catalog. A rainbow of different backgrounds can impair the shopping experience. Consumers won't have to constantly adjust their eyes as they browse.
In the example below, the white background gives depth to these casual dress shoes. You can noticeably see the stitching and the vibrant color of the buckle. This type of photo appeals to your customers' buying habits.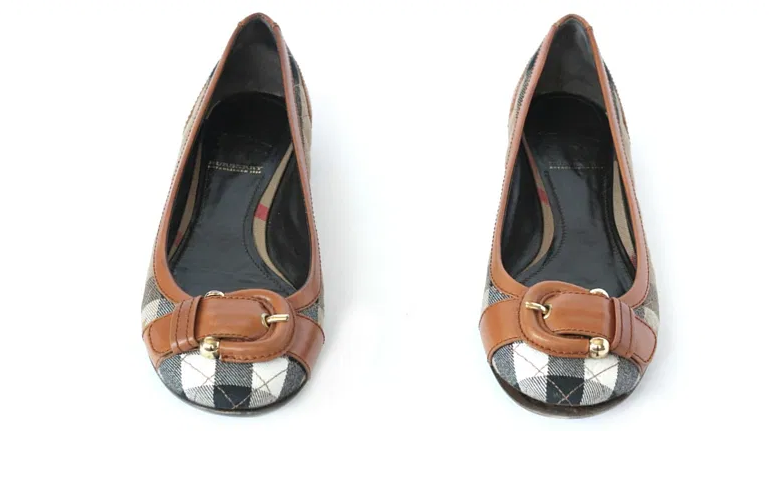 Plus, using a white background reduces the amount of time in the photo editing process.  When shooting, the light will reflect onto your product—minimizing the need to make brightness and contrast adjustments.
5. Add creative props
Think of your product as being part of a scene in a movie. You don't want it staring at the camera giving a boring monologue. You can add more excitement if you bring in supporting characters, or in this case, creative props.
Props give more personality to your product photos. It's also an effective way to capture that product story. Margot Whitney, a content marketing specialist at WordStream, offers her expertise:
"So how do you decide what props to use? I always recommend erring on the side of light when it comes to props: keep them simple, aligned with the color scheme, and relevant to the scene or your product."
Depending on the product, you may try adding props, like plants, picture frames, or even party favors. Just make sure your props don't overpower the main show: your product. 
6. Take shots from different angles
If you ever look at school photos from the '80s or '90s, you'll notice a pattern amongst each student's picture. They all posed the same way. School districts didn't leave much room for creativity.
For your product photos, you'll want to strive to achieve the exact opposite. You want to take pictures of your products from multiple angles to show a 360-view. 
Higher-quality images win customer trust more than lower-quality images. Max Therry, an architecture student who is fond of photography, writes:
"Take photos from multiple angles to represent the product in a variety of ways. Try close-up macro shots for items like jewelry or food products. Experiment with shots that are styled and taken top-down for items like shoes and laces, or folded t-shirts or sweatshirts."
With a variety of angles, consumers can get the full scope of your product in action. It'll make them feel more confident about their purchasing decision.
Take High-Quality Product Photos for Your Online Store
Product photos play a critical role in enticing shoppers to purchase from your online store. Take the time to gather the right elements—lighting, tripod, and props—to produce compelling images for your customers.