Retailers know that winter holiday gift shopping is what keeps the industry going, and until this year, holiday sales figures were on a roll, steadily climbing year after year. 
Now, though, many consumers say they're not sure if they'll spend as much in 2020 as in years past. Some are already committed to spending less. And many say they've made big changes in how they plan to shop for holiday gifts this year.
Here's what small online retailers need to know now about consumers' holiday 2020 spending plans, popular gift categories and potential changes to major sales days. Use this info to plan your holiday season marketing, product selection, pricing, and promotions.
eCommerce looks different this year.
Ordinarily, the holiday season is the big event retailers spend all year preparing for. The sheer volume of site traffic, orders, and fulfillment requests pushes many sellers to their limit. Think of it as the big marathon you've been training for. But things are different now.
What's changing? With many stores closed and people sheltering at home, everyday eCommerce volume is way, way up over previous years. Every day in April, for example, eCommerce sites overall had more traffic than they did on Black Friday 2019, the most popular shopping day of the holiday season. That's like running a marathon a day since shutdowns began.
What do the changes mean? Does this mean your holiday season will be even bigger than in a regular year? Or will consumers tap out their budgets before the holidays? No one's really sure yet, because factors like pent-up demand from consumers who've so far escaped financial damage may drive holiday sales. 
However, it's a safe bet that if your customers are already price-sensitive, they will be even more so this winter. In early 2020, 42% of consumers said they made their 2019 online purchases based on price, and 24% said they never paid full price online. That survey was taken when unemployment was at a 50-year low. Now, it's close to 11%. 
What you can do now
Review your metrics to see if 
Your bestsellers have changed from more to less expensive items.
Your discount offers are getting more conversions than during the same time last year.
The price points on your customers' most recent wishlist items have dropped.
This data can show you if your customers are scaling back their spending and searching for more deals. If so, they'll probably expect great deals and the lowest possible prices during the holidays. 
Focus on products that fit your customers' price range and wishlist trends. And start planning your discount offers, free shipping, and other promotions to keep your holiday shoppers happy.
The holiday sales calendar might get weird.
In previous years, more than a third of consumers started their holiday gift-buying before November. But the long weekend that includes Thanksgiving, Black Friday and Cyber Monday accounted for a huge proportion of eCommerce and retail sales. This graph from the 2019 National Retail Federation holiday consumer survey shows how things usually go:
What's changing? In-store Black Friday sales almost certainly won't be anything like the crowded events of yesteryear. Macy's, and presumably other retailers, are looking at buy-online, pickup-curbside options to reduce in-store crowding, and more shoppers may stick to buying online instead of returning to physical stores. That could mean even more website traffic on Black Friday and Cyber Monday.
The biggest unknown right now is when Amazon Prime Day will happen. From 2015 until last July, Prime Day was the biggest online shopping event of the summer, racking up more than $7 billion in sales in 2019. This year, the eCommerce giant has postponed Prime Day until the fall, possibly in early October. 
What do the changes mean? What happens when you move a $7 billion, single-retailer sales event to the month before Black Friday? No one can say for sure, but if shoppers grab holiday gifts then, they may spend less on Black Friday and Cyber Monday.
What you can do now
Watch for Amazon's announcement of its 2020 Prime Day date. Start thinking about promotions you could run at the same time as Prime Day, to encourage your customers to stick with you. 
If you're not already offering your products on Amazon as well as your own website, consider getting started so you can get in on the Prime Day frenzy, whenever it happens.
And now's a good time to make sure your hosting plan can scale up to accommodate any surges in traffic this holiday season.
Bestselling product categories may change this year.
Some of the products that seem to always make the top 10 list for holiday gift-giving may not do as well this year. Consider this list from the NRF 2019 holiday consumer survey: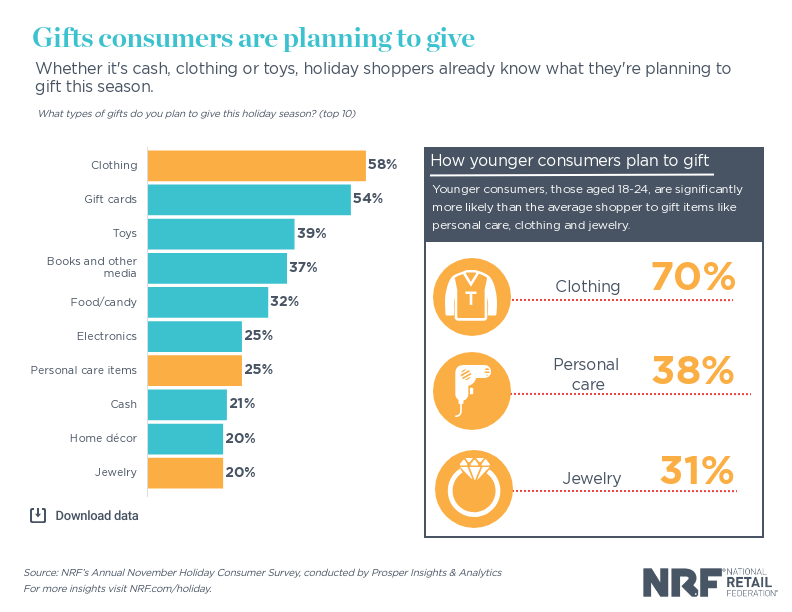 Clothing may still do well because of seasonal shifts and holiday traditions. Now more than ever, we need matching flannel pajamas for lounging at home in style, for example. Books and media, toys and food all seem like safe, comforting bets for holiday gifting.
What's changing? Jewelry sales haven't fared well since the start of the pandemic, with retailers ranging from Kay to Tiffany reporting big sales drops. It's unclear whether shoppers will shift gears and treat their loved ones to jewelry during the holidays. Demand for cash has been dropping, too, since the CDC recommended that retail workers avoid handling it. 
What do the changes mean? To avoid gifting cash, shoppers may buy more gift cards this holiday season. Gift cards are already gaining popularity with shoppers looking to support their favorite local businesses. Google has even added a way for shoppers to buy gift cards from retailers' Google My Business profiles.
As for jewelry, sales aren't down in all markets. Chinese shoppers are the bright spot for jewelry and other luxury brands right now, according to CNN Business, as their economy starts to recover from the initial impact of the pandemic.
What you can do now
Keep tabs on sales trends for each of your product categories as the holidays approach. Think about discounts and promotions that could boost slower-selling items you have in-stock. Offer gift cards and plan gift card promotions for the holidays. 
If your store offers products that are selling slowly at home but faster abroad, you may want to start selling across borders to boost your revenue. International marketplaces can be an easy tool for  building a customer base overseas.
What else do consumers expect when they shop for the holidays? Online stores that load fast, don't crash and protect their data. If you need to upgrade your hosting plan, now's the time. Get started with Virtue Media today.