I have one word to convince you to start a TikTok account for your local business. Actually, it's a hashtag, but technically hashtags count as one word. Ready?
#TikTokMadeMeBuyIt
If you look closely at the image above, you'll see that the hashtag #TikTokMadeMeBuyIt already has 4.0 billion views.
People love TikTok. They love finding brands on TikTok. And consumers use TikTok to make purchases.
It's a no-brainer to start a TikTok account for your local business. But, if you weren't born between 1997-2015, it's possible that signing up for a TikTok account isn't second nature.
Don't worry. This short guide will cover the basics of how to get your TikTok account for your local business started today.
How to get started with your business TikTok account
If you're new to TikTok, there's good news. TikTok is fairly intuitive and it's not difficult to set up an account. 
However, if you're setting up a business account, there are a few things to consider before you get started. Let's take a closer look at what you need to do before you get started.
1. Prep your brand for TikTok
Your TikTok account may be the first encounter a new customer has with your brand—especially if you create a viral video or trend.
As such, it's important to make sure your brand is well represented on your account before you start posting videos. Take the time to review your logo and brand book, and to discuss how you want to position your brand on TikTok.
2. Learn the TikTok basics
You don't have to know everything about TikTok to get started. You'll learn as you go. However, there are some basics to review before you start creating videos.
To save you time, here is a quick reference:
TikTok video size: The aspect ratio for a TikTok video is 9:16. This means a smartphone is the perfect device to use to shoot your videos.
TikTok video orientation: Vertical. Again, shoot TikTok videos on a smartphone.
TikTok video length: TikTok videos are only 15 seconds long max. However, you can string up to 60 seconds of clips together to make a longer video.
Types of TikTok videos: You can get as creative as you like on a TikTok, but common videos include lip-syncs, dances, comedy, challenges, trends, etc.
If you know these TikTok video basics, you can figure out the rest as you go.
3. Set up your account
Are you ready to set up your account? Great! Here's how:
Download the TikTok app on your phone
Sign up with your phone number, email, Facebook, Twitter, or Google account
Enter your date of birth
That's it. That's all you have to do to get your account started. Now, it's time to customize your profile for your business.
4. Fill out your profile
When you sign up for your account, TikTok wants you to get started with making videos right away. However, since this account is for your local business and not for entertainment purposes, it's best to hold off on creating a video, and finish setting up your profile first.
Your profile is where new customers will go to check out your business and learn more about you. Here is the information to complete and how: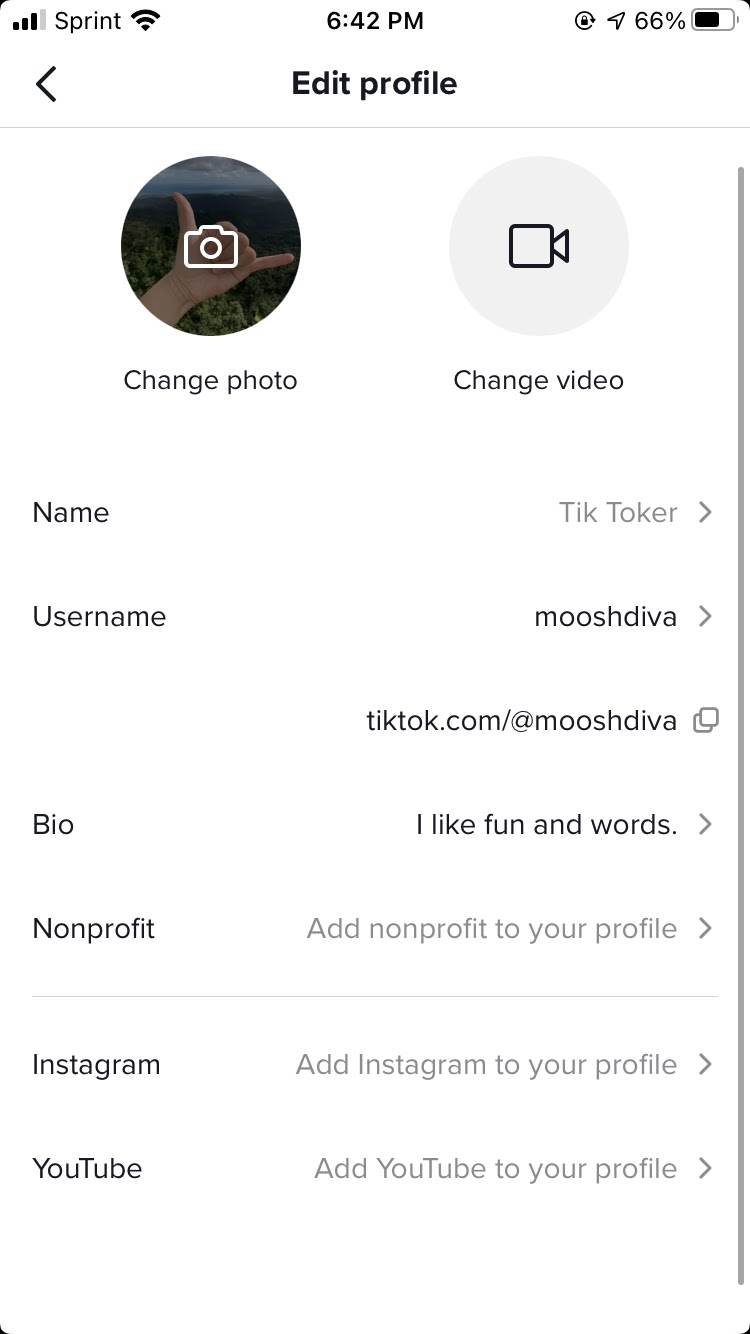 Photo/video: Add a profile picture. Famous people usually post pics of themselves. Brands typically use their logo as their profile picture. You can add a video to your account later.
Name: The name defaults to "Tik Toker." Change the name to the name of your business.
Username: Pick a username that represents your company or brand well and is highly-searchable. For example, Reese Witherspoon's username is @reesewitherspoon.
Bio: Fill out your bio completely. You can include your tagline or add information about your company.
Social: Connect your other business social accounts like Instagram and YouTube.
Website/email: TikTok won't let you add your website or email until you've switched to a business account. We'll talk about this in a minute.
That's it!
5. Switch to a business account
Once you've set up your account, it's time to officially switch your regular account to a TikTok business account.
Simply click the three dots on the top right of your profile page. Then, click "Manage account."
From here, tap on "Switch to Business Account." Then, review the information and click "Next."
TikTok will ask you to choose a category that best describes your business (e.g., Arts & Crafts, Beauty, Baby, Travel & Tourism, etc.). 
Once you've selected a category, you'll be a Business Account owner, and will be able to edit your profile once again. Click on "Edit Profile."
You'll notice you can now add a website and an email address to your business account. It's kind of a circular process, but it's worth it to officially switch to a business account so you can add a link to your website to your TikTok profile.
When your new profile is complete, you can officially start creating videos and engaging with your audience.
How to get the most out of your business TikTok account
Simply owning a TikTok account and posting videos isn't the end-all be-all of having a successful TikTok account. Your main purpose should be to create videos your customers will love, engage with others, and drive traffic back to your website. 
But, there are tons of other ways you can use TikTok to build your local business and grow your community. Here are some things you can do to get the most out of your business TikTok account:
Engage with your local community. Once people begin to follow you, they may start commenting on your videos. Take the time to respond to their comments and questions. It's a great way to build a relationship with your new fans. You can also comment on their videos.
Recruit employees via TikTok. Creating TikTok videos that show off your awesome corporate culture is an awesome way to recruit good employees. Middleton Meyers (@middletonmeyers) uses this approach, and it's fun to watch their videos, and follow their journey.
Capture user-generated content (UGC). The Creator Economy is bustling and more and more consumers are buying products that regular people recommend on social media. Use TikTok to connect with influencers and creators and find ways for them to promote your product. The added bonus is you can infuse UGC on your website to boost sales.
As you build your TikTok presence, remember there are several different ways you can use video to build brand awareness, connect with your fans, and even recruit employees.
Get your website started with Virtue Media!
If you are a local business owner that is looking into TikTok, remember the first step is to sign up for a web hosting account and build your website. After all, you'll want an online space where TikTok users can find more robust information about your business.
As you build your business, remember Virtue Media offers affordable and reliable web hosting plans. Check out our web hosting packages today!