How often does your small business run drip campaigns? If the answer is "never" or "what's a drip campaign?" then this post is for you. 
"Drip campaign" is an awkward term for one of the most effective email marketing tools you can use. In this post we'll show why drip campaigns are worth using and how to get started.

What Is a Drip Campaign?
A drip campaign is an automated series of marketing messages that go out to your customers or prospects on a schedule that you set ahead of time. 
For example, when a visitor to an online store signs up for email discount offers, that should kick off a drip campaign. The first message in a campaign like this is usually a thank-you/welcome email that includes a discount code. The next email a few days later might include some personalized product recommendations based on items the visitor has viewed on the store's website. And so on.
This kind of campaign is designed to nurture leads and grow customer relationships with frequent small interactions rather than one big pitch, the way nurseries water seedlings with a gentle mist and not a firehose.
Why Do Businesses Use Drip Campaigns? 
One simple reason that businesses use drip campaigns is because customers are more likely to read a series of brief messages than one long one. After all, if you've got five minutes to go through your inbox, are you more likely to read something short and snappy or a 500-word essay?
There's another reason that well-planned drip campaigns work, too. It's because a good drip campaign increases the number and quality of touchpoints your brand has with prospects and customers. 
Touchpoints are the interactions your brand has with your target audience. Customers often need to experience several touchpoints before they're ready to buy from you. That's because they're getting to know and trust your brand a bit more with each touchpoint—in this case, with each message in your drip campaign.
And let's not forget the biggest reason businesses run drip campaigns: they're effective. In Q2 of 2019, drip emails had an open rate 66% higher than other marketing emails. Drip emails also generated more than twice as many click-throughs as other marketing emails. 
What Can You Do with an Email Drip Campaign?
Our example about email offers isn't the only way you can use drip campaigns to grow your business. You can also use drip campaigns to 
Welcome new subscribers to your newsletter.
Welcome new customers.
Keep existing customers coming back with personalized recommendations.
Promote upcoming seasonal sales and products.
Educate customers about your products and services or how to solve a problem for their business. Many B2B businesses run this kind of drip campaign.
Remind customers about items they've left in their shopping cart.
Touch base with customers who haven't visited your store in a while. 
Marketers have come up with a lot of ways to run drip campaigns in different channels, including 
Direct mail 
SMS messaging
Facebook Messenger for Business and other chat tools
Mobile and desktop push notifications
Email
We're going to focus on email drip campaigns, because they're the most common type of drip campaign and they're relatively easy to set up. 
If you're not experienced enough with email marketing tools to feel comfortable setting up a drip campaign yet, no worries. Here's how, step by step. 
How Can You Set Up a Drip Campaign with Constant Contact?
Virtue Media partner Constant Contact is an email marketing service that—among other tools—makes it easy for businesses to set up automated email series (aka drip campaigns). Here's how the process works. 
On the Campaigns section of your dashboard, click the Create Button.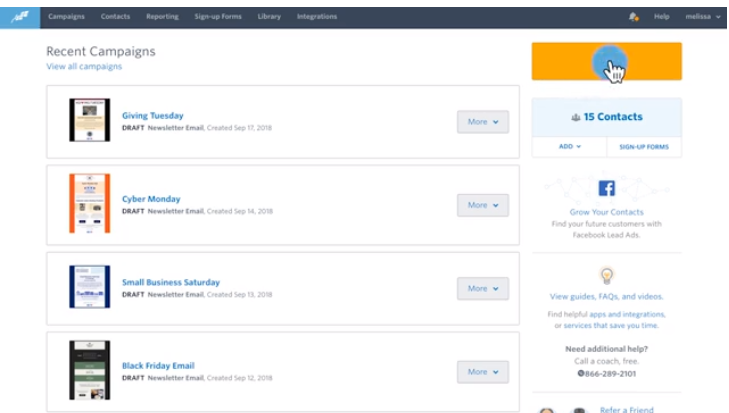 A pop-up will ask you to select a campaign to get started. Click Email Automation.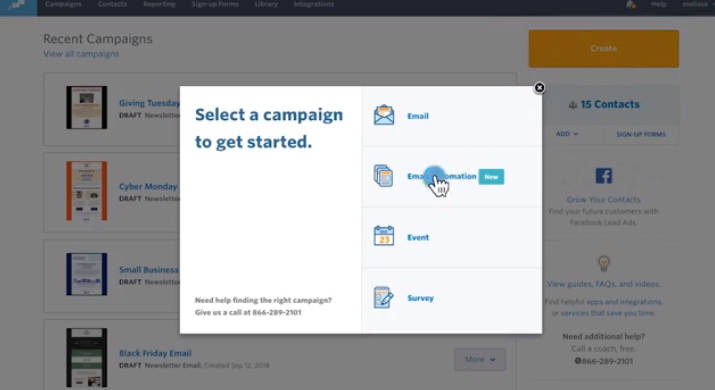 On the next pop-up that opens, click Create Email Series. 
Next, you'll give your drip campaign a name. This is a name only you will see. 
Then, you'll decide what will set your drip campaign in motion.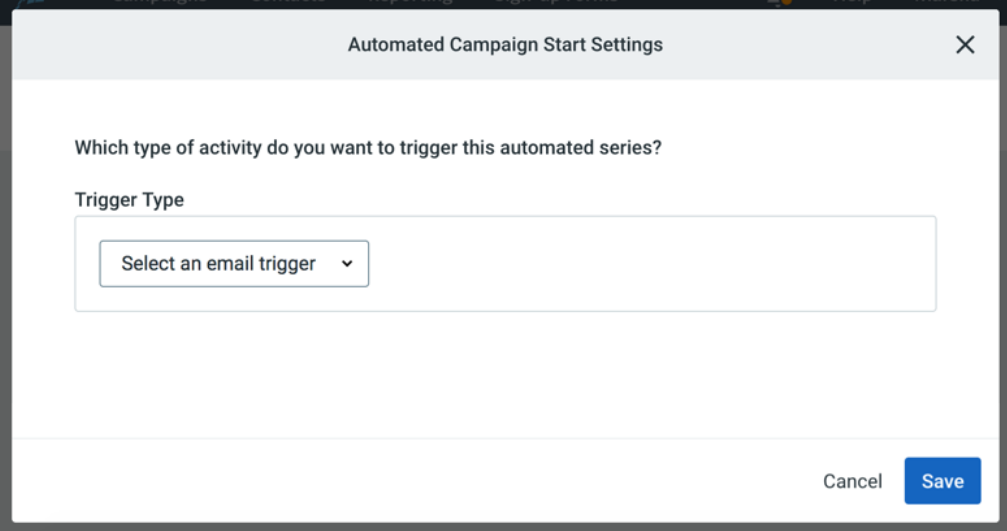 From Constant Contact's Trigger Type menu, you can set your campaign to start when a user
opens an email from your business
clicks any link in one of your emails
clicks a specific link in one of your emails
joins one of your lists
Depending on which trigger you choose, you'll next decide whether to use a link in an existing email or in a new email. 

Or you may need to decide which lists users will join to activate the campaign. Then save your choice.
If you choose to use a specific link in an existing email as the trigger, you'll need to choose the email from a dropdown menu that lists all your past campaigns.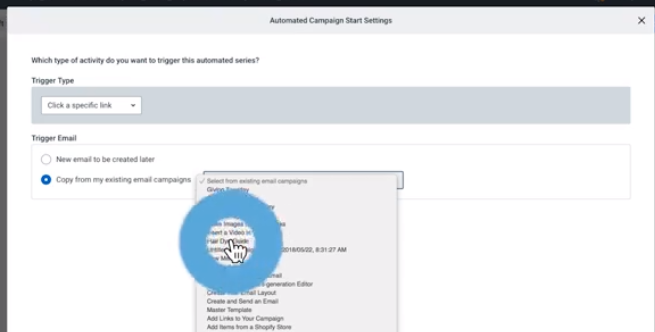 Then, you'll choose the exact link you want to be the campaign trigger.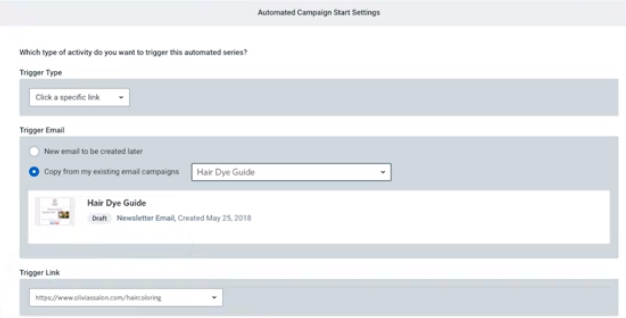 Save your selection.
To add more emails to your series, click the Add to Series button.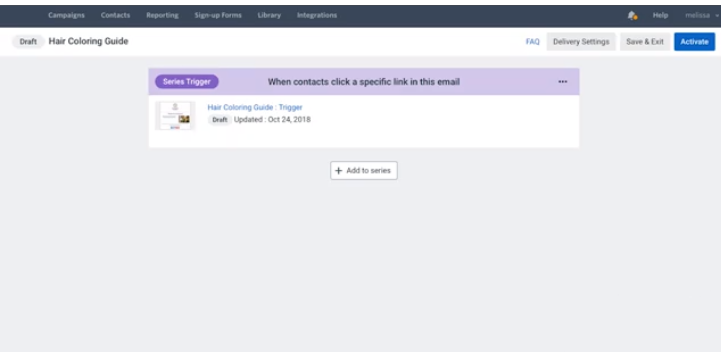 Just like for the first email in your series, you'll choose between a new email that you'll create later or an email from your existing campaigns. 
After you save that choice, you'll be able to see your drip campaign sequence so far. Note that you can edit the time between the trigger action and the first email, as well as the time between the other emails in your campaign.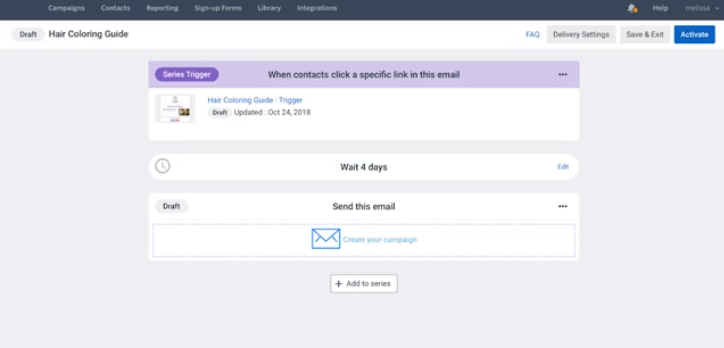 You can add as many as 15 emails to a single drip campaign in Constant Contact. Most drip campaigns aimed at consumers include 12 or fewer messages. B2B drip campaigns are usually shorter than consumer-facing campaigns. 
Once you've chosen your trigger, the emails you want to include in your series, and the time between your trigger and each email, you're ready to click Activate.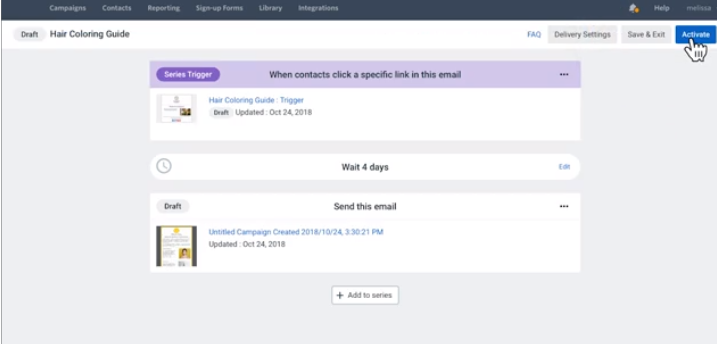 If your trigger is an email, you'll be asked to choose the list you want to send it to and when you want to send it.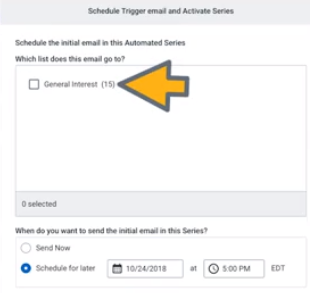 Constant Contact will then validate your series to make sure it's error free. You'll have a chance to fix any problems before the series begins.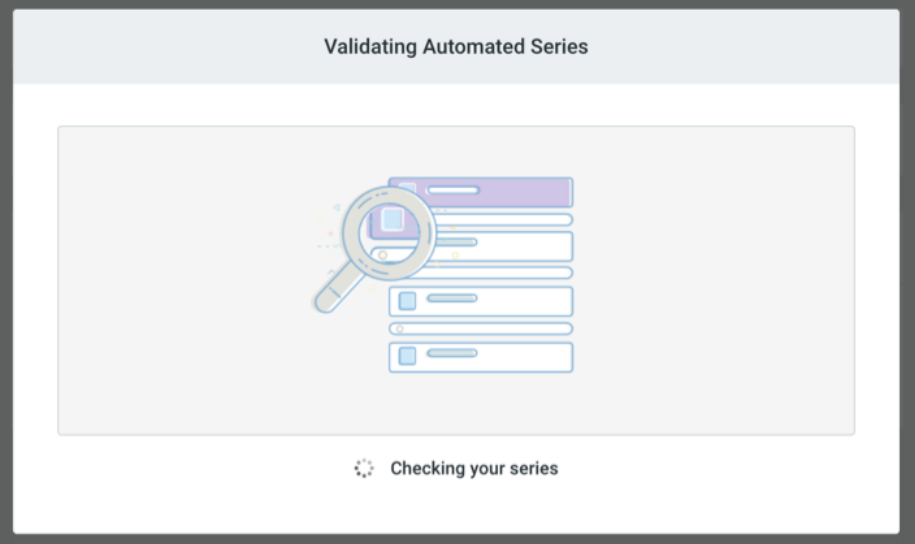 Once your drip campaign is live, your work is mostly done. One thing you'll want to do is keep tabs on your stats.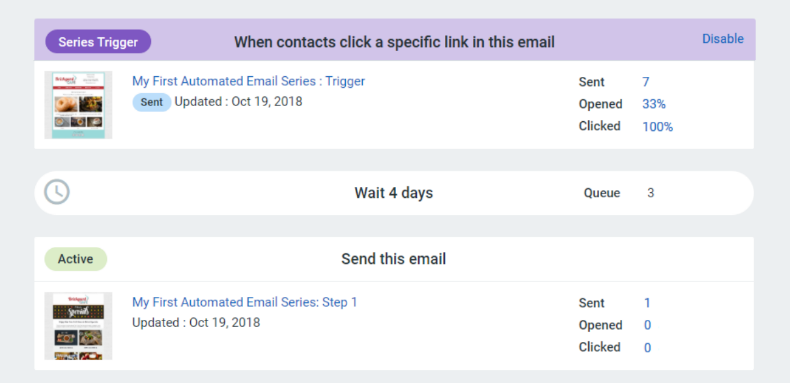 Over time, you'll see which types of drip campaigns work best for your business. That information can help you get better at writing subject lines, choosing triggers and writing email copy that helps your customer relationships flourish.  
Ready to master more email marketing skills? Check out these email marketing dos and don'ts.