Selling digital products is a new opportunity to grow your business. You don't have to worry about excess inventory, packaging costs, or expensive shipping fees. 
Digital products range from ebooks to music files to online courses. An impressive website with an engaging theme can attract visitors and earn your brand more sales.
Ready to find the right theme for your digital products? Try one of these seven WooCommerce themes for your site.
1. DGWork
DGWork is a powerful WooCommerce theme for selling your latest digital products, like photos, videos, and software. With one-click demo import, it requires no coding knowledge. You easily can set up a multi-product shop or stick to a single product website.
Digital products are a convenient way to start your online business with minimal costs. Colin Burton, a content marketer at Thinkific, agrees:
"Selling digital products is a low-cost, low-hassle way to open a new revenue stream. Whether that stream is a trickle or a torrent will depend on how much time you invest, the quality of your products, and how well you promote them."
The DGWork theme offers predefined sections and content templates to get started today. You also can quickly customize the layouts to fit your specific needs.
2. Digital Products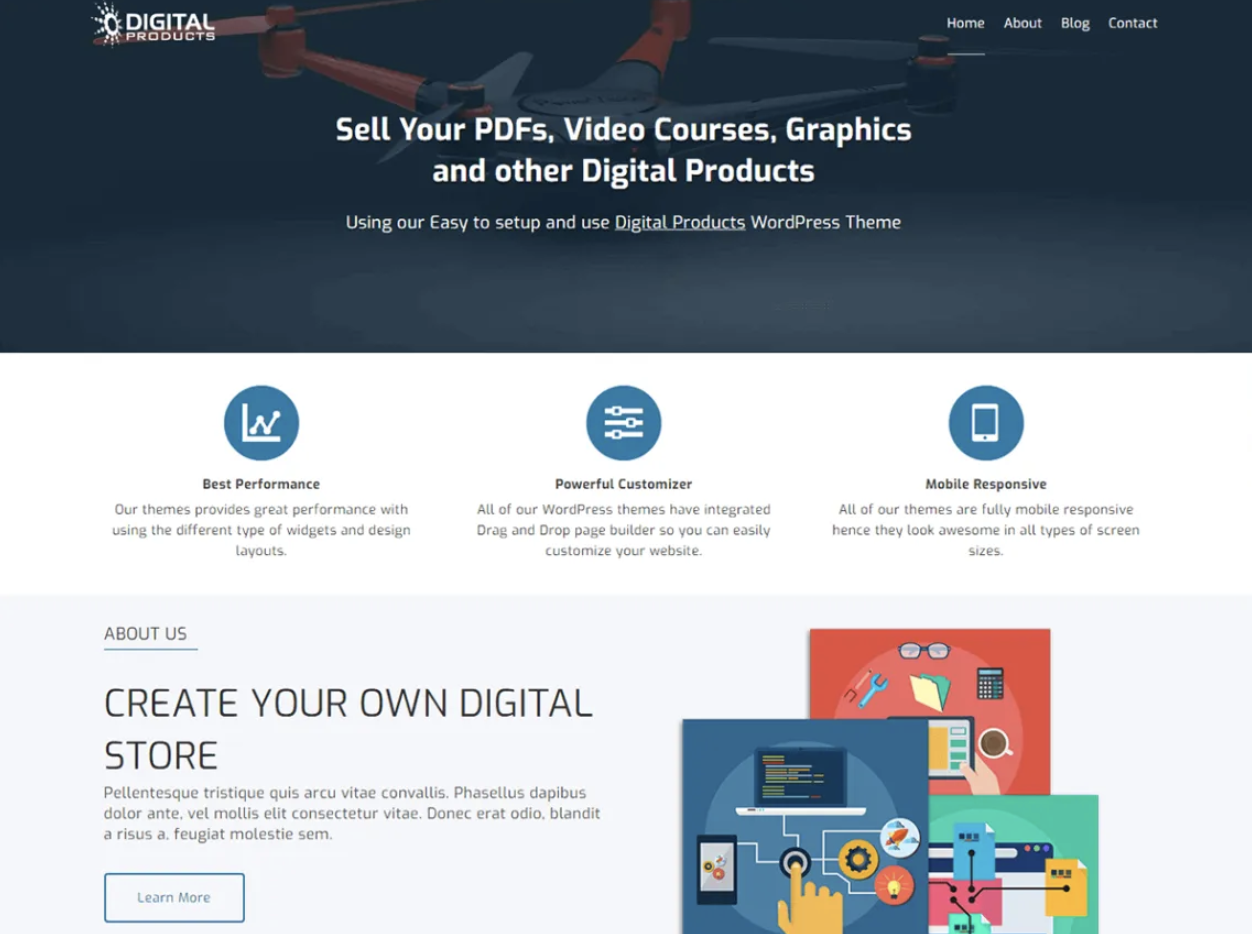 Digital Products is a WooCommerce theme designed to sell any online product. From software to graphics to PDF files, you can create a website to build a virtual storefront. Its responsive design fits all screen types, including smartphones and tablets. 
This theme supports SiteOrigin drag-and-drop page builder. That way, you can customize your website without writing a single line of code. If you want to sell memberships, you can add the WPDigiPro WordPress plugin for more functionality. 
Digital Products also integrates with PayPal, so you can easily receive payments from your customers. With 14 built-in autoresponders, send emails when buyers purchase, need to renew, or leave their cart. If you serve a global audience, this theme comes translation-ready with several well-known languages.
3. Digital Download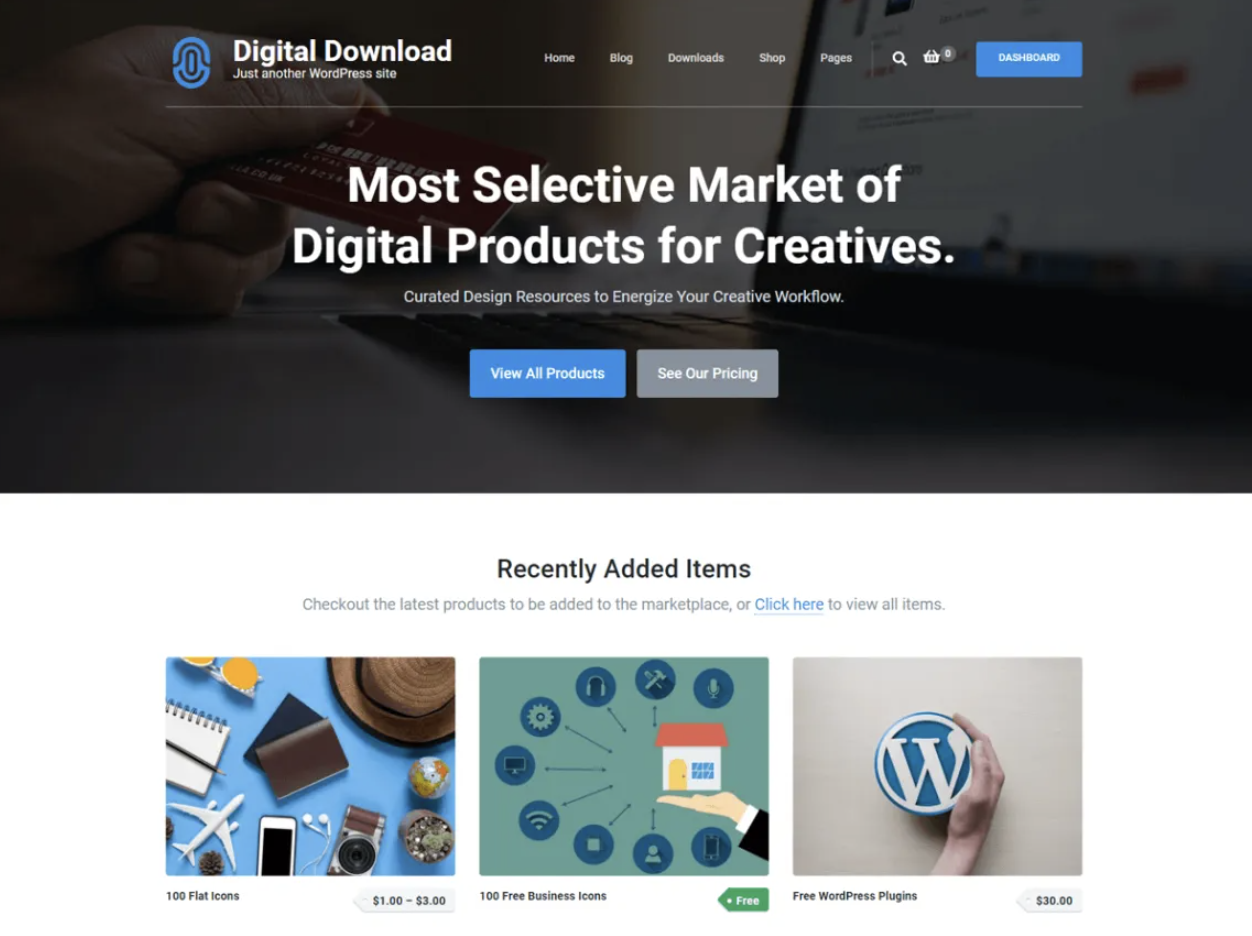 Digital Download is a responsive theme for creating a professional digital marketplace. You can customize this theme to sell a variety of digital products, including tutorials, videos, and software. 
"[D]igital products are easy to distribute, significantly more sustainable, can be replicated infinitely, and are oftentimes simpler to create. With little more than one or a few devices, any person is capable of making a digital product worthy of sharing or selling. No physical materials, factories, or staff required," says Kyle Maurer, a WordPress plugin developer.
With Digital Download, you'll have access to several featured sections, like a call-to-action section to convert your visitors into customers and a download section to display your recent products. 
The theme comes SEO optimized to help you rank in search results. Plus, its mobile-friendly design adjusts to fit multiple screens.
4. Bookshelf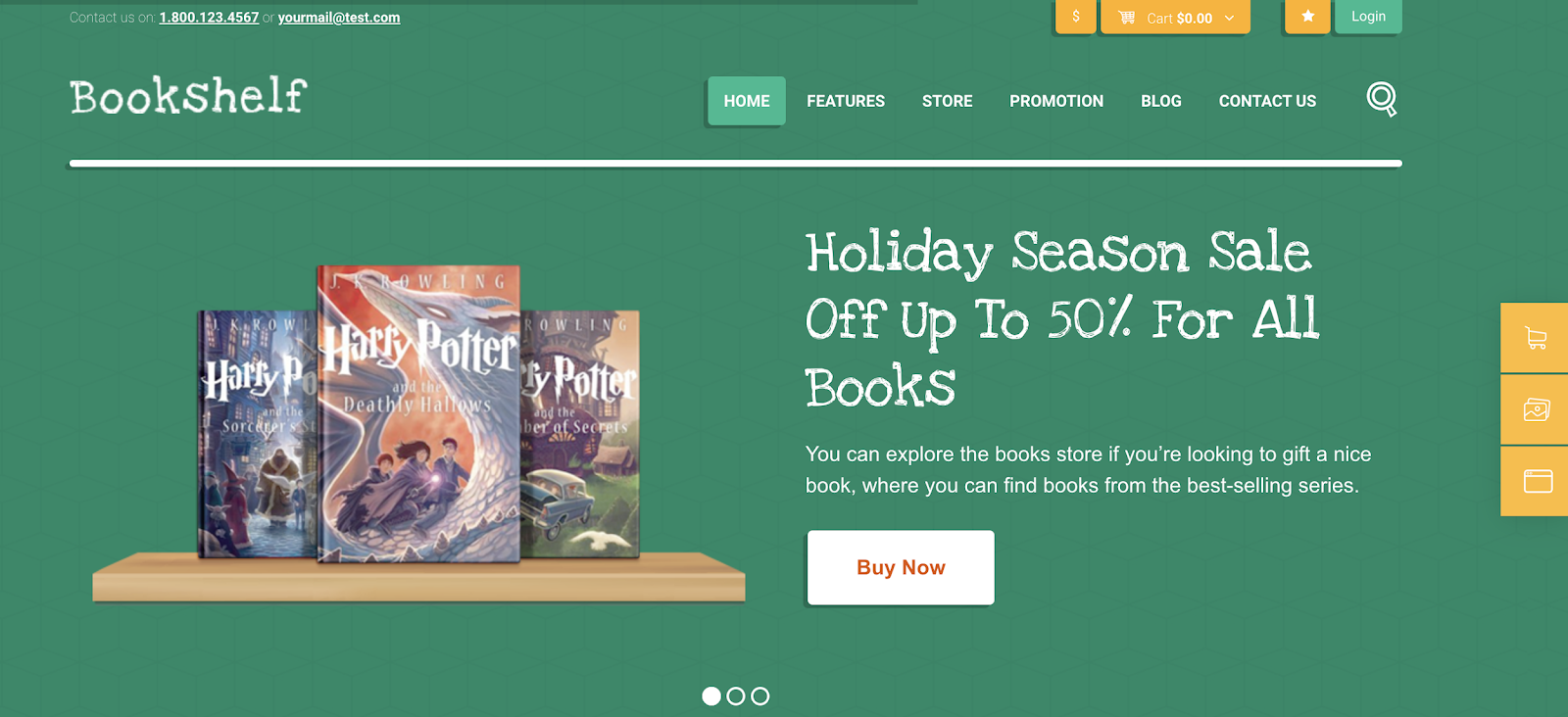 Bookshelf is a powerful theme to build an online library, literature blog, or avid book reader site. You can sell anything from audiobooks to video games to movies. Its user-friendly admin interface makes it easy to manage your digital products on a single platform.
This WooCommerce theme includes four layouts: boxed, wide, full wide, and full screen. You also have two footer styles, three slider styles, and parallax background. Customize your website with ThemeRex widgets, like popular posts, top 10, social icons, logos, advertisements, and recent reviews.
Bookshelf is compatible with several plugins: LearnDash, Swiper Slider, and WPBakery Page Builder. With a host of shortcodes, you can quickly build unique features—accordion, columns, Google Maps, testimonials—for your site. Translation options are available to accommodate global audiences.
5. Pragyan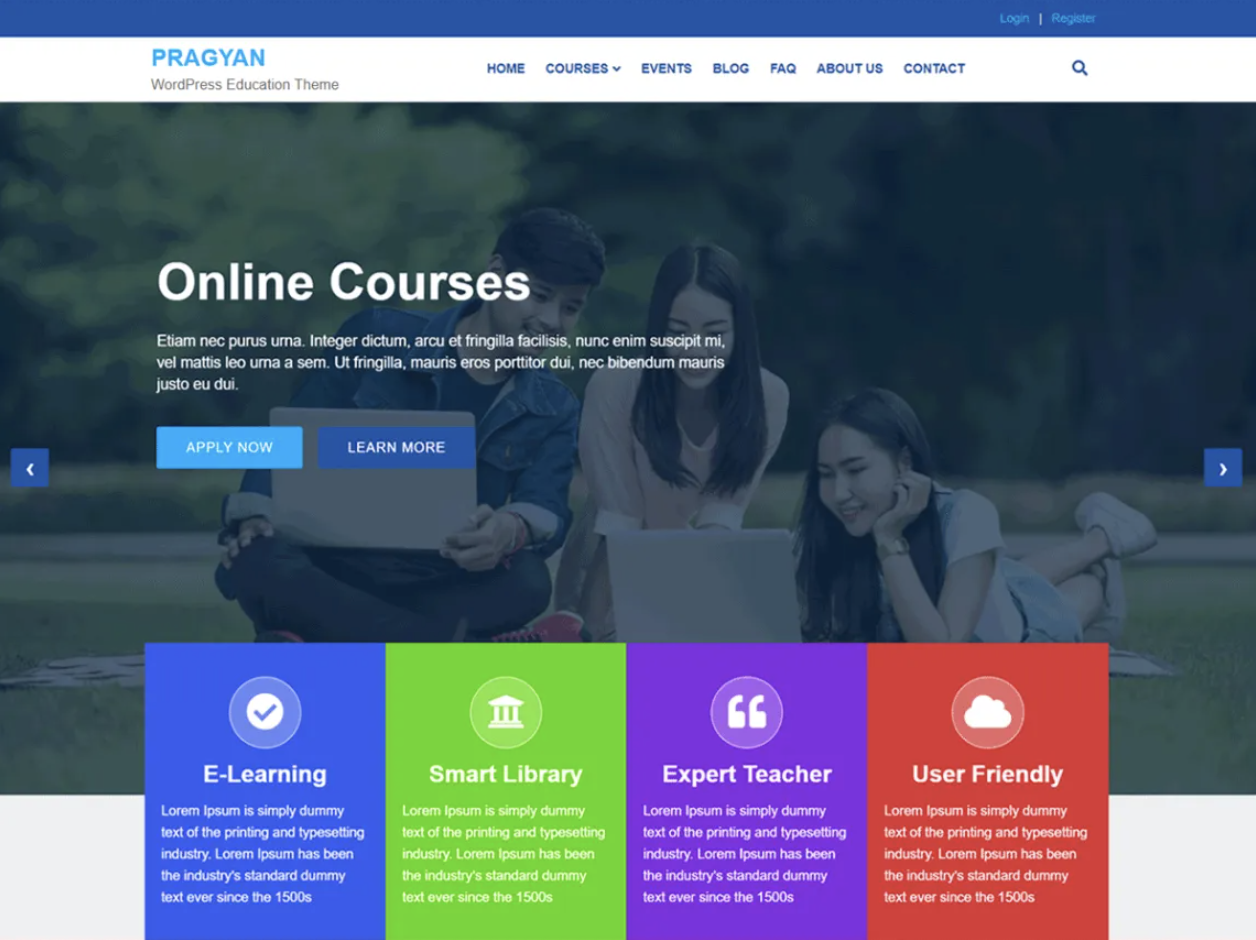 Pragyan is a popular theme for building educational websites. Whether you're a college instructor or an online trainer, this theme offers a clean design to teach individuals. You can build an online course and support it with plugins like LearnPress, Tutor LMS, and Sikshya LMS. 
Getting pricing right for your online course is key. The right price can communicate the value you offer, and affect your profitability.
Customize your site using widgets and add a featured slider to highlight specific posts. You also can teach students from around the world with this translation-ready theme.
6. Stocky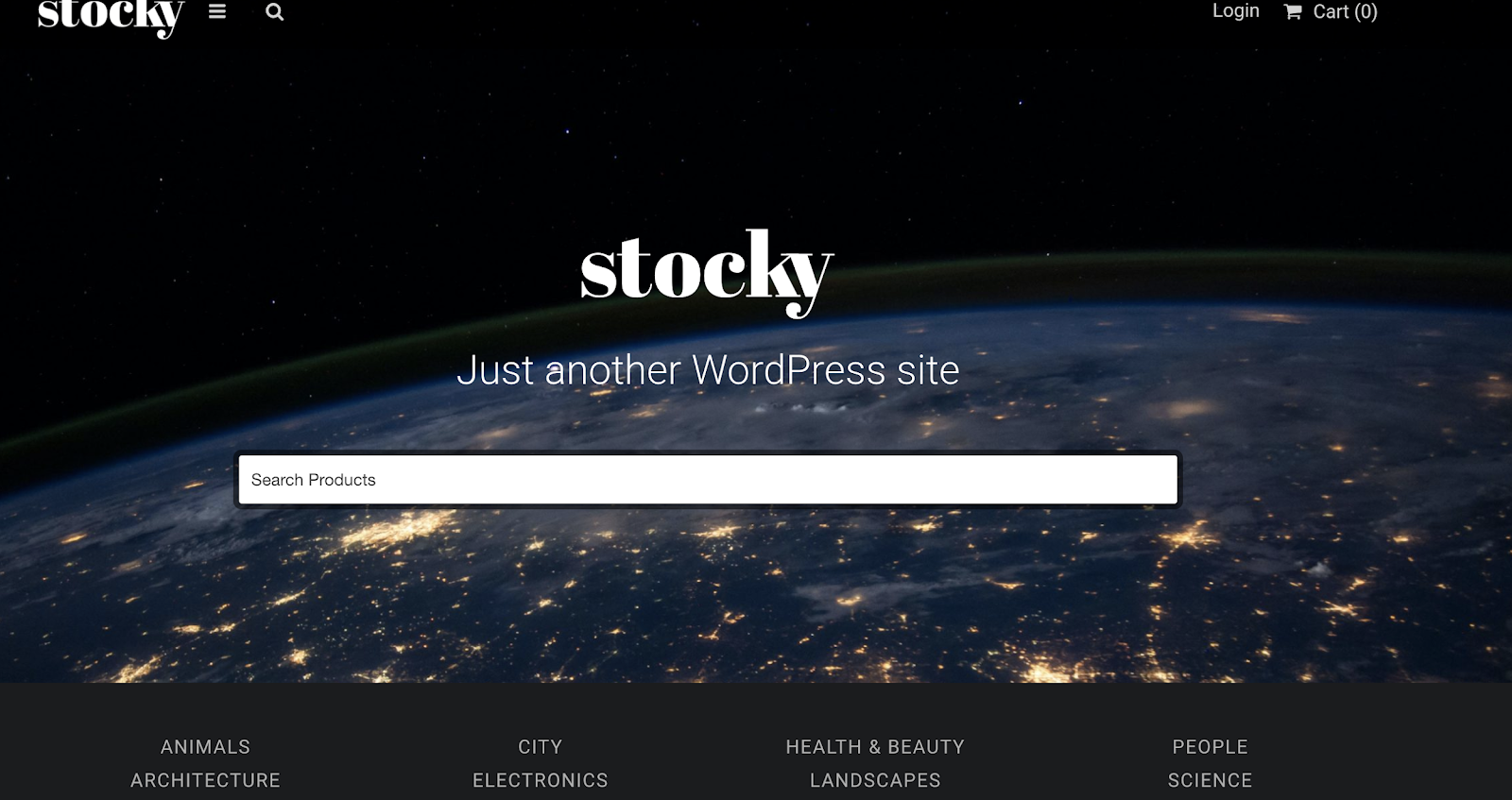 Stocky is a photographer's dream theme for website creation. You can sell your photos similar to any of the major online marketplaces. With the Easy Digital Download extension, there's also the opportunity to allow other creators to upload their photos and sell through your site. 
This WooCommerce theme comes with ready-made page templates. You can quickly build a homepage, vendor portfolio, registration page, and contact page. Stocky will automatically generate a gallery on the product's page when you upload your images. 
Other out-of-the-box features include discount codes, download activity tracking, and affiliate system integration. You can upgrade to get premium extensions, like software licensing, front-end submissions, free downloads, and invoices.
7. Publisher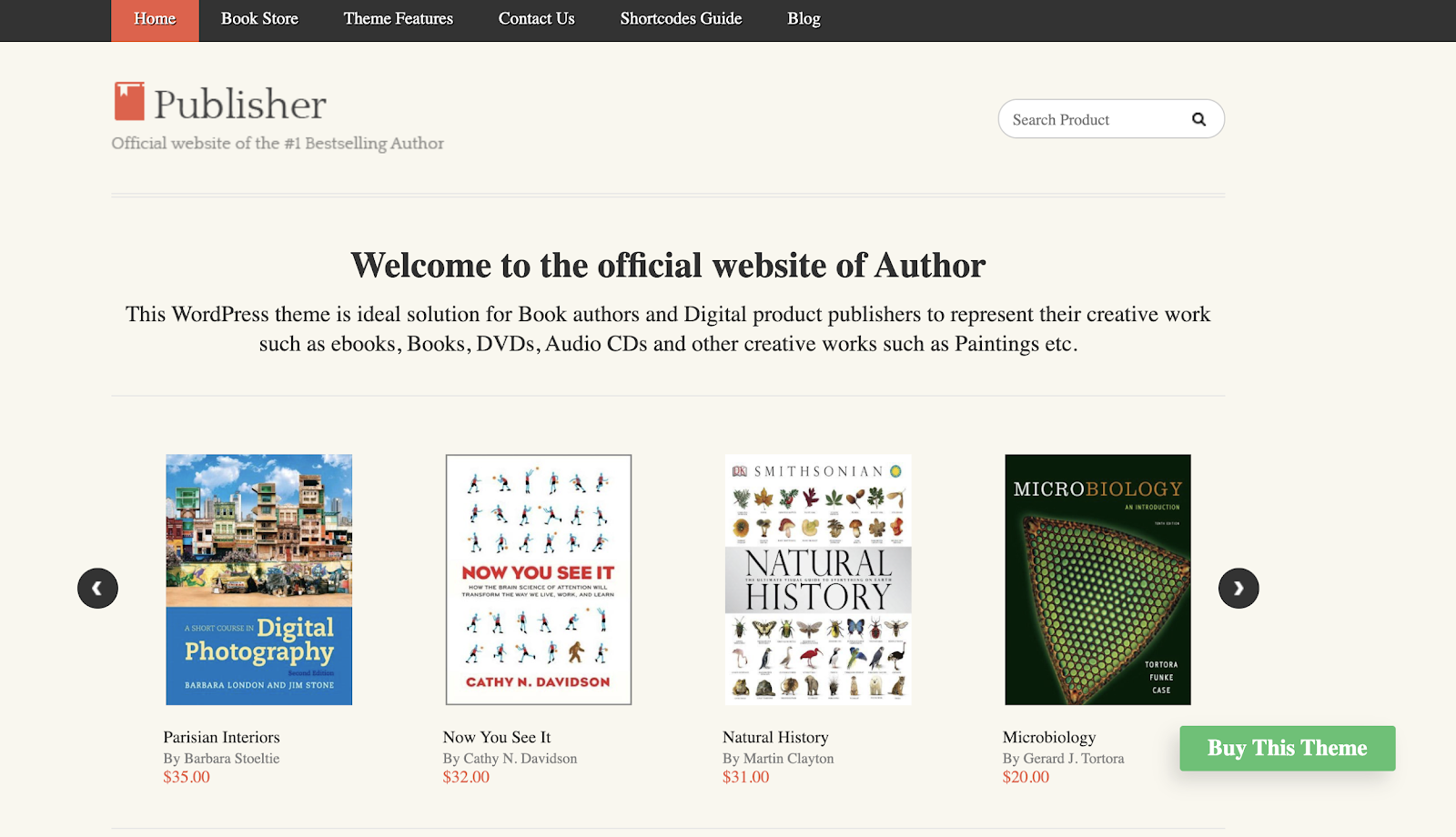 Publisher is the ideal theme for authors and writers to promote and sell their books online. In a matter of minutes, you can customize the theme with unlimited color options, a built-in blog, and a mega menu. 
Designed for selling, you can set up an online store, add product reviews, and create a product slider. If you need help, try the theme's installation guide or contact support.
"Many businesses sell their digital products on their own websites or online stores. This is an excellent strategy, as creating your own website not only makes you more available to online shoppers, it also helps build your business or organization's brand," writes Michael Jung, a contributor at Constant Contact.
You'll also get back-end capabilities to manage email, a catalog mode to promote books, and currency options to sell to customers in different countries.
Select a WooCommerce Theme for Your Digital Marketplace
Digital products can provide a new revenue stream for your business. You want to choose a theme that showcases your products and offers your shoppers convenience. Try one of the above-mentioned WooCommerce themes to build your website.