Whether it's a pet store, a dentist's office, or a pizzeria, if you run a local business, chances are one of the main ways people look for what you're selling is via Google.
Getting found on Google (and its less popular counterparts, Bing and Yahoo) is a big and lucrative challenge—one that a whole industry has grown up around. Search engine optimization (SEO) is difficult, competitive, and can be costly to do well. Which can make it overwhelming for small businesses trying to figure out how to make headway on a budget.
But local businesses have an edge when it comes to SEO. You don't have to compete against every business in your industry nationwide. Someone in Chicago that wants a pizza doesn't care about pizza delivery places in Charlotte, and Google knows that. You only need to beat competitors in your immediate geographic area.
That doesn't mean the job is easy. You still have to compete with other local businesses, and that means SEO still requires an investment. 
If you're new to SEO, the best place to start is with our Beginner's Guide to SEO ebook. But once you've covered the basics, you still have more work to do if you want to be (and stay) competitive.
Here are eight advanced steps your local business can take for more success in local SEO.
1. Perform an SEO audit.
If you've been doing SEO for a year or more, developing the habit of regular SEO audits is a good practice. Taking stock of where you stand now provides you the information you need to improve your strategy moving forward. 
Start by analyzing your current website analytics. How are people finding your website now? What pages on your website are generating the most traffic? How often do your website visitors take the actions you want them to, such as making a purchase, signing up for your email list, or coming to your store? And what keywords are you ranking for now?
An analysis will lead to a better understanding of what your audience responds to. If you can find trends in which keywords you're ranking for, and what types of pages and content most often lead to conversions, you can update your SEO strategy so the efforts you put into it will go further.
2. Make sure your website works well on mobile devices.
Smartphones and tablets are a huge part of how people interact with the web. And local business websites are likely to encounter visitors that look up what's nearby when they're out and about, making it especially important that you have a website that's mobile friendly. 
Google has been upfront about favoring websites that work well on mobile. And if improved SEO wasn't a good enough reason to invest in mobile, it's also important for getting and keeping customers. A website that's difficult to navigate on a smartphone will annoy visitors and lose you business.
Google has a Mobile-Friendly Test where you can plug in your URL to see how well your website works on mobile devices now, and get suggestions for ways to make the mobile experience better. 
If you find your website still needs a lot of work, don't worry. Any good designer, developer, or agency you hire these days should have experience in mobile design. And most website builders make it easy to create a website that's responsive. 
3. Optimize your Google My Business listing.
Google's algorithm is designed to recognize when a keyword has local intent. That's SEO-speak for keywords where the person searching is interested in finding results located nearby. For these keywords, the search engine results page (SERP) prominently features a map and a local pack of three businesses nearby.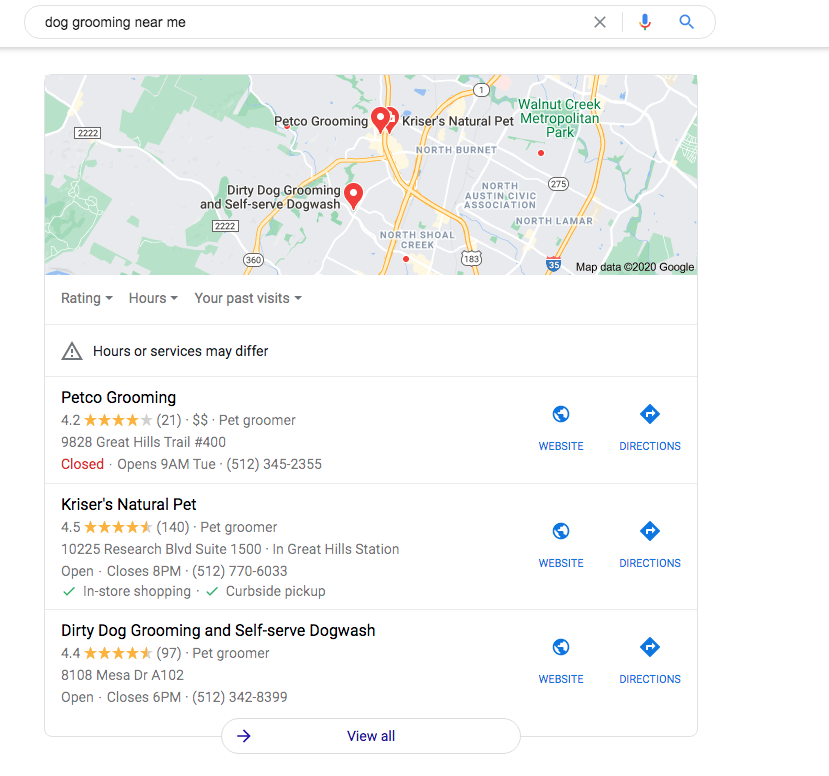 One of the main things Google uses to determine which results to show in the local pack is the information in your Google My Business listing. Making sure your Google My Business listing is claimed, complete, and optimized is crucial for local SEO.
To do this:
Make sure you select the most relevant category for your listing.
Fill out all the information Google asks for. 
Add high-quality images.
Include a phone number with a local area code. 
Providing a thorough Google My Business listing isn't just good for rankings, it also provides potential customers more information about the relevant businesses in their area. If a customer sees your address and hours right there on the SERP, it can help them decide faster if you're the business they need. 
Has your local business been affected by COVID-19? Make sure you're using these free Google tools.
4. Get your NAP citations in order. 
NAP stands for name, address, and phone number. It's the acronym SEO professionals use to describe all of a company's listings around the web that include those three pieces of information.
You want your business listed in as many places as possible—think review sites like Yelp, local directories like the Chamber of Commerce, government sites like the BBB, etc. But you also want to make sure that the information is consistent in every place, so Google knows to connect them all to each other.
Figure out a consistent spelling to use for your business (for example, Elm St vs Elm Street—you gotta stick with just one). And choose one local phone number to include in every citation. Get to work adding your website anywhere it's not listed yet, and updating any listings that are outdated or don't match the standard information you've settled on.
This is a big job. You can make it easier by using a local SEO tool like White Spark, Loganix, Yext, or BrightLocal. These will help you identify local citations you can gain, and can automate the process of adding and updating citations on many sites. 
5. Get more reviews. 
Online reviews are widely believed by SEO experts to be a key ranking factor for local businesses. In a 2018 Moz survey of local SEO professionals, they estimated that around 15% of how Google determines what to include in the local pack is due to reviews.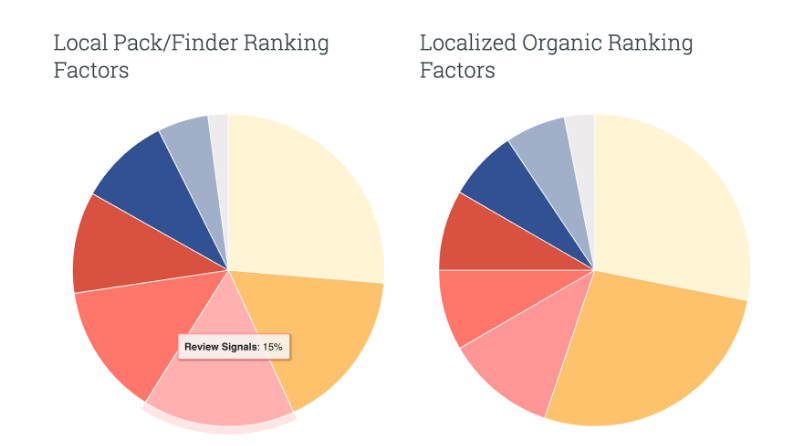 Reviews aren't entirely in your control—it's ultimately up to your customers to provide them. But you can take steps to encourage them. To start, make sure your products and service are exceptional. Take every opportunity to go the extra mile and really impress your customers.
Once you have that part covered, ask customers directly for reviews. You can do so in follow-up emails after a purchase, via signs in your store, and on your website. If you let customers know that a review matters to you, more of them will take the few minutes it requires to provide one. 
6. Create content focused on local issues.
Content is a big part of any good SEO strategy. It gives you the opportunity to target more relevant keywords and gives other websites more reasons to link to you. And regularly updating your website with fresh content signals to Google that your website is current.
All of that contributes to improved SEO. As a local business, you can make your content strategy go further by identifying local keywords to focus on.
A local bike business could cover topics like "how to prep your bike for a Colorado winter" or "best bike trails in Cleveland." On that note, here's an example from a local cycling shop in Cleveland: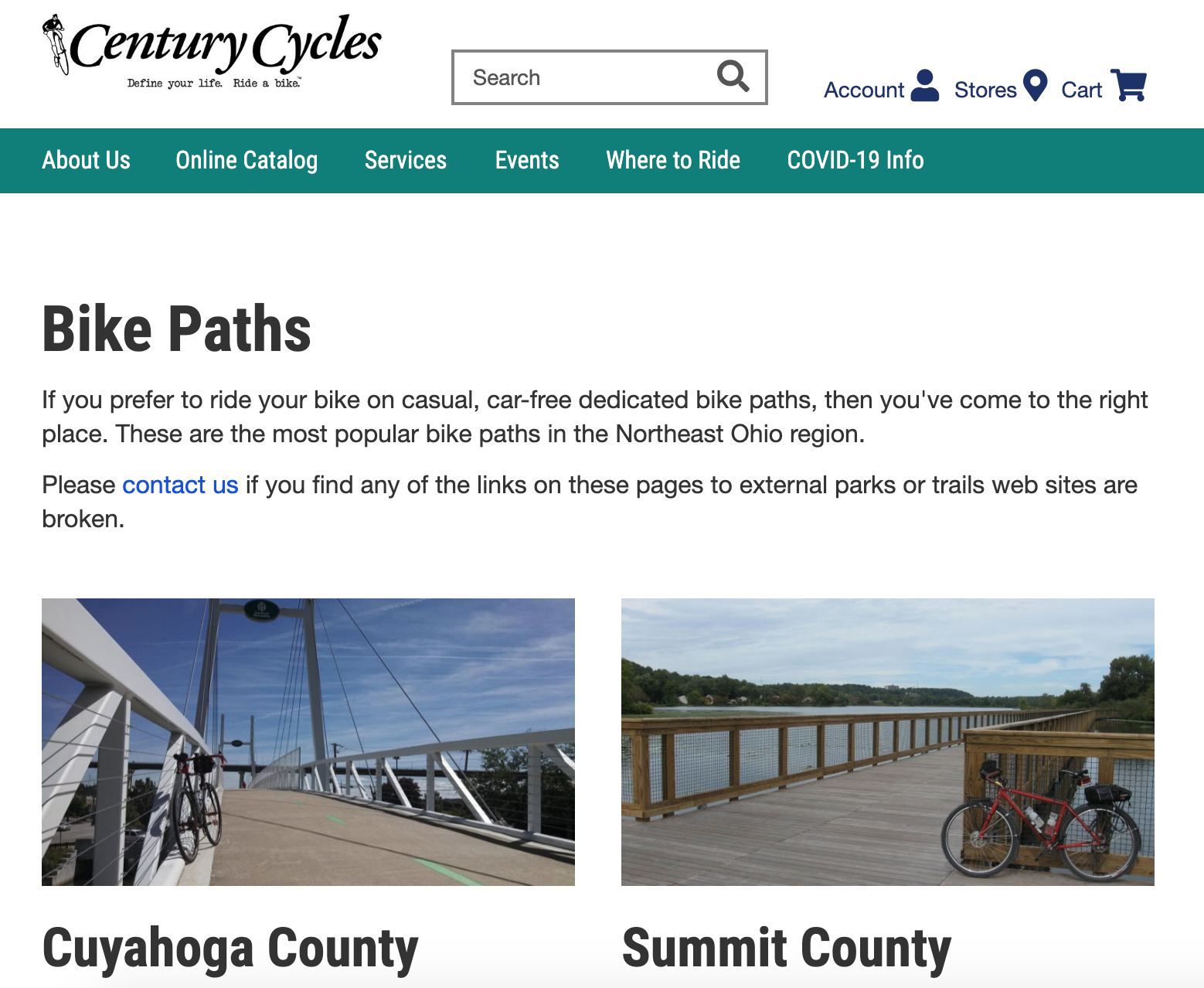 Content focused on local keywords and questions will be easier to compete for than ones national companies are vying for. And they'll bring relevant traffic from people in your community likely to buy your products. 
The hardest part of SEO is link building, and backlinks are a significant factor in how Google's algorithm determines your website's value. While you can find lots of different link building tactics to try—and some are well worth your time—the websites most likely to link to yours will be those run by people who know you and your brand. 
Building relationships with people in your community is a smart tactic for earning links. It's a slow process though. You can't expect to attend one networking event and get a bunch of links from it.
But by getting to know the owners of other local businesses, local bloggers and journalists, and people involved in local nonprofits, you'll gain the connections that increase awareness of your business in the local community. Over time, that will lead to more businesses linking to you naturally. And it will make any link building campaign that involves reaching out to other website owners easier and more effective. If the person you contact already knows you, they're much more likely to respond favorably to your request. 
Networking is more complicated in the pandemic era, but it's still possible. Most professional organizations have moved events online for the time being. Do some digging, and you'll find Zoom happy hours and Slack groups where you can connect with other business owners in your community. Make sure you approach these communities willing to give as much as you get—relationships have to be two-way to be valuable. 
8. Get involved with a local charity. 
Another smart way to build goodwill, give back to your local community, and build links all at the same time is to support a local charity. This can take a few possible forms. You could host a food or gift drive for a local shelter or food bank. You can promise a percentage of all proceeds for a set period of time to a particular local charity. Or you can host a fundraising event for an organization your audience cares about. 
These kinds of initiatives can earn you local coverage, which usually comes with backlinks. But just as importantly, they're a way to build up your reputation in the community and show your target audience your values. People will feel better about choosing a business they know gives back. 
Local SEO Is Good Business
A lot of the tactics involved in good local SEO are also just good business practices. Getting involved in your local community is a great way for local businesses to show customers you care. It's just a nice bonus that it can also lead to backlinks. Providing great products and services is important to keeping customers happy. And it's a pleasant side effect that happy customers leave reviews that help you earn a spot in the local pack. 
Understanding the ins and outs of local SEO is more important with every year. And it may seem like a lot of work and a high cost to do it well. But a lot of the investment you make in improving your rankings will also pay off in other ways for your business.