Did you know that email marketing has the highest return on investment (ROI) out of any other digital marketing tactic?
It's true. The median ROI for email marketing is 122%. That's four times higher than all other digital marketing channels.
The high likelihood of capturing additional website traffic from your email marketing efforts is the reason you should start building your email list as soon as you launch your website.
If you're new to email marketing, and the process sounds daunting, don't worry. This quick guide to getting started with email marketing will cover:
How to find a reliable email service provider (ESP)
How to capture subscribers
The best WordPress plugins for email marketing
How to set up your welcome campaign
By the end of this post, you'll have the knowledge you need to get started with email marketing and to attract your first batch of subscribers.
How to find a reliable email service provider
Long gone are the days of sending bulk email messages to a giant list of subscribers. Today's email marketing technology makes it possible to create highly personalized and automated messages that convert.
Here are just some things you can do with one of the best ESPs on the market:
Automate the process of capturing subscribers. ESPs allow you to create unique forms that send subscribers right to your designated email list. You don't have to do any manual work.
Send emails to a large list. Did you know that free email services (e.g., Gmail, Outlook) have caps on how many recipients you can include in an email, and how often you send large emails? ESPs don't.
Track emails. Every good ESP comes with tracking, analytics, and reports. These tools will help you see things like what content is converting, what your open rates are, and what links are most popular.
Automate campaigns. Why send one email when you can send a sequence of emails? ESPs allow you to set up a series of emails that are sent out automatically, based on things like subscriber behaviors, date, etc.
Customize email templates. If you're not a designer, you don't have to worry. The top ESPs come with various proven and well-designed templates that you can customize. Using a template is a much better option than a plain text email.
Segment your lists. With the help of an ESP, you can create various lists and only send relevant content to specific customer profiles. For example, let's say you sell shoes. You could create two lists based on gender. Then, you can send your men's shoe collection to your male subscribers, and your women's shoe collection to your female subscribers. 
Create emails with dynamic content. Dynamic content is another big advantage of an ESP. Instead of creating two emails, you also have the option to switch out content blocks based on subscriber data. Sticking with the shoe example, you could create a unique block of content with the new men's collection that appears to your male subscribers and another unique block of content with the new women's shoe collection that would appear in the same place for your female subscribers. 
These are just some of the advantages of using an email service provider. Keep in mind, when choosing an ESP, you have several options, but not all options are created equal. 
At Virtue Media, we recommend Constant Contact. Not only does Constant Contact integrate with Virtue Media, but it is also easy to navigate, has robust features, and the reporting is phenomenal. 
How to capture email subscribers for your eCommerce site
If you already have some email contacts, that's great! If you are starting completely from scratch, don't get discouraged. 
Constant Contact, and other ESPs, make it easy for you to build your email list via your WordPress website. How? These services provide a unique email form code to paste into your website. 
When you paste this code into your website and refresh your website, you'll see a gorgeous email subscription box. Every time someone enters their email address, the new email address will be added to your designated list in your ESP.
When you sign up for Constant Contact and have a WordPress site, the process is even easier. Here is how it's done.
How to create a Constant Contact subscriber form in WordPress
Step 1: Install the Constant Contact Forms plugin for WordPress. If you don't remember how to install a WordPress plugin, here is a quick tutorial.
Step 2: Sync your contact list or create a new list. You can sync your contact list by clicking on the "Constant Contact" icon in the right dashboard, and selecting "Sync Lists with Constant Contact" button on the top. You can create a new list by selecting "Add New List" and naming your list.
Step 3: From your WordPress dashboard, click "Contact Form" and then "Add New Form."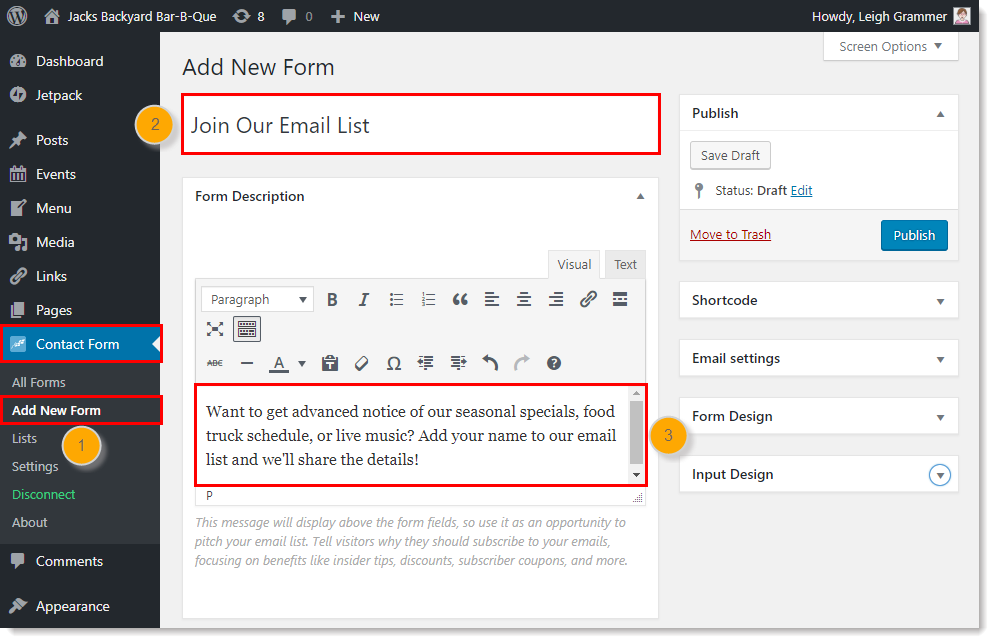 Step 4: Name your form and include a description of why visitors should subscribe to your list.
Step 5: Select the Constant Contact list you want to add new subscribers to.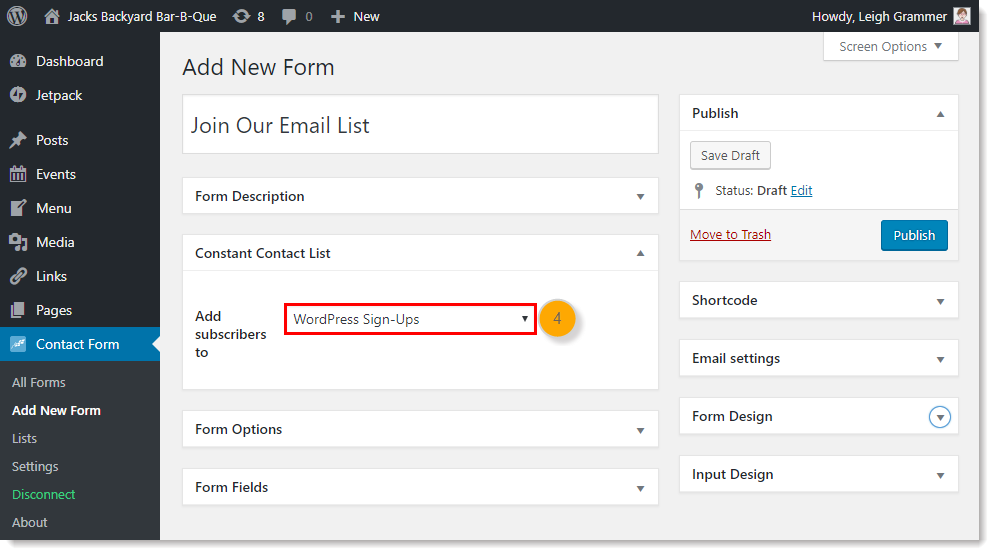 Step 6: Edit your button text, personalize any other text, additional fields as desired, and design your form.
Step 7: Press publish.
As soon as you publish your form, you can add it to a webpage or blog post on your eCommerce site. Let's quickly cover how to add your new form to a webpage and to a blog post.
How to add a subscriber form to your web page in WordPress
Let's say you want to add your subscriber form to a static page on your website (e.g., your contact page). Here's how you do it.
Step 1: Navigate to your WordPress dashboard and click the "Constant Contact Form Icon" and choose all "All Forms" from the menu.
Step 2: Turn your attention to the form page and copy and paste the shortcode of the form you want to put on your static page.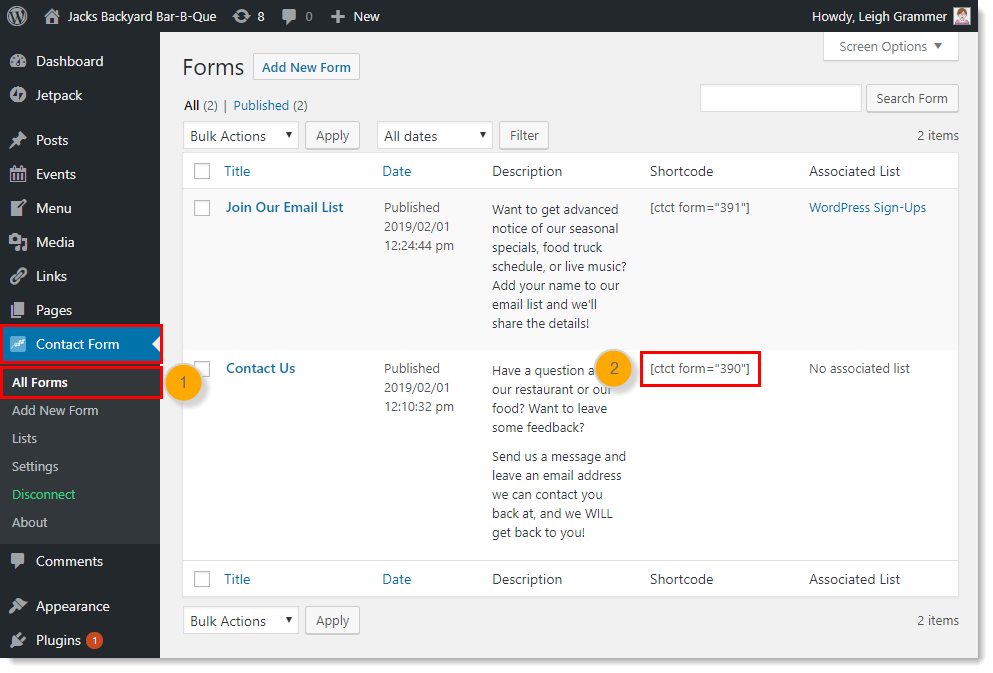 Step 3: Navigate to the dashboard and click "Pages" and then "All Pages."
Step 4: Find the page where you want the form and click "Edit."
Step 5: Click on the plus sign in the content box and choose "shortcode" from the options.
Step 6: Paste the shortcode you copied earlier.
Once you paste the shortcode, you'll see the subscriber box on your static page.
How to add a subscriber form to a blog post in WordPress
One of the highest converting places to put a subscriber form is directly in a blog post. If someone finds your blog post, likes what you wrote, and wants to keep hearing from you, they can subscribe to your email list right after they read your blog post. 
Here's how to add a subscriber to your blog posts with the Constant Contact plugin.
Step 1: Navigate to the dashboard and click "Posts" and then "All Posts."
Step 2: Click "Edit" on the blog post where you want to place your subscriber form.
Step 3: Click "Classic."
Step 4: Place your cursor where you want your form and click "Add Constant Contact Form."
Step 5: Select your form from the drop-down menu.
Step 6: Click "Insert shortcode."
Once you are ready to publish or republish your post, click "Publish" or "Update," and you will see the Constant Contact subscriber form in your blog post.
The best WordPress plugins for email marketing
While the Constant Contact plugin for WordPress is an awesome tool, it's not your only email marketing plugin option. 
Here are some additional email marketing WordPress plugins to consider when setting up an email marketing strategy for your eCommerce website.
Sumo
This email marketing plugin helps you set up subscriber forms on your website in the most strategic places. 
Here are some of the top places where you can place a Sumo email list subscriber form:
A smart bar that appears at the top or bottom of your website.
A list builder popup that shows up one second after page load.
A list builder popup that is embedded within an article.
A list builder popup that shows up after the user hovers the mouse over the address bar.
A list builder popup with a call to action button that appears one second after page load.
A list builder popup that shows up after a user clicks the button below the first paragraph.
A scroll box that will show after page loads and upon user scroll.
A welcome mat that will show up after the page loads and appear above page, and many other welcome mat options.
And more!
It's easy to install the Sumo WordPress plugin, connect it to your ESP, and include forms in various strategic places on your website.
Sumo also offers share buttons to help you boost your social media presence.
MailPoet
MailPoet is another cool WordPress plugin that allows you to get subscribers, set up automated welcome messages, and build newsletters from excellent templates right within your WordPress dashboard. 
Additionally, you can set MailPoet to automatically notify your lists whenever you publish new content.
Some other notable MailPoet features include:
Customizable sign-up forms
Removes inactive subscribers
Segmentation
WooCommerce customers email subscription at checkout
Abandon cart emails
SMTP for WordPress
And more!
One of the best things about MailPoet is you can handle your email marketing right within the WordPress platform. 
It doesn't matter whether you use the Constant Contact plugin, the Sumo plugin, or MailPoet. What matters is that you sign up for one of these services, create your first list and sign up form, and start your first eCommerce email campaign.
How to set up a welcome email campaign for your eCommerce website
There are many different email marketing campaigns you might create, including promotional campaigns, holiday campaigns, product launches, and more. But, one campaign every eCommerce website owner will use is a welcome campaign. 
A welcome campaign is the first email your subscribers will see from you, so it's critical to make a good impression. Here is what you want to address in your welcome email:
Build a relationship. If someone signs up for your email list, the first thing you should do is focus on them. This can include a warm welcome, a quick congratulations, or a reaffirmation that they made the right decision. Focusing on the customer from the get-go is a great way to go.
Set expectations. Someone just subscribed to your email list, but they aren't quite sure what that entails. Don't leave your subscribers hanging. Instead, outline what being part of the email newsletter means, including when to expect content and what type of campaigns to expect.
Address spam filters. Spam filters are so good these days, they sometimes even mark safe content as spam. It's smart to ask your users in your welcome email to add them to their list of trusted contacts. 
Include an offer. What screams "welcome to our online store" better than an introductory offer? People love discounts and special discounts, so give them one as a reward for joining the list.
Thank your new subscriber. Thank yous go a long way. Do as your mother taught you and thank your subscribers for joining your list.
Here is a good example of a welcome email from Bombas.

This Bombas email is well-designed, it welcomes the subscriber into the Bombas family, and it provides a discount code so subscribers can start shopping immediately. Good work, Bombas.
The process of setting up a welcome email is different for every ESP or WordPress plugin, but should be fairly intuitive, regardless of what you're using.
Here is a quick-reference guide to how to set up your welcome email if you're using Constant Contact.
Getting started with email marketing for your eCommerce website
Email marketing is a must if you're looking to boost website traffic and increase conversions. Thankfully, it's easy to get started with an email service provider and insert your subscriber forms into your eCommerce website and any relevant blog posts.
At Virtue Media, we recommend making the process easy by using Constant Contact. We also offer a free 3-month trial of Constant Contact. Get started today!