eCommerce success depends on getting potential customers to your website. It's a necessary step in every online sale. That makes eCommerce marketing one of the most important parts of any business plan. To get people to buy, you have to make sure they know you exist and where to find you. 
But when working out an online marketing strategy, you have a lot of different social channels to consider. How do you decide which social media channel to invest in? A good online marketing strategy meets people where they are. And with the ubiquity of social media, chances are a lot of your target audience is on multiple social media sites. This is the future of eCommerce. 
According to Pew Research, 72% of people in the United States are on social media. And most visit social media sites every single day. Social media isn't the only way to reach your audience online, but it's a powerful tool to include in your larger marketing strategy. And integration of social media with your website is a good way to make all your social media marketing efforts go further. 
5 Ways Integration of Social Media Can Boost eCommerce Sales 
Developing a presence on social media takes time and work, and it can feel like it's not worth much if you fail to gain much of a following there. For your investment in social media to make sense, you need to know it will provide some return on investment. Integrating social media into your website can pay off in a few tangible ways. Developing your social accounts will grow your brand awareness and give you insight as to how eCommerce has transformed marketing in today's market. 
1. Promoting social channels on your website encourages follows.
Outside of paid ads on social, the people who see your updates will usually just be those that already follow you. That makes building a follower base an important step in getting anything out of social media. But it can be hard and slow going. 
By integrating social media into your eCommerce website, you're telling people who already have an interest in your brand where they can find you on the other sites they spend their time on. 
A one-time website visitor is much less valuable to a brand than someone who extends the relationship beyond that first visit. A social media follow is one option for them to do that. It ensures they'll continue seeing updates from your brand, and makes it much more likely that they return to your website again down the line. 
2. Social media integration makes it easy for visitors to share your site.
Your social updates reach your followers, but every time a visitor finds something on your website valuable enough to share, it also reaches their followers. That's powerful. It means you reach a whole new audience—people that might just click on a link and visit your site. 
And it shows that audience that someone they trust likes your brand, which is a more persuasive case for checking you out than anything you can say about yourself. 83% of consumers in a Nielsen survey said they trust the brand recommendations of friends and family—making them the most trusted of all channels. 
When someone shares a link to your website with their network, it serves as an endorsement. They're saying your website is worth visiting. And people are more likely to take the step of sharing your website if you make it extremely easy for them. Social media integration with your website is how you do that.
3. New followers start an ongoing relationship with your brand.
When someone chooses to follow you on social media, they're saying they want to keep hearing from you. That's a pretty big deal for brands! 
People have a lot of different options for places to put their attention. Making an active choice to give some of it to you—not just once, but on an ongoing basis—demonstrates a genuine interest in your brand. 
And the consumers that decide to start a relationship with your brand are the ones that are likely to develop loyalty. That means an increased likelihood that they'll make purchases from you beyond the first—as long as your products and services are good enough to earn that loyalty. 
4. Social media can amplify your special offers.       
While a good social media strategy isn't all about promoting your products, consumers actually want to hear about it on social media when you're offering a new deal or having a sale. According to Sprout Social's research, discounts and sales are the number one thing consumers want to hear about from brands on social media. 
That may surprise marketers that have internalized the idea that a brand's social presence shouldn't be promotional. But the promotions are what customers expect and want from you. So the next time you're offering a great deal or discount, make sure your social followers know all about it. It's a good way to increase eCommerce sales.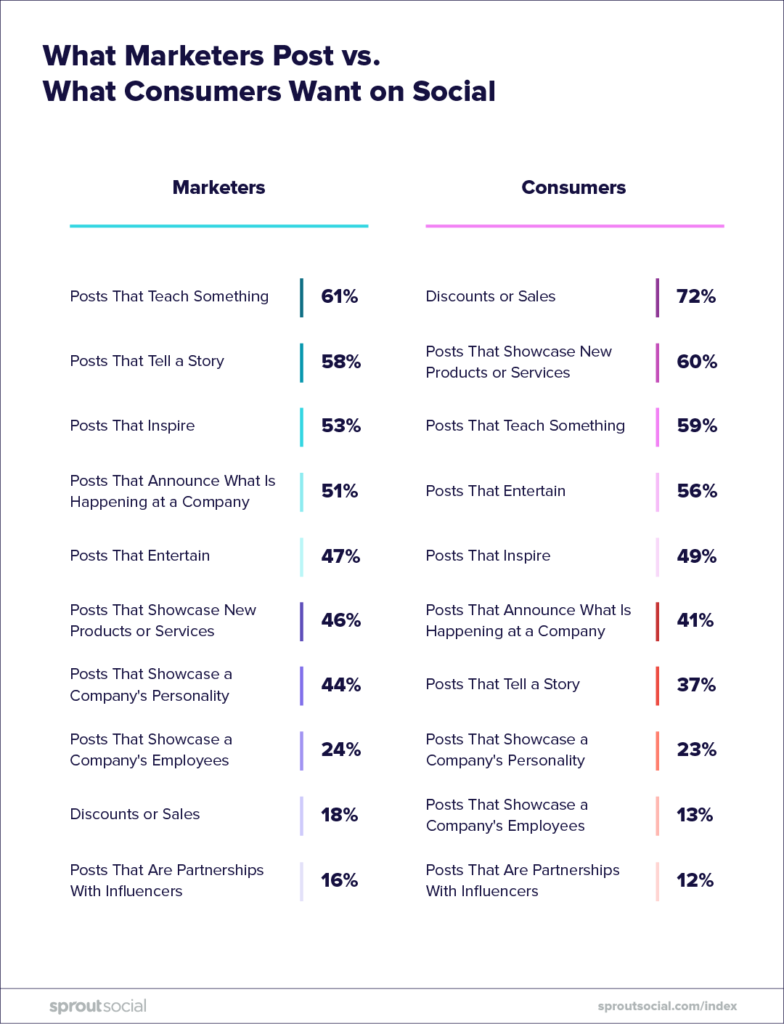 5. A strong social following drives more traffic.
One of the benefits of eCommerce and using your website to promote your social channels is that it drives more traffic back to your website. 
A solid online marketing strategy recognizes that the various online channels are connected and support each other. Some of the same people that follow you on social media because they saw your social profile promoted on the website will return back to the website when they see your content or products promoted on social feeds. And some will help drive new traffic to the site by sharing your content and updates with their networks.
Integration between the two channels just makes sense, as it helps both become more successful.
7 Methods of Social Media Integration to Consider for Your eCommerce Store
You have a variety of options for integrating social media with your eCommerce website. Here are seven ways you can make them work together. 
1. Show website visitors how to follow you.
Possibly the most obvious and basic way to integrate social media into your website is to add social buttons that show visitors where to follow you. Include a button for every social channel you're active on, then all visitors have to do is click on the button to find your profile on the site and follow you there.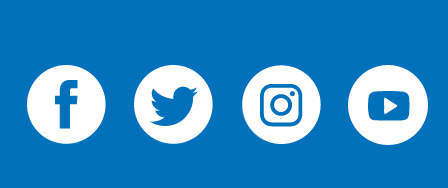 You can choose from a number of free social button templates that use the most recognizable images for each social network, so visitors will know at a glance what each one is for. Put them in your header or footer, so they show up on every page of your website. That way every visitor that likes what they see on the site can find you on the social media network of their choice with one click. 
2. Add social share buttons to website pages.
When someone on your website likes what they see, they're much more likely to share it with their own followers if there's an easy way to do it instantly. If they have to open up the social media network and then copy and paste the link, that adds multiple steps to the sharing process. While technically those steps only add a few seconds, that's all it takes to create a barrier to taking action. 
Social share buttons remove those barriers completely. One click, and your visitors can share the page with their networks. Add social share buttons to any page you think visitors may want to share, including your blog posts and product pages.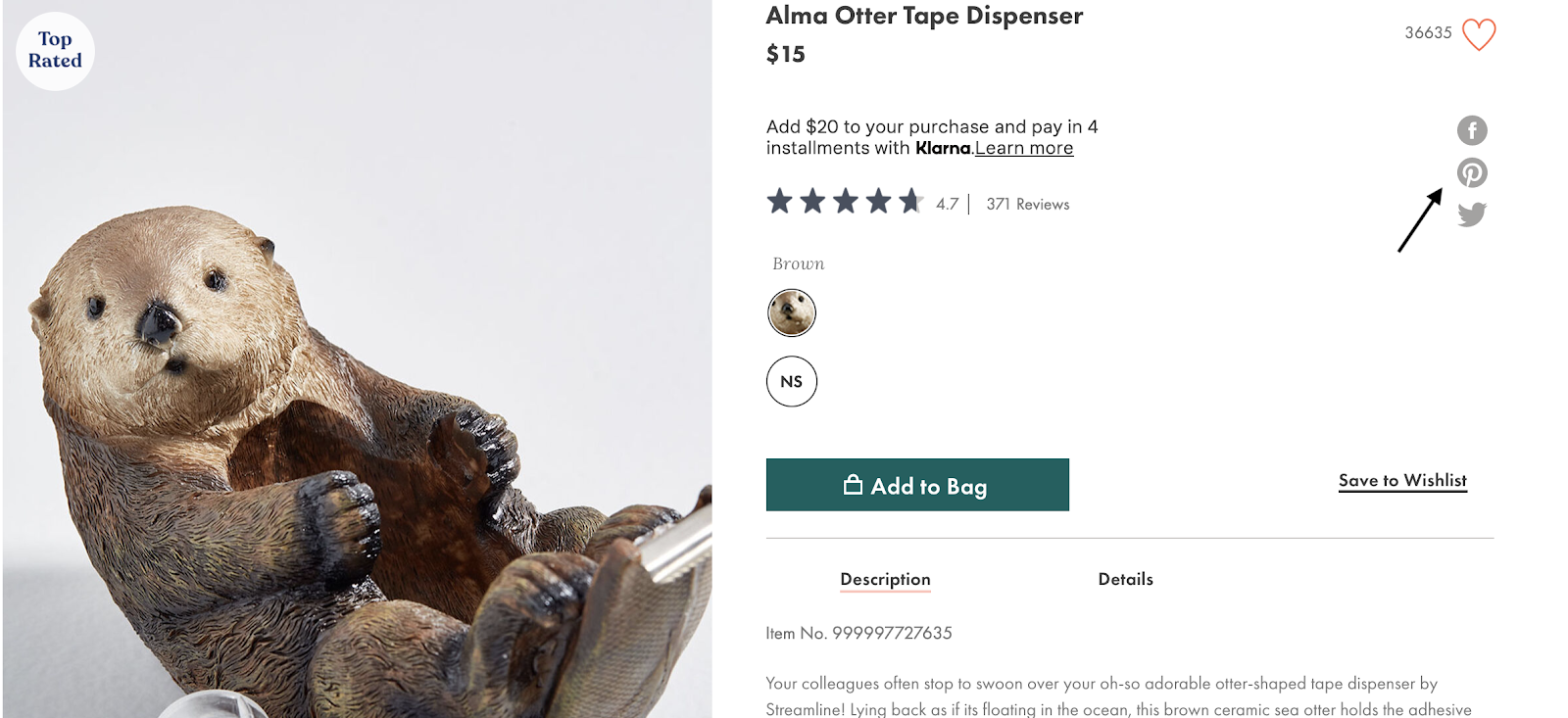 3. Provide pre-written updates visitors can share.
Social share buttons are a start, but you can make them go even further by pre-writing the message that will post with it. Use a plugin like Click to Tweet to pre-populate the social message your visitors will share. That way they don't have to do the work of writing something, and you have more control over the message their followers will see.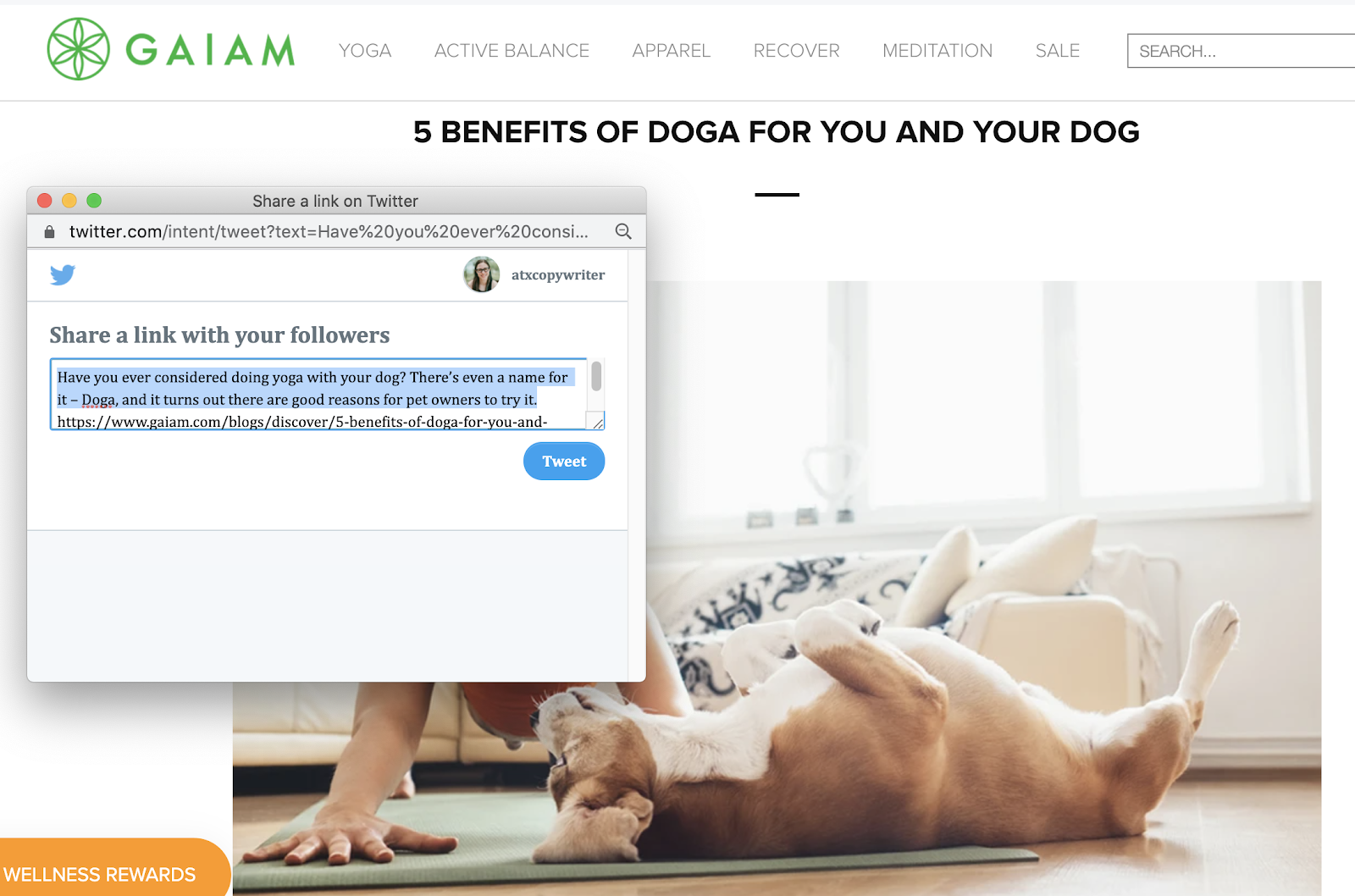 For content like blog posts, Click to Tweet also lets you highlight key quotes throughout the post readers can tweet. That presents more opportunities to encourage them to share as they read, and more variety in how people will see the piece on social channels.
4. Add a social feed to your home page.
Adding a social feed to your home page gives visitors a taste of what they'll see if they follow you. If you're proud of the social media presence you've developed, it's a great way to make the case for why your social accounts are worthy of a follow. 
It's also potentially a way to get social proof in front of your visitors. If your existing or potential customers are talking about you on social, you can create social feeds on your website based on the hashtag they use. Instead of showing your own social updates on the homepage, it will collect the social updates of your customers. That way, visitors see your products in practice and see evidence of how enthusiastic your customers are. 
You can add social feeds to your websites with the help of a plugin. The main options available are:
5. Promote branded hashtags on your site.
Talking about yourself on social media is one thing. But customers sharing how they feel about your products on their own social feeds is much more powerful. You can encourage them to do so by creating a branded hashtag and urging customers to use it. Encourage them to share photos of them using the product, or anecdotes about their experiences using it.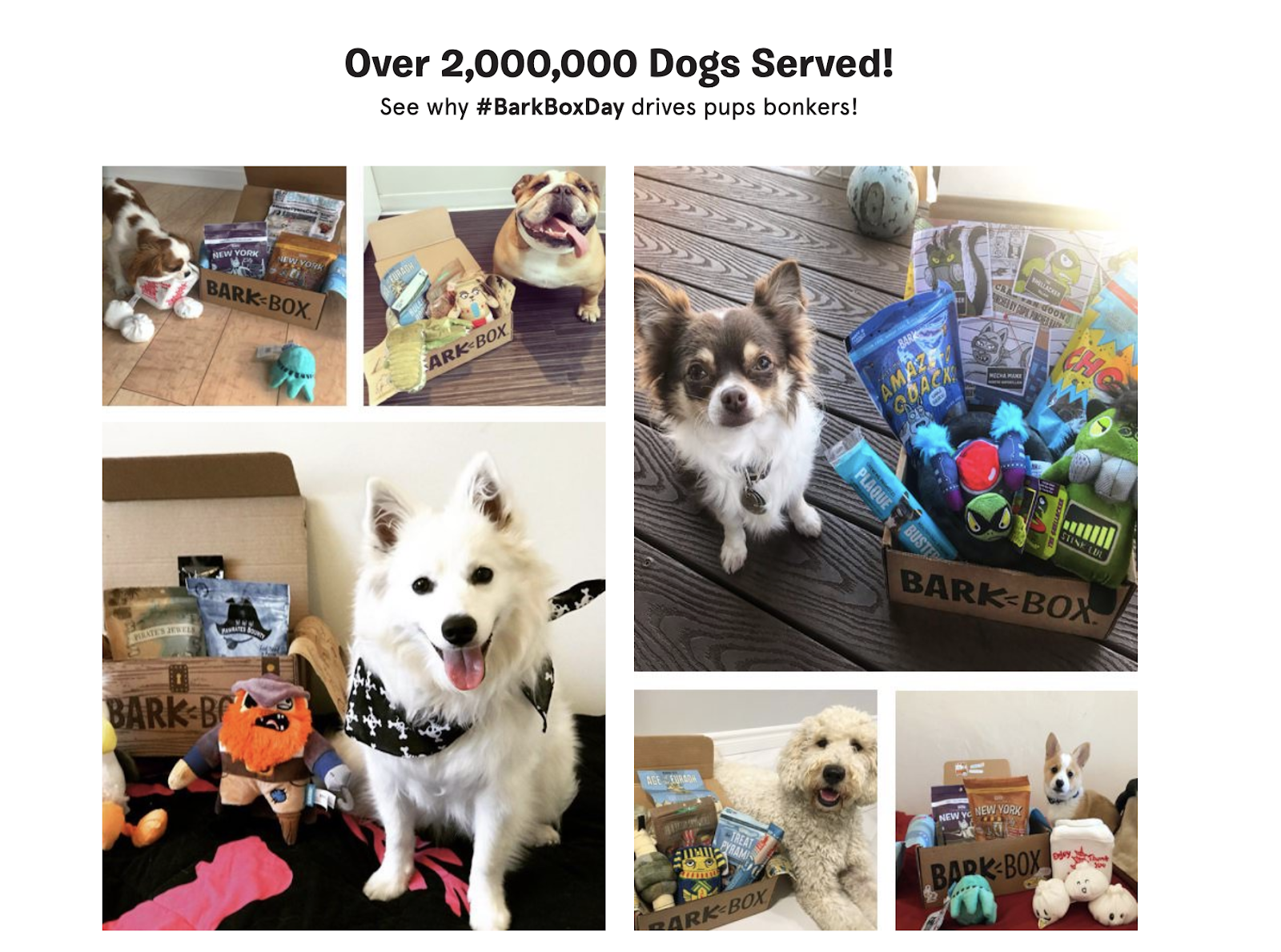 You can amplify what they share by collecting examples on your website (as with the social feeds just discussed), or by re-sharing them with your followers. 
Encouraging user generated content is a smart tactic for both gaining more content for your website and feeds, and for getting loads of examples of social proof and engagement at the same time. And customers are often happy to be featured on a brand's website or feed, since you're giving them a little visibility boost in the process.
6. Provide rewards for social interaction.
If you have a rewards program, use it to encourage more social interactions. Customers that join your loyalty program are those most likely to be enthusiastic about your brand and product. That means they'll be some of your best brand enthusiasts. Reward customers with additional points for following you on social media and/or sharing mentions of your brand.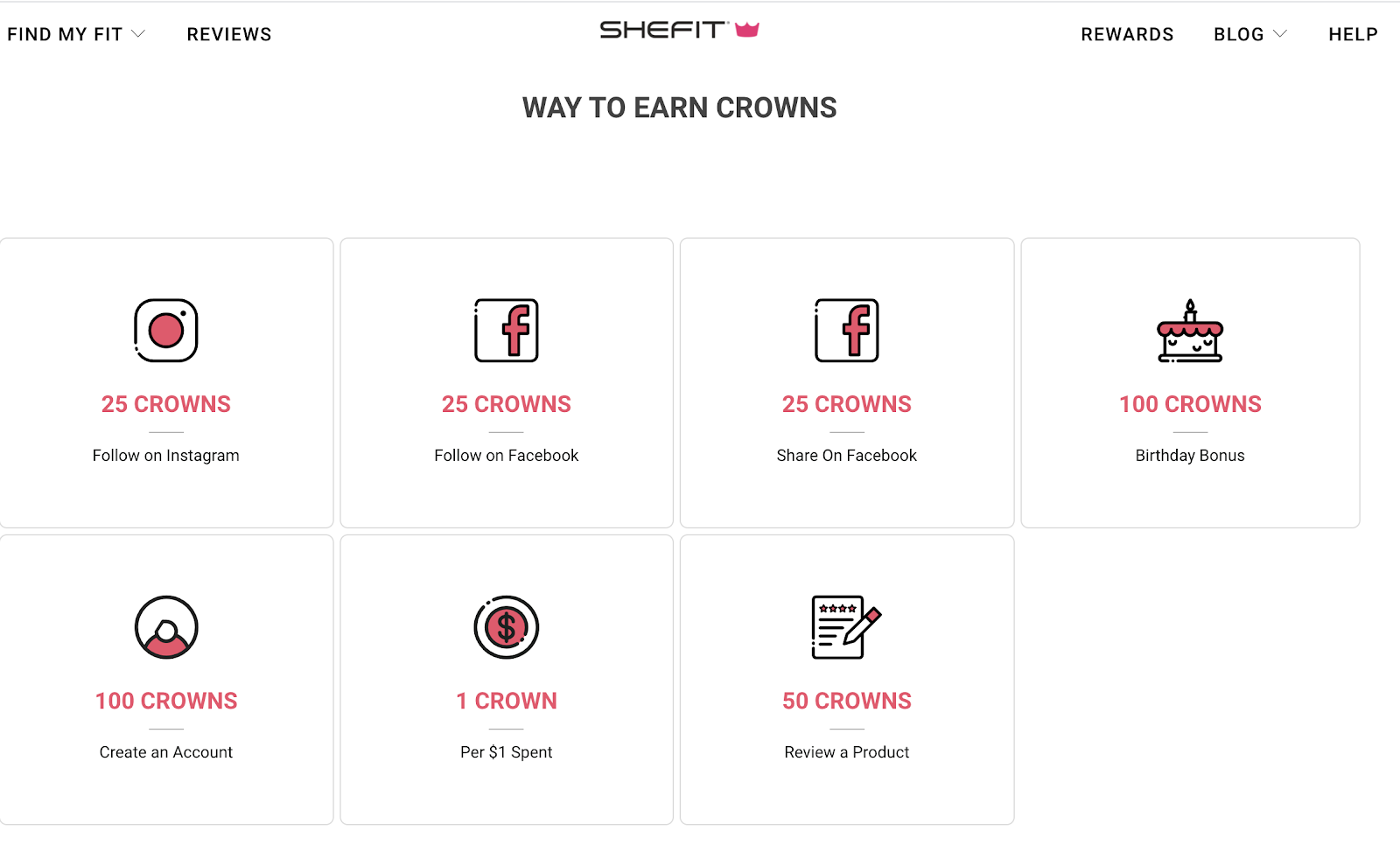 Providing rewards points for social actions gives them an extra nudge to follow you on their favorite social sites, and talk about you to their followers. That deepens their connection to your brand and increases the likelihood that they'll drive referrals your way—both results that are great for any eCommerce business.
7. Promote your website on social media.
Most of these suggestions have been focused on how to promote your social media profiles on your website, but integrating the two channels goes both ways. Your social feeds should serve as a tool for driving traffic back to your website. 
Use your social accounts to share the content you create and publish on the site. Share new deals and promotions with your followers. Announce new products across all your social feeds. And share any important brand updates on each social profile you manage.  
The people that follow you on social media care about your brand. They're precisely the people that appreciate your content, want to know about your new products, and will take advantage of your sales. Social media is good for promoting your website, just as your website is good for encouraging people to follow you on your social accounts.
Social Media for eCommerce Works Better with Website Integration
When creating an online marketing strategy for the future of your eCommerce site, you want to figure out what channels to include and how to approach each. But it's crucial that you not treat each channel as separate from all the others. Your strategy for every online marketing channel and tactic should be connected to all others. Your actions in one channel will be far more powerful if they work to strengthen another, and vice versa. 
That's absolutely the case with social media and your website. Your website is an important resource for promoting your social channels. And your social updates are a great opportunity to encourage people to visit your website and drive engagement. By integrating the two channels, you make both work better.