Loyalty. It's what every brand craves from their blog readers.
But loyalty isn't something you can buy at your local convenience store. Instead, loyalty is earned by consistently showing your readers that they matter. 
Whether that's answering readers' questions every third Tuesday of the month or publishing useful content, your brand holds the power to earn loyalty.
Let's dive into how you can build a loyal blog following. Check out these five strategies and implement one (or two) this week.
1. Publish consistently.
Loyalty from your readers won't happen overnight. You must consistently publish high-quality content to keep your audience engaged. New content will give your fans a reason to repeatedly visit your website. Inc. contributor Peter Vanden Bos suggests making writing a habit:
"Writing a post people want to read takes time, but try not to take too long. It's important to update your blog regularly and predictably, with at least two posts a week. Make it a habit."
Stick to your publishing calendar by planning topics ahead. That way, you know exactly what you will write about two or three weeks from now. You can even jot down a few questions that your post will answer.
It also won't hurt if you hire a couple of freelance writers. They can help do the research or create a well-thought-out outline for you.
2. Write actionable content.
Research reveals that 82% of marketers report actively using content marketing. Yes, almost every brand in the world is using content to connect with its audience. With the competition so steep, your business must think differently about content to stand out. 
For starters, you can do what most brands fail to do—write content that encourages readers to take action. But I'm not referring to marketing actions, like clicking a sign-up button or entering an email address. 
Rather, you should motivate your readers to take action in their everyday activities. Your brand can offer practical steps for your audience to achieve a relevant goal, like how to prepare a 15-minute meal or become a better public speaker.
Beardbrand understands the importance of providing its readers with actionable content. In the blog post below, the men's grooming company offers tips on how to grow long hair. 
3. Leverage social proof to build trust.
Let's get real for a second. The fear of missing out (aka FOMO) lives within a lot of us. That's what keeps all of us going back to watch one more TikTok video or scroll our Twitter feeds right before bed.  
It also validates our ideas and beliefs in the form of social proof. Adam Connell, a veteran digital marketer, explains what social proof looks like for your blog:
"When you get social proof right, you'll easily be able to convey your authority and help to build trust with your audience. As a result, you'll get more traffic, email subscribers, and customers."
Build trust with your readers by adding social proof to your blog. You can add quotes with photos from current loyal readers. Display on your website how many visitors currently read your blog. You may even want to interview a reader for a case study on how your blog helped them solve a problem.
4. Create personalized experiences.
Epsilon reports that 80% of consumers are more likely to make a purchase when brands offer personalized experiences. Similarly, your readers will be more engaged with your blog if they feel like it's tailored to their needs. 
Blog personalization can take shape in many different ways. You can group your blog content by audience type, specific interests, or the estimated time to read posts. For instance, if you know some readers have limited time, you can direct them to your shorter posts.
Check out this example below from clothing retailer White House Black Market. This brand's blog caters to shoppers interested in work and casual fashion. There's even a section to ask a stylist a question.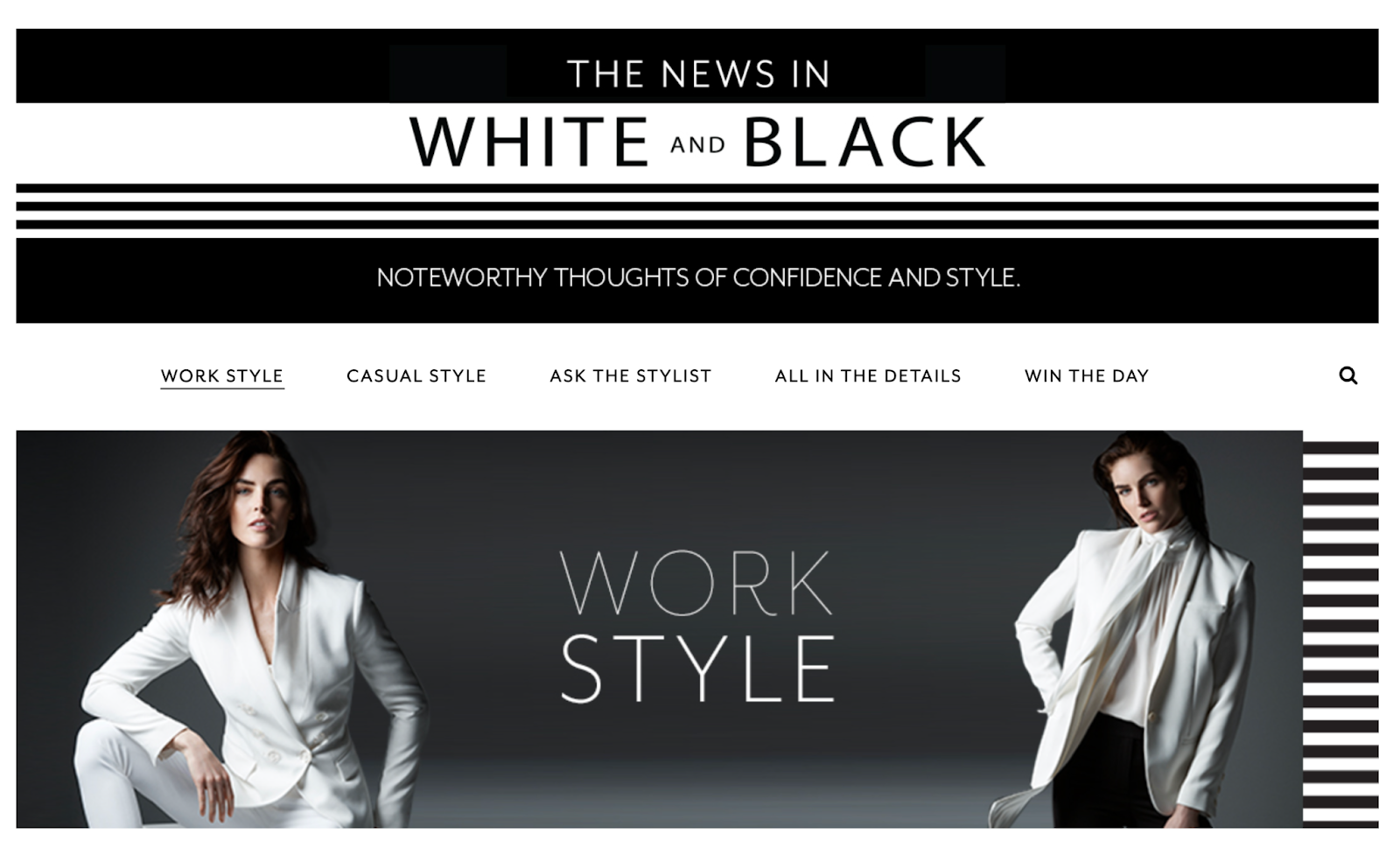 So, how will you personalize your blog? Analyze your current readership's needs and then start using those needs to segment your content into tracks. Don't be afraid to experiment with this technique multiple times until it truly engages your readers.
5. Get feedback from readers.
Feeling stuck in a rut? It happens to the best of us. Luckily, there is a solution to get your creative juices flowing again and even grab you a few loyal blog readers. 
What you need is a healthy dose of feedback. Constructive criticism opens the door to new ideas on how to actively engage your audience. However, you must be willing to receive both positive and negative feedback.
"Once you've identified any negative feedback, respond to it in a constructive way. Clarify any misconceptions and politely thank the respondent for bringing the issue to your attention," says Eric Siu, CEO of digital marketing agency Single Grain.
Make it a habit to ask for feedback from your readers every quarter. Be specific in your request. Maybe you want their opinions on the blog topics or the site design. After that, it's up to you to start making improvements.
Build an Engaged Blog Following
A loyal following doesn't happen in a few days. You need to consistently publish actionable content and ask readers for their honest feedback. Over time, you'll have the trust of your readership, and they'll keep coming back for more content.