The about page on your eCommerce website should be more than just an afterthought. This is especially true considering the about page is the second most visited page on websites, just after home pages.
Nailing the copy, design, and information included in your about page can build your credibility as a brand, offer an opportunity for you to tell your story, and provide customers with an idea of who you are, and why they should do business with your eCommerce company.
Beyond that, the goals of your about page should include:
Telling a story of your eCommerce company and why your company matters
Providing insight into the leadership of your company
Showing off your business model
Presenting any interesting stats
Using persuasive content to delve deeper into your story
When you put time and attention into your about page, you show customers that you're honest, passionate, and excited about sharing your brand with the world.
This post will cover everything you need to know about how to create the perfect about page for your eCommerce website.
A foolproof approach for your about page
Your home page is all about communicating a clear and succinct value proposition, providing a navigation bar for users to click to other content, and writing smart calls-to-action to get your audience to do something.
Your about page, on the other hand, is about delving deeper into your value proposition and really getting into the story of what makes your brand unique.
When someone clicks on your about page, they don't want to be sold; they want to learn who you and your business are.
To say it's difficult to write an about page is an understatement. It always feels weird to brag about yourself and your eCommerce company. Additionally, when you know the ins and outs of your company so well, it can be challenging to identify what you should include and exclude in your about page. It's also hard to write about you in a way that actually piques the interest of the readers (aka it's hard to write about yourself in a way that is also about the reader). 
Here is a quick overview of what you can include in your about page so it will resonate well with your website visitors.
1. Use good storytelling techniques
Any good story has a protagonist, conflict, and a resolution. Even Aristotle thought so. You may not be writing the next great dramatic play, but you can use some of the same storytelling elements on your about page to engage your readers.
Your company is the protagonist, the conflict is the problem in your industry, and the resolution is how your company solves the problem.
You can approach your storytelling as follows:
Set the stage. Talk about the main players at your company, how they came together, and who they are in the industry.
Introduce the problem. What are the pain points your readers face? Talk about industry issues in detail, and why your company is necessary.
Rising action. What are some of the problems you faced as you built your company? These difficulties may be challenges your audience is currently facing—challenges that will help customers connect with you. Include important milestones you encountered along the way.
Solution. Discuss how your company solves industry problems and how you overcame obstacles.
Follow up. Describe your mission statement, the future of your company, causes you will support, and goals moving forward.
These storytelling elements are rooted in the foundations of constructing a good narrative and will help you capture your readers' attention.
You may be wondering, "How does this format translate into a good about page?" Let's look at an example from Wrightwood Furniture, an eCommerce furniture website.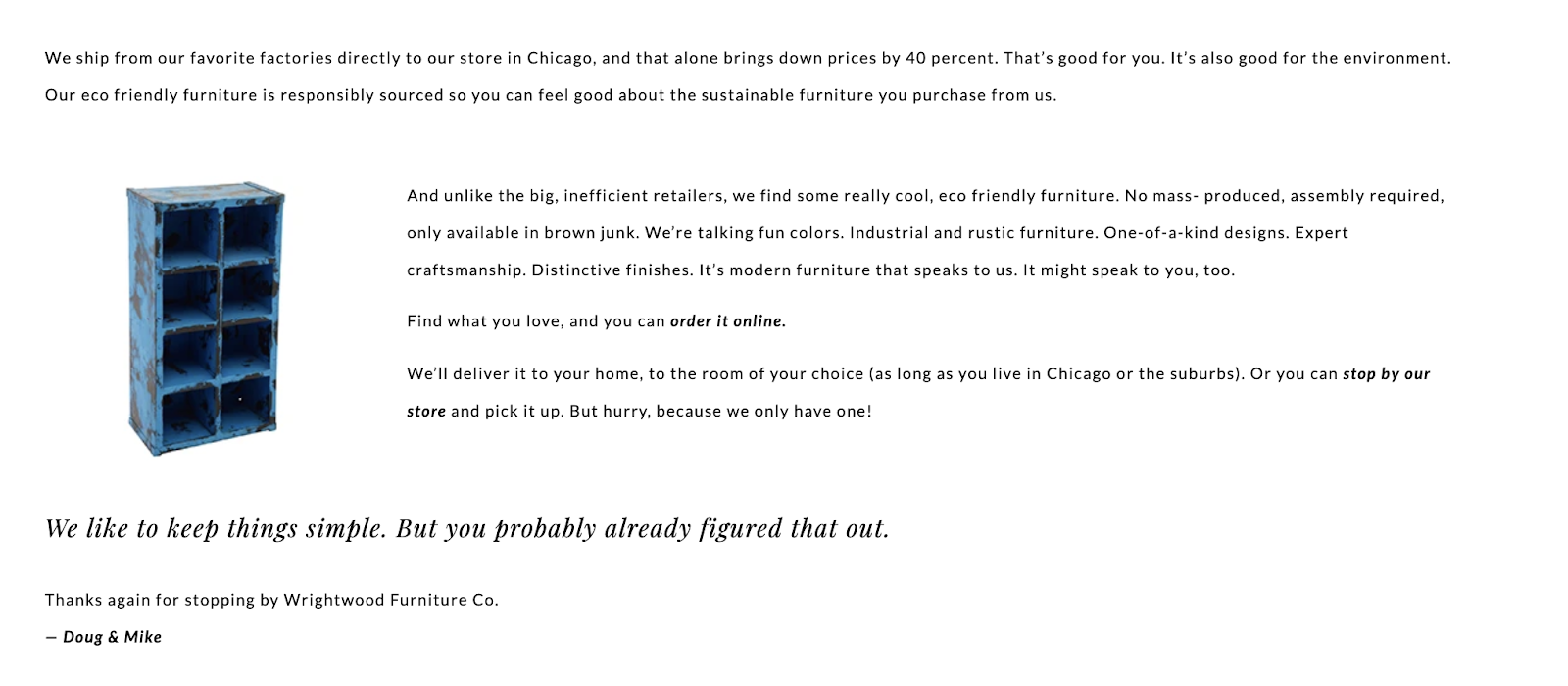 If you read through the Wrightwood Furniture Co. about page, you'll notice they follow this narrative format almost to a T. 
Check it out:
Set the stage. They start out with an introduction, "We're Doug & Mike, the father-son founders of Wrightwood." The information that follows includes how long they have been working in the furniture business.
Introduce the problem. Next, they include pain points including higher prices and terrible quality from big chain stores.
Rising action. Doug and Mike talk about how these big chains used to be their partners, and now they are their competition. And, they talk about the reasons for the shift.
Solution. Doug and Mike next explain how they approach furniture sales and distribution differently by getting rid of the middlemen. And, they top it off by including some impressive numbers like how their method "brings down prices by 40 percent"
Follow up. Finally, they talk about their values—eco-friendly furniture, not mass-produced, no assembly required, one-of-a-kind designs, etc. You get the point.
After reading the Wrightwood Furniture Co. about page, I know exactly who they are, why they are in business, what problems they solve, what they stand for, and reasons why I can connect with their brand.
Yes!
Now that you have storytelling down, let's talk about some other ways you can enhance your eCommerce about page.
2. Include information about your mission and business model
You might touch on your value proposition on your home page, but your about page is the perfect place to go into detail about why your company matters. If your business model or mission is unique to eCommerce or something that makes you stand out in a crowd, talk about it.
Here are some things to consider addressing in an about page for your eCommerce business:
How do you source your materials? Are you eco-friendly? Do you have a low carbon footprint? Do you manufacture in the local area, and boost the economy? Do you avoid unethical manufacturing practices? People love to hear about how you operate, and not just why.
Do you support any charitable causes? If so, which ones? And, how does a purchase contribute to a good cause? 
Did your business start in response to any world problems? For example, the shoe brand, TOMS, started in response to hardships faced by children without shoes. Blake Mycoskie started a business, built giving back into the TOMS' business model, and TOMS talks about it on their about page. It's an excellent approach.

Do you cut out the middleman? What do you do to help customers save on their eCommerce purchases?
Are you fighting against big eCommerce monopolies in any way? Do you open the door for other companies to succeed?
These are all great bits of information to include in your eCommerce about page. They are the heart of your story and give your audience a reason to connect with you.
3. Share any impressive numbers
People love statistics. If you have impressive numbers, then include them on your about page.
Wrightwood Furniture Co. does this in their about page when they mention how big companies that use storing and driving services increased costs by around 30-50 percent of the cost of the product. They also mention how the Wrightwood method, shipping directly, brings down prices by 40 percent.
TOMS uses this strategy in their about page too. They include the following impressive numbers—numbers that make me want to buy their shoes:
Since 2006, our community has given nearly 100 million pairs of shoes to people in need.
Now, for every $3 we make, we give $1 away.
This team developed relationships with over 200 non-governmental and humanitarian organizations in 80 countries worldwide.
If a company says they built their business around charity, it's critical to show how they have impacted the community, and how consumer purchases contribute to the cause.
4. Introduce your team
You're the CEO and founder of your eCommerce business, and that's great. You've accomplished a lot and deserve the spotlight.
But, people also want to know about others that help keep the wheels turning at your company. Who are your team members? Who is your team of executives? Who helps with marketing? Sales? Operations?
HelpScout is one company that is not afraid to share the limelight with its team members.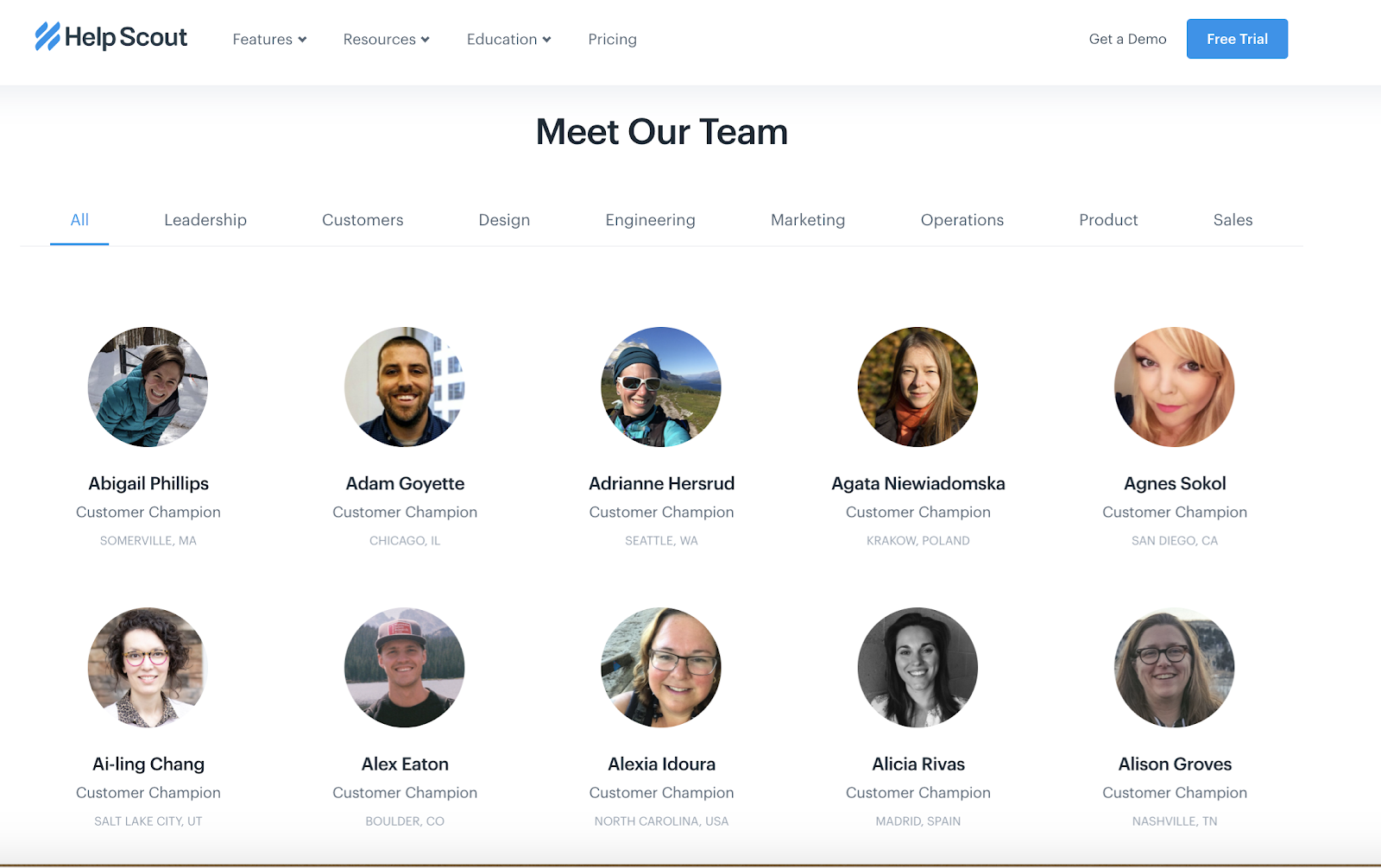 Anyone can navigate to HelpScout's about page, scroll down a bit, and literally meet anyone and everyone on the HelpScout team. This includes the leadership team, customer support, design, engineering, marketing, operations, product, and sales teams.
You don't have to include everyone's bio, but a picture, their role, and a brief interesting fact would be a great place to start.
5. Remember content is king
We've heard "content is king" so many times it's become everyone's favorite digital marketing cliche. It's also the truest slogan in all the land. 
Don't believe it? Here are just a few content marketing stats that will knock your socks off and have you quickly donning a "keep calm and content market on" shirt:
Year-over-year growth in unique site traffic is 7.8x higher for content marketing leaders compared to followers.
Content marketing costs 62% less than traditional marketing and generates about 3 times as many leads.
Conversion rates are nearly 6x higher for content marketing adopters than non-adopters.
If you want to spice up your about page, then consider adding a video, infographic, or a gallery of pictures.
Here is a fun example of a great introduction video from Speed Addicts. Why only tell when you can show and tell?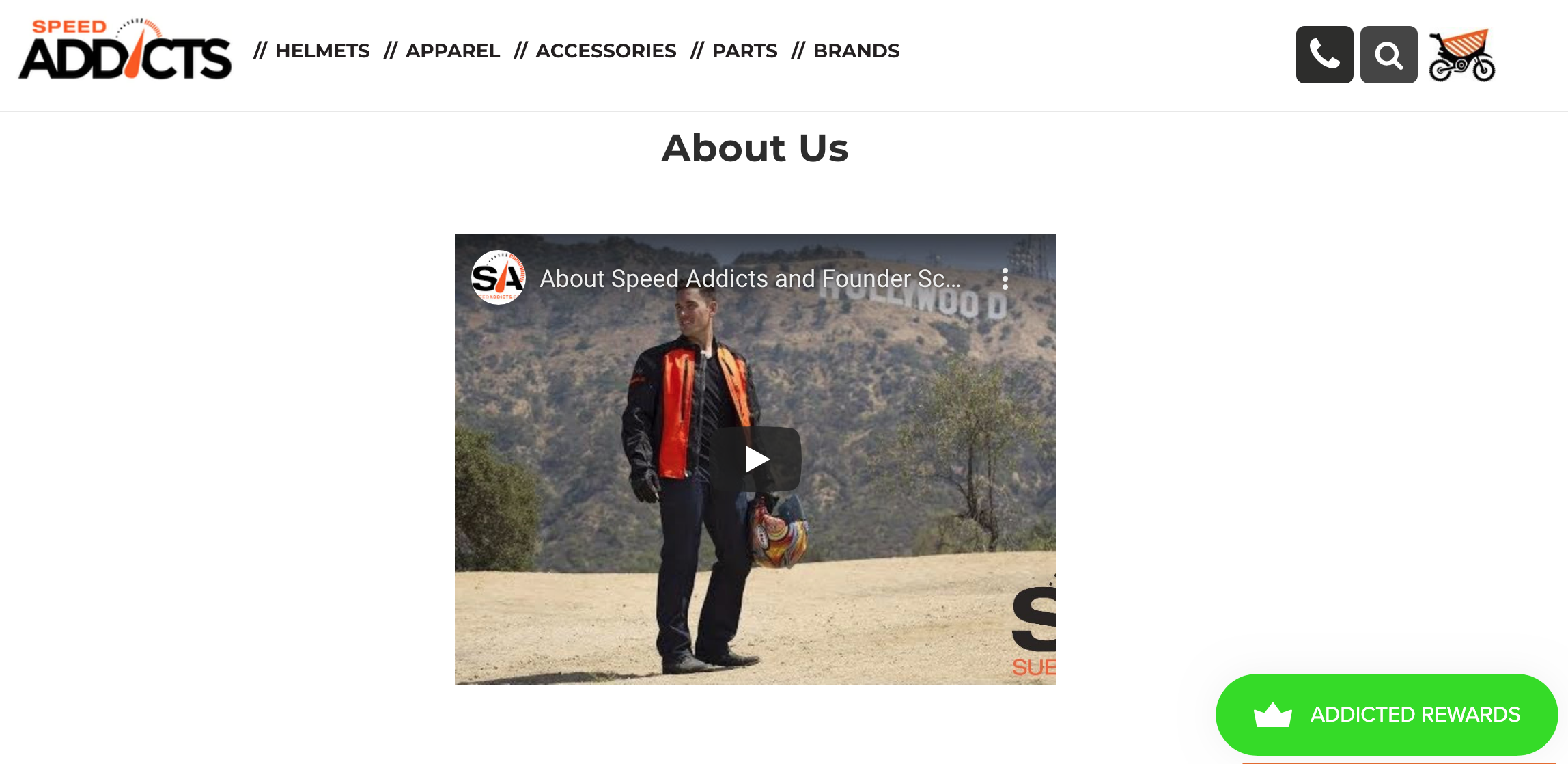 Remember, the same rules of storytelling that apply to writing your content also apply to creating videos for your website.
How to add an about page in WordPress
Now that you know how to write an about page and what type of information you should include, let's talk about how you actually add an about page in WordPress. Here are the steps to follow.
Step 1: Log in to your WordPress account
The first step in adding your about page is to enter your username and password into your WordPress account and press the "Log In" button.
Step 2: Navigate to "Pages"
Next, turn your attention to the left navigation bar, and find "Pages." Hover your cursor until a menu appears and click on "Add New." Alternatively, you can hover over the "+ New" icon on the top navigation bar and click on "Page."
Step 3: Add a title
When WordPress loads your new page, the first thing you will see is "Add Title." This will be the name of your new page. You can name it "About," or whatever you want the title of your page to be.
Step 4: Flesh out your content
Next, start writing your copy and including any content elements (e.g., videos, code, pictures, etc.). WordPress makes this process easy by offering various content widgets. 
All you have to do is click the "+" sign on the right side of your copy, and select the respective content block.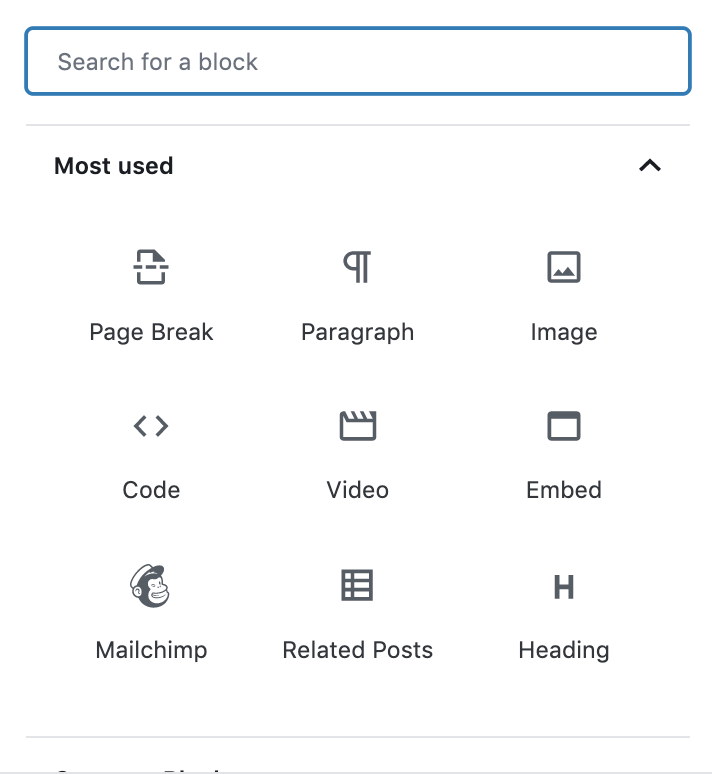 Step 5: Publish your page
Once you have finished writing your content and adding any pictures, video, or code, you can edit your page, and publish it.
Publish your page by clicking "Publish" at the top of the page.
When you have published your page, you can add it to your navigation menu. If you need more information on how to add a new page to your navigation menu, check out this quick tutorial.
As soon as you add your about page to your navigation bar, and refresh your website, you'll see your new about page.
Time to Create Your eCommerce About Page
Your about page is one of the most important pages on your eCommerce website. Your about page is an opportunity to introduce yourself, sell your value proposition, create in-depth content that resonates with your readers, and add videos or pictures for extra website engagement.
It's important to get your about page right, so make sure you focus on telling a story and honestly representing who you are and what your eCommerce brand is all about.
If you are looking for a place to host your eCommerce website, look no further than Virtue Media. Virtue Media offers shared hosting plans, a drag and drop website builder, and is compatible with WordPress. Visit the Virtue Media website today to get started with your new eCommerce website!