The goal of every blogger is to connect in meaningful ways with their audience. While there are several ways to engage your audience, it's smart to start by using pop culture to your advantage.
How? For starters, be an active participant in meme culture and post a unique take on a recent trend on your blog.
Memes are powerful content, especially since most people see memes every day, and 75% of people aged 13 to 36 share memes.
If you can get people to share memes from your blog, you can quickly increase your reach and drive more traffic to your blog.
This article will address the steps to follow to make a meme and some tools that will help you.
How do you make an outstanding meme?
Creating your own meme—especially one that people will share—may seem daunting at first. Here are the steps to follow that will turn you into a meme-creating machine.
1. Research viral memes
Before you go wild and spend your precious time creating a bunch of memes, it's wise to do a little research.
Take a deep dive into the meme world to see what memes have gone viral over time and most recently. For example, ever seen this grumpy guy?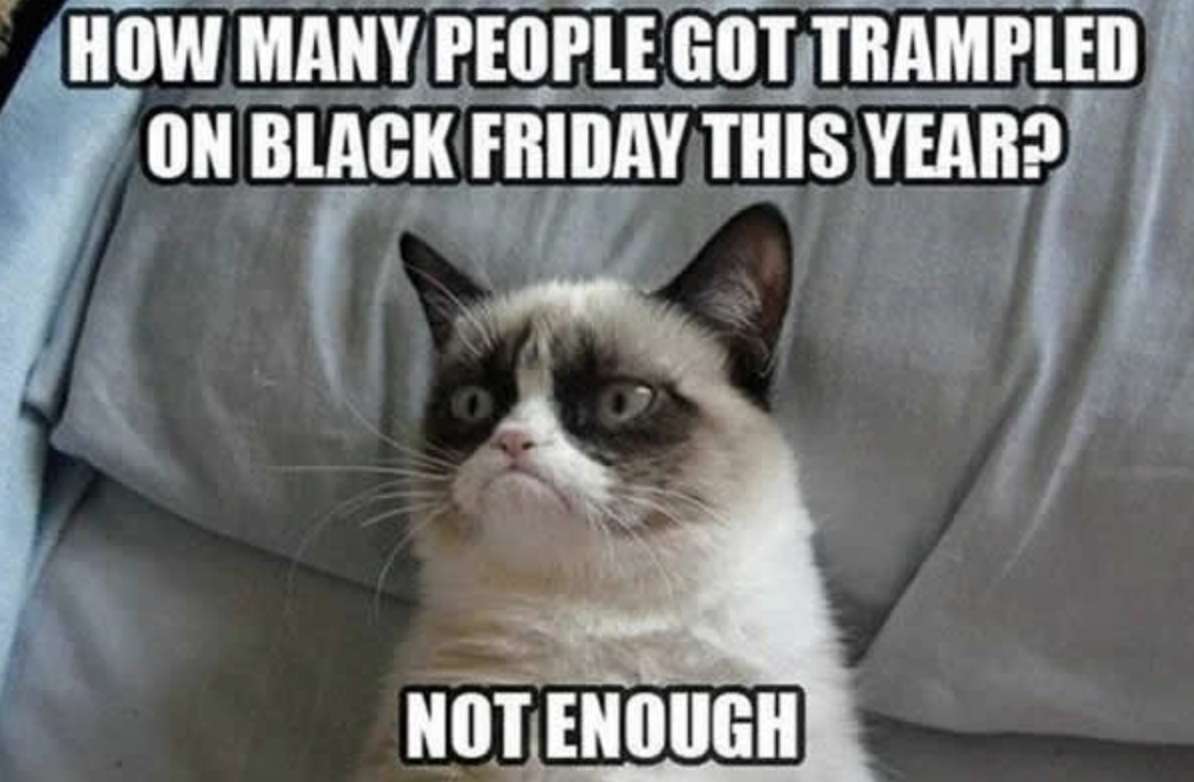 Past viral memes will help you understand what appeals to the masses and to your audience specifically.
You'll also want to see what memes are resonating with people in your community and target audience. For example, if you blog about film, check out what memes cinephiles are sharing.
Knowing your memes will give you inspiration, help spark creativity, and also ensure your idea hasn't been done already.
Where do you look for memes? Great question. Here is an article that offers a round-up of the best websites to find memes for your research.
2. Track trends
The key to making a good meme is to know what is happening in the world and how people are responding.
Pay attention to the news, Twitter, Reddit, Instagram, TikTok, and all the other popular social channels that everyone already loves. 
If you need extra help, here's a tip—ask someone from Gen Z what's trending. They might roll their eyes at you, but they'll also offer a treasure trove of meme ideas. 
If Bernie is bored on Inauguration Day (and wearing adorable mittens), you want to know so you can create a fun meme like this one.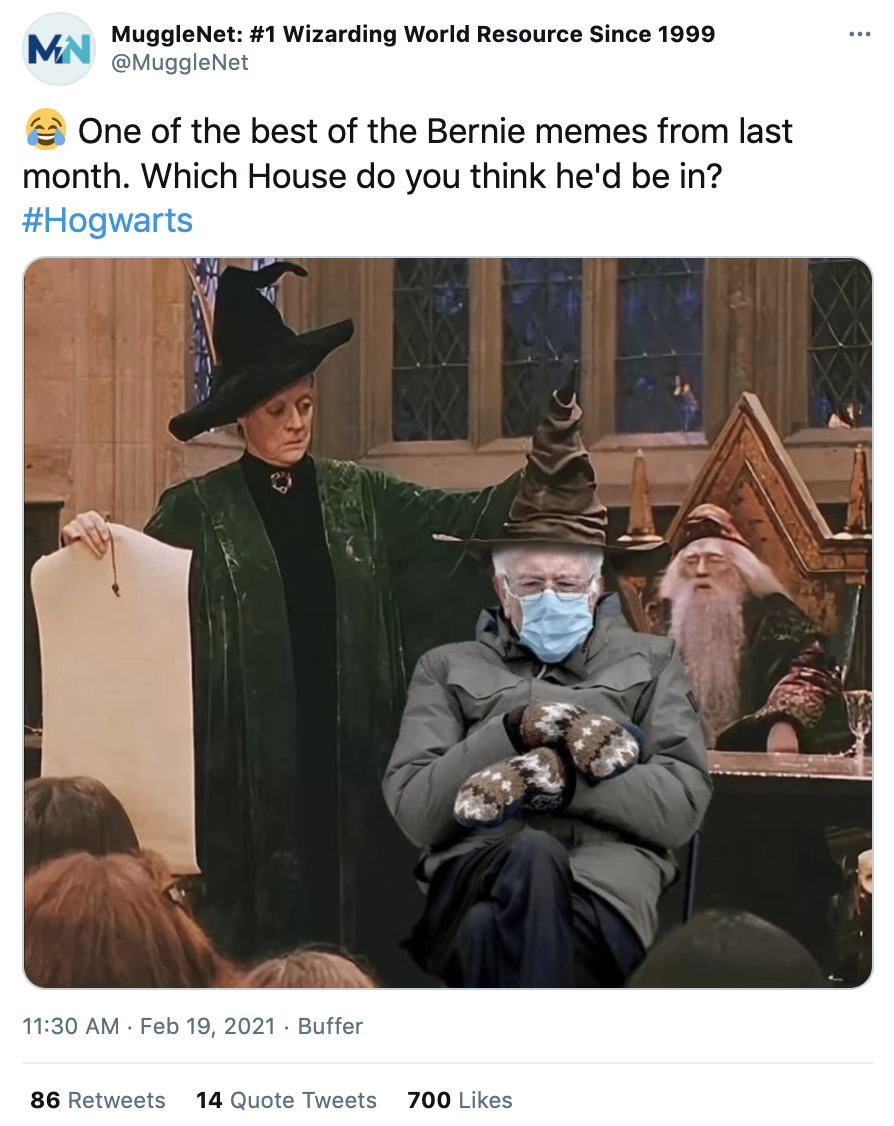 Did Reese Witherspoon Instagram her take on 2020? Get in on that.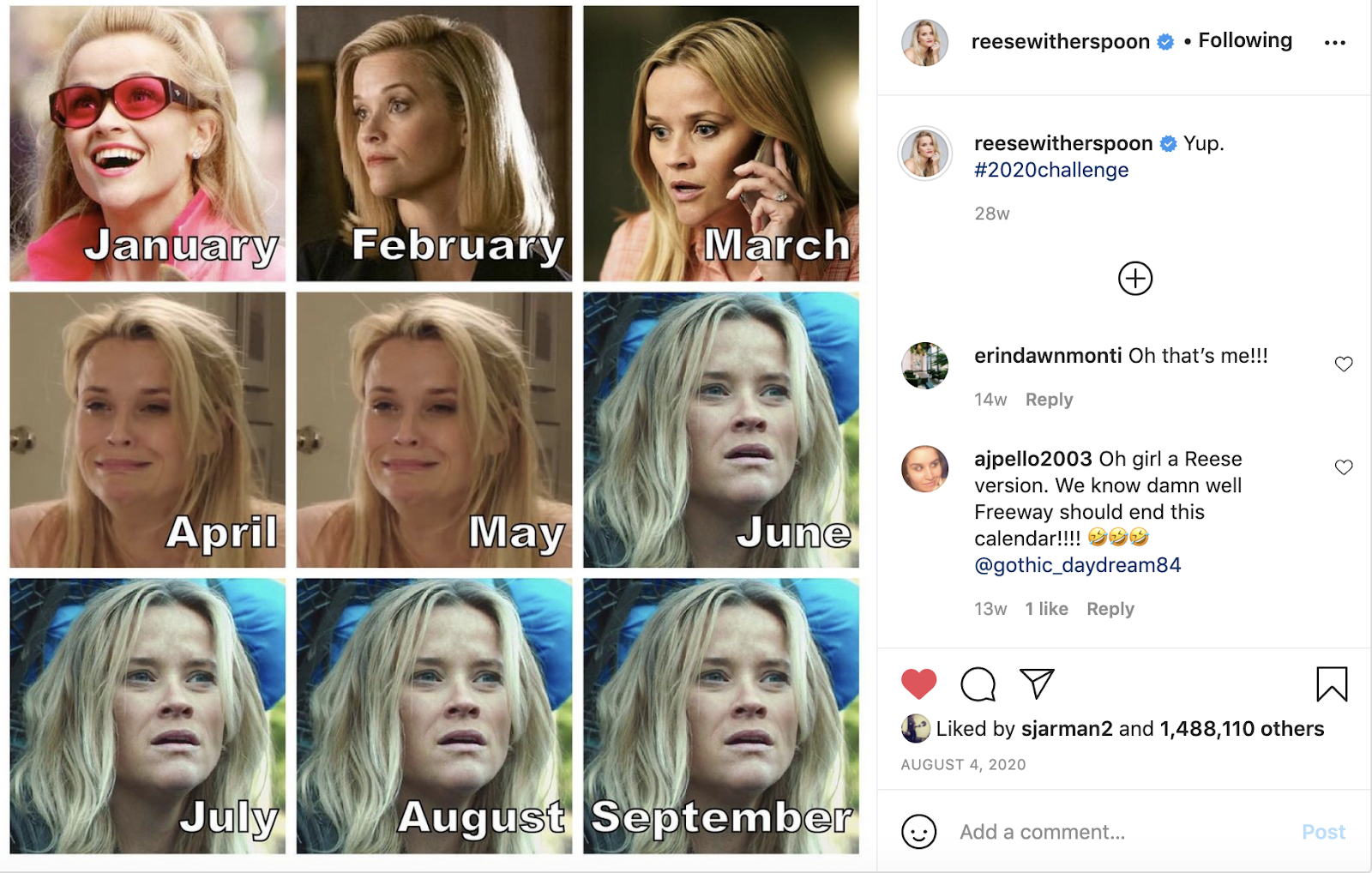 When you know what's happening, you can add your voice to the conversation. If you hit the nail on the head, you can count on your audience to share your brilliance. 
3. Get niche-specific
Before you make and post your first meme, consider your audience. It's not just about creating a viral meme. It's about creating a meme that your target audience will like and share so that it drives relevant readers back to your blog.
If you have a blog about gardening, then you probably don't want to only post Star Wars memes. Unless, you have a gardening take on Baby Yoda, because who doesn't love Baby Yoda?
Whatever you do, make it a goal to put a niche-specific spin on popular culture, so you can capture new readers.
4. Select your material
When you've done your research and it's time to compose your meme, the first step is to select your material. You can create a meme out of a photo, a gif, or even a video.
It's true you can create a meme from original material. However, it's important to know that unless you already have a huge audience and are a natural trendsetter, individual creations might not go viral.
A better idea for beginners is to leverage an existing social trend and use a popular meme creation tool to put your short and sweet spin on it.
How to Create Your Meme
Here's the good news. Since memes are such a popular part of the internet, there are already several tools available to you to help you create a meme. To create a meme, all you have to do is create an account on one of these popular sites, and follow the steps.
Here are some of the best sites for creating a meme.
One of the most popular meme generator tools is Imgur. To start making memes, you have to have an Imgur account. 
You can either create an account with a username and password, or sign up with an already existing online account, including Facebook, Twitter, Apple, Yahoo!, or Google. 
Once you've signed up, Imgur will redirect you to its homepage. At the top right side of the page, you'll see a green button that says, "New post." Click on this button.

From here, you can add your images. 

Once you've added your photo, you'll see the editing page, where you can add text. When you're done creating your perfect meme, click "make this meme!"
Imgur has cool other features that allow you to grab a pic from a URL, select a default meme, and browse memes.
2. Instagram and TikTok
Did you know you can use your Instagram and TikTok accounts to make memes? 
All you have to do is save the photo or video you want to use as a meme to your phone. Then, create your post on either Instagram or TikTok and add the text. 
When you are getting ready to post your photo to your respective account, make sure to save the picture or video to your phone.
Then, you're ready to roll and can share your new meme on your blog.
3. Canva
Canva is a popular social media design tool for people that want things to look nice, but might not be adept in Adobe programs. I personally favor Canva because the interface is user-friendly, it has a range of options, and it has a free meme generator.
You can access the Canva free meme generator tool here. 
To get started, click on the purple "start designing a meme" button.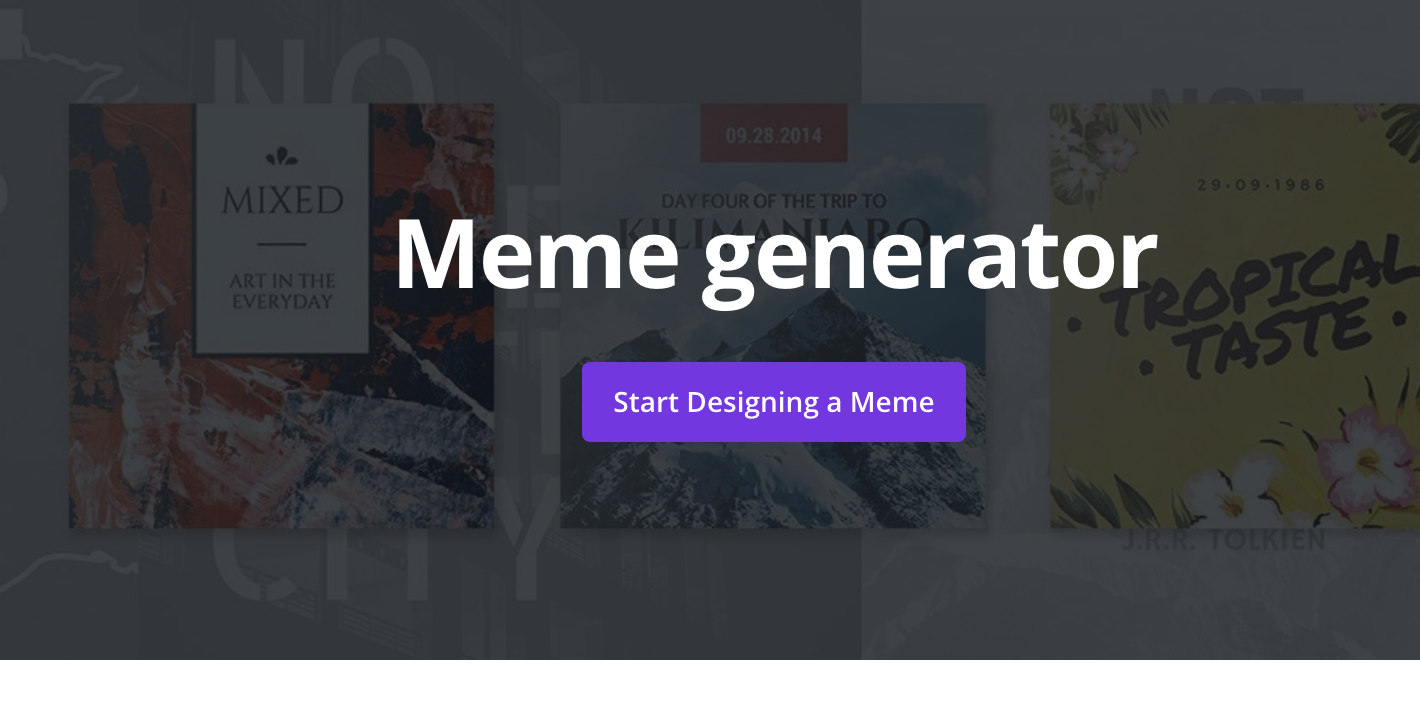 Canva will take you to its editing page. From here, you can search memes, upload photos, and edit them however you fancy.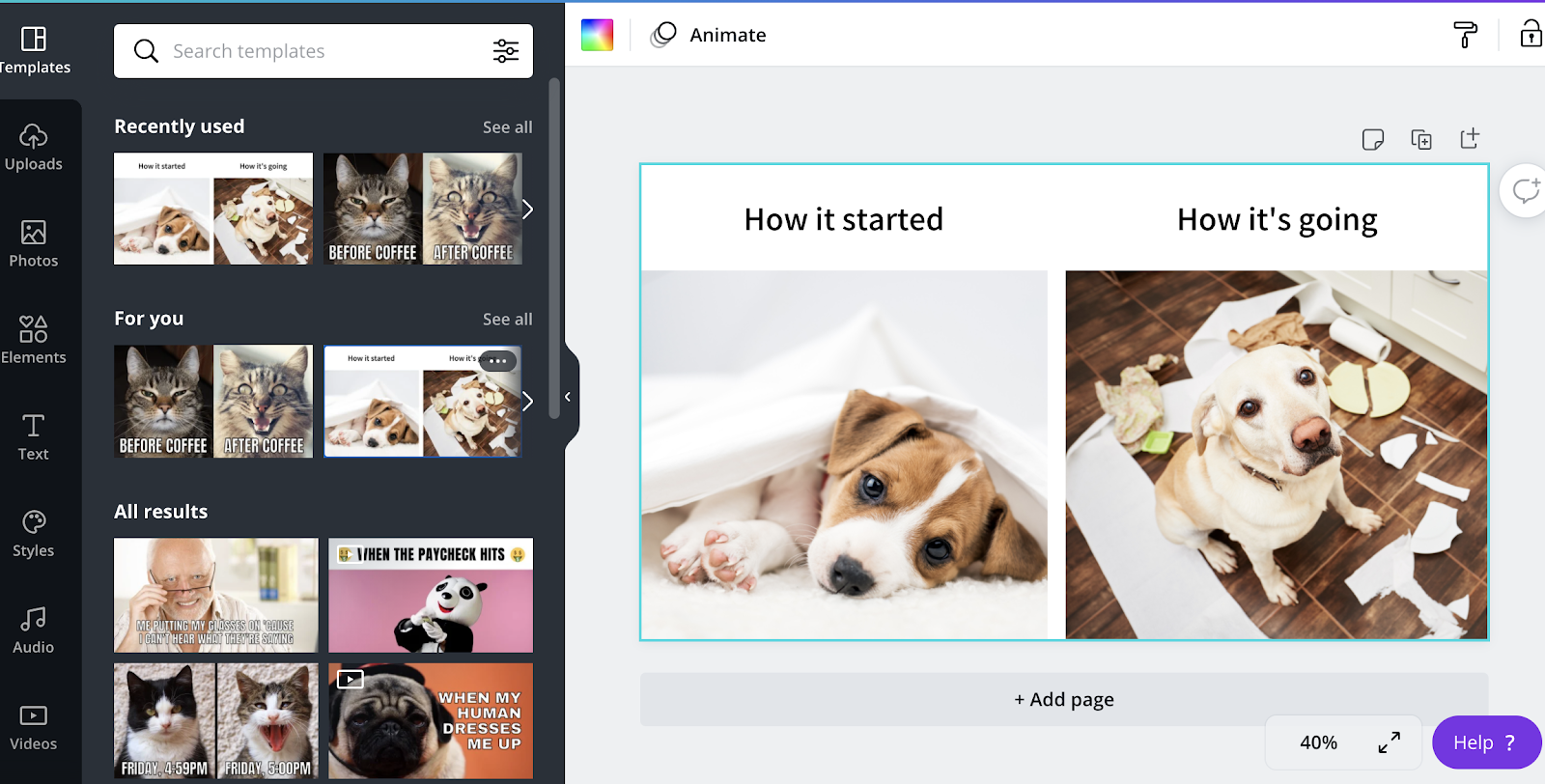 Other top tools for creating memes for your blog that are worth checking out include:
Share your meme
The last step in making a meme is sharing it far and wide. You can start by sharing it on your social accounts, but don't stop there.
Since your goal is to use memes to boost your readership, you'll want to share your meme on your blog as well.
To do this, save your meme as an image to your computer.
Then, add the image to your WordPress post. If you need a refresher on how to create a blog post, here's a clear tutorial.
Once you've pressed "publish," your meme will officially exist on your blog.
Start your blog with Virtue Media today!
Memes are a great way to connect with your readers. If you have been tossing around the idea of starting a blog, remember the first step in the process is signing up with a reliable web hosting company.
Virtue Media has quality and affordable web hosting services. Visit our site today to learn more.