Small business marketing requires a lot of content—for your blog, your email campaigns and your social media accounts. How can you stay on top of all of it, avoid repeating yourself and stick to a schedule—without hiring an assistant or devoting hours every week to content management? 
Build and use a content calendar for your business.
Content calendars—also called editorial calendars–aren't just for full-time bloggers and online magazines. An organized schedule for content marketing helps all kinds of businesses, from mom-and-pop local service providers to multinational conglomerates—and it can help you, too.
Best of all, you can find templates or build your own content calendar for next to nothing or actual nothing.
Here's what a content calendar can do for your business marketing, how to set one up, what to include in your content calendar and where to find free content calendar templates. 
What kinds of content can go on your content calendar?
You can create a separate calendar for content in each marketing channel, but your content calendar will be most helpful if you include all the content channels you use, such as 
Within those channels, variety can keep your audience engaged—as long as you're offering content that's useful or entertaining (ideally, both).
Here are a few ideas to kick-start your creativity:
Blog posts on evergreen topics (core issues that your audience will probably always face)
Blog posts on timely topics 
Case studies featuring your customers
Contests and giveaways
Email series that go in-depth on topics your audience cares about
FAQs
Infographics, which are easier to make than you might expect
Interviews with experts 
New product writeups, photos and videos
Podcasts
Polls of your blog readers or social media followers
Promotions for upcoming launches and releases
Quizzes
Tutorials
User-generated content, like customer unboxing videos
Webinar videos
This isn't a complete list of all possible content types. And not every kind of content will appeal to your audience. Start by picking a few types of content that you think your audience will like and then branch out as you get a sense of what they prefer.
The benefits of using a content calendar for your business
Content calendars take time to set up, but they can save you more time by helping you keep track of what you're planning to share with your followers and email to your list.
With a calendar, you know what you're posting and when. No more scrolling back through your blog or your feed to see what you've already done.
Calendars also help your marketing stay on track. When you're a solopreneur it can be easy to fall behind on content marketing when you're busy or when your idea well runs dry. A calendar can help you focus—and it can help you avoid last-minute scrambles to write posts.
A calendar can show you where there are gaps in your marketing that you can fill in. For example, if your November calendar doesn't have any holiday shopping content, or if your August calendar lacks back-to-school content, you can fix that.
How to set up your small business content calendar 
The most common content calendar formats are an actual calendar layout and a spreadsheet. Some project planning programs, like Trello and Evernote, have their own content calendar templates. 
You can also create content calendars yourself using tools like Google Sheets and Word templates. The format you choose will depend on which layout you prefer, the tools you already have access to and your budget. 
Whatever format you choose, your calendar should include some basic information for each piece of content you plan to share:
Content title or topic: You may blog often on the same topic so be specific. For example, instead of "Flowers for Mom," a florist might title a post "2020 Mother's Day Flowers Gift Guide."
Content channel: Is this a blog post, social media post, email or something else?
Content type: Is this a quiz? A video? A newsletter? Describe the kind of content here.
Publish date: When do you plan to share this content?
Author: Who's writing it?
Audience/customer persona: Who are you creating this content for? For example, first-time buyers? Repeat customers? 
Keywords: How would a prospective customer search for this topic?
Content purpose: Is this designed to introduce people to a new service, get people to call your office, or encourage people to "buy now"? Every piece of content you create should have a goal.
Resources for free content calendar templates and tools
The best content calendar is one you customize to meet the specific needs of your business. However, you probably won't know the details of what you need in a content calendar until you've been working with one for a while. 
Free content calendar templates and tools can help you get started, save you time and improve your marketing now, while you get a better idea of how your ideal content calendar should be structured later on. Here are a few options to consider.
Calendars for WordPress Users
If your small business blogs on WordPress, you can install the free Editorial Calendar plugin to plan, manage and schedule your blog posts and drafts.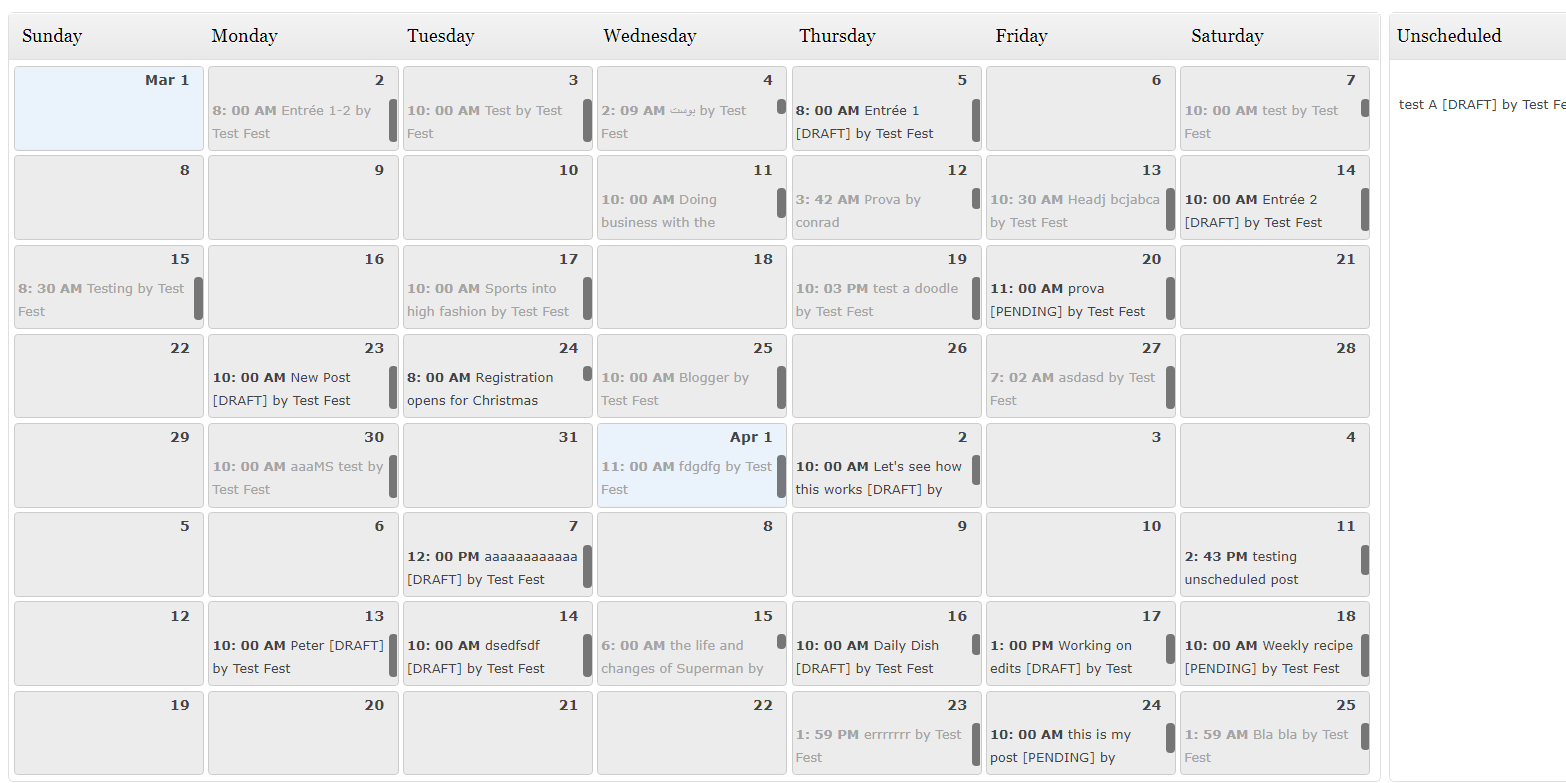 You can adjust the plugin settings to display up to eight weeks at a time. Moving a post to a different day is a simple drag-and-drop. Editorial Calendar is a great solution for WordPress-powered business blogging, but it doesn't include email and social media marketing. 
Content Calendars for Google Users
If you're already a Google Calendar user, you can create a content calendar, configure it to be private and share access with employees or contractors who will help you with content.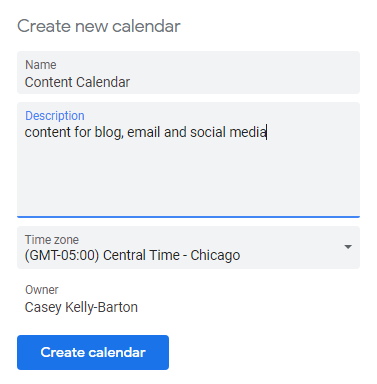 If you go this route, make sure you include all the relevant information in each content "event" you create.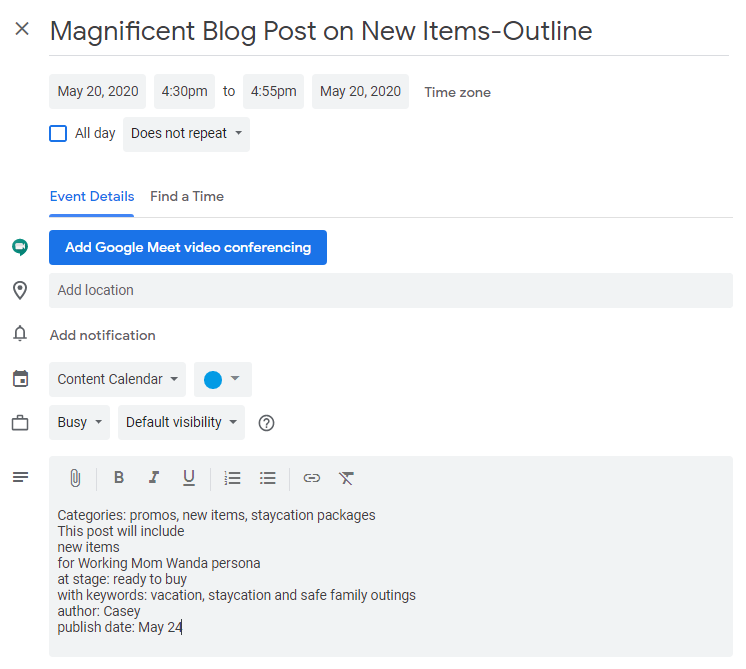 And remember that content doesn't usually happen in a day. You can plan ahead by creating events for your outlines, drafts and final versions.
Content Calendars for Spreadsheet Users
Are you a spreadsheet person? (We know you're out there!) You can build your own calendar or use a template. Smartsheet has a great free content calendar template you can download in their format, as an Excel file or for Google Sheets. 

Save your own copy and you've got a file with a tab for each month and columns for content type, author, category, target audience buying stage, goal and publish date. (And because you can edit your file, you can add other columns, like keywords and images you want to include with each piece of content.)
One other item for your content calendar…
At least once a month, review your site traffic, conversions, shares and other analytics to see which pieces of content are performing well, which had a spike and then dropped off and which didn't get the traction you'd hoped for.
Regular reviews can help you grow your content marketing program and your business by helping you focus on the content that works best with your customers.