Earning interested visitors on the internet is an uphill battle. Your website is in constant competition with countless other sites for the time and attention of your audience. Each time you manage to get your website in front of someone in your target audience, it's a big win! 
But winning new visitors every time is much more work than earning loyal visitors that keep coming back.
And for most websites, repeat visitors will be much more important to achieving your goals than people who stop by once and don't bother coming back. If you have a business or eCommerce website, first-time visitors are far less likely to buy from you than those who have encountered your brand a few times. 
Plus, repeat visitors are also more likely to become repeat customers. And not much is better for business than that! 
But your visitors lead busy lives and the internet is full of distractions. How do you get someone to come back and spend more time on your website when they could be off scrolling Twitter or taking a Buzzfeed quiz about which Bridgerton character they are?
You convince them to join your email list. That way they'll get reminders you exist in their inbox on the regular. 
Why Prioritizing Email Signups is Smart
Email subscribers are the next best thing to customers, because they've opted in to hearing more from you. That means they want to hear about your next blog post, get alerts each time you have a sale, or stay up to date on the events your brand puts on.
And if links to your site show up right in their inbox, you're making it extremely easy for them to remember your brand exists, and come back to visit your site again.
While the internet has a tendency to split our attention between a bunch of different things, email is one of the main places people put their focus online. According to OptinMonster, 58% of people say they check their email first thing—a much higher number than start the day on social media.
When people see your brand name pop up regularly in one of the main places they spend their time, it keeps you top of mind. When they need what you have to offer, they'll be more likely to think of your brand and website first.
That's why email marketing has such a strong reputation for return on investment (ROI). Litmus research has found that email provides a return of $42 for every $1 spent. 
And while ROI is important for any business to consider, email marketing provides another benefit that's also valuable: it gives you an in to start a relationship with your audience. The most successful small businesses don't just think about making sales, they put effort into building long-term connections with customers. 
Email marketing is the most effective tool you have for that. 
Why to Track Email Sign-Ups in Google Analytics
Any email marketing program you invest in will make it easy for you to track how many new sign ups you get.
But if you want an easy way to connect email sign ups to your website—which will help you understand how well your website is doing its job—then you'll want to be able to track new subscriptions in Google Analytics as well.
And having email subscription data in Google Analytics allows you to see it in the same place as the rest of your website analytics. Good marketing involves a cohesive strategy where different elements and channels all work together. Tracking various metrics within the same place makes it easier for you to see how your results across channels all relate to each other.
How to Set Up Email Subscription Tracking in Google Analytics
In addition to the metrics Google Analytics provides automatically once you have it installed, you can also set up conversion tracking for your website for different types of activities you consider valuable. 
To set up conversion tracking for email signups, follow these four steps. 
Create a "Thank You" page for new subscribers.
Set your email marketing program to send new sign-ups to that page.
Create a Goal in Google Analytics for your Thank You page.
Check regularly and analyze results.
Step 1: Create a "Thank You" page for new subscribers.
Google Analytics isn't connected directly to your email marketing software, so you need a way to signal to the program when an email signup has happened. Since the tool can track web page visits, an easy way to do that is to create a web page that will only be viewed by people who have just signed up for your email list. Then you'll know every visit to the page equals a website sign up.
As a bonus, creating a page for new subscribers gives you a way to provide them a thank you. Your thank you page can be simple, no need to overthink it. Virtue Media's simply gives a clear thank you message, along with a reminder of what the person has signed up for.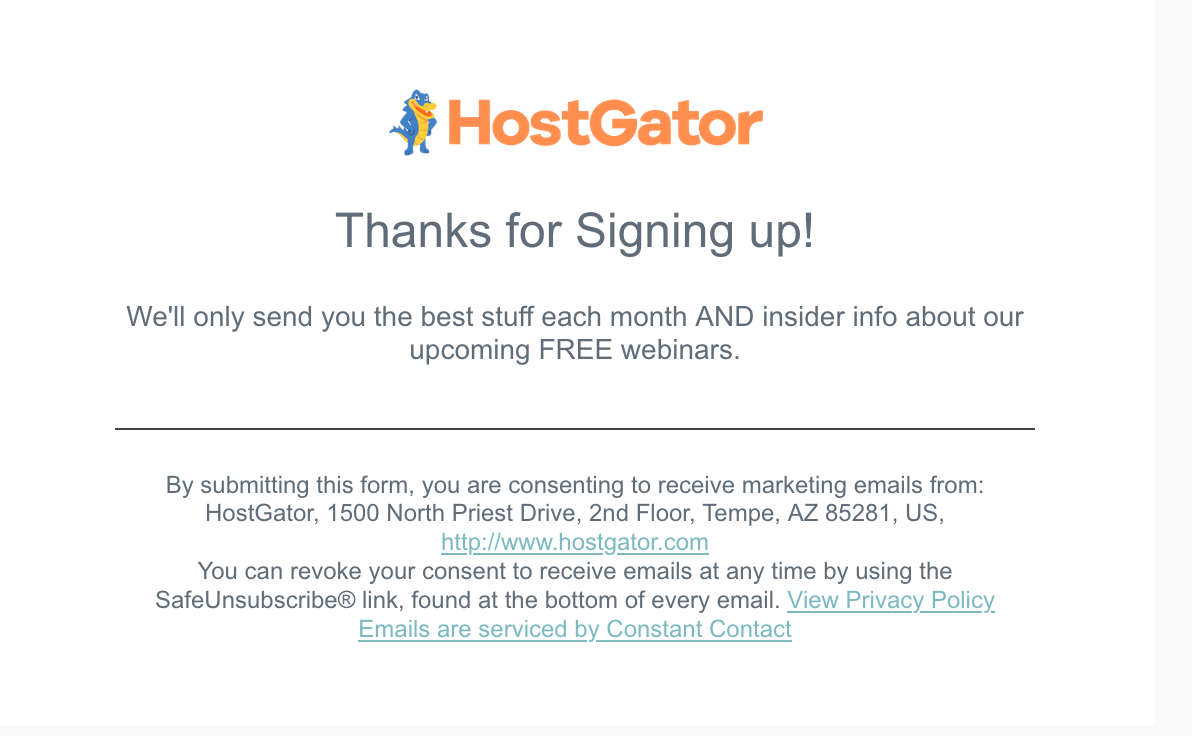 Make sure you customize the URL of your page to something that will be easy to remember, like yourwebsite.com/thank-you or yourwebsite.com/email-signup. 
Step 2: Set your email marketing program to send new sign-ups to that page.
Once you've created the page, you want to make sure that it will show up for each new visitor that signs up, and only right after they've done so. You'll need to work from within your email marketing software for this part. 
That means the exact instructions for how to do so will depend on your provider. Search your email provider's knowledge base for instructions on creating or redirecting to a "Thank You" page. If you don't find anything, reach out to their customer service for help. 
Step 3: Create a Goal in Google Analytics for your Thank You page.
When logged into Google Analytics, click on Admin in the bottom left. Then in the View column on the right, click on the Goals option.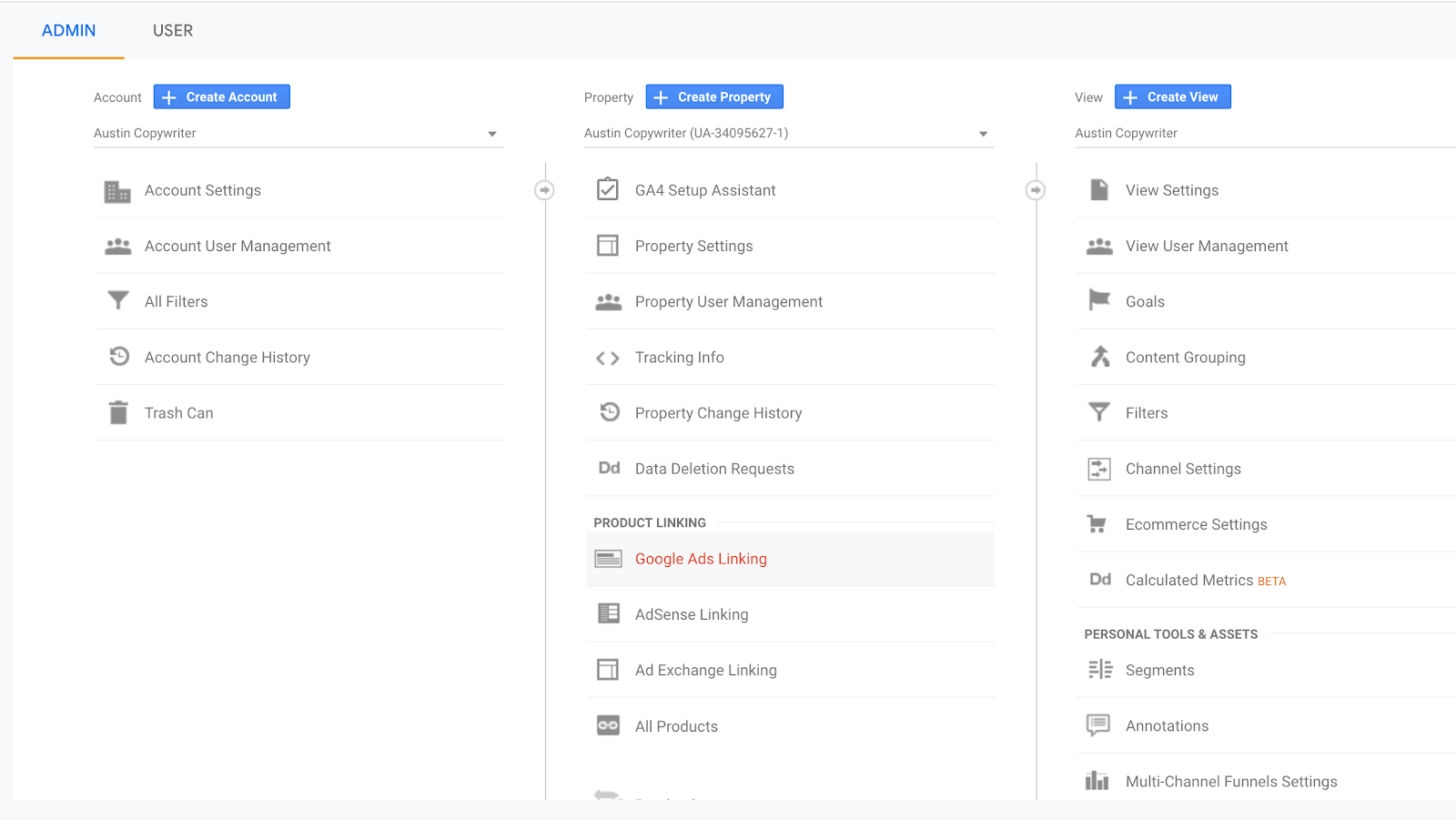 Click the red New Goal button at the top of the page.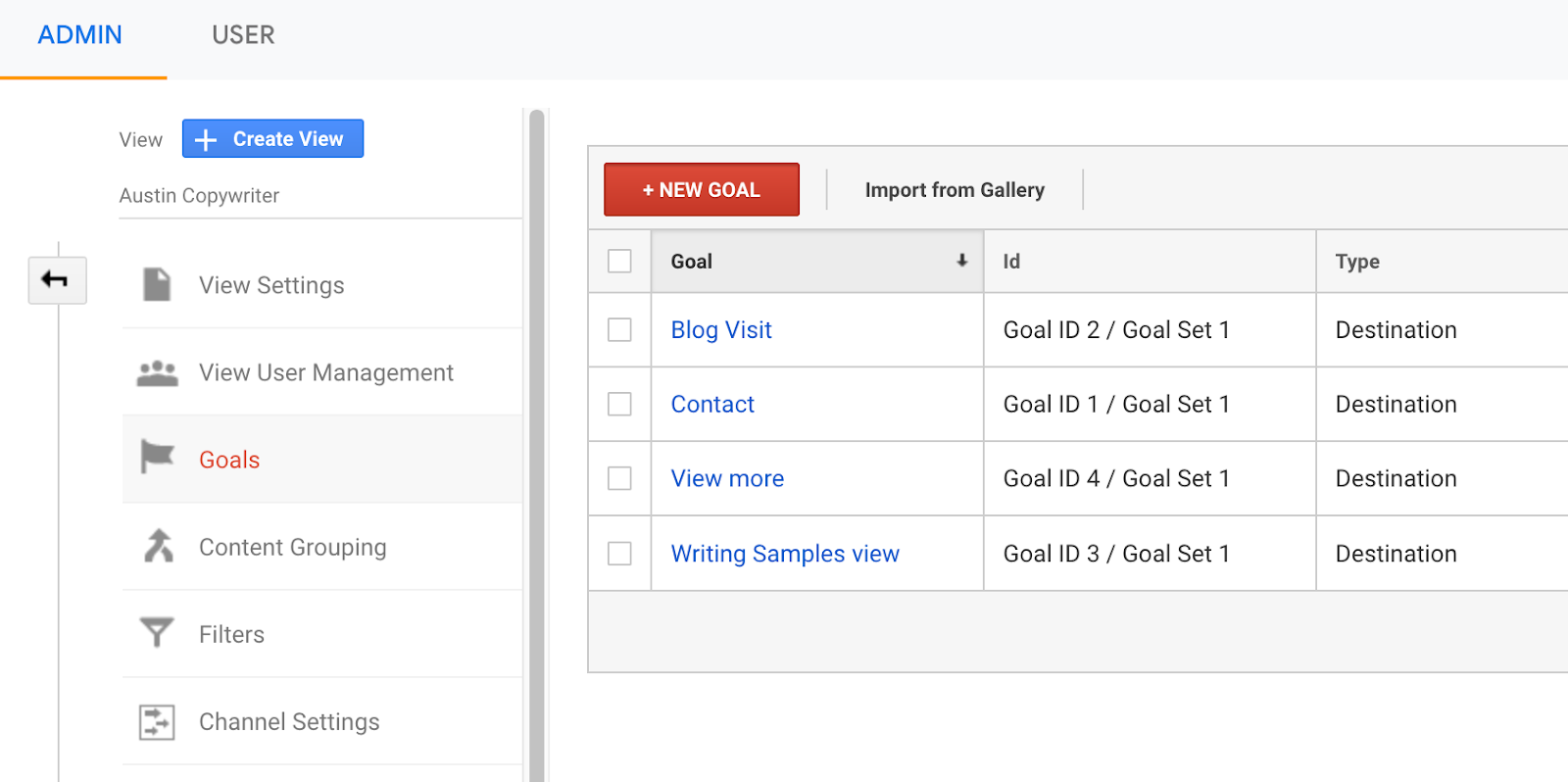 Under Goal Setup select Custom (down at the bottom), then Continue.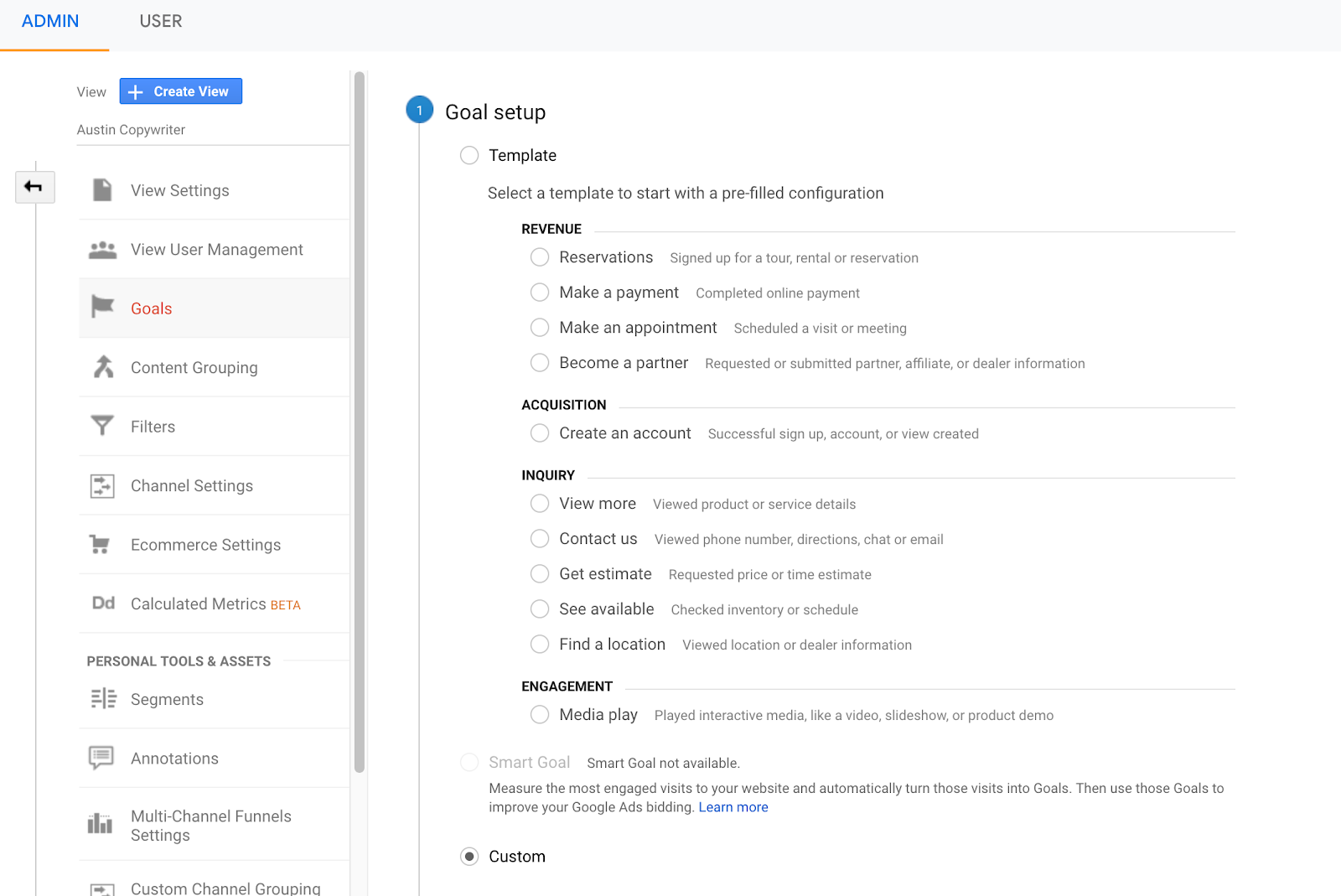 Name your Goal Destination something intuitive, like Email Signups. And select Destination in the Type section.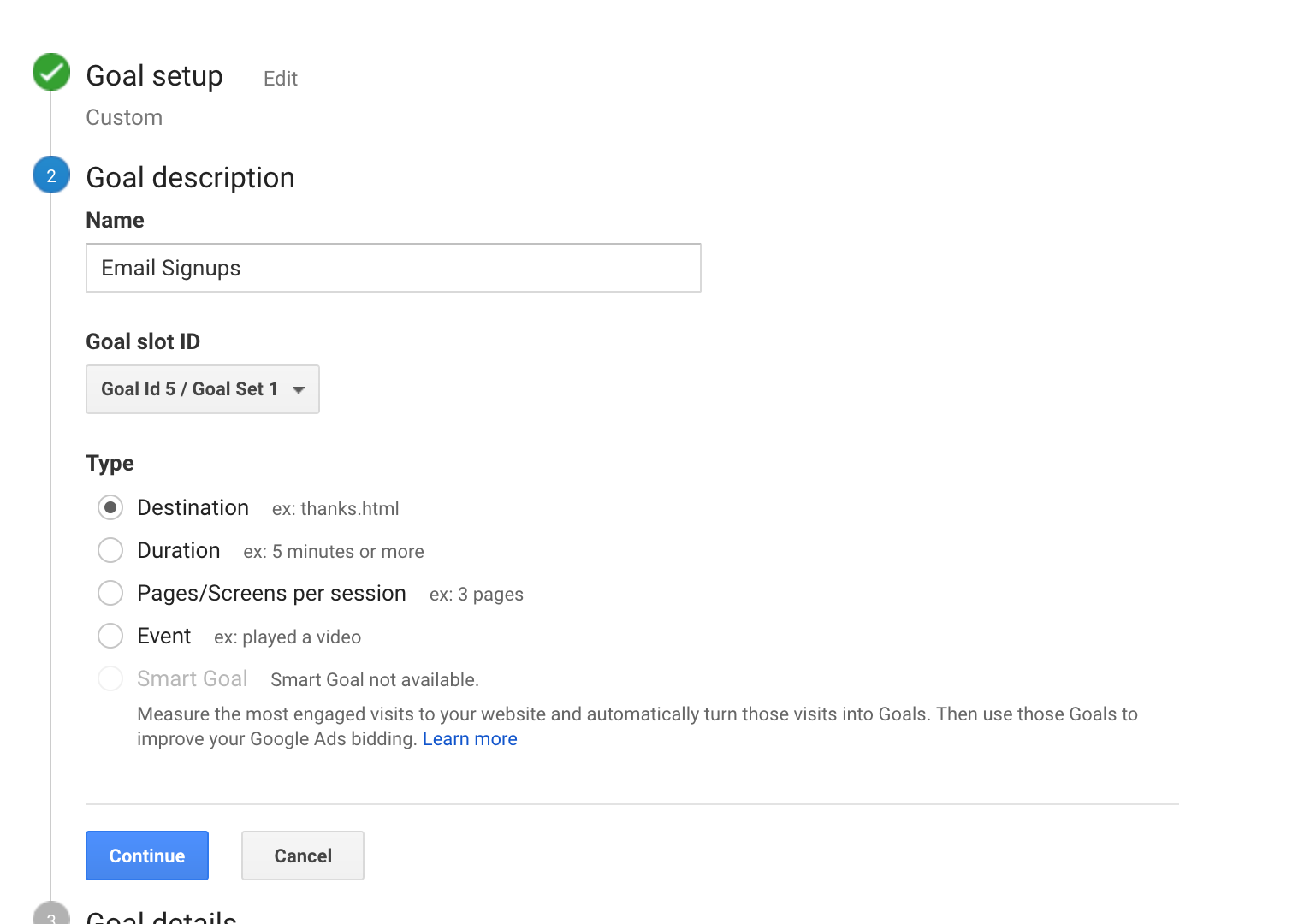 In the Goal Details section, add the URL for your Thank You page, and click Save.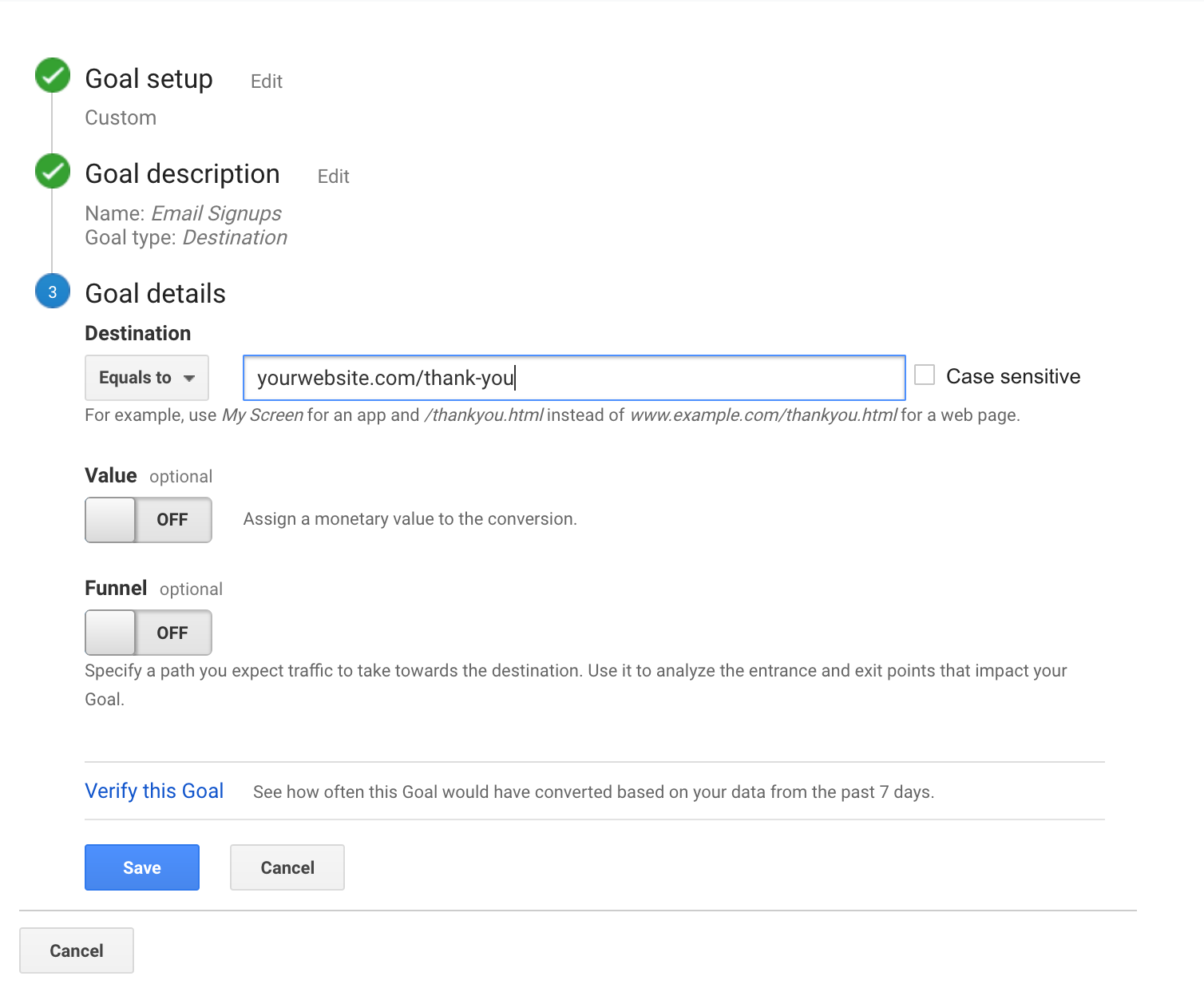 Once you click that Save button, Google Analytics will start tracking all the email signups that come through your website. 
Step 4: Check regularly and analyze results.
Setting up a conversion in Google Analytics is a first step. Now, you want to make a habit out of checking your analytics to learn how effectively your website is driving email signups.
Consider doing A/B tests to try out different calls to action or design elements to see what works best for getting visitors to sign up. If you run a business website, consider offering a discount or giveaway to visitors who sign up to increase conversions. 
With time, you'll collect data that will help you both understand your visitors better and grow your email list. 
Use What You Learn
Analytics don't just help you understand where you are now. They reveal ways to improve. Put the insights you gain from conversion tracking to good use in your email strategy moving forward.
When you're better able to provide your visitors with what they care about, you'll more effectively create the kind of relationships with them that lead to ongoing success.