Maybe your blog has always been about helping you build a brand, or maybe it started as a personal passion project. Whatever your initial goals, as a blog starts to grow in size and popularity, you need some way to gauge how you're doing.
Are people reading it at all? Which posts do they like? Do any of them like it enough to come back again and again? And if you want to grow your readership or use your blog to build a brand, how do you figure out the next best steps?
All those answers—and quite a few more—are accessible with the help of Google Analytics.
What is Google Analytics?
Google Analytics is a tool provided by Google that tracks useful data about how people find and interact with websites, and packages it into a format that makes it easy for website owners to understand. 
Google Analytics is free and easy to use, making it readily accessible to all bloggers. The tool packs a lot of information you can use to understand who your audience is, how they typically find your blog, and what they do once they land on your website. It's the key to measuring the success of your blog, and finding ways to improve as you go. 
How to Set Up Google Analytics on Your Site
Adding Google Analytics to your website is a fairly simple process that yields big results. To start, set up your Google Analytics account. Make sure you're logged into the Google account you want associated with your Google Analytics account. Then follow the prompts the tool provides to take you through the set-up process. 
Once your account is set up, Google Analytics will provide you with a tracking code. Adding this to your website is the final step to activating Google Analytics. If your website is built on WordPress, you can use a plugin like MonsterInsights to add the Google Analytics code to your site. For all types of websites, you can add it manually by pasting the code into the HTML of each page, directly after the <head> tag. 
Google Analytics will start collecting data from the time you activate it, so you won't see much useful information in there from day one. But over the next few days and weeks, you'll start to gain a treasure trove of valuable insights. 
What Can You Learn from Google Analytics?
We keep referencing all the valuable insights you can get from Google Analytics, but what does that look like in practical terms? The data Google Analytics provides can answer a number of big questions every blogger has.
Some of the main ones you can count on learning are:
How many people visit my blog?
This is one of the most straightforward measures of blogging success. Are people actually finding and reading your blog to begin with? Anything else you might want to accomplish through blogging will depend on making progress with this metric.
Google Analytics puts this data front and center. You can see at a glance how much traffic your blog receives, and how it trends over time. 
How do my visitors find me?
The web is a crowded space, and ensuring people can find your blog is an uphill battle. Most bloggers will need to do some form of online marketing in order to get your blog posts in front of people.
Google Analytics has a whole section (Acquisition) devoted to referral data. You can learn which channels are driving traffic to your blog, and track down the specific sources behind many of your visits.
What blog posts are they checking out?
Every blog will have some posts that are more popular than others. Knowing which posts are receiving the most traffic on your blog is important to understanding what topics your audience cares most about.
Google Analytics breaks down traffic data by page, so you can see which pages are getting the most traction. 
Are they reading the posts they click on?
Traffic is nice, but it's not worth much if a person clicks on a blog post then closes out the page before reading it.
Technically, Google Analytics can't tell you for sure whether or not visitors read a blog post. But it can tell you how long visitors spend on a page, which is a pretty good indication of whether they stayed around long enough to read it.  
Do they stick around for more than one post?
Most visitors will likely read one post, learn whatever information they were looking for, and move along on their way. But occasionally, someone will like what they read enough to stick around and read additional blog posts on your site. Anytime that happens, it's a big indicator that people are enjoying your blog.
Google Analytics provides a Behavior Flow chart that shows you which pages are most often leading your visitors to view additional posts, and what the path between posts looks like.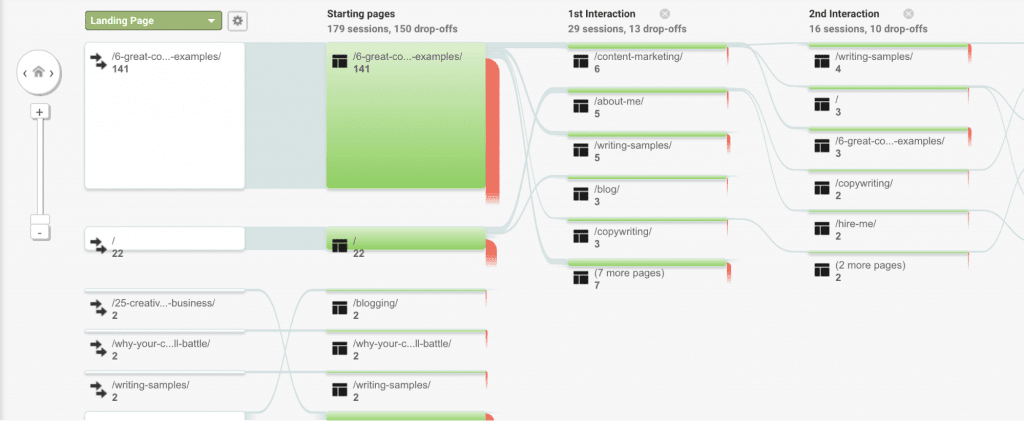 How many come back again after the first visit?
In a world full of distraction, anytime someone likes your blog enough to come back for an additional visit, it's notable!
Google Analytics reveals how much of your traffic comes from first-time visitors, and how much is from returning visitors that liked you enough to come around more than once. 
What are my visitors like?
Google won't provide data about individual visitors, as that would cause serious privacy violations. But they do provide generalized data about the kind of visitors that are finding your website.
That includes demographic information like age and gender breakdowns, as well as the geographic locations of your visitors, and interests their browsing habits reveal. This data can help you understand your readers a little better, and ensure the content you create effectively speaks to them.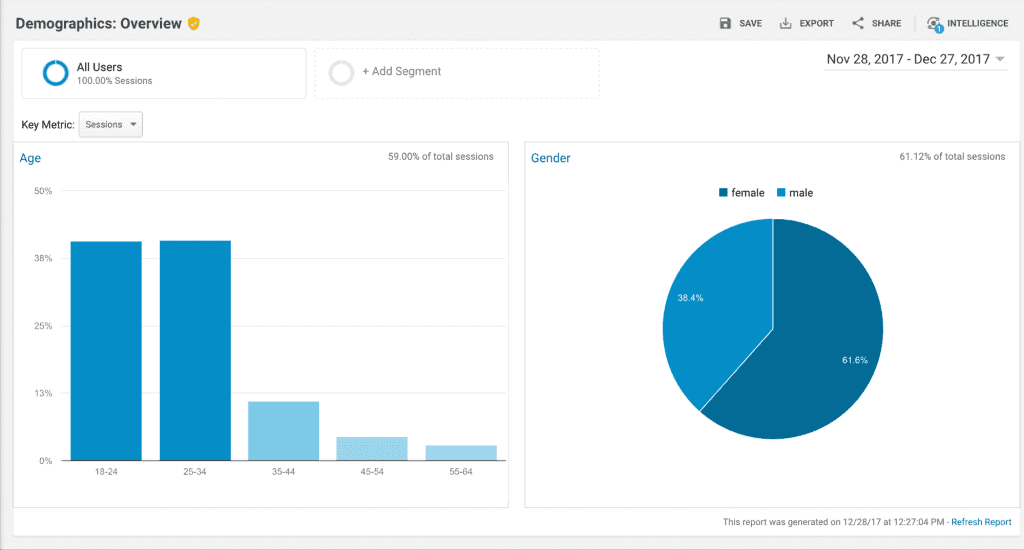 What type of devices are they viewing my site on?
Google Analytics also tells you the breakdown of how many visitors are viewing your website on a desktop computer, a mobile device, and a tablet,
As mobile use has consistently increased over the years, making sure your blog is mobile friendly should have already been a priority. But in case it wasn't before, seeing the percentage of visitors coming from mobile devices can emphasize how important it is, and it can help you understand how different visitors are seeing the pages on your site. 
Am I meeting my goals?
This question's a bit less straightforward than most of the others on this list, because it's not a matter of looking for a specific number or chart in Google Analytics. You need to figure out what the goals for your blog are.
Is it meant to help you build a personal brand? Are you using it to help drive traffic to your online store and increase eCommerce sales? Or is it more about helping build a community of like-minded individuals?
The metrics in Google Analytics that will help you answer this question will depend on what your blog is for. But in most cases, Google Analytics can provide the information you need to track progress on your blogging goals.
How can I get better results?
Answering this question requires combining the data in Google Analytics with your own analysis. But knowing which pages are getting traction now and how people are finding them will help you craft a better strategy for creating more content your audience cares about, and driving more traffic to your blog posts.
Look for trends in the data that will help you understand who your audience is and what they respond to. Tweak your strategy as you go based on what you learn. 
How to Get the Most from Google Analytics for Your Blog
Google Analytics has a lot to teach bloggers about their blog's reception. But in order to put those insights to work, you need to know how to use them effectively. 
1. Start with your goals.
Every blog is different. You have a specific audience you want to appeal to, and a particular set of goals you want your blog to achieve. To make your blog as successful as possible, you need to clearly define what success looks like for you. Google Analytics becomes much more valuable once you've clarified what you want to accomplish, because you'll know which metrics to give priority to. 
2. Set up conversion tracking.
A lot of the most important data you'll need will be automatically available in Google Analytics once you get it set up. But if you plan to use your blog as a sales tool or as a way to drive visitors to take a specific type of action, like signing up for your email list or setting up an appointment, you'll get a lot more out of it if you set up conversion tracking.
Google Analytics allows you to define the types of actions that are most important for your business goals, and set the tool to track those specifically. You can use Google Analytics to set up a sales funnel if you have a business blog, or use conversion tracking to see how many email signups your blog helps drive. 
3. Check Google Analytics regularly.
You're busy, and sometimes certain tasks fall by the wayside. Setting Google Analytics up won't amount to much if checking it becomes one of the tasks on your to-do list that gets neglected. Make it a habit to pull up your Google Analytics dashboard regularly to see how your blog is performing, and catch any changes in the data that can tell you something meaningful.   
4. Analyze and test.
Data alone can only tell you so much. In order to make sense of it, you need to apply some human analysis as well. Analyze the metrics Google Analytics provides in order to turn it into insights you can use. What do your most popular posts tell you about what your audience likes? Can you find trends in which types of headlines perform the best, or which posts most often lead to certain types of conversions? 
Use the data to form hypotheses, then set up tests to check your theories out. Consider setting up A/B tests for different headlines, calls to action (CTA), or content formats. Each bit of data you collect will help you better understand what your audience likes, and how to improve your results moving forward. 
Use Google Analytics to Learn and Grow Your Blog
A lot about building a successful blog is difficult. But the challenges become easier when you have a way to track progress as you go, and learn what works. Google Analytics is a powerful tool for measuring your results and understanding your audience better. It's free, intuitive, and invaluable to any blogger that cares about finding success (in any form) with their blog.