Your first holiday season as an online store owner can be a wild ride—and a major planning challenge.
Have you stocked the items shoppers will want? Will your website hold up during the holiday rush? And maybe most important for new store owners, will customers find your store and shop with you during retail's busiest time of the year?
In this second installment of How to Rock Your Online Store's First Holiday Season, we're going to show you how to build a holiday marketing plan you can use to help you find new customers, build awareness of your brand or get more shoppers to your website. 
(Missed the kickoff post in this series? Start with our guide to planning your holiday promotions, then meet back up with us here.)
Ready to take the next step? Here we go.
Plan Your Holiday Promo Marketing Campaigns Now
No matter how early in the year it feels to you, it's time to get going on your holiday promo marketing campaign plans. Many retailers launch their holiday campaigns in October to catch the eyes of early-bird shoppers. 
Now, some big retailers and analysts expect consumers to begin holiday shopping earlier than normal—so you want to be ready to connect with them when they're ready to start spending.
For this post, we're drawing on the wisdom of our web pros Blair Williamson, Emily Hill and Jana Thibodeaux. Their webinar on holiday social marketing is worth watching in full, especially if you have questions after you finish reading this post or want the details on how to create great campaigns.
What is a holiday marketing campaign, anyway?
A holiday marketing campaign is simply a series of marketing messages that support one or more of your business goals for the holiday season. Your goal might be to:
Grow your audience. This is often the most important for new stores, because the bigger your audience, the more potential customers you can reach with each message.
Increase brand awareness. As your audience grows, remind people of what's awesome and appealing about your store. That might sound vague, but those repeated contacts (aka touchpoints) are the key to earning sales. Google has found that shoppers encounter 20 to more than 300 touchpoints before they make a consumer-goods purchase. 
More click-throughs and conversions. This is the goal most SMB owners think of first when they think of marketing: getting people to visit their site and buy things. 
Marketing campaigns also have a time frame based on what people are buying during a particular time of year. Decide when you'll launch and when you'll wrap it up.
And every good holiday marketing campaign has a theme, which is the messaging you want to share with your audience. Yours should be based on the promo plans you worked up for your store after our last post. For example, maybe your store's big holiday promotion is a gift guide that includes home decor tutorials using your store's products, and your tagline is Deck Your Halls. 
With your goal (new followers and more sales), your timeline (October through December) and your theme (Deck Your Halls), you're officially ready to dive into your campaign's details. 
What marketing channels will you use to promote your holiday campaign?
How do you communicate with your customers? Most eCommerce businesses use a mix of email marketing, blog posts and social media—but some channels typically deliver better results than others. 
Whichever channels get the best responses from your audience are the ones where your campaign should focus. The other channels can act as reinforcements, so your followers there aren't left out of the loop.
For example, let's say your home décor store gets the most comments, shares and click-throughs from your Instagram Stories, the next-most engagement from your email newsletters, and less from your Facebook posts. It's probably best to focus on cool holiday promo content for Instagram and email. Then you can promote your Insta campaign and email newsletter signup on Facebook.
What about paid search ads? Paid search ads can be an effective way to drive traffic to your store. However, during the holiday season you may have to bid higher than you would at other times of the year. If you want to use paid advertising as part of your holiday campaign, check out our guide to budget-savvy keyword bidding. 
What content will you use for your holiday promo campaign?
The good news is that your holiday messaging can be short and still have an impact—especially your social posts and Stories. Each piece of content needs just 3 to 5 elements:
A message—Tell your audience what you're promoting—your holiday gift guide, product giveaway, buy-one-get-one deals, free shipping or something else they'll love.
Or, like this pet retailer, you can feature customers who are doing cool things, and use their own words as your promo copy: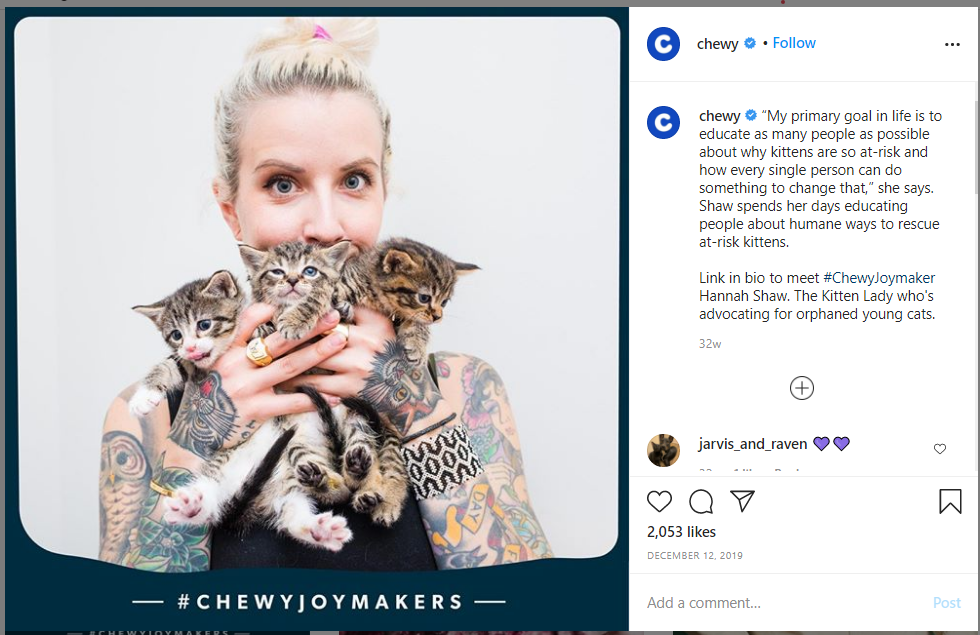 A hashtag—a unique and memorable phrase for all your holiday promo posts so they're searchable on the platform.
An image—Canva and other digital editing tools make it easy to combine product photos, holiday design elements and store logos into appealing images for your emails and social posts.
The Chewy posts above are aimed at audience building and brand awareness. If your goal is click-throughs, you need another couple of elements:
A call to action—like Enter Now, Share or Sign Up. 
A link in your call to action—to your product page, landing page, email signup form or something else related to your campaign. Make it trackable so you can see where your traffic comes from. 
As you put together each post or email message, add it to your content calendar so you can see your whole campaign schedule at a glance and stay on track.
How will you deliver your holiday promo content?
Content automation tools are like the elves that make your Santa's workshop run smoothly.
You can set up your email promotions as a drip campaign, with automated sends based on customer actions. Check out our guide to automated email drip campaigns if you're not familiar with this handy marketing tool. 
You have lots of options for scheduling social media posts and Stories to publish, including Facebook Content Creator, Buffer and Hootsuite. 
Track your holiday promo campaign performance
You've planned, written, proofread, scheduled and double-checked your holiday promo messages. Now there's one more important step that will make all of this easier next holiday season.
As your campaign runs—and after it ends—you can see how well each piece of promo content performs in your Google Analytics, email marketing program and social media dashboards. The content that does the most to help you reach your goals is the kind you'll want to do more of in future campaigns. 
Now that you've got a plan to reach more customers, raise your store's profile and/or get more click-throughs to your site, it's time to think about what people will buy when they get there. Our next rock-the-holidays post will delve into planning holiday exclusives and seasonal product bundles that can spark more sales.