If there's ever been a time to think about how your business can communicate better during a crisis, this seems to be it. 
Between COVID-19, lethal fires out West and deadly ice in Texas, ransomware attacks, and shortages of random but important items from chicken wings to pickup trucks, the past year has served up one situation after another where businesses have needed to check in with customers, share important information in the right tone, and help everyone keep calm and carry on.
It could have been a series of real-time communication masterclasses, but a lot of business owners have been too busy living through one tough situation or another to take notes. 
So (fingers crossed) maybe now we can take a deep breath and take a little time to see what we can learn from how businesses handled some of the events of the past year.
The biggest lesson: Every business needs a crisis communication plan. You can make one by answering a few simple questions.
When will you put your crisis communication plan into action? 
Not every crisis requires a response from every business right away. 
Remember how brands were flooding our inboxes with COVID-19 related messaging last year because they felt they needed to say something? That generated some backlash.
A good guideline: If a crisis directly affects the way you do business with your customers, it's time to speak up. So, if a flood means you can't deliver takeout, let customers know right away. 
But if a broader crisis like COVID is looming, leave your customers' bandwidth clear for messages from the media and the authorities. 
Who will speak for your company? 
Don't have a PR person? Whoever's calmest in a mess is your go-to person. Pick a backup speaker, too, in case your chosen crisis communicator isn't available. 
Who will you need to speak to?
Customers, definitely. Depending on the crisis, you may also need to contact the media, the police, banks, your supply chain, and neighboring businesses. 
For example, when the Colonial Pipeline shut down to deal with a ransomware attack, their PR team communicated with the press and posted a statement on their website. The company also got in touch with law enforcement. Behind the scenes, they were almost certainly communicating with their wholesale customers and suppliers to keep them up to date, too.
What will you say in a crisis statement?
Keep it simple. Say:
what's happening (or what happened)
how it affects your customers
what you're doing about it
when your customers can expect another update. 
Don't blame, speculate or try to lighten the mood. That brings us to…
How will you say it? 
With empathy, please. If a wildfire damages your store and community, your store-closed announcement should acknowledge that your customers are going through a crisis, too. 
People who endured days of freezing cold without power in February's Texas ice storm saw how a lack of empathy can sting. Jessica Nunez at PR Daily contrasted the supportive, informative tone of a regional grocery chain with off-target messaging from the industry group responsible for the electrical grid.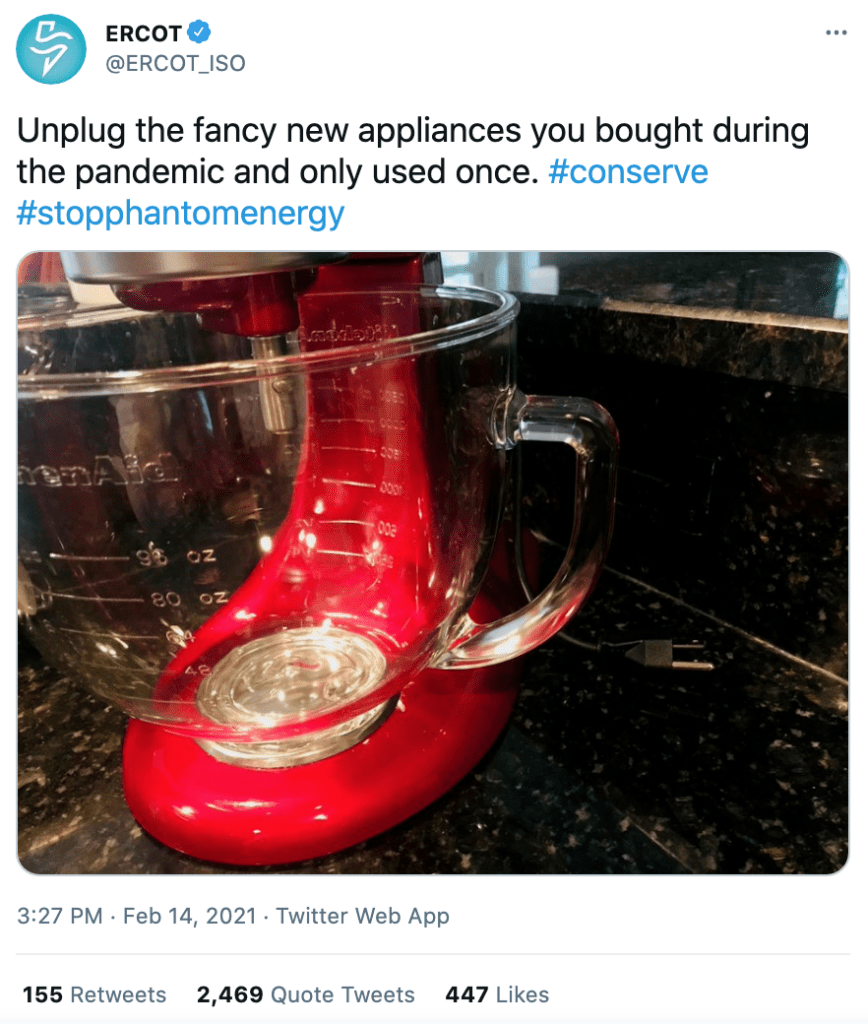 This is brutal. It brings up the pandemic, seems to mock the way people tried to cope with being stuck at home for months, issues a command instead of making a request and doesn't explain why. 
What might have been better? "Historic cold is here and we're all in it together, so let's try to keep the heat on for everyone. Here's one small but important way you can help." Speaking of help…
Find out how your business can help and let people know what you're doing
Houstonians basically all know "Mattress Mack," thanks to his decades of wild TV commercials involving lots of arm waving, mattress costumes and even a Ferrari with a mattress strapped to the roof. During the February freeze, he took to social media to welcome hundreds of people into his furniture stores that still had power, so they could warm up, get a hot meal and catch some Zs.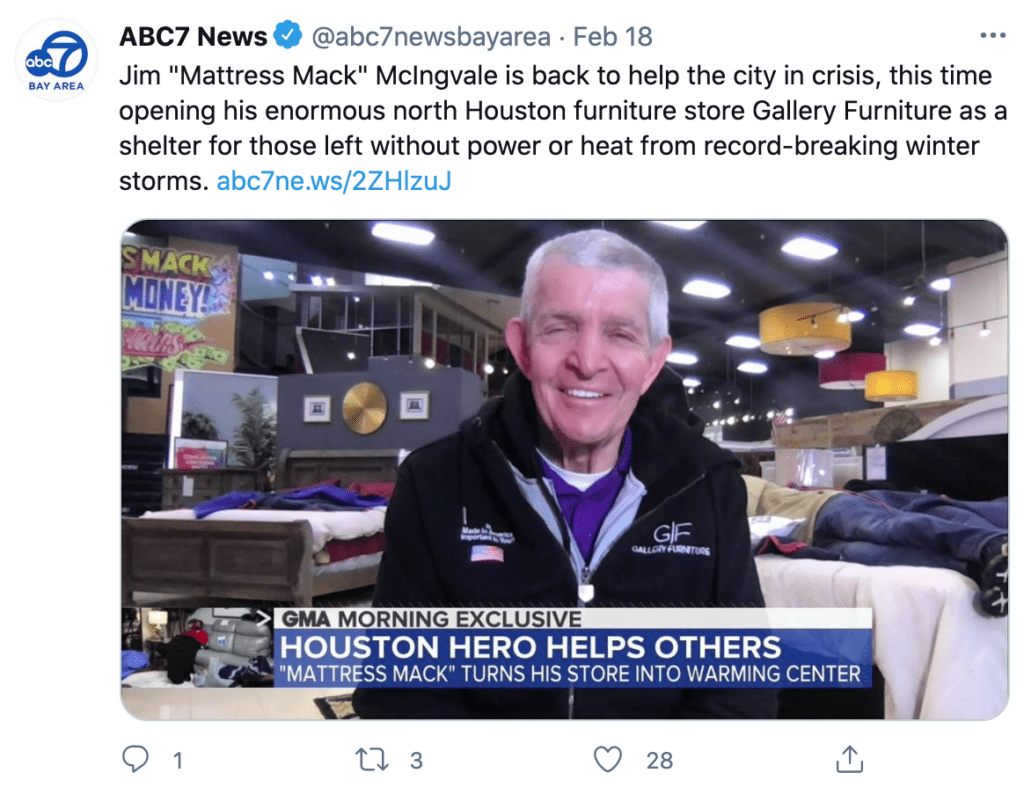 Every crisis is different, and your business may not always be able to pitch in. But if there's something you can do for your community and your customers during tough times, you can communicate a lot more through your actions than you can through a statement. 
The bottom line: Take some time now to make sure your business is ready to communicate and act with clear information and empathy the next time you and your customers are facing a difficult situation.