Here is the bottom line. Email marketing is crazy effective.
It doesn't matter if you're looking to sell a product, tell a story, or drive visitors to your website, email marketing is an excellent way to do it. 
Not convinced?
First fact: The average American still spends 5 hours a day on email. Second fact: the average email open rate for all industries is 20.81%. Finally, email marketing has a $44 ROI for ever $1 spent. That's a 4400% increase—an investment worth betting the house on.
It's not difficult to make the argument that email marketing is the top way to get people visiting your website. But, subscribers don't just come out of thin air. You have to follow some email marketing best practices to find the people who are dying to hear from you.
This article will offer seven things you can now do to get more email subscribers to your WordPress site.
1. Add a subscribe bar to the top of your WordPress site
If building your email list is one of your primary business goals, then ask yourself this question. What is the first thing your website visitors see when they land on your website? 
If the answer is anything other than an email subscription box, then it's time to re-evaluate.
There are several handy WordPress email plugins (e.g., OptinMonster, Leadpages, Sumo) that allow you to add an email subscription bar to the top of your WordPress site.

You can search for one of these tools by logging into your WordPress account, clicking on "Plugins," clicking on "Add new," searching for the desired plugin by name or keyword, downloading the plugin, and then uploading it to your WordPress site.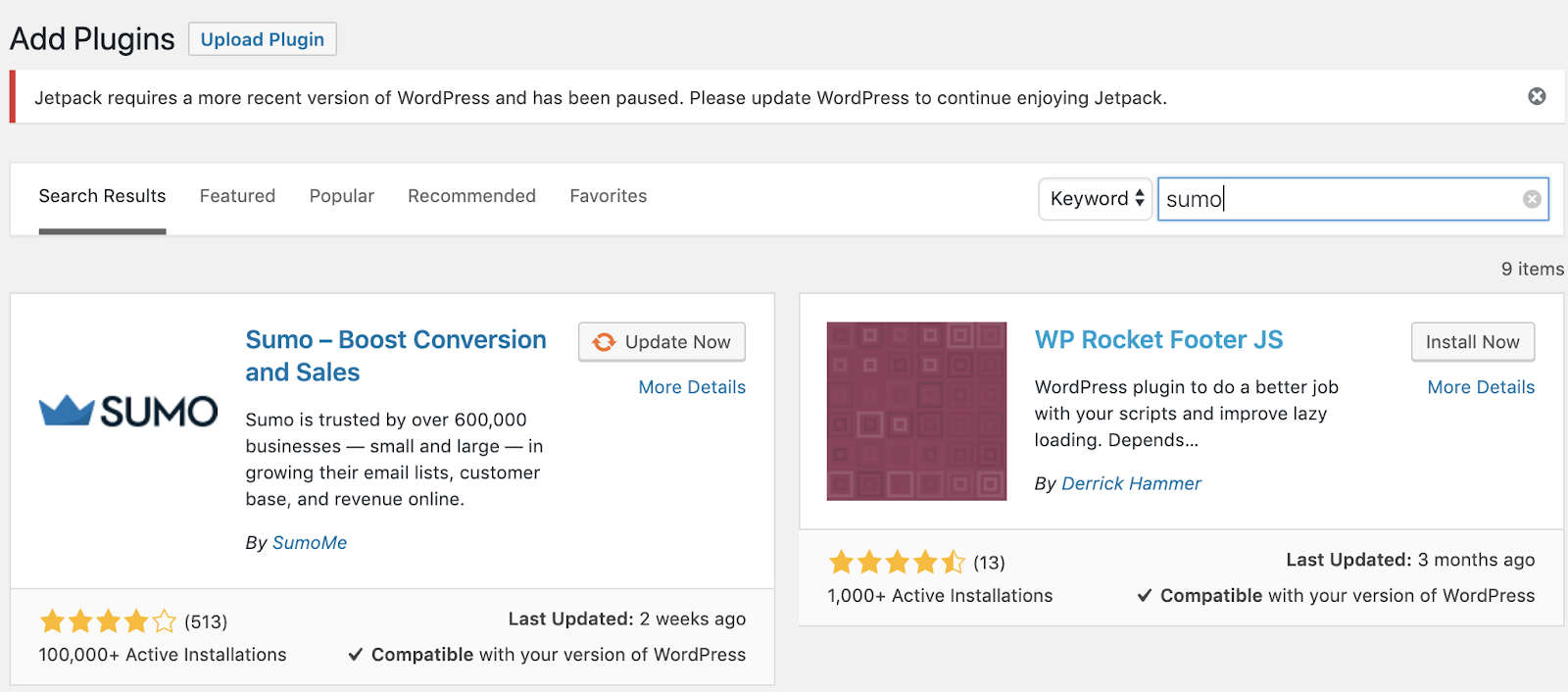 Once you activate the WordPress email plugin, it will direct you on how to add your call to action ("Subscribe now"), what fields (email address, name, etc.) you want to add to your subscription bar and ask for your unique email service provider (e.g., Constant Contact) form code. This code ensures that email addresses get sent to your own Constant Contact list or the list of any other ESP you use.
Viola! You're done and ready to start capturing subscribers.
2. Use a pop-up subscribe form
The top of your WordPress website isn't the only place you can ask visitors to subscribe to your email list.
Using many of the same plugins mentioned above, you can add a subscription form pop-up to your website. 
You can add a subscriber pop-up in addition to the subscription bar at the top of your website, or your pop-ups can stand alone. 
There are also several options for how you can program your email subscription pop-ups to appear on your website. You can program them to show up when a website visitor clicks into your site, or when they are about to leave your website. You can also tell the pop-up to appear when subscribers visit a specific piece of content on your website.
Regardless of what you choose, it's helpful to know that top pop-ups average a 9.28% conversion rate, according to research by Sumo. That means if you have 150 visitors come to your website daily, you'd have 418 signups in a month. 
The average conversion rate for pop-ups is 3.09%. If you had 100,000 monthly visitors with this kind of conversion rate, you'd end up with over 3K new email subscribers each month!
Remember, these numbers are just averages from one study. There are best practices you can employ to boost your pop-up conversion rates.
3. Spin it to win it!
Be honest. The last time you went to a business expo and saw a booth offering prizes in exchange for a spin of the wheel, you stopped at that booth. Or, you at least wanted to. Because who doesn't love freebies involving games?
Using gamification on your website is equally, if not more, effective than the ole spin the wheel trick salesmen use to draw you into their expo booth. 
With the help of a WordPress spin the wheel plugin, you can create a form that allows website visitors to "spin the wheel" for a prize in exchange for their email address. The prize could be a free bit of content, a discount code, or anything else your users find valuable. To keep it fun, you can include spaces that say "better next luck time," or "try again."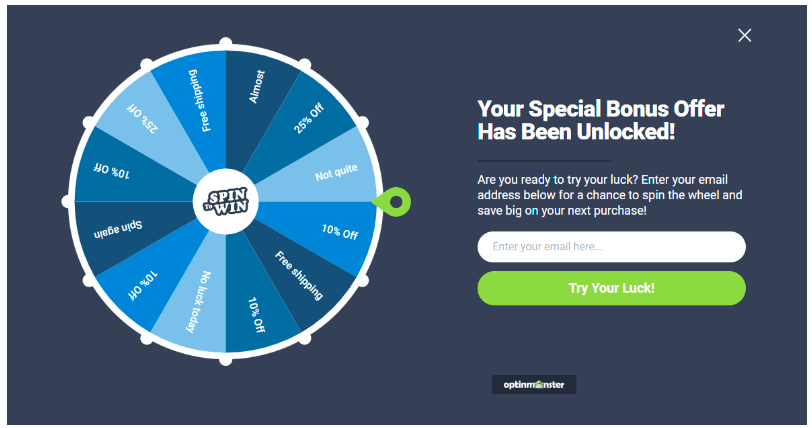 This type of gamification campaign engages your audience and provides you with information that helps you connect in the future.
4. Turn your blog commenters into email subscribers
It's safe to say that people who are visiting your WordPress blog, reading your posts, and commenting want to hear from you. This makes blog commenters the best targets for your email list, and it's easy to capture their email address with one simple hack.
WordPress allows you to include a checkbox with a custom call to action under the commenter's information. You can even say something simple like "Sign up for my newsletter by clicking this box."
When subscribers click the box, they are automatically added to your email list.
Brian Dean of Backlinko employed this technique and saw an increase of over 200 subscribers in just a couple of weeks.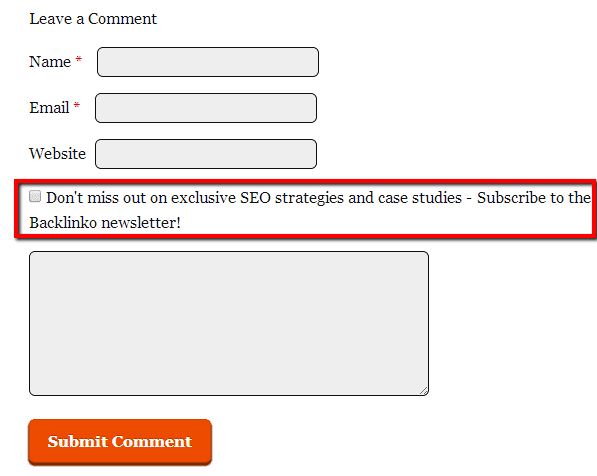 Asking your blog visitors to subscribe to your email list is a softball. Jump at the chance to add these already engaged individuals to your email list.
5. Utilize downloads within your content
The comments section isn't the only part of a blog post where you can encourage visitors to subscribe to your list.
Another popular and effective technique is to place useful downloads within your blog post.
The first way to do this is with an inline download. It's exactly what it sounds like. Somewhere in the middle of your blog post, you can include a section of text that offers a useful download. For example, "Download 100 free PowerPoint templates," or anything that's related to your website. 
Once the users click on the link, it will prompt them to enter their email address to access the free download.
Another way to do the same thing (with more style) is to include an opt-in box at the beginning or end of your content. 
Take this example from popular blogger (and Virtue Media customer) Michelle Visser of Souly Rested. In nearly every blog post, she includes an opt-in box in exchange for free content from her Resource Library: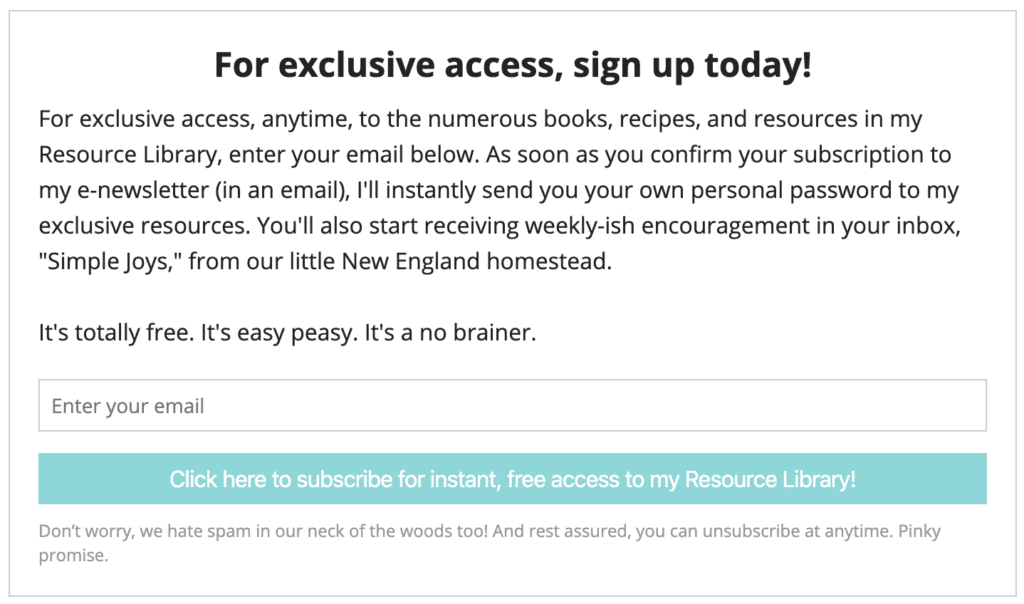 6. Use LinkedIn to your advantage
The previous pointers are things you can do to your website to get more email subscribers. What if you want to capture the attention of people who haven't yet visited your website, but may be interested in hearing more from you?
There are several ways to do this, but creating a viral loop on LinkedIn is promising. Anna Vital boosted her subscriber list to more than 76k using this technique.
What did she do? 
To sum it up, she created a valuable and free download—content that likeminded individuals crave. Then, she wrote a LinkedIn article presenting her free download and included a catchy header image, a straightforward title, and basic terms and conditions.
Then, she included a link to a landing page with an opt-in form. An opt-in form requires people to include their email address in exchange for the free content.
Once the subscriber has confirmed their subscription to your list, it acts as a trigger for your linked email service provider to send the free content. 
You may be wondering about the "viral loop" part of this process. In addition to including an opt-in form, Vital asked her audience to comment "yes" on the shared LinkedIn post, and she responded to each comment. LinkedIn rewards this extra engagement with a broader audience and additional options to capture the attention of more interested subscribers.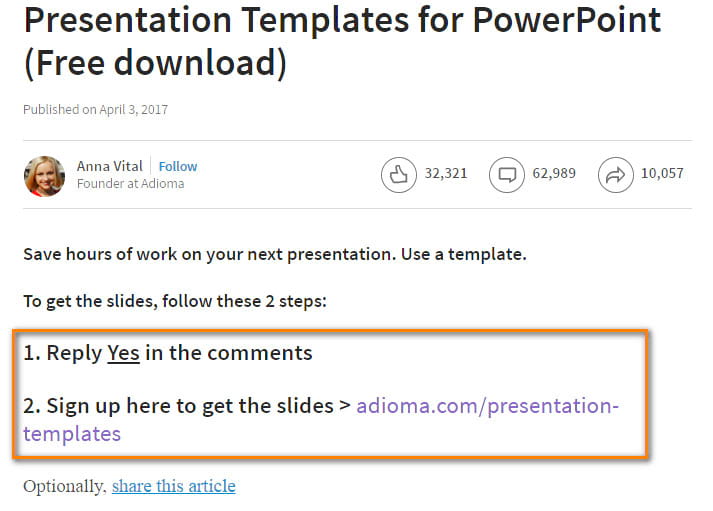 LinkedIn is an excellent platform for finding and connecting with people interested in your niche.
7. Add a social bar to your outside curated content
Sharing stellar articles on your social media sites is a standard practice among website owners. Every time you share a relevant article on your social media accounts, you are driving your followers to another website. 
There is a smarter way to share content you love on social media and to capture email subscribers at the same time. A social bar tool (e.g. Sniply, ClickMeter, Back.ly), allows you to post a social bar over the content you share via social media and promote your email list.
You can enter a simple call to action like "enter your email to get similar insights delivered to your inbox."
This way, you are killing two birds with one stone. You are sharing valuable content and capturing email subscribers for your WordPress site. 
Growing Your Email Subscriber List on WordPress
Your WordPress website may be the star of the show, but that doesn't mean there aren't several other savvy marketing techniques you can use to attract your audience. 
Putting effort into your email marketing efforts is a surefire way to capture email addresses and draw more individuals to your WordPress website.
If you're looking to get started with a WordPress site, the time is now. Virtue Media makes it easy to purchase a fitting WordPress hosting package, download the WordPress application, and get started with building your website asap. 
You don't have to know how to code or design. You just have to pick your favorite WordPress template and follow the in-app instructions on how to get started.