Did you know one of the best ways to monetize your blog is to sell digital products? This is especially true considering the recent boost in online sales over the course of the last year.
Statista forecasts that 2.14 billion people worldwide are expected to buy online in 2021, which is up significantly from 1.66 billion in 2016.
It's also worth noting that since the advent of the pandemic, consumer behaviors have shifted dramatically. In essence, people still crave shopping, but either don't want to risk going out in public or don't have the option, since many brick and mortar stores have closed or shuttered doors.
Consumers are ready and waiting to purchase digital products online. It's up to you to finally cross "set up digital store" off your "to-do" list.
This post will cover:
The benefits of selling digital products
How to decide what to sell
What you need to set up your store
How to sell on WordPress
How to sell using Gator Builder
How to market your products
Let's get started!
What are the benefits of selling digital products on your blog?
Here's the truth: it's a lot of work to set up an online store. Is it even worth it? The short answer is, "yes, absolutely."
Here are some of the top benefits of setting up an online store on your blog.
1. It's inexpensive
The cost of setting up an online store is minimal. You have to pay for web hosting, digital product creation, and software or plugins to support your store. As you grow, you may need to hire staff to help you scale.
But do you know what you don't have to pay for? You don't have to pay for a building, licensing and permits for operating a brick-and-mortar store, utility bills, office employees, cleaning supplies, furniture, appliances, POS systems, and more.
The best news is you can easily plan for your blog's eCommerce store expenses. You'll know exactly how much web hosting and marketing will cost, making it easy to plan.
2. You make passive income
Passive income is money you make that requires little to no effort once you've done the initial work. In other words, it's waking up in the morning to find out you have made sales while you were sleeping. It's getting a ping while you're at lunch telling you someone has purchased a new digital product from your blog. Yay!
An online store means your blog's products are available around the clock. You're not limited to a 9-5 purchasing window, which increases sales opportunities.
Your sales reach is also not limited to your local audience. Consumers in Virginia, India, and Australia all have the same access to your store, boosting sales opportunities.
3. You capture mobile sales
Provided you optimize your digital sales for a mobile audience (which you will), you capture even more sales.
Mobile shopping is nearly overtaking desktop shopping as it's a convenient way to buy on the go. In fact, by 2021, forecasts show that mobile shopping will account for over half of all sales. 
Not to mention, 49% of people shop only with their phones. The reason? Mobile shopping is convenient, safe, and almost effortless.
4. An online store increases your blog's visibility
Whether your end-goal is to make more digital sales or drive more readers to your blog, one thing is certain. Setting up an online store for your blog will increase your visibility either way.
85% of people search Google to find products and make purchases. If you don't have an eCommerce store on your site, then you 100% won't show up in product-related searches.
The opposite is also true. Investing in an eCommerce store increases your Google reach, and will help drive traffic to your blog.
How do you decide what digital products to sell on your blog?
Before you take the steps to set up an online store, you have to know what you're going to sell. Deciding what products you want to sell requires a bit of brainstorming and market research.
Here are some tips to help you through the process:
Find your element. Ever read The Element by Ken Robinson? The gist of the book is to decide what you're good at and what you're passionate about. Wherever those lines collide—that's your element. And, your element should be what you do and can define your niche. For example, I love writing and am good at it. You can probably guess what I sell on my website. That's right! Digital resources for freelance writers.
Learn what's trending. If no one has an interest in your digital products, then you're not going to have much success, and creation will be a waste of time. Take a deep dive into your niche to learn what people want. Use Google Trends to help you with your research. 
Identify what's missing. Once you know what people want, the next step is to find out what's missing. For example, I write TV pilots in my spare time. I am constantly searching and buying courses on how to write a good TV pilot. I'm also constantly trying to figure out what to do after you have written a pilot. Strangely, resources are limited and information is scarce. I am waiting to give my money to a scriptwriter who can successfully fill this gap. Find what's missing and build digital products around the area that's ripe with opportunity.
See what's selling. Just because something is trending, doesn't necessarily mean it's selling. Take your research one step further by checking out what people are actually buying. Helpful resources include Amazon's Best Seller list, Ubersuggest for keyword research, and good old Google.
Learn which digital products are the most popular. There are several different digital products you can sell. Here are the most popular: eBooks, photography, videos, audio, music, graphics, digital art, documents, online courses, professional services, web-based applications, webinars, and tickets to virtual events.
Once you know what you love, what people want, and what's missing, you are ready to rock and roll and create some killer digital resources.
What do you need to set up an eCommerce section on your blog?
You don't need a million dollars and a team full of geniuses to start selling digital products on your blog. Here's what you do need:
A little bit of passion
A domain name
A web hosting service
An eCommerce hosting plan
A digital product
A payment processor
A little starting money
Capital for marketing
Here a tutorial on how to sign up for a web hosting service and how to get a domain name. Let's take a deeper dive into how you can set up an eCommerce store in WordPress, one of the most popular blogging platforms, and in Gator Website Builder.
How do you add an eCommerce store to a WordPress blog?
WordPress is the most widely used content management platform, and it's with good reason. It's easy to install with Virtue Media, has an intuitive interface, and it's open-source.
Since it's open-source, there are thousands of plugins that help you build a fancy website without you needing to know a single line of code.
If you're looking to sell digital products online, then you'll need an eCommerce plugin to help you set up a store. The most popular eCommerce plugin for WordPress is WooCommerce.
For the sake of this tutorial, I'm going to assume you already have a WordPress website and are only interested in adding an eCommerce store to your blog. If you haven't purchased web hosting and set up your WordPress site yet, check out this tutorial.
Here are the steps you follow to add WooCommerce to your WordPress blog:
Login to your WordPress website with your username and password
Find  "Plugins" on the dashboard and click on "Add New"
Search for "WooCommerce"
Once you see the WooCommerce plugin appear, click on "Install Now"
Click "Activate"
As soon as you click "Activate," you'll be ready for the WooCommerce Wizard. To proceed with setting up your store and selling digital products, follow the step-by-step WooCommerce Wizard instructions.
The WooCommerce Wizard will guide you through every step of the process, but here is the most critical information you can expect to fill out:
Where is your store based?
In which industry does this store operate?
What type of products will be listed?
Tell us about your business
Choose a theme
Enhance your store with Jetpack and WooCommerce Shipping & Tax
Store Setup Checklist:

Add products
Set up payments
Set up tax
Personalize store
Setup wizard
Set up shipping (if applicable)

Purchase and install any extensions
As you go through the store setup checklist, the primary task will be to add your products. The screen will look like this.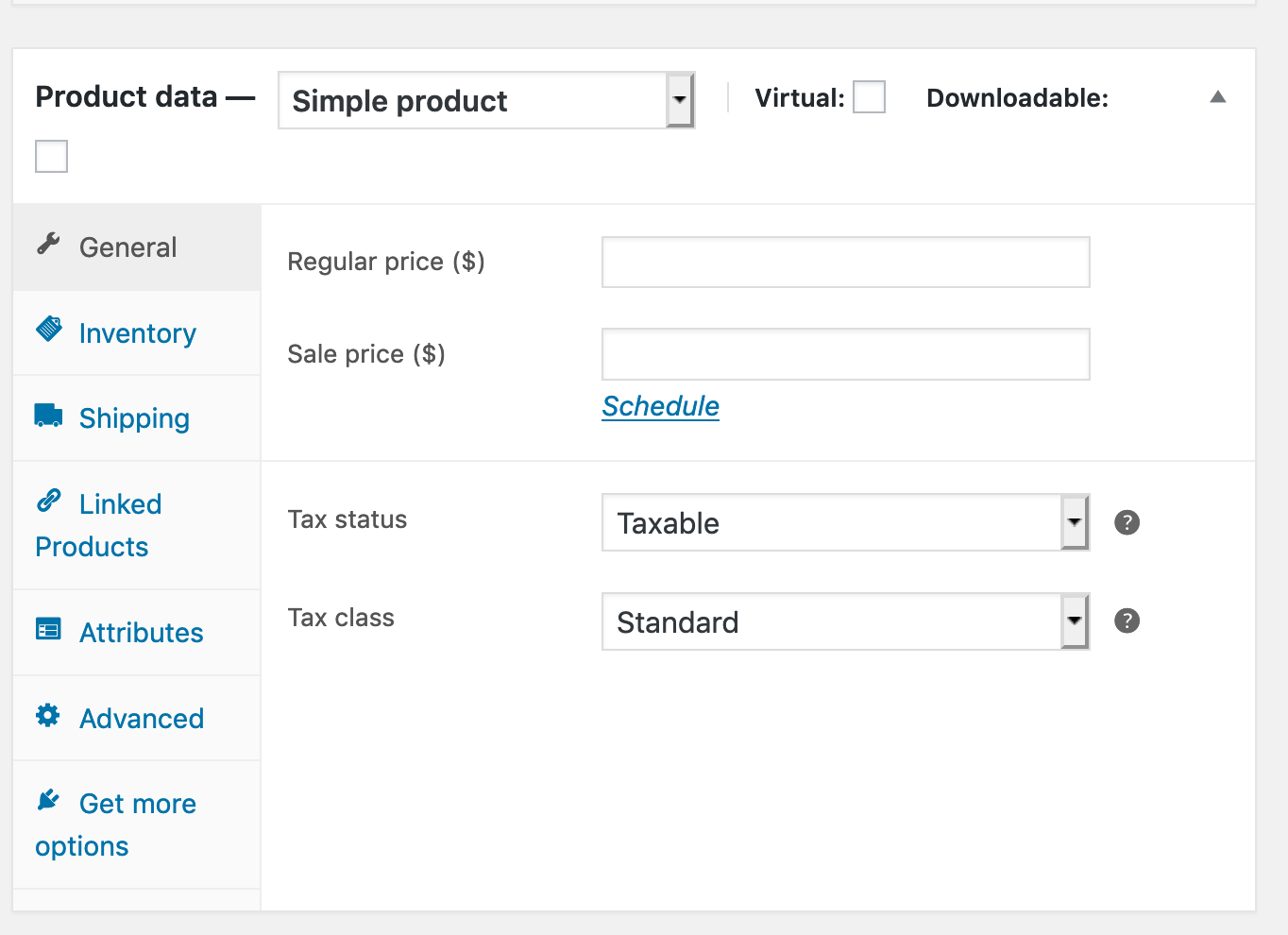 As you can see, you can follow the steps to fill out all the information about your digital product, including general information like prices and tax, inventory information, shipping info, linked products (don't forget this step), attributes, and more.
Once you've added your products and completed the rest of the WooCommerce Wizard checklists, you're ready to go live.
How to set up an eCommerce store using Gator Website Builder
If you don't want to start a WordPress website, Virtue Media offers an excellent alternative. You can easily create a website with our Gator Website Builder. Here's an excellent tutorial on how to build a website with Gator.
Once you're ready to add an eCommerce section to your blog, the first step is to double-check that you have a web hosting plan that enables you to add the number of products you want to add. After you've built out the initial bones of your website, Gator Builder will walk you through adding your eCommerce store.
First, you'll set prompts that ask you to set up your store basics, payment methods, and shipping options (if applicable). Once you've set up the basics of your store, you're ready to add your first product.
To add a product, turn your attention to the menu on the left side of the page in your new online store and select "Products." From here, you can import your products from a stored file or add each product manually by clicking on "Create a new product."

Gator will direct you to a new page where you can fill out all the relevant product fields. This includes product type (you'll select digital product), product name, image, price, description, inventory status, and more.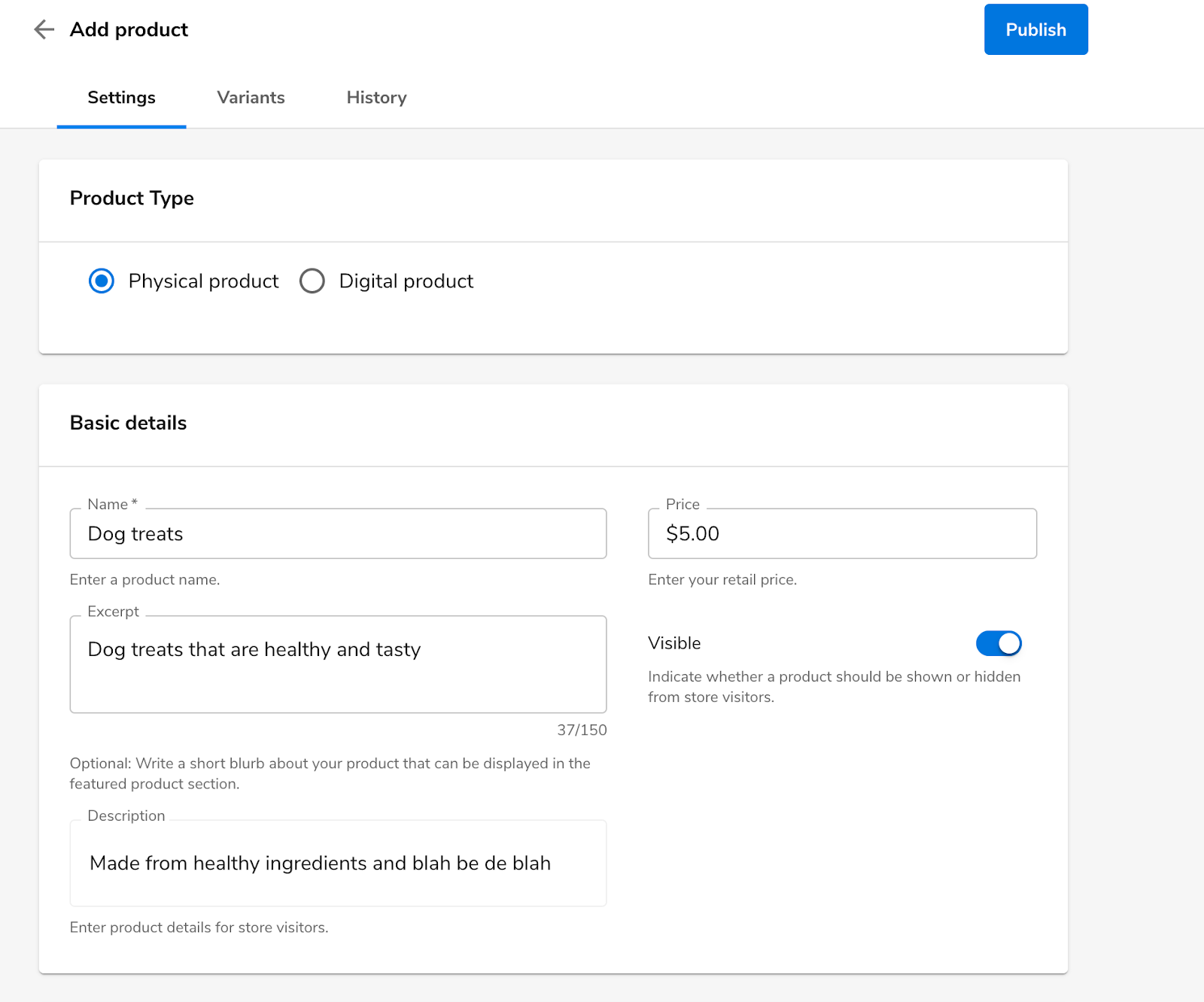 Once you've added your digital products to your online store, you can make page edits in the main website editor. 
When you're satisfied with your product order and design, publish your eCommerce store and start making sales on your blog.
How to market the digital products on your blog
If no one can find your blog or digital store online, then you're not going to capture a lot of sales. Here are some ways you can get sales with marketing:
Content marketing. Content marketing is the strategic use of content like blog posts, videos, memes, visual content, audio, and other relevant resources to capture the ongoing attention of your target audience. The end-goal of content marketing is to convert readers into long-term customers.
Search engine optimization (SEO). SEO is a type of online marketing where you optimize your website, digital store, and blog posts for Google's search algorithm. As you engage in SEO blogging best practices, Google will return your results in relevant organic search results, helping you get new customers.
Paid advertising. Paid advertising is when you pay to expose your content to a defined audience. You can buy ads on Google, Facebook, TikTok, Twitter, and more.
Influencer marketing. Sometimes you need a little extra help when it comes to sharing your digital products with the masses. If you don't have a large social audience, it's smart to build relationships with people that do. Think of the last time you saw an influential blogger participate in an unboxing. That was most likely influencer marketing.
Email marketing. Email marketing is one of the most effective forms of digital marketing and has high ROI. Some reports show that email marketing has an ROI of $42 for every $1 spent. The good news about setting up a digital store with Virtue Media is it comes with a Constant Contact integration, making it easier to get new subscribers.
These are the most common forms of online marketing. It's worth setting aside a portion of your blog's eCommerce budget for marketing, especially when you're getting started.
Start selling digital products on your blog with Virtue Media today!
If you've been tossing around the idea of selling digital products in an online store, today is your day. Do it!
The first step is to purchase a web hosting account with Virtue Media, integrate your WordPress or Gator website, and add your eCommerce store by following the directions above.
For more information on getting started with Virtue Media, check out our web hosting plans today. We can't wait to help you start selling on your blog.