eCommerce is an easy way for small businesses to reach more customers, as long as you don't lose them to big players like Amazon and Walmart. Amazon alone took in 44% of the eCommerce sales in the US in 2017.
To compete with major retailers' selection and price, you probably already know that your online business needs to stand out by offering unique items, expertise in product selection, and excellent service.
Another way to appeal to new customers and keep current ones coming back is with an eCommerce loyalty program.  
What Can an eCommerce Loyalty Program Do for Your Online Store?
We often think of loyalty programs as tools to get customers to come back, but that's not all a loyalty plan can do. Here are five more benefits to eCommerce loyalty programs.
1. Get new customers on board.
Don't make your customers wait until they've spent a certain dollar amount or placed several orders to start getting the benefits of loyalty program membership.
Offer your customers an immediate discount or bonus item for joining your loyalty program and they're more likely to sign on and make a purchase.
2. Collect marketing data.
A good loyalty program will provide analytics on your members so you can see which products they prefer, when they buy, how much they spend, and other information you can use to refine your marketing efforts. Smarter offers can lead to more sales and higher order values.
3. Increase the lifetime value of your current customers.
With your customer loyalty program marketing data and targeted offers, your business should be able to not only retain customers but earn more from them. Exclusive product offers, previews, and upsells of related items are easier when you have accurate information and your customers' trust.
That trust is valuable—Invesp found that established customers are 50% more likely to buy a new product from a business than new customers are, and those existing customers spend about 30% more when they buy.
4. Keep your customer acquisition costs in check.
By using your digital loyalty program to target offers to your existing customers, you can boost revenue from those shoppers and reduce the amount you need to spend on new-customer acquisition to keep your revenue stream flowing.
And when you do look for new customers, your customer loyalty program data can help you identify target audiences similar to your most loyal and lucrative customers.
5. Win back customers.
Sometimes an existing customer just stops shopping with you, and you don't know why. Rather than write off that customer, you can use your eCommerce rewards program to craft a custom email offer to bring them back to your store.
Think about which of these goals is most important to your business. Then take stock of the channels that you use most often to reach current customers and new customers. Depending on your goals and customer habits, you may be able to do well with a straightforward points-for-purchase loyalty program, or you may need a program that includes social media reward options, tiered reward levels and other advanced features.
What Should Your Store's eCommerce Loyalty Program Look Like?
OK, so you're sold on the benefits a loyalty program can offer your business. Here are some things to consider as you plan your program:
Will customers earn points only for purchases, or also for activities like social sharing, writing reviews and uploading photos and videos?
Many eCommerce consultants recommend offering rewards points for activities that build your customer base, in addition to giving points for purchases. You might want to reward customers for specific actions like sharing one of your new handbags on Instagram or writing a review for one of your more expensive laptops. 
Another option is to offer rewards for referrals. If you've ever shared a store's discount code with friends because you'd get a discount if they make a purchase, you know how compelling customer referral programs can be. 
How many points will your customers earn for each activity or dollar spent?
The key to assigning points to actions in your store is balance. You don't want to give out so many points that you're losing money on your rewards program. But you don't want customers to feel like the rewards are too small to be worth pursuing.
It's wise to start small, with a simple equation like "spend $10, earn 1 point"—or whatever ratio makes sense for your average ticket order. Then track your sales and points metrics and make adjustments from there.
What can points be redeemed for? 
For example, can customers use their points at any time to get discounts on purchases? Can they use points for free shipping, express shipping or special gifts? Decide ahead of time, make the options clear to loyalty program members and listen for feedback to decide if you need to add or change your redemption options.
Will the points ever expire? 
Or can your customers hold on to them indefinitely until they're ready to use them?
On one hand, points that never expire create an easier customer experience. On the other hand, an ever-growing cache of points could create a cash flow problem if several people decide to redeem a lot of points around the same time. You'll need to decide what your limits are for keeping unused points on the books.
What will be in your fine print?
Most of your customers will be happy to rack up points as they go about their normal shopping and sharing business, but there may be some who want to game your system in a way that causes you losses. 
For example, consider the infamous case of the Healthy Choice airline mile promotion, which offered people 500 air miles for every 10 product bar codes they mailed in. (It was 1999, after all.) The promotion focused on the brand's frozen meals, but a clever civil engineer read the fine print on the offer and saw that there was no stipulation about what products counted. 
So, he went on a Healthy Choice discounted pudding cup buying spree, told the grocers he cleaned out that was stocking up for Y2K to avoid suspicion (!) and earned more than 1.2 million air miles for buying about $3,000 worth of pudding. It's an amazing story, but not what Healthy Choice had in mind when they launched their promo. 
The moral: set limits to close loopholes in your rewards offers. 
How will you protect your loyalty program from fraud?
Sadly, rewards program fraud is a thing. You need to protect your customers and your revenue stream by preventing it.
Rewards account takeover fraud happens when outsiders hijack your customers' loyalty accounts and use their points to go shopping. Stolen credentials, data breaches and easy to guess passwords all raise the risk of account takeovers. To reduce the risk and protect your customers:
Require them to use a strong password on their account in your store.
Consider offering two-factor authentication (like an SMS code) for customer logins.
Give customers the option to get text or email alerts if there's a purchase or point redemption over an amount they choose. They can then contact customer service if they don't recognize the transaction.
Choose a rewards program that has fraud protection built in.
Protect your customers' data as they enter it in your store with a SiteLock website security subscription.
As you design your program, remember that it's going to be part of your customer experience—and customers like things to be simple, fast and hassle-free. Whatever your program offers, customers should find it easy to enroll, earn points, see their balance and use their points. 
Setting Up Your eCommerce Loyalty Program
There are several tools you can use to add an eCommerce loyalty program to your online store. Your options will depend on the eCommerce hosting platform you use and your budget as well as your goals and customer habits.
Here are a few options to show you what's available and what you can expect to spend.
WordPress eCommerce Loyalty Program Plugins
If you have a WordPress store that uses the WooCommerce eCommerce plugin, there are several loyalty program extensions you can choose from.
1. WooCommerce Points and Rewards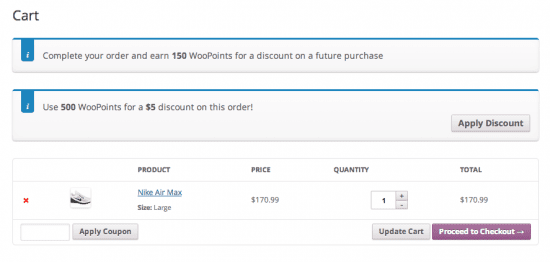 WooCommerce Points and Rewards lets you set up a points-per-purchase loyalty program with customizable settings for point values and maximum discount amounts. You can make points retroactive for past purchases, use points as incentives for sign-ups and reviews, and more.
This plugin lets you fine-tune your points program so you can offer points 
On all purchases in your store
On purchases in the product categories you choose
On purchases of selected products
That's a handy feature to help drive traffic and sales to certain areas of your site, and you can tie it in with seasonal promotions, like extra points on computer purchases during back-to-college shopping season.
A one-year subscription for a single site is $129.
2. SUMO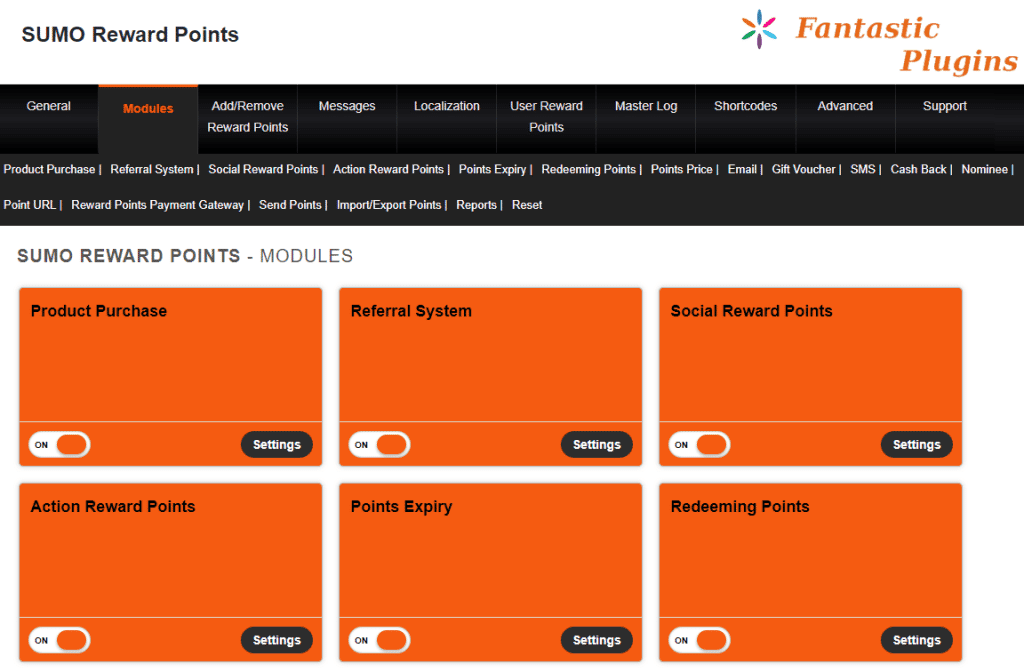 SUMO is another option for WordPress/WooCommerce stores, one that offers rewards program tools as part of a larger toolkit that includes marketing popups, marketing email management, cart abandonment remarketing and email subscriber analytics. 
In addition to points for purchases and reviews, SUMO's loyalty program gives you the option to award points for referring new customers, sharing on social media, blogging, commenting, using coupons and making charitable donations. You can also set points to expire after a certain amount of time.
A regular license for a single store costs $49.
3. Liana by Beans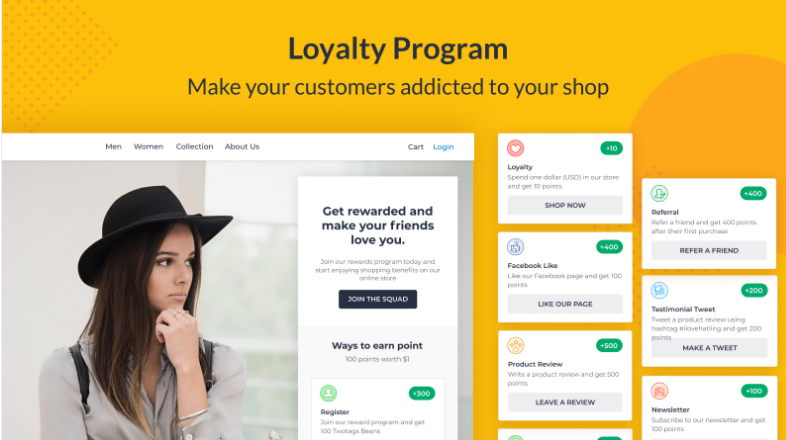 Beans is a suite of WooCommerce marketing plugins. One of those is Liana, a loyalty and rewards program that lets you choose from lots of reward options, including rewards for 
customer birthdays
social media likes and shares
referrals
reviews
purchases
taking part in special store events 
Liana also makes it easy to create and share time-limited offers for loyalty program members, customize your store's rewards page, and set automatic point balance reminders to encourage customers to visit your store and buy from you again.
Liana's pricing structure offers three tiers:
The free plan is for brand-new small stores that have as many as 30 orders per month. It includes basic loyalty functionality and lets you award points for purchases.
Pro plans range from $29 to $169 per month if you pay annually, and they let you award points for birthdays, shares and other specific customer actions.
Once your store is handling more than 2,500 orders a month, Liana's enterprise plan gives you custom control over reward rules and assigns your store an account manager.
Magento eCommerce Loyalty Program Extensions
Magento has several extensions that work with it. Because Magento ended support for its Magento 1 platform in June 2020, we'll focus here on options for stores on Magento 2.
1. Amasty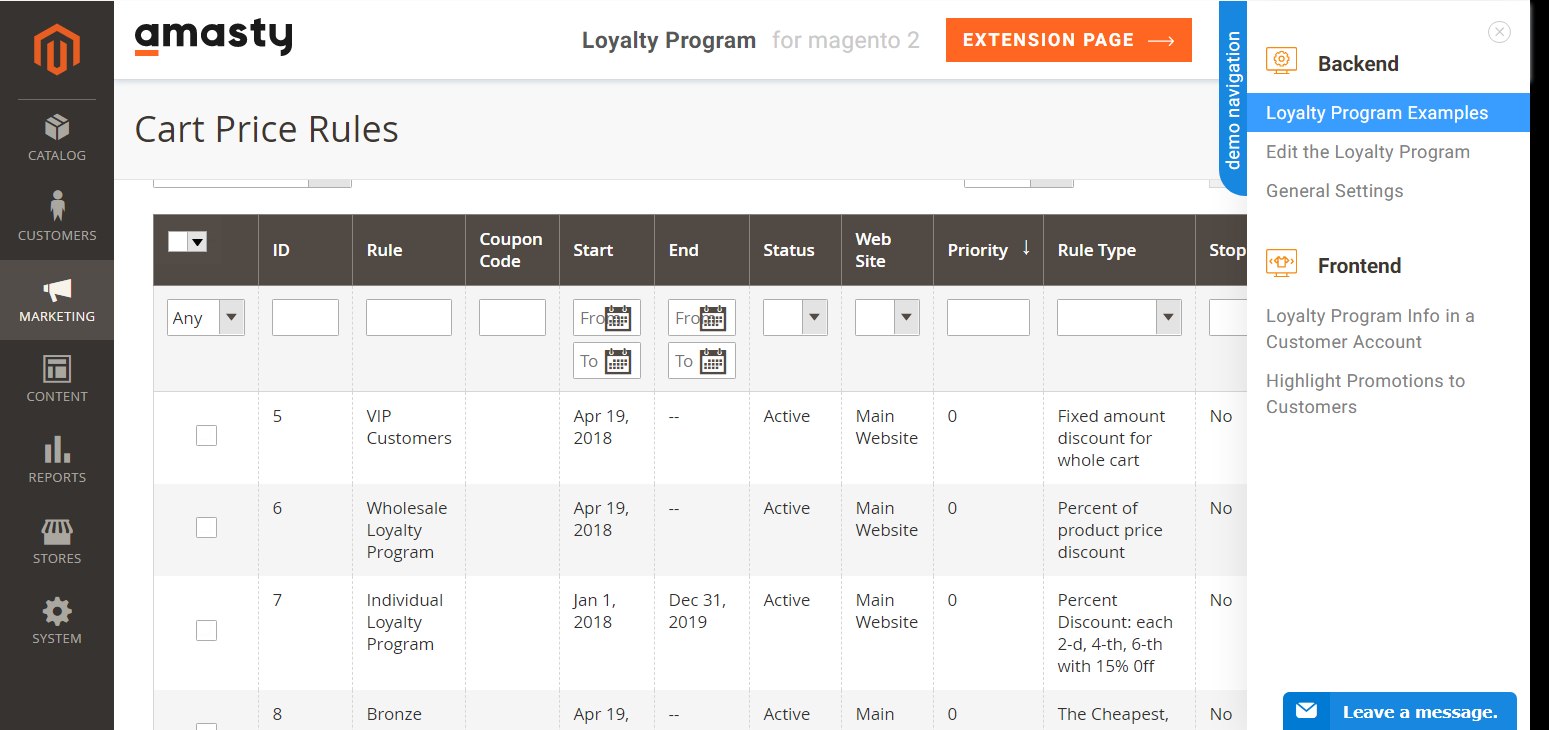 Amasty's loyalty program for stores on Magento 2 makes it easy to create multiple levels of benefits for your members based on their purchase histories, award free shipping to VIP members, and create customized promotions.
For example, Amasty lets store owners
Create individual loyalty discounts based on customer attributes.
Choose from 16 shopping cart rules to pick create offers based on what's in customers' carts.
Display deal banners on product pages to loyalty program members. 
Set up free shipping for reward program members at selected or all levels.
A one-time license for Amasty's Magento 2 Community edition is $349, with free lifetime updates.
2. Aheadworks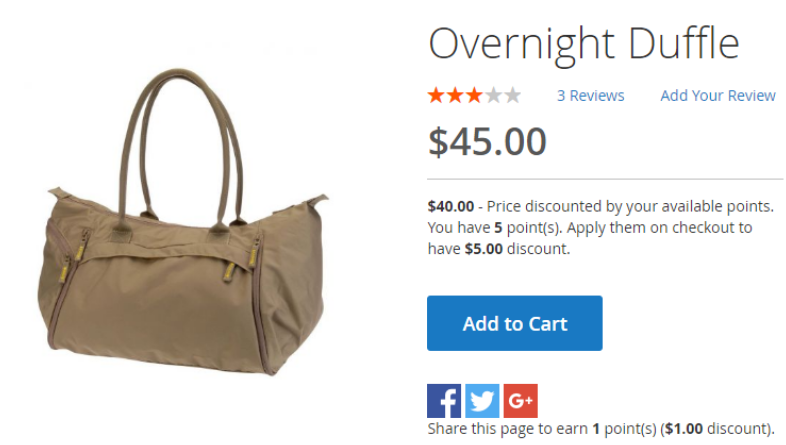 Reward Points for Magento 2 by Aheadworks integrates with ConnectPOS to sync customer rewards across your online and in-store channels. Customers can see how their rewards apply to products on your site, and they can earn more points as they shop through social sharing. 
With this extension, you can also apply refund balances to loyalty program points to keep revenue within your store. You can also customize how points are earned and set different thresholds for different customers to give your most frequent shoppers even better perks. 
The price tag for this Aheadworks extension is $349.
More eCommerce Loyalty Program Apps
What if you're not using WordPress, WooCommerce or Magento 2 for your online store? You can find loyalty program applications for other platforms, including Gator Website Builder. Two we like are ReferralCandy and Yotpo.
1. ReferralCandy
You can integrate ReferralCandy with virtually any eCommerce store to link referrals with rewards. Your customers can easily share their recommendations from your store with friends via social posts and email, and each referral earns them a reward.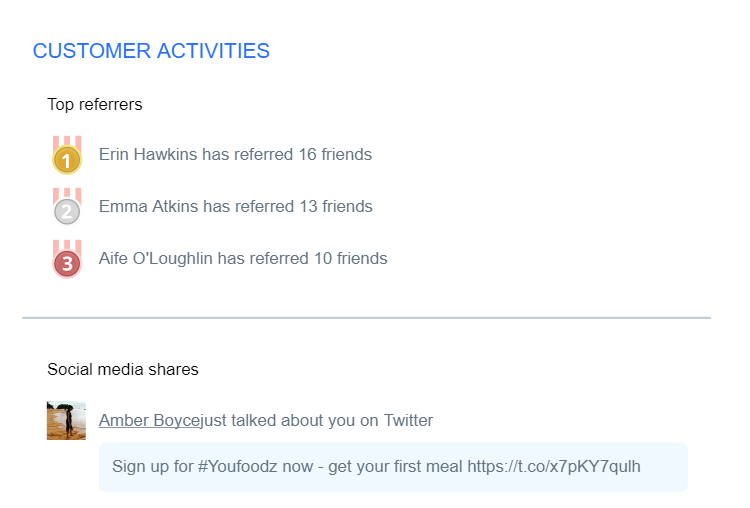 ReferralCandy lets you choose how you want to reward your customers for their referrals—cash, discounts or special gifts. 
You can track the ROI on your program in the ReferralCandy dashboard, and the whole process is automated so you can focus on running your business.
ReferralCandy is free for the first 30 days. After that, the premium plan costs $49 per month plus a commission based on sales generated by your referrals. Use ReferralCandy's calculator to estimate your ROI and the commissions you'll pay. 
2. Yotpo
Yotpo also integrates with many eCommerce platforms, and it offers a suite of marketing tools that includes customer review collection and display, SMS marketing and customizable referral and reward features.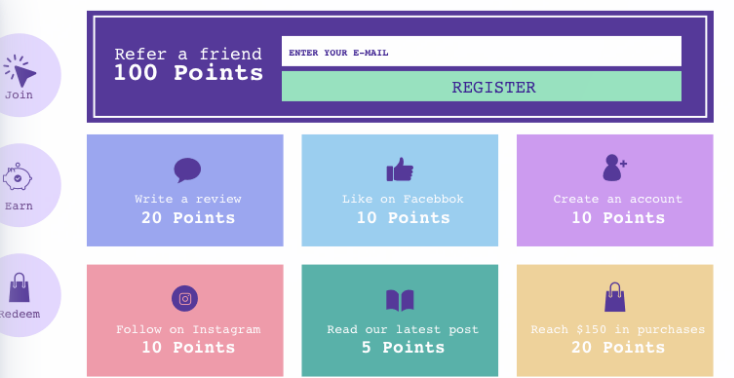 Yotpo offers campaign templates you can adapt to encourage your customers to write product reviews, follow your social media or make purchases for points. 
For small businesses, Yotpo offers three tiers of loyalty and referral tools. All include customizable rewards.
The free plan is available to stores with up to 100 orders per month.
The silver plan starts at $29 per month and adds points-for-reviews and rewards pop-up features.
The gold plan starts at $249 per month and adds a customizable rewards page template, email marketing integrations and other features. 
Choosing Your eCommerce Loyalty Program
Before you invest in an extension or a loyalty platform subscription, take the time to read the reviews, and double-check that it offers the features you want for your marketing program. Decide if you'll want to purchase extended customer support as you set up and refine your loyalty program.
The better you get at rewarding your customers, the more rewarding your loyalty program will be for your business. Share your loyalty program experience below or browse our reliable cloud hosting and shared hosting plans.