If you haven't heard blogger and affiliate marketer extraordinaire, Michelle Schroeder-Gardner's story, head over to the blog Making Sense of Cents and check out her about page. 
To sum up her story, Michelle started her blog in 2011 with no intention of making money. However, as she began to grow her blog, connect with other experienced bloggers, and learn more about how to make money blogging, she ended up quickly growing her blog to a million dollar blog.
You heard that right. A million dollar blog.
Michelle has several different income avenues for her blog, but she says her favorite way to make money blogging is through affiliate marketing.
Michelle Schroder-Gardner isn't the only blogger raking in the cash with affiliate marketing. There's also John Lee Dumas, Pat Flynn, Lindsay Ostrom, and Abby Lawson, to name a few.
What you'll notice immediately is each of these affiliate marketing all-stars crushes in terms of affiliate commissions, but they also have completely different niches.
This means it doesn't matter what your blogging niche is, if you play your affiliate marketing cards right, you can make money. And a lot of it.
This post will cover the top ten affiliate hacks to help you boost your blog revenue in 2021. Hopefully, someday we'll see you on the list of top affiliate marketers as well.
As a quick review, affiliate marketing is when you sell someone else's product on your blog or website, and the respective product owner gives you a commission for making that sale.
Take Virtue Media for example. Virtue Media has an affiliate marketing program. If you promote our web hosting services on your blog, and someone else purchases a web hosting plan through your unique affiliate link, Virtue Media will pay you a commission for that sale.
Cha-ching.
As you can imagine, you can make a huge chunk of change by selling other people's products and may never even have to create a product of your own.
Let's talk about the best ways to get the most out of affiliate marketing.
1. Build a gorgeous, high-traffic blog
Many successful affiliate marketers start out as bloggers. A blog is the vehicle that helps you get followers and attract traffic.
As you build an awesome blog, you position yourself as an expert and people want to listen to you. In turn, you create the perfect online space to advertise and sell your favorite products.
Here's what you need to do to build a good blog:
Pick your niche. Good affiliate marketers don't promote every product under the sun. They find a niche and promote products within that niche (e.g., travel, finance, pets,  digital marketing, etc.).
Sign up for a web hosting account with Virtue Media. A shared hosting plan is the perfect plan for new affiliate marketers.
Pick your free domain. Every Virtue Media web hosting package comes with a free domain. As soon as you sign up, you can select your domain name.
Install WordPress. WordPress is the most popular blogging platform. Check out our managed WordPress hosting plans.
Choose a blog theme. Once you've selected a website builder, activate your favorite theme and start customizing.
Once you have customized your website to your liking, you can start blogging.
The first step in being a good affiliate marketer is establishing credibility. 
Consumers are smart and it takes less than a second for a buyer to spot a blogger that is simply trying to make cash vs. someone who has tried out popular and relevant products and is making a good recommendation. 
If you're looking to build consumer confidence in your recommendations, then only promote products that are relevant to your specialty.
The Points Guy is a great example of how to do niche affiliate marketing right.
He is an expert at leveraging credit card points to maximize travel opportunities. And he shares his secrets with the rest of the world as a way to make money.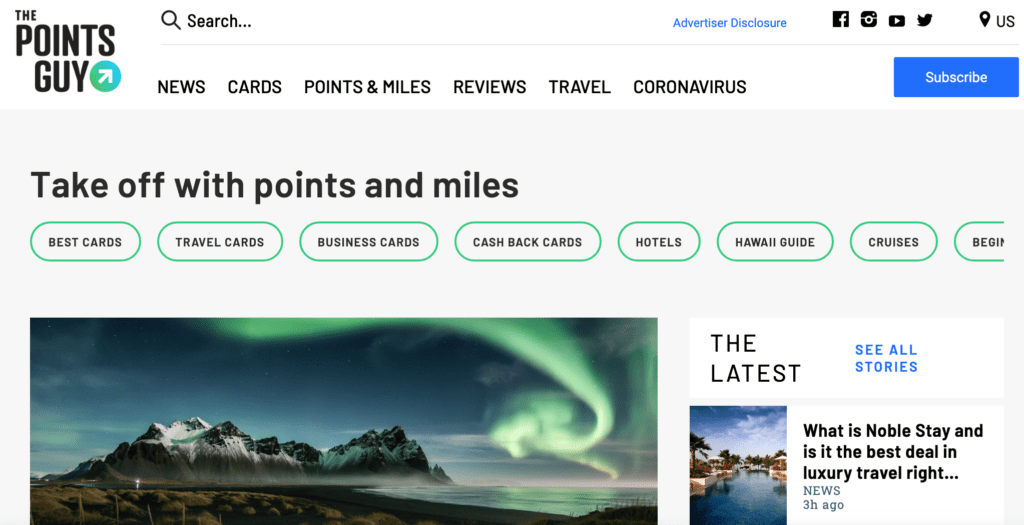 When you navigate to The Points Guy site, you'll only see affiliate links related to credit cards and travel. The best part is he'll show you exactly how to use the respective offer to get more free luxury travel experiences.
Do as The Point Guy does.
3. Try the products you sell
It will be difficult to speak to how cool a product is and why a consumer should purchase it if you haven't tried it yourself.
If you're interested in a particular affiliate product, reach out to the brand to get all of the relevant information about the product. 
Often times affiliate merchants will hook you up with free products or services so you know everything there is to know about their brand.
Even if the affiliate merchant doesn't hook you up with a freebie, make sure you take the product for a test drive.
When you know how the product looks/feels/tastes/works, you can speak about it with accurate insight, and boost your sales.
4. Create a review system of products you sell
Reviews play a huge role in consumer purchasing decisions. Stats show that around 95% of customers read reviews before making a purchase and 72% of consumers won't take any buying actions until they've read reviews.
If you want to boost affiliate sales on your blog, then it's smart to test and review all of the products you sell. This is especially true, considering reviews make customers 71% more comfortable buying a product. 
It's also critical to remember that your reviews should be honest. A blog full of nothing but flowery, glowing reviews for everything you've tried won't come off as authentic. Stats show that 40% of B2B buyers say negative reviews help build credibility for a product.
I'd take this stat a step further and say a mix of positive, neutral, and negative points about a product you're selling lends credibility to the affiliate marketer.
Consumers don't only want to know the good of a product. They want to know what you love and don't love about a product.
If people know they can count on you for an honest review, you'll see more traffic and a boost in affiliate sales.
5. Sign up for an affiliate merchant program
As a consumer, I love it when my favorite bloggers recommend individual products. It shows they go above and beyond to find, test, and review products related to their niche.
I also recognize that it's extremely time consuming for bloggers to reach out to brands on an individual basis. And I have zero qualms about affiliate marketers that use affiliate merchant programs to promote products.
As a quick review, affiliate merchant programs are online hubs for affiliate merchants and marketers to join, so they can find each other more easily.
As a blogger, it's smart to join affiliate merchant programs so you can see which brands already have an active affiliate program and so you can quickly find products related to your niche.
Here are some of the top affiliate merchant programs to consider joining:
When you sign up with one of these programs, you'll provide basic information like your name, website, and how you plan to promote products. 
Then, you'll apply to be an affiliate marketer for a specific merchant through the respective hub. Next, the merchant will review your information and either accept or decline your offer. 
If they accept you as an affiliate marketer, the merchant will hook you up with a unique affiliate link and other sales materials to help you be successful. 
Typically, you'll provide your tax and payout details, and all of your sales will be managed through the affiliate hub.
6. Publish tutorials
When you write up a tutorial for your blog, you introduce the product, include your affiliate link where relevant, and then take the blogger through the step-by-step process of how to use the respective product.
Let's use Virtue Media's affiliate marketing product as an example. If you're a member of Virtue Media's affiliate marketing program, you get a commission every time someone signs up for a new hosting account using your affiliate link.
Here's the thing, though.
Not a lot of people know what web hosting is, let alone how to sign up for a web hosting account and build a website.
The whole idea of starting a blog or website might sound extremely daunting to someone who has never done it before.
You know it's not daunting. I know it's not daunting. But, new bloggers might be overwhelmed at the idea of stepping into a completely new world.
Without holding their hand through the process, you may never land the affilate sale.
This is where your tutorial skills come in to save the day. Create a step-by-step guide, sprinkled with your affiliate links, and show those blogger wannabes that there is nothing to be afraid of when starting a new blog and it's actually a piece of cake to get started.
As you new bloggers through the process with a tutorial, instead of leaving them to figure it out for themselves, you'll see your sales increase.
7. Shorten your links with a plugin
What do affiliate links and spam have in common? A lot of characters, weird symbols, and long links. 
The last thing you want is for someone to hover over your affiliate link and see a long, spammy-looking link with your ref id attached to the link.
The consumer may take one look at your link, worry they are about to download a virus on their computer, and abandon ship.
A better way to present an affiliate link is to use a tool to shorten it. There are several link-shortening tools on the market. Here are some plugins worth checking out:
Remember, you're not disguising the fact that you get a commission when someone signs up for your link. In fact, you should clearly disclose that you are an affiliate marketer and will make money if someone signs up through your link.
These link-shortening tools exist to make your affiliate links look nice, non-spammy, and more click-friendly.
8. Optimize your blog posts for search
If consumers can't find your blog, they can't click on your affiliate links and make purchases. A sure-fire way to grow your blog traffic is to optimize all of your posts for search (SEO).
You'll want to look at this comprehensive guide on how to optimize your blog posts for search. But one of the best ways for new affiliate marketers to get started with SEO is to install and activate the Yoast plugin for SEO.
Yoast is an incredibly useful plugin as it guides you through the SEO process every time you publish a blog post. Yoast will ask you for your target keyword, scan your content, and make suggestions to help improve your SEO ranking.
Yoast also includes SEO tutorials so new bloggers can learn more about this type of digital marketing.
9. Don't over-do it
Once you learn that brands will pay you to sell their products, it's hard not to promote everything under the sun.
Here are some hard-and-fast rules to help you keep it under control:
Don't include too many links. You want to include enough links so that consumers can click on your affiliate link and buy from you. But you don't want to include so many that your blog posts look gross. Avoid linking to products 1,000 and only include a few links.
Don't promote every product under the sun. Even if you stick with products within your niche, you still don't want to promote every product related to your website. This may take away your credibility as an affiliate marketer.
Don't confuse your audience. If there are a lot of competing products you could sell, try them out, and promote the one you like best. If you promote every competing product, customers may get confused and not know which one to buy.
Affiliate marketing isn't about selling everything; it's about selling the right products a lot of times.
10. Love on your blog
Your blog is the tool you use to make more sales. As such, it's critical to make sure your blog gets the care and attention it needs.
Loving on your blog means:
Staying current on blogging and digital marketing trends
Implementing a nice design
Writing content consistently
Updating your WordPress theme often
Customizing your blog to make it unique and easy to navigate
Making sure your blog is optimized for mobile search
Signing up with a web hosting service that promises at least 99% uptime
Writing clear, concise, and compelling copy
And more!
If you take care of your blog, you'll be a more successful affiliate marketer
Get web hosting from Virtue Media today!
If you're ready to start your blog or boost your affiliate marketing commissions, the time is now to sign up for a Virtue Media web hosting account. 
Virtue Media offers several web hosting plans to meet your needs, e-commerce functionality, unlimited bandwidth, and everything else you would need to run a successful website. Don't delay. Check out our web hosting plans today!